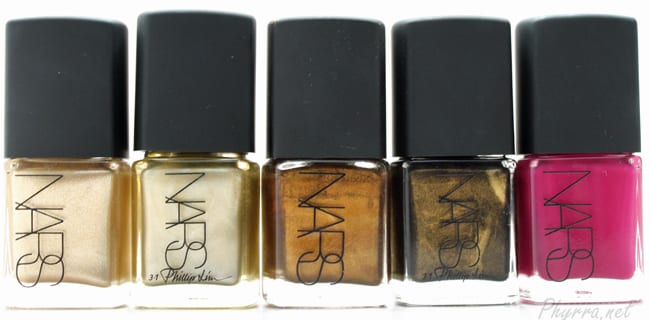 Today I've got NARS Milos, Fearless, Gold Viper and Inisidious nail polish to share with you. NARS recently reformulated their nail polish formula. I was surprised because I already thought their formula was awesome. I wasn't sure how they were going to improve upon such a great formula. However, I like the new formula even better. I LOVE their new brush! It's a wider brush and I can get my entire pinky nail in a single pass.
PR sample.
Availability
The new formula will be available July 15, 2014 at NARS boutiques and narscosmetics.com.
You can expect to see the new formula at Sephora on August 1, 2014.

Price
$20 each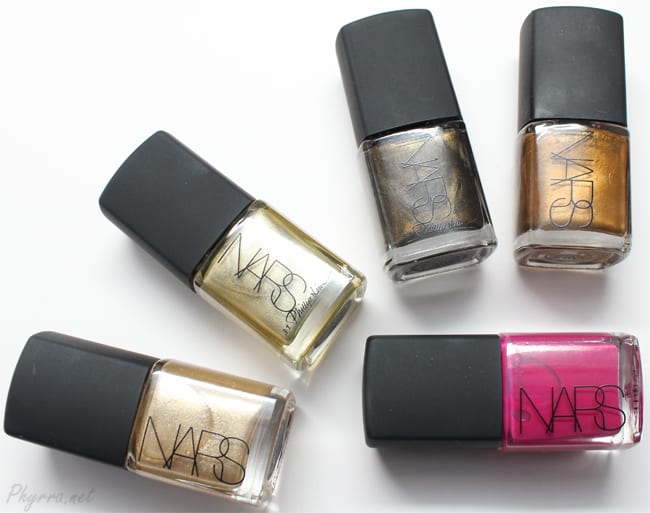 I've actually got 4 new NARS nail polishes to show you – Milos and Fearless from the newest release, and Gold Viper and Insidious from 3.1 Philip Lim for NARS.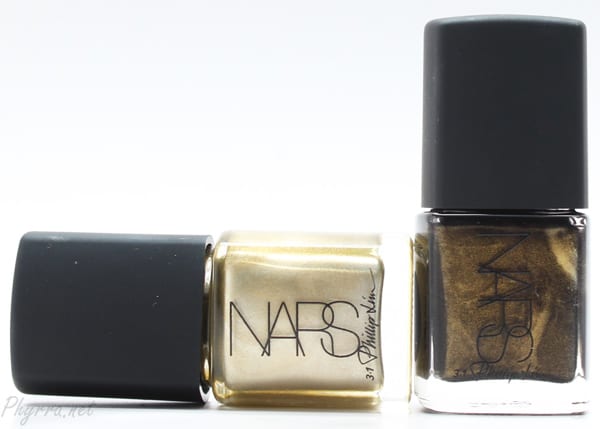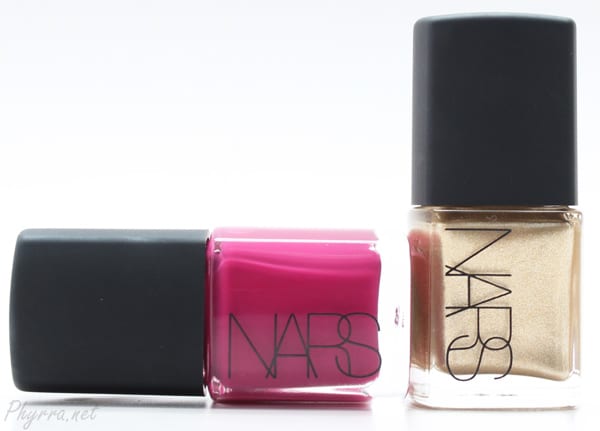 Shade Descriptions
Milos – rich gold
Fearless – bright pink violet
Gold Viper – champagne
Insidious – black bronze. This shade is exclusive to NARS boutiques and narscosmetics.com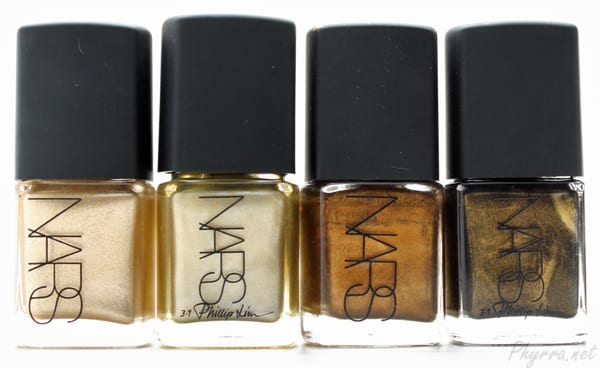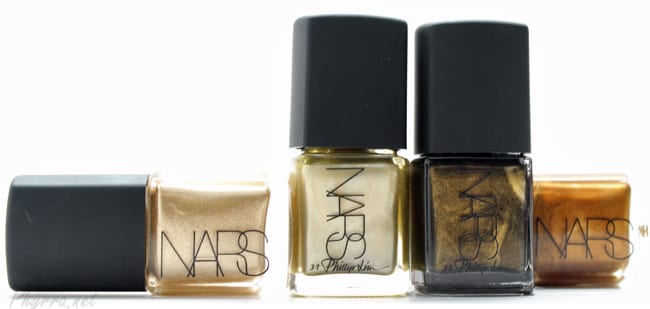 I also pulled out a classic NARS shade, Desperado, which happens to be my favorite gold that I purchased a few years ago. I used this in the manis I created.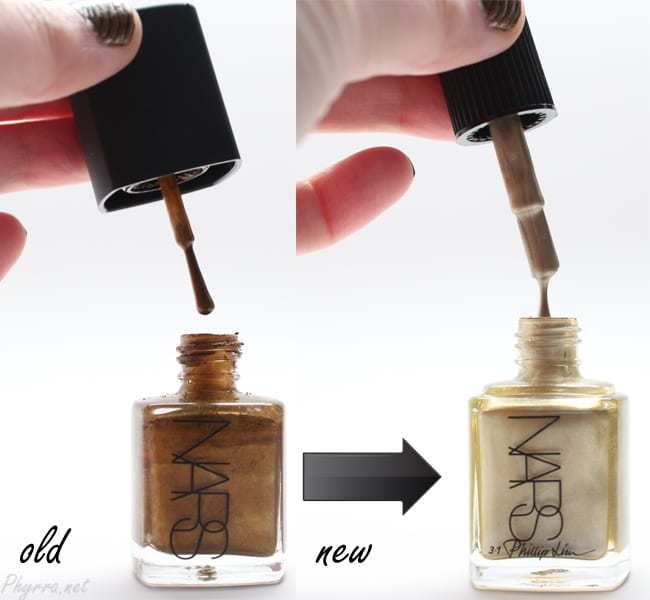 You can see the difference in the old brushes vs. the new. The new brushes are wider and easier to use to apply color.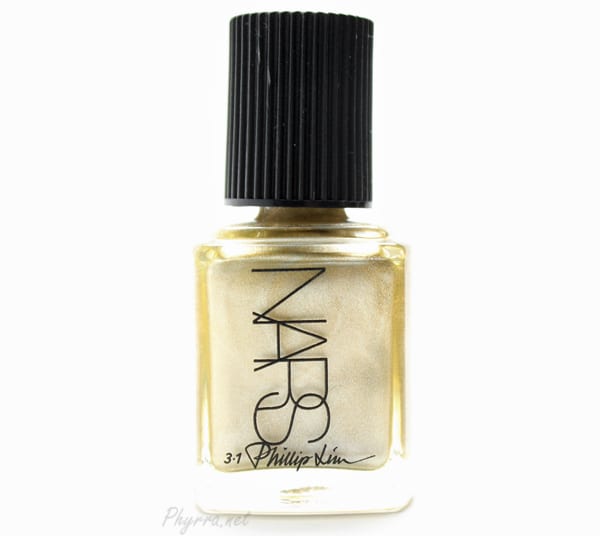 Additionally, the bottle design, while similar, isn't identical. The new bottles allow the square top to easily come off and reveal a smaller round top, similar to the butter LONDON bottle design. This makes it easier to apply nail polish.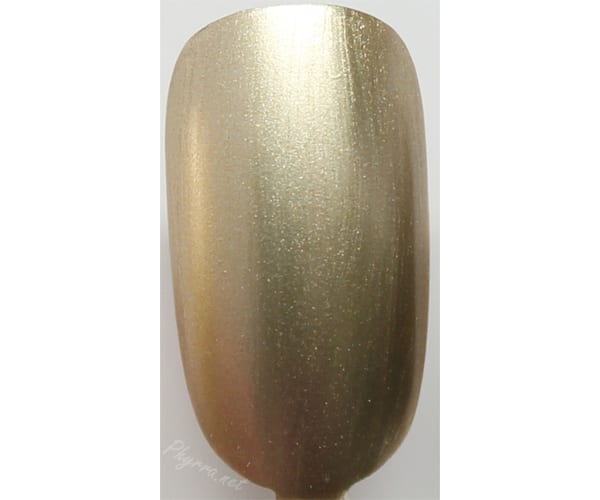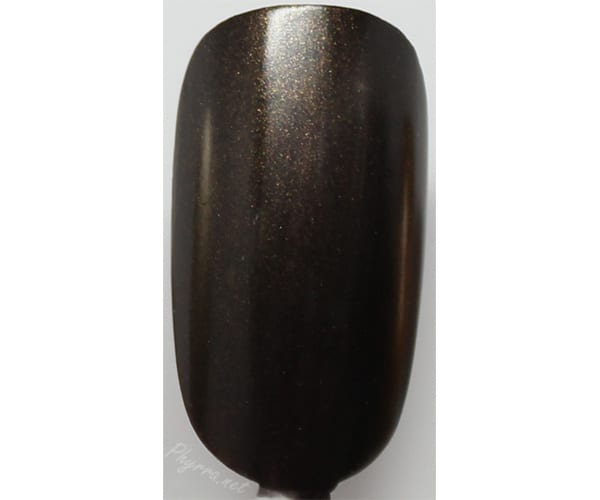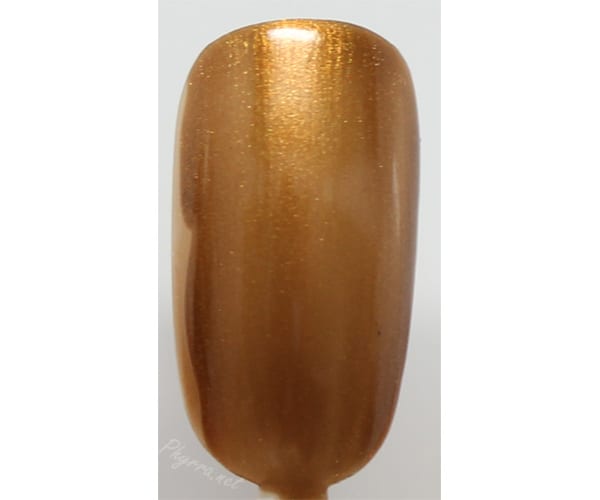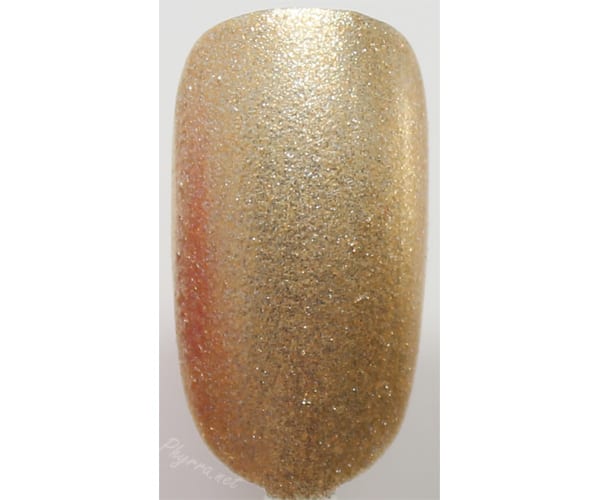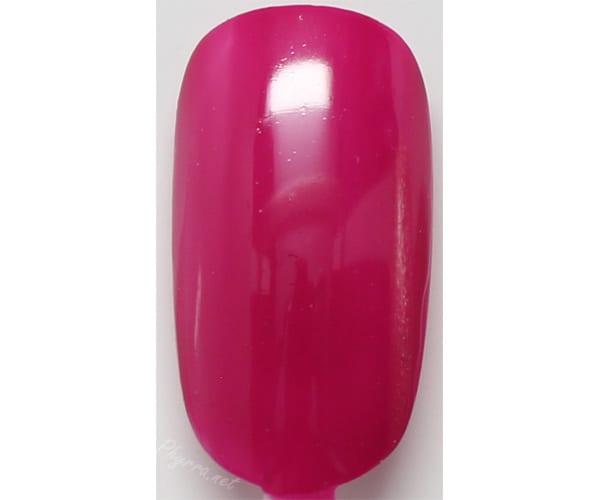 I created some simple nail art. My right hand doesn't look as nice as my left hand since I'm right hand dominant.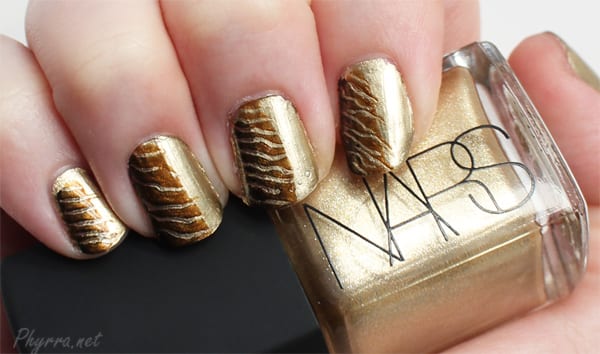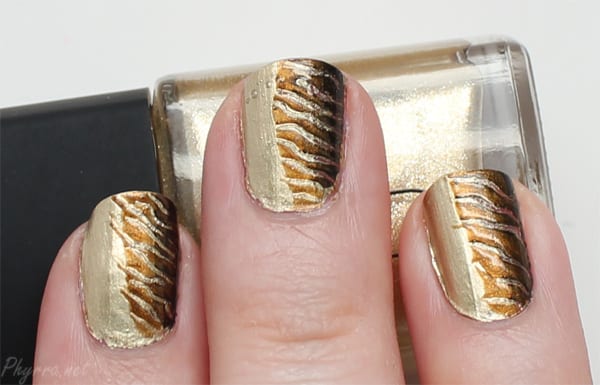 Base – Gold Viper
Stripes – Insidious and Desperado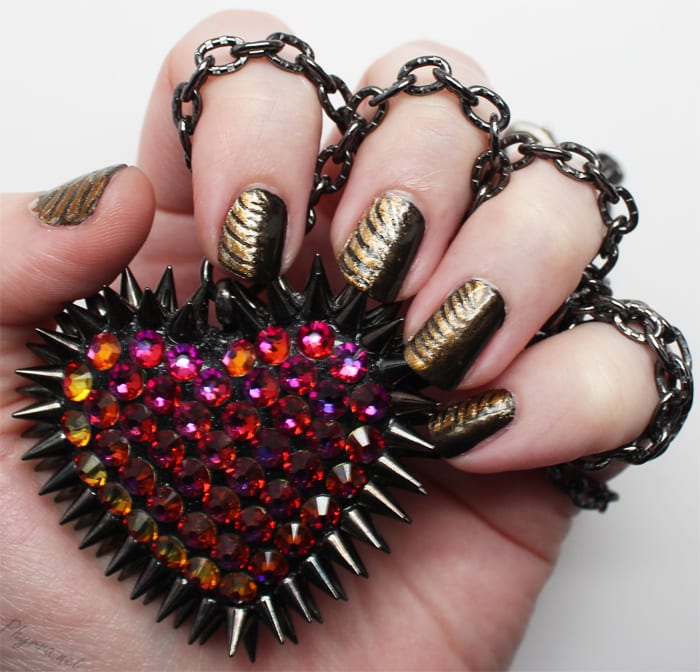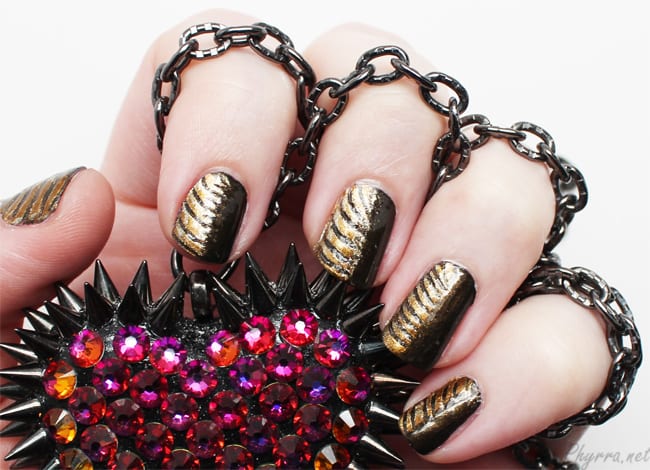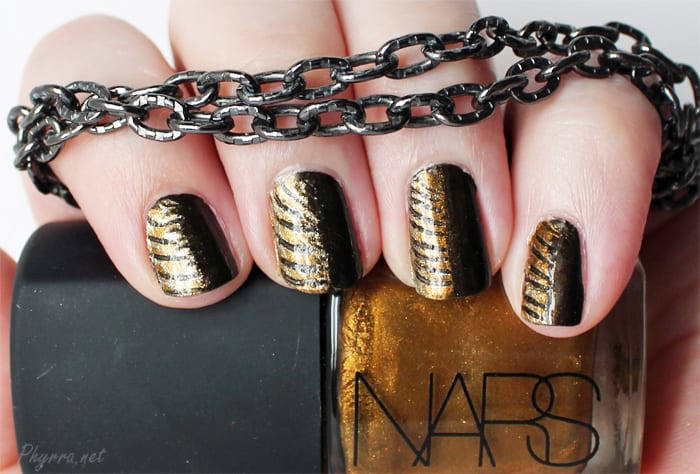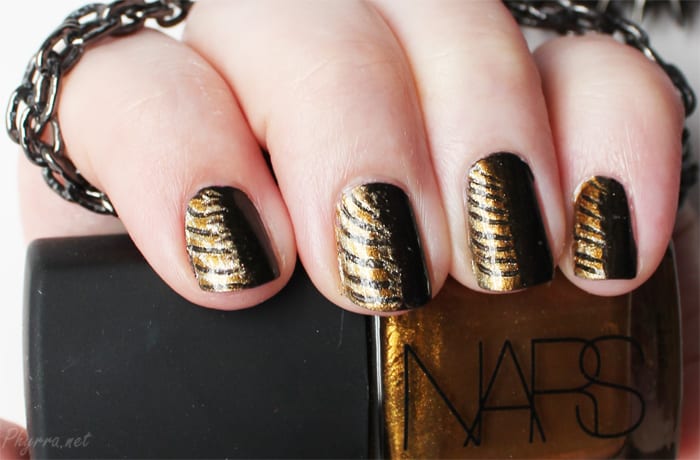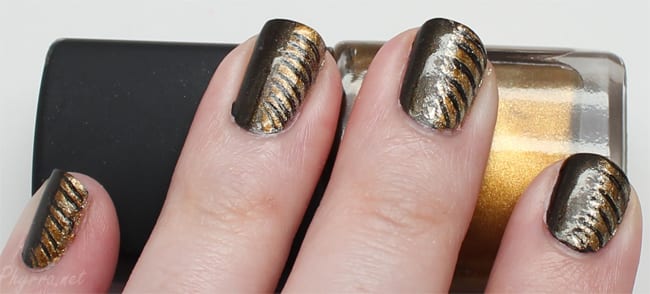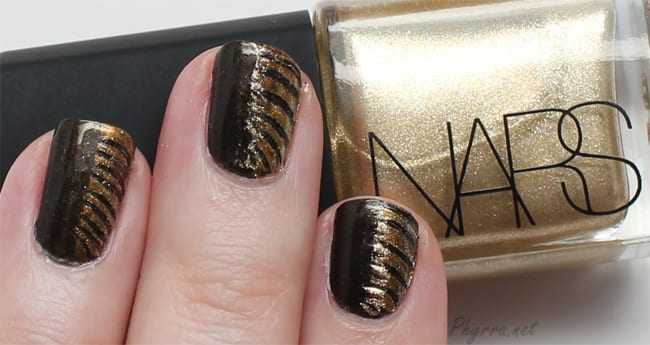 Base – Insidious
Stripes – Desperado and Milos
I'm really impressed with the new nail polish formula. I loved the old, but with the new brush, it's even easier and smoother to apply. I could almost get away with 1 coat with Insidious! The pigmentation is great in the new nail polish.
Desperado is an antique gold with brassy tones. It's really rich and works nicely with Insidious, Milos and Gold Viper.
Insidious is a nice alternative to black, though in low light you're going to think it's black or a warm-toned black.
Gold Viper is a pretty pale gold metallic, almost like a foil to me. It's a great base shade for nail art.
Fearless is a very pretty berry creme.
I love these new colors! If you're
Milos is a lovely light sparkling gold. It's so pretty!
If you're looking for luxury nail polish with smooth formula and excellent pigmentation, look no further than the newly reformulated NARS line. I don't think you'll be disappointed.
What do you think of the new NARS nail polish? Do you like any of the shades I showed you today?
Pros
Great pigmentation
Nice new brush
Great shade range (43 new shades, 9 in the 3.1 Phillip Lim, plus whatever else comes out this year)
Cons
Last Updated on