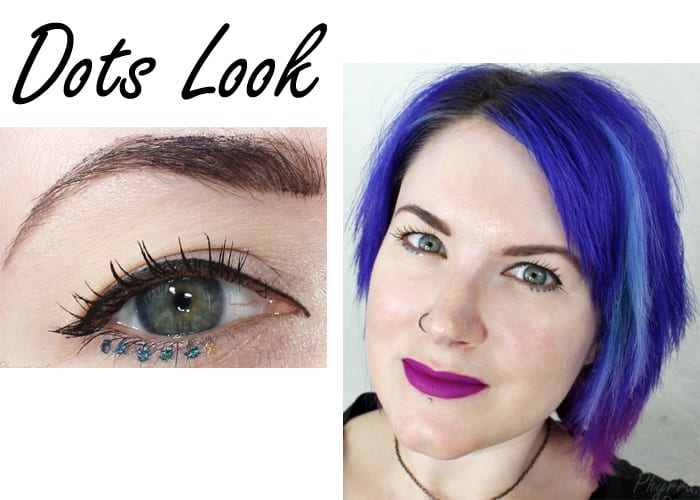 This is the look I wore Saturday night for a party. I kept my lips as the focus of my look, but I did create a subtle, cool effect with dots around my lash line.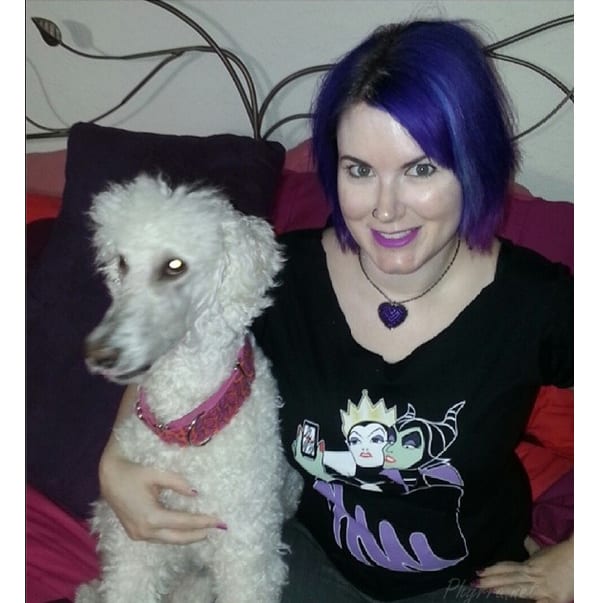 My friend's party was Minecraft themed, and I was sort of at a loss for what to wear (the theme was determined very last minute, usually I have at least 2 weeks lead), so I decided it was Evil Queen Selfies night. Here's Phaedra with me. I love my standard poodle!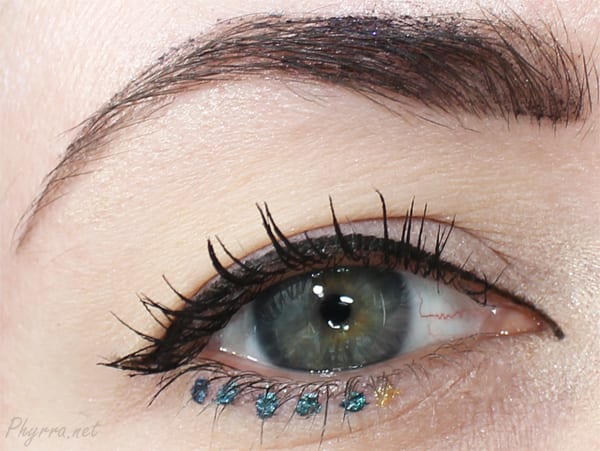 Eyes
Too Faced Shadow Insurance
Urban Decay Walk of Shame – all over eye area
Urban Decay Ink for Eyes Liquid Eyeliner – upper lash line, cat eye (vegan)
Urban Decay 24/7 Siren (teal) – dots along outer lower lash line (vegan)
Urban Decay 24/7 El Dorado (gold) – single dot at inner lower lash line (vegan)
Urban Decay Perversion Mascara (vegan)
NARS Eye Paint in Tatar – brows
Anastasia Highlighter – inner corner
Face
OCC Skin Conceal in Y0 – under eyes (vegan)
e.l.f. HD Undereye Powder – under eyes
Lips
Pretty Zombie Lipstick in Purple Poison (vegan)
This is really easy to recreate.
Apply eyeshadow primer
Apply UD Walk of Shame (or another skintone color eyeshadow) all over your eye area
Line the upper lash line with UD Ink for Eyes and give it a cat eye flick
Make 5 dots of UD Siren along the outer lower lash line
Add a single dot of UD El Dorado at the inside of the lower lash line
Conceal under the eyes with OCC Skin conceal in Y0 (or whatever concealer best matches your skintone)
Set the concealer with e.l.f. HD Undereye Powder (LOVE THIS STUFF!)
Fill in the brows with your favorite brow gel. I used NARS Eye Paint in Tatar
Highlight at the inner corner with the Anastasia highlighter.
Finish with UD Perversion Mascara. I swear this stuff is amazing!
I'm very lucky that my Mirvaso medication makes my skin look good for at least 4 hours, usually closer to 8-10 hours, and on rare occasion 12 hours. It's supposed to last up to 12 hours. I really like not having to wear foundation. I like my skin looking 'good enough' that I don't feel the need to cover it up because of my blotchiness from rosacea.
When I have Mirvaso on and it's working, I feel like I have good skin. It makes a big difference in how I feel about my face. Yes, I love my Cover FX CC Cream, which lets me fake flawless skin, but it's  nice to be able to forgo foundation, too.
I love Pretty Zombie Purple Poison on my lips with this hair color. I think they look great together.
Last Updated on