I wanted to share my NARS Mekong look, which I wore to my cousin's wedding when I was in Indiana. She had a Black and White themed wedding, which was really cool.
NARS Mekong Look and Wedding Outfit
I opted to forgo foundation and used my Mirvaso medication, but packed my Cover FX Pressed Mineral Foundation in N10 in my handbag just in case I needed it (plus it has a mirror). I started out with Kat Von D Studded Kiss lipstick in Gothica, but before I left my grandmother's house, I changed to my Champagne Agave lip mask paired with NARS Anse Soliel pencil.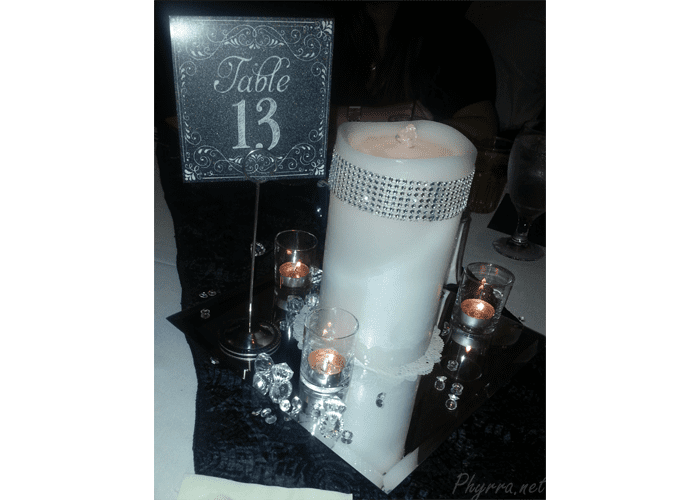 Yes, we were seated at lucky table 13. The centerpieces were gorgeous and the candles light up and had water bubbling inside. Really neat.
Yes, I've got a huge dimple in my chin. The picture above makes me feel like I'm channeling Andy Samberg more than Rose McGowan.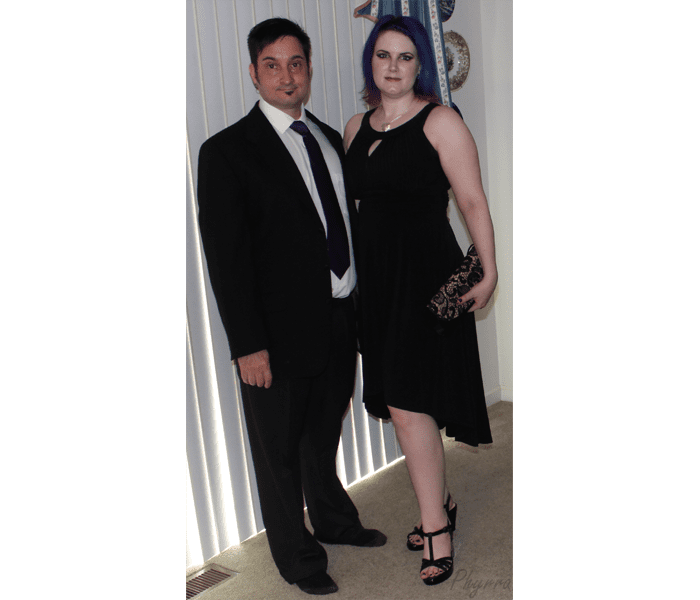 Dress – Sangria Sleeveless High-low Halter Dress in Black
Shoes – Alex Marie Lilah Platform Wedges in Black
Handbag – Jessica McClintock Large Lace Clutch in Black / Champagne
Necklace – Bunny Page Silk Ombré Mini Pavèd Heart Necklace
Earrings – Bunny Page Crystal Heart Rose Gold
Ring – Bunny Paige Purple Velvet Swarovski Crystal Cocktail Ring
I couldn't get anyone to take a decent picture of me with Ray and I didn't have a tall tripod.  The best picture I have was before Ray even put on his shoes. *headdesk* It was a black and white wedding, so of course I wore black. Ray wore a purple tie to match my hair.
I absolutely love that clutch I bought for this event. It has a small shoulder strap, which I used later in the evening. The bag also held my small makeup bag and cell phone, so I had everything with me that I needed. I brought Cover FX Pressed Mineral Foundation in N10, NARS Anse Soliel lip pencil and Bite Beauty Agave Lip Mask in Champagne.
The shoes were very comfortable for running around in. I did have a black wrap to go with my dress. Unfortunately both were too thin for the bitter cold winds of Indiana for the outdoor ceremony. Thankfully the reception was indoors! I do love the dress and I felt like it was very flattering. I purchased it thinking that it would be Summer weather, not Fall, for the wedding.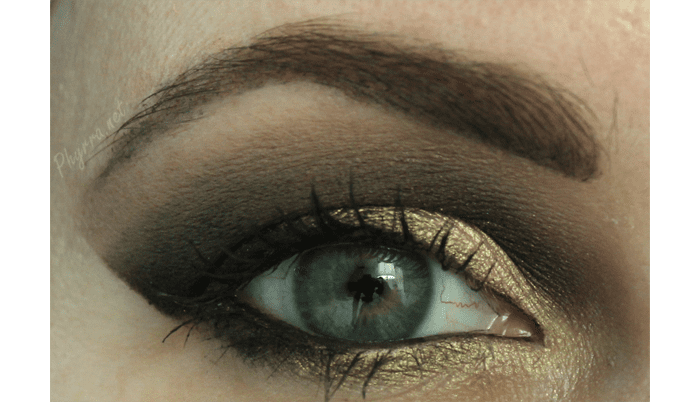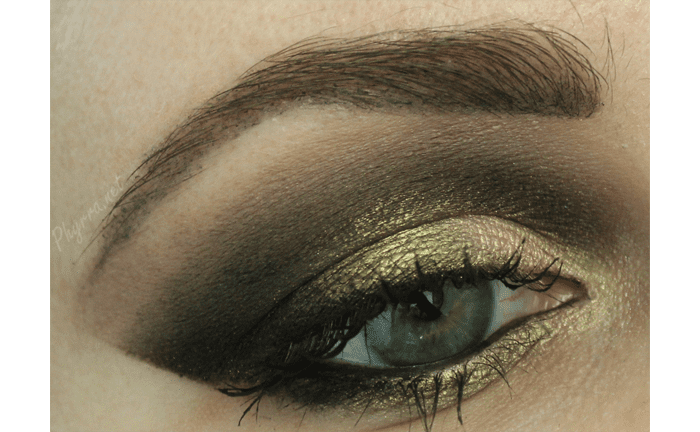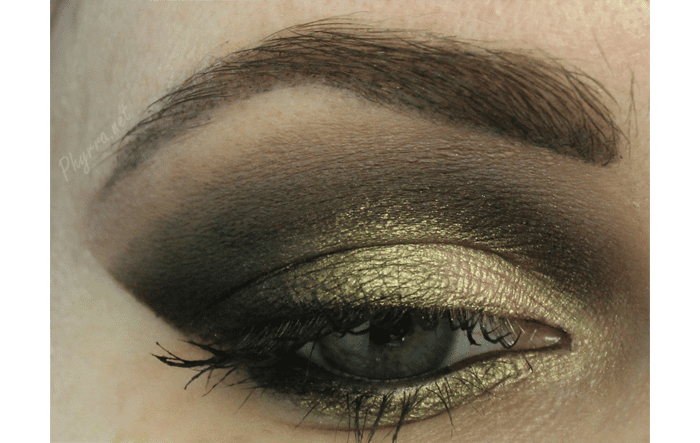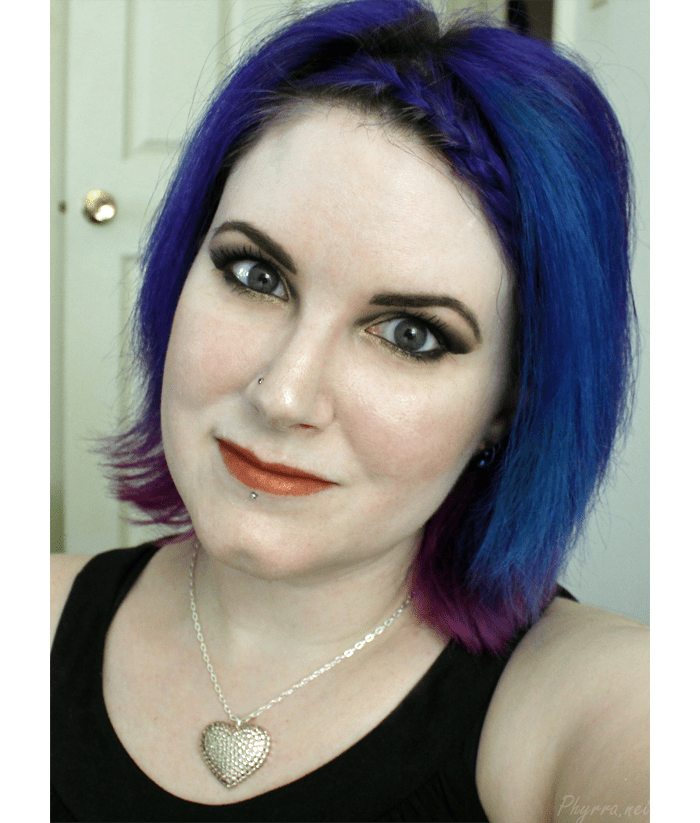 I didn't like how Gothica looked on me, so I switched to Bite Beauty Champagne with NARS Anse Soliel.
Eyes
Ofra Cosmetics Eye Gel Primer
NARS Madrague 1 (NARSissist Smokey Eye Palette) – base
NARS Mekong (NARSissist Smokey Eye Palette) – outer half of lid, crease, outer lower lid
NARS Bali (NARSissist Smokey Eye Palette) – upper crease
Urban Decay X – inner lid and inner lower lid, blended outwards
Smashbox Deep Black Gel Liner – waterline
Urban Decay Subversion Mascara Primer
Urban Decay Perversion Mascara
Anastasia Lash Genius
Anastasia Brow Wiz in Granite
Anastasia Tinted Brow Gel in Granite
Face
Too Faced Candlelight Glow Duo – highlighter
Lips
Kat Von D Studded Kiss lipstick in Gothica
later switched to
NARS Anse Soliel pencil topped with Bite Beauty Champagne Agave Lip Mask
Nails
Cirque Colors Holdfast Base Coat
Obsessive Compulsive Cosmetics Nail Color in Technopagan
Nubar Diamont Top Coat
I love Urban Decay X. It's one of those cool duochromes that shift from peach to gold. Blended on top of Mekong the gold becomes more prominent.
I really love the combination of Bite Beauty Champagne on top of NARS Anse Soliel. It's my go-to neutral lip these days. It's such a comfortable, moisturizing combination.
What would you wear to a black and white wedding?
Last Updated on