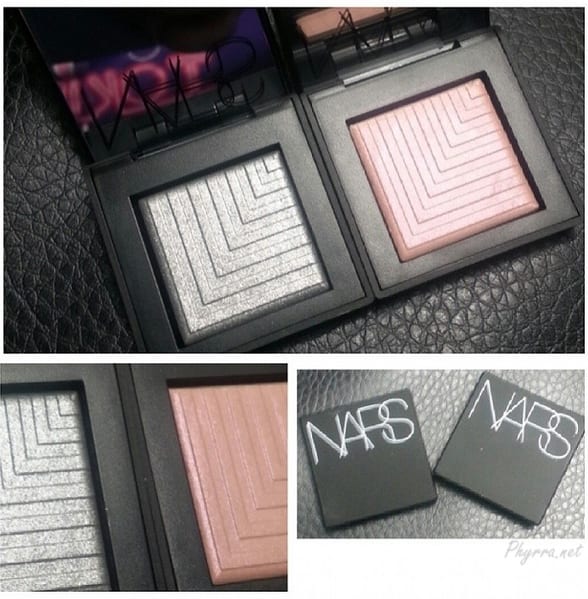 Today I've got the new NARS Dual Intensity Eyeshadows to show you. This new collection has 12 different eyeshadows and I have two shades to show you – Europa and Lysithea. I've also got an eyeshadow tutorial with the shades. These can be applied dry for a sheer, airbrush-like finish with a luminous sheen. If you want more intensity, apply them with a damp brush and they spring to life with opaque color.
NARS Dual Intensity Eyeshadow Review
NARS is cruelty free, but their parent company is not.
Price
$29 for .05 oz, available July 1st, 2014.
You can purchase the Dual Intensity Palette or individual shades.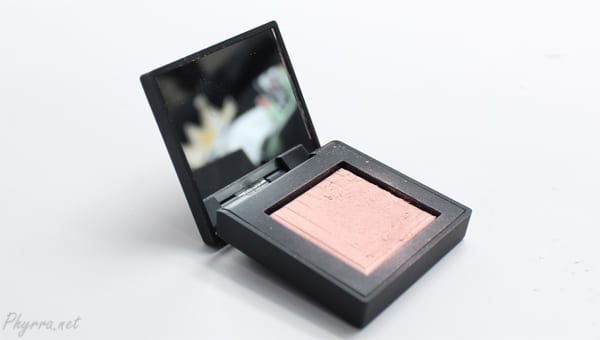 You can sort of see my new shirt in the reflection of Europa.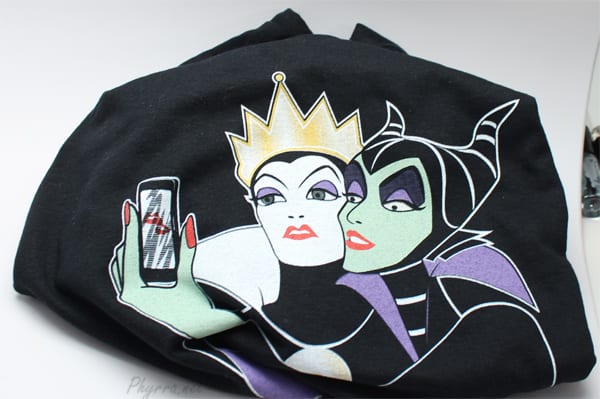 This is my Maleficent and Evil Queen 'Evil Selfie' Shirt.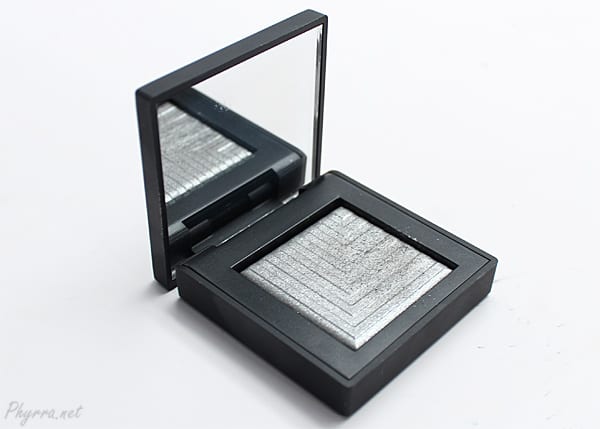 I applied these swatches on bare skin (using a cotton swab) and on Fyrinnae Pixie Epoxy. I also did a swatch of Europa using my finger and rubbed it into my hand, to show how it can be applied sheerly.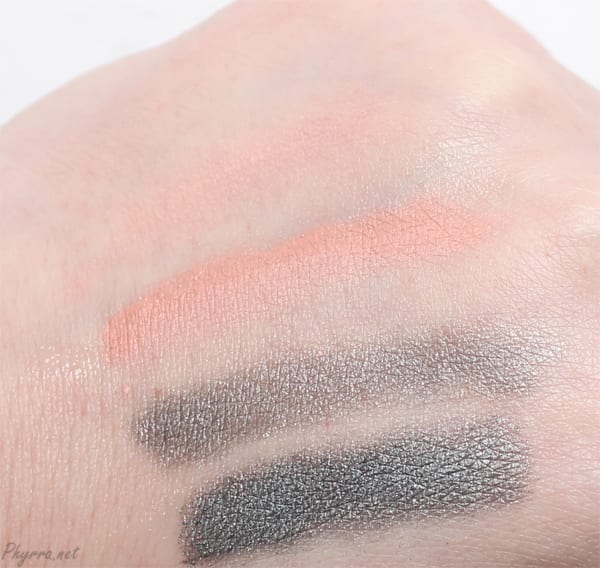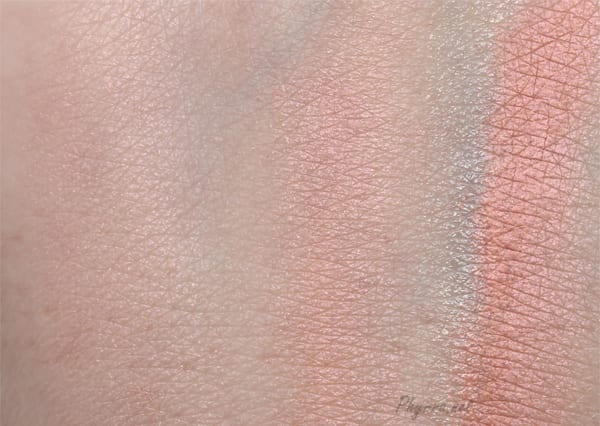 Europa is described as a gossamer pink peach. On the left I applied Europa with my finger on bare skin. In the middle I applied Europa on bare skin with a cotton swab. On the right I applied Europa on Fyrinnae Pixie Epoxy. I wanted to show the different intensity you get with the shade by using different application methods.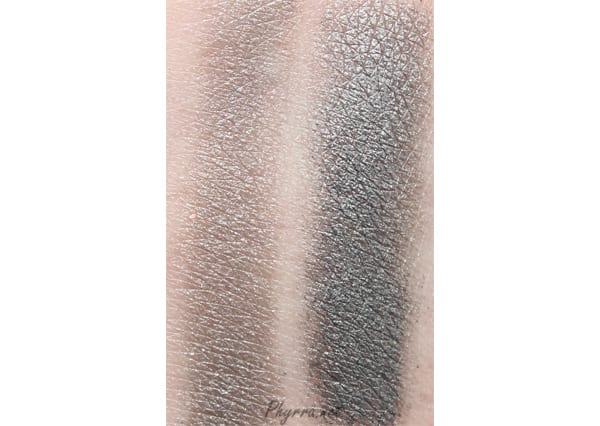 Lysithea is described as a shark grey. On the left I applied Lysithea on bare skin with a cotton swab. On the right I applied Lysithea on top of Fyrinnae Pixie Epoxy.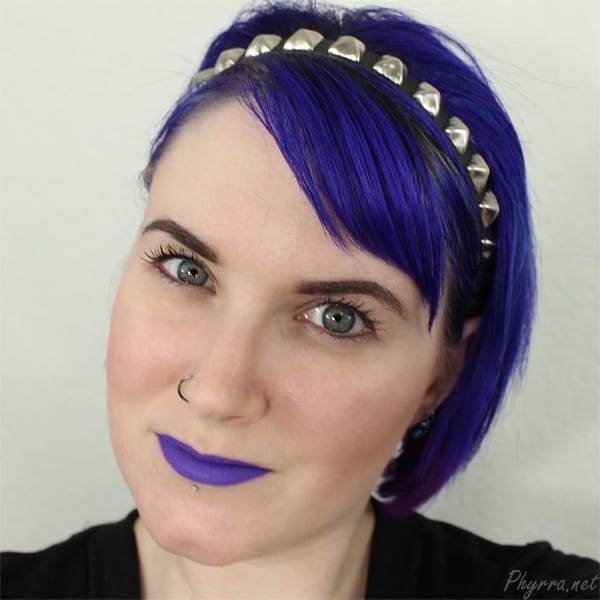 In addition to making a great eyeshadow, Europa made a great blush. I used it with NARS Olympia in the look above.

I created this tutorial to showcase NARS Europa and Lysithea. If you like this video please give it a thumbs up and subscribe.
In this tutorial, I show you how to apply upside down cat eye liner. I also follow Kandee J's quick and easy steps for filling in your eyebrows fast.  I think my brows look great from following her advice!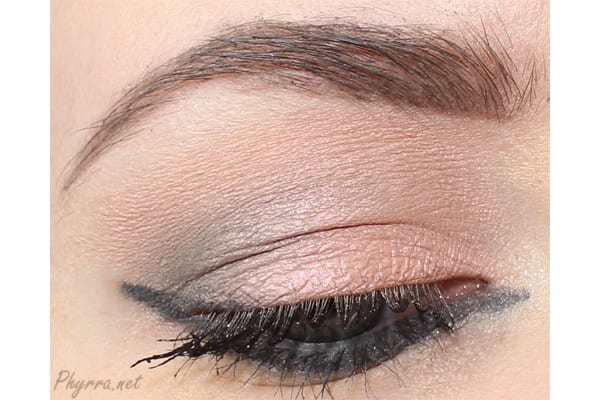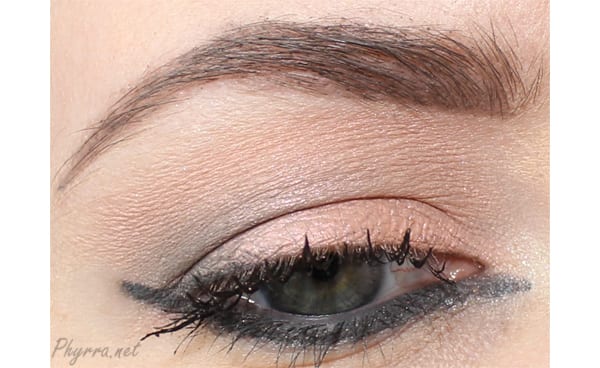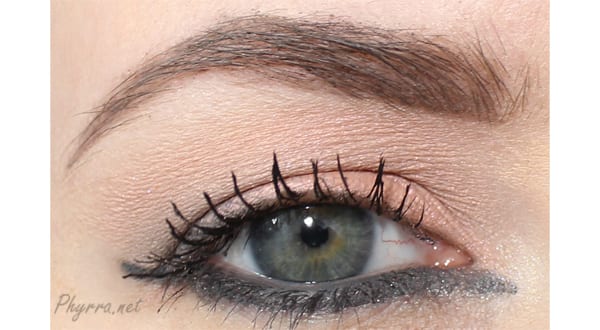 Eyes
Too Faced Shadow Insurance
Fyrinnae Pixie Epoxy – lid
NARS Europa – on top of Pixie Epoxy on lid and on top of primer in crease and lower browbone
NARS Lysithea – outer corner of lid and outer crease, blended inward, lower lash line
NARS Eye Paint in Transvaal – lower lid in upside down cat eye shape and lower waterline, outer upper lash line
Fyrinnae Nijiro – to highlight at the inner corners and under the brow
tarte Brow Mousse in Rich Brown
Cargo LashActivator Mascara Primer
Urban Decay Perversion Mascara
Face
Cover FX Anti-Aging Primer
NARS Angel Veil Primer – I mixed the primers together
NARS Light Reflecting Loose Setting Powder
Cover FX Matte Setting Powder in Light – I mixed the powders together
Cover FX CC Cream in N Light
Face Atelier Zero Minus – used to lighten Cover FX CC Cream
NARS Olympia – contour
NARS Hot Sand – highlighter
NARS Adult Content Cheek Palette – I mixed Miss Liberty and Deep Throat together for my blush
Lips
Bite Beauty Cashmere Lip Cream in Napa
My Thoughts
These are definitely the most expensive eyeshadow singles that NARS has ever (to my knowledge) created. A typical NARS single is $26 for .07 oz and these are $29 for .05 oz. You are definitely paying for what I would consider a luxury eyeshadow.
I got all day wear on eyeshadow primer with these two shades, so I always count that as a win.
I do really like the packaging. The design stamped on the eyeshadow is interesting and I like the shape. While I don't necessarily need the mirror inside the eyeshadow single, I'm sure there are some people who appreciate that aesthetic.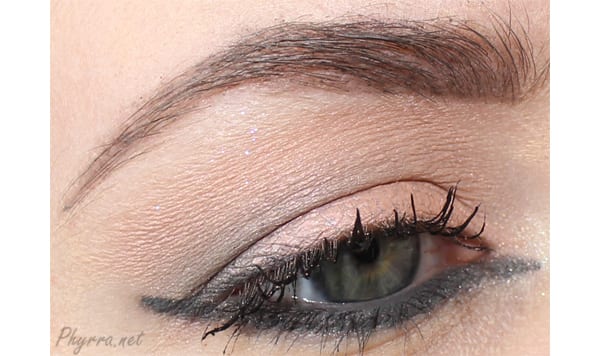 I found the two eyeshadows easy to work with. Europa could be applied very sheerly for the barest hint of color on bare skin. It was still pretty light on primer (like on my crease and lower browbone in the tutorial above). When applied on Fyrinnae Pixie Epoxy it was definitely more pigmented and you could see it. After I finished the tutorial above, Ray commented that it was strange to see me wear such a light color on my lid and crease. I think that Europa is perfect to pair with cat eye liner.
Lysithea is more pigmented than Europa. Even when I used Europa on Fyrinnae Pixie Epoxy for a foiled look, the color was very subtle. Lysithea is great if you use it sheerly all over the lid and crease, or if you use it with a mixing medium for a more intense color. You can shade and contour with Lysithea, like I did above, without having to use a mixing medium. You could also apply Lysithea all over the lid and crease, then go back with a mixing medium to create a deeper liner.
Overall, I love both of the colors, but I don't love the price point.
What do you think of the NARS Dual Intensity Eyeshadows?
Pros
Cruelty free
True to pan color
Good formula
Cons
Expensive compared to the NARS Eyeshadow Single line