Milani Bold Obsessions Eyeshadow Palette
Happy Makeup Wars Monday! Today the Makeup Wars is talking all about the cruelty-free drugstore brand Milani. I've got the Milani Bold Obsessions Eyeshadow Palette to show you. I recently bought this from Milani's website as I couldn't find it in stores anywhere. I've got a review, swatches on pale skin, and a tutorial for hooded eyes, too.
Where to Buy
Milani Cosmetics
Price
$20 for 12 eyeshadows that are .04 oz each.
Milani Bold Obsessions Eyeshadow Palette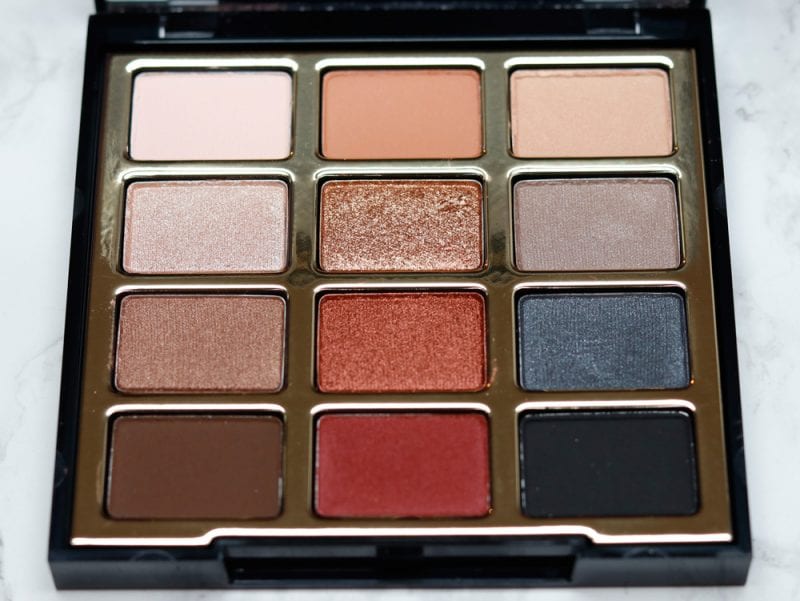 When I look at the Milani Bold Obsessions Eyeshadow Palette, I see three distinct quads of color. The left quad is the warm brown quad. The middle quad is the golden red copper quad. The right quad is the cool-toned quad.
Milani Bold Obsessions Eyeshadow Palette Swatches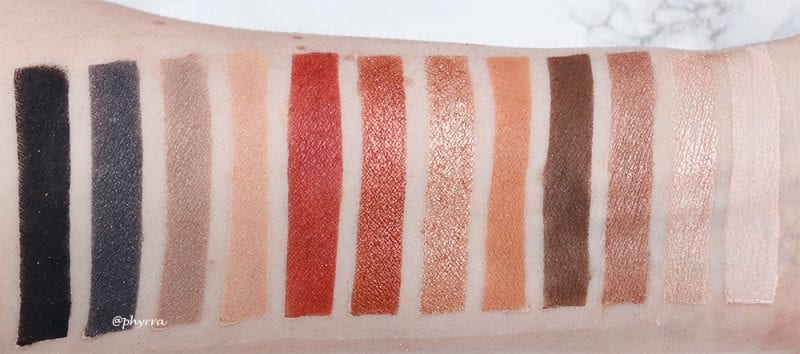 From Right to Left
Can't Pink Straight – light pinky peach beige matte
Sands of Time – light beige shimmer
Suede Side to Side – midtone brown shimmer
Brunettes Have Fun – deep brown matte
Sweet as Honey – peachy brown matte
Gold-Getter – golden bronze shimmer, this one had some gold shimmer fallout
Blazing Hot – copper shimmer
Red Between the Lines – warm red matte
Bare in Mind – light beige brown matte
Slate All Day – cool-toned taupe satin
Smoke Signals – cool-toned graphite grey shimmer
Little Black Dress – black matte
Cruelty-free Makeup Tutorial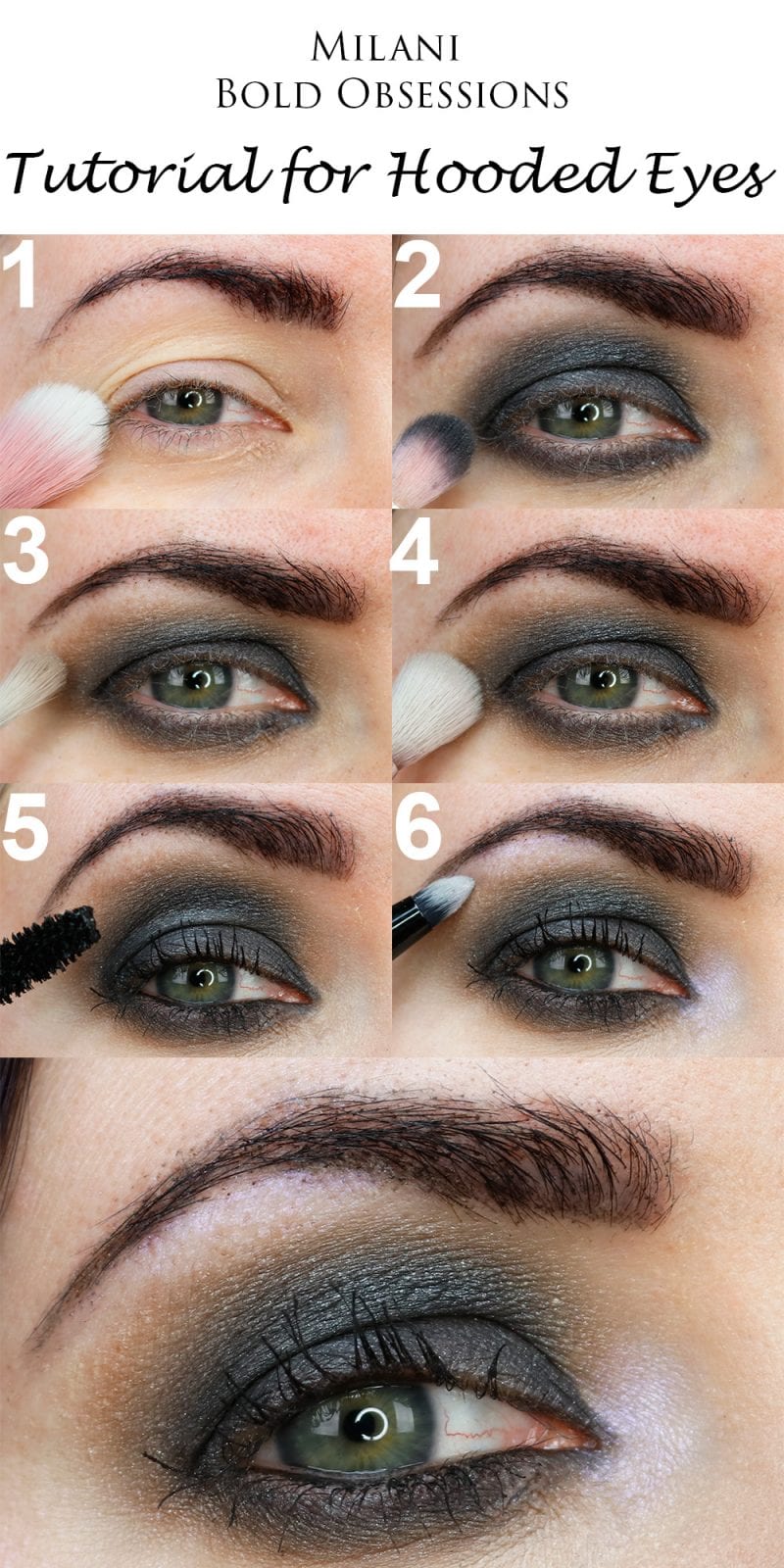 Set your eyeshadow primer using a huge fluffy brush with Milani Prep Set Go Setting Powder
Use a fluffy brush to apply Smoke Signals in the smoky dome shape to the lid, the hood of the eyes, and the lower lid.
Use a small fluffy brush with Slate All Day to blend out the edges as your transition shade.
Blend all over with a big fluffy brush to make sure the colors fade into each other smoothly.
Line the waterline with black eyeliner. Apply mascara. You can also apply false lashes if you want to do so.
Highlight under the eyebrow and at the inner corner of the eyes with your favorite highlighter on the KVD Shade+Light brush.
I created a quick and easy cruelty-free makeup tutorial featuring the Milani Bold Obsessions Eyeshadow Palette for you. I used the smoky dome shape that I find flattering on my hooded eyes.
Cruelty-free Makeup Look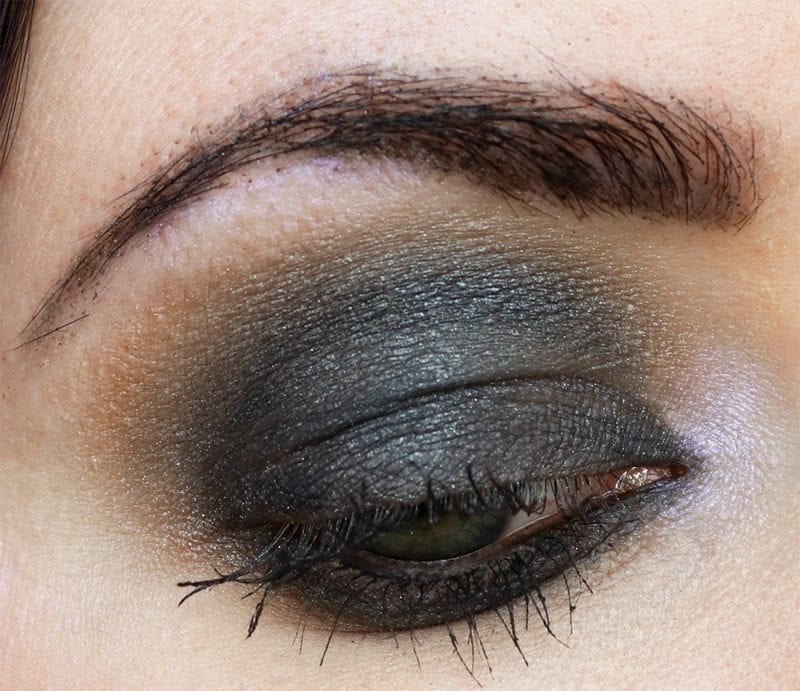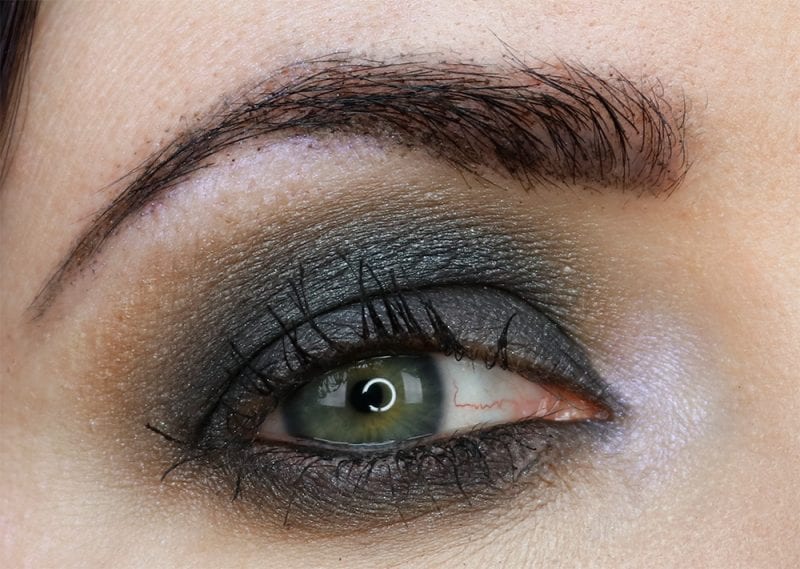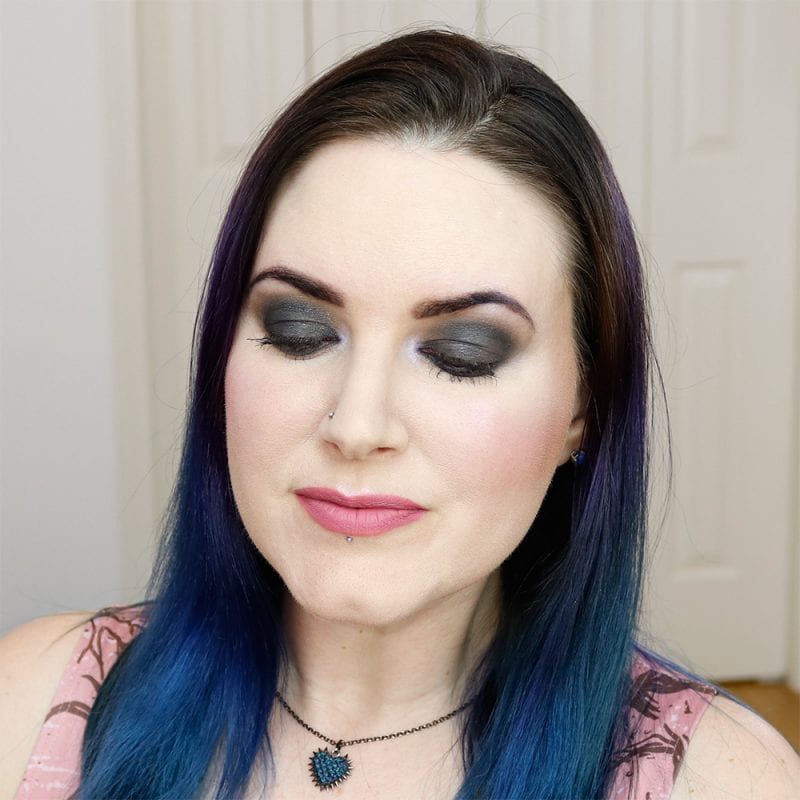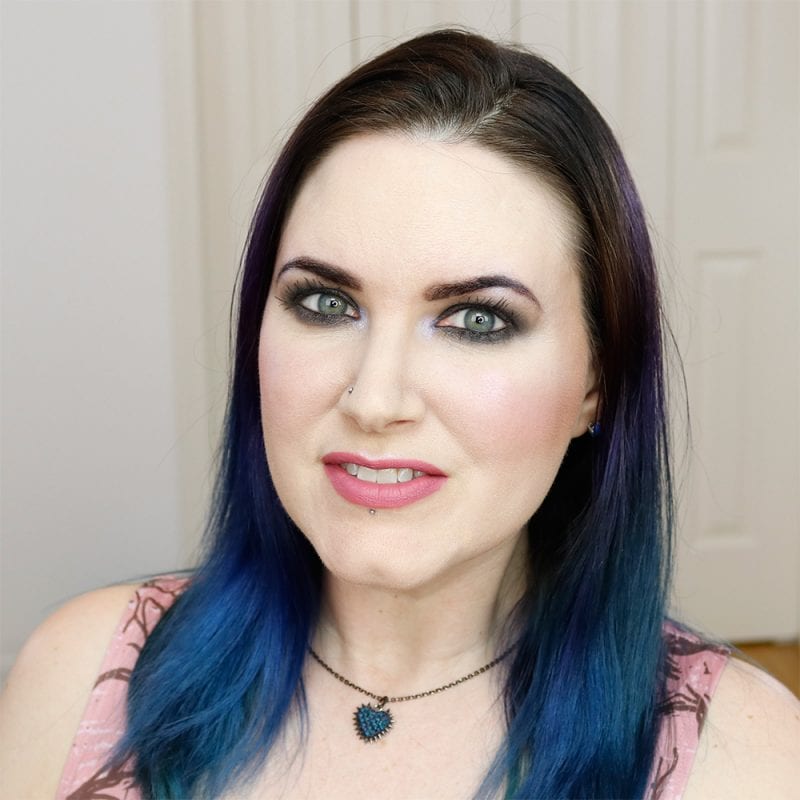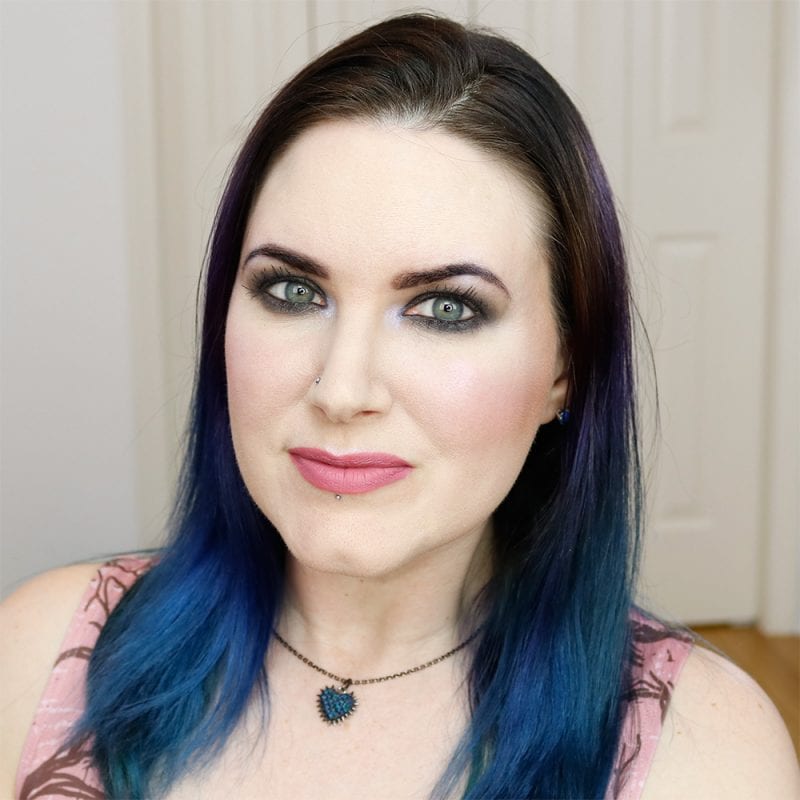 Fashion
CowCow Pink Raven Dress
Bunny Paige Micro Spiked Heart Necklace
Bellabeat Leaf Urban Fitness Tracker
Eyes
Urban Decay Primer Potion
Milani Prep Set Go Setting Powder
Milani Bold Obsessions Eyeshadow Palette
Wet n' Wild White Raven Highlighter
Milani Supreme Kohl Kajal Eyeliner
Glossier Boy Brow in Black
Colour Pop Jet Set Black Brow Pencil
Smashbox Mascara Primer
Urban Decay Perversion Mascara
Face
Milk Makeup Blur Stick
Laura Geller Balance-n-Brighten foundation in Porcelain
Milani Dolce Baked Bronzer
Milani Rosa Romantica Blush
Urban Decay Obsessed Blush
Wet n' Wild White Raven Highlighter
Urban Decay Naked Light Loose Finishing Powder
It Cosmetics Bye Bye Redness Transforming Powder in Porcelain Beige
Hourglass Ethereal Light Glow Powder
Pixi Makeup Fixing Mist
Lips
Kat Von D Lovecraft pencil
Too Faced Melted Matte Lipstick in Melted Clover
I wanted to use mostly Milani makeup products for this look. Unfortunately, they don't make a foundation that matches my skin tone. I've bought 4 different shades of the Conceal + Perfect 2-in-1 Foundation+Concealer (00A, 00B, 00, and 01). All 4 shades are too dark and orange for my pale skin (you can see swatches of 00A, 00B and 00 here). I really need them to make an ultra pale neutral shade! I can't use Milani's eyeshadow primer either as it is very yellow-toned on my skin tone.
I actually own several of the Milani blushes, but my favorite is Rosa Romantica, I also like Bella Bellini and Dolce Pink. They need to add some cool-toned shades though! I had to add Urban Decay Obsessed to give myself more of a cooler pink flush.
I've got a huge painful deep zit on my chin from a rosacea flare up, so I used a bunch of different face products to try to hide it. It's really bugging me, so I photoshopped it out.
Milani Bold Obsessions Eyeshadow Palette Review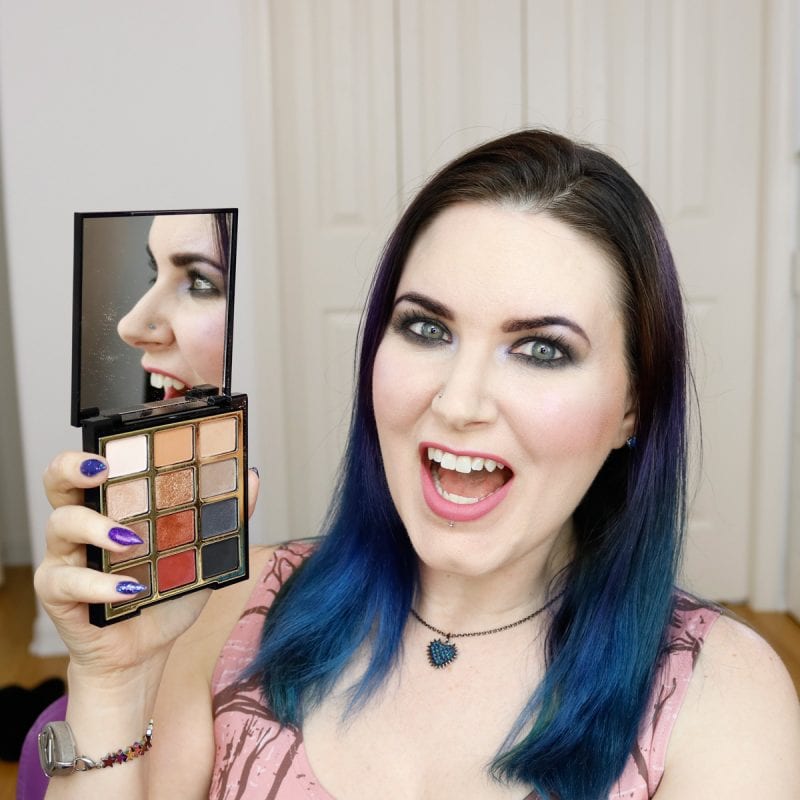 Milani claims that the Milani Bold Obsessions Eyeshadow Palette features universal neutrals and rich jewel-tones. It's a neutral palette. I don't really see jewel tones in this palette. The closest you get to a jewel tone ruby red is the warm red shade. Despite the lack of jewel tones, such as amethyst purple, sapphire blue, emerald green or aquamarine teal, it's a lovely neutral palette.
The Milani Bold Obsessions Eyeshadow Palette is probably the best affordable cruelty-free drugstore eyeshadow palette that I've ever purchased. In terms of pigmentation, it blows every other cruelty-free drugstore eyeshadow palette that I own out of the water. The eyeshadows have enough pigmentation that a little goes a long way, yet they're easy to blend out. I didn't struggle with any of the colors in the palette.
Smoke Signals is easily my favorite shade in the palette. It's such a beautiful grey color that really brings out my blue-green eyes. It blends out amazingly easy with no fallout (provided you tap off your brush, which I always recommend doing with deep colors).
While I originally expected something named Bold Obsessions to have brights in it, I'm not disappointed with what I found under the lid of this palette. I do hope Milani chooses to release something colorful that has the same quality as the Bold Obsessions Eyeshadow Palette, like maybe a purple palette or a tropical palette.
If you're looking for a new affordable cruelty-free neutral eyeshadow palette, you'll love the Milani Bold Obsessions Eyeshadow Palette. If you're burned out on neutrals, skip this one.
What do you think of my Milani Bold Obsessions Eyeshadow Palette review and tutorial? Let me know!
Be sure to check out the rest of the Makeup Wars Bloggers Milani posts, too!
[inlinkz_linkup id=770275 mode=1]