Recently I received my Meow PINK Inc blushes that I purchased. So of course, I had to swatch them for you!
Meow has to say this about the PINK, Inc collection:
Experience the musical, lyrical beauty of PINK in sheer wearable blush shades perfect for right now. This special luminous sheer formula is multi dimensional and lightly translucent, for maximum wearability (or should we say PINKability?? Available in 14 fun, light PINK-hearted shades, sure to help you transcend nearer to your inner PINK.
I love the thought put into this blush collection. Meow has several blush collections and I tend to like their blushes. This new collection is no exception! I ordered one full size blush, sight unseen, because I have such faith in their beautiful blushes.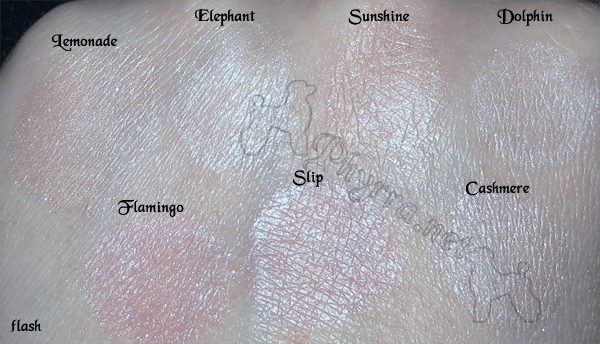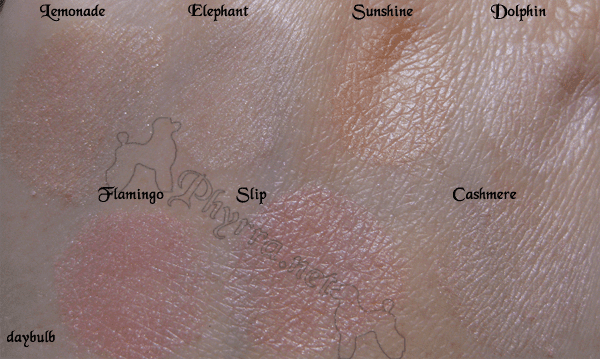 Shade Descriptions:
Lemonade – clear crisp lemon drenched pink
Elephant – like an orange dreamsicle dipped in cotton candy pink
Sunshine – sun drenched pink-peach
Dolphin – as rare and exquisite as the real thing
Flamingo – pink, bright, warm and sheer
Slip – bright warm coral pink with a slight refreshing twist of citrus peach
Cashmere – soft beigey, complex, naked pink
Me wearing Lemonade
I swatched all the colors on my bare hand without any primer, using a cotton swab. I think the colors will vary greatly depending upon your own cheek color. I have a slight pink overtone, so you can see how Lemonade differs from the swatch on my hand to on my cheeks. I can't wait to wear the rest of the colors!
Price:
$16.25 20 gram jar
$9.25 10 gram jar
$1.00 sample bags
As expected, I love the new blushes. What do you think? Do you see any shades you like?
Products purchased by me. All opinions are my own.