February's Independent Spotlight is with none other than Lex of Sobe Botanicals.
What drew your interest in beauty & skincare products?
I've always loved all kinds of beauty & skin care. I don't like to admit it, but I had really bad skin when I was younger. I would break out from everything & nothing helped me. My foundation & changing my skin care regimen to more natural healthier products finally worked. I also wanted to create more natural products & control each & every ingredient that goes into them, while still keeping them affordable for everyone. I researched every ingredient that goes into my products. I continue to check their ratings, as new evidence is offered regularly on their safety.
How long have you loved makeup?
For as long as I can remember I have always loved everything about makeup. I used to watch my mom apply hers. She would buy or give me things (now I'm always making & giving her colors, which is fun). I always had a drawer full of fun things to wear/play with. Especially Hello Kitty lip glosses, which I really loved. And of course those fun peel off nail polishes.
What made you decide to make your own products?
I tried 2 of the TV brands, which made me itch & break out. I decided to research & find out what made me itch (I'm always researching something). I read it was the bismuth, then came across sites to order the ingredients & ordered them to create my own. I was really happy with the foundation I created & added more products from there.
How did you come to the decision to open Sobe Botanicals?
I loved how the foundation made my skin look & everyone who tried it really liked it. I wanted to share this with others. Then I created shadows & saw all the colors I could create. I instantly fell in love with it & still can't stop creating new colors.
How did you decide on the name?
I was born & raised in Miami and South Beach has always been one of my favorite places. During the day it's a beautiful beach. A place to lay out in the sun or grab a bite of something different from the norm. At night it's a big party with a variety of nightlife to choose from. Nightclubs (both indoor or out) or restaurants almost as fun as going to a club.
About how many hours a day do you work? How many days a week?
I pretty much never stop working. I'm always researching, creating something new, making orders, labeling & packing, etc. I am usually up to 2 & 3am still working. I love it. A lot of people might not know, but I am also a mom of 2 boys. I balance my time working & taking care of them. I personally answer all emails, photograph all my products, make, label & pack each one.
What all do you make in your shop?
I make bath, body & beauty products from makeup to skincare & perfumes. I make everything from scratch & never buy bases, etc. I research every ingredient & put together unique combinations.
How do you come up with your scents?
It probably comes from my love of cooking. Adding a dash of this & that. I also like to play with
different notes I haven't seen together, but I think sound interesting together. Some turn out fabulous & surprising. And of course others don't make it. I have a collection of single notes & essential oils that keeps on growing (almost 3 bookcases completely full). I can never have enough. I have quite a few new scents I will be offering soon.
What inspires you to create your makeup?
I get inspired by anything & everything. From a piece of fruit to the color on a painting, to the color on a box of whatever. Things just pop in my head. I like creating things you wouldn't find anywhere else & love to mix finishes & textures. My favorite inspiration comes from the wonderful customers I've met & such amazing positive compliments. That inspires me to create more.
What is your favorite product to create?
Eyeshadows, since there are infinite colors you can create & do so many different things with them. Blending finishes, adding duochrome, etc.
What's your least favorite product to create?
That's hard for me to answer. Actually, none. I wouldn't continue to make things I didn't enjoy. There are too many new things I want to add, that I wouldn't want to spend time doing something I didn't have the heart for.
What is one of your favorite products that you think doesn't get enough love?
Hmm, prob my scents, but that might change with all the new ones.
What are your favorite colors to wear?
For clothes I always have a lot of black in my wardrobe. I think it's sleek, flattering & best of all
slimming. I also like reds. For shadows I like purples, pinks & mauves from very light to dark.
What are your favorite colors that you've created?
That's really hard to choose I like them all in their own special way. I really like color, even if I can't wear them all.
What are your favorite scents to wear?
I switch off the ones I create. Although I'm usually testing new ones to see how they wear & will
change with chemistry. For commercial scents I have too many I like. Lately I've gone back to an old favorite Gap Earth. I just like how clean it smells with a bit of earthiness.
What are your favorite scents that you've created?
Definitely Nocturne & One Caress. They're both very different, but I like them in their own way.
What are your favorite lip colors?
Depending on my mood I always like to wear different colors. That's why I create a variety. I need them all myself, lol.
Do you have a favorite beauty trend?
No, I actually don't really follow trends & tend to stick with things I like. I'm always evolving
What are your favorite scent notes?
Neroli (Orange blossom), Sandalwood, Chocolate & the list goes on.
What is your all time favorite scent?
Leau Dissey by Issey Miyake
What is your all time favorite eye shadow?
I have too many favorites to choose 🙂
Do you have a signature Scent?
Not really, since I am always changing what type of scent I want to wear. Sometimes dark & sexy, other times light & fresh & everything in between.
What are your favorite seasonal scents?
Again, I don't usually follow trends or seasons, when I'm in the mood to wear something I will. Even if it's a summer scent in the middle of winter or vice versa.
Do you have a favorite way to make fragrances?
I mix & make notes of a scent I'm blending, let it "brew" for at least a week, then test & see if it smells good & if I need to add more of anything, then wait again & test again until it's perfect
Do you have a trademark look or trademark colors?
I tend to really like colors in the purple/pink/mauve family, since I like the way they make my eyes pop.
Do you ever look at the runways for inspiration or trends?
No I don't go by what everyone else is doing.
What do you prefer to look at for inspiration when you're in the mood to create something new?
I find it everywhere in the most unassuming places
I know you take custom requests. What are your favorite custom requests that you've received?
Some of the colors in the Gothlips collection were requests. I liked how they came out so much I added them to the collection
What's your skincare routine?
I use one of my gentle cleansers, a toner, a light lotion for the face (such as my Tea & C for it's anti-oxidant properties) & switch off between the cool as a Cucumber & Roses are red for around the eyes. I like to do a mask every week to 2. I just got a new cleansing brush, so I will be using that with my facial cleanser.
What colors have you dyed your hair?
Jet Black, Red, Golden brown, I've gotten blond highlights, & been Blond for a while once. My natural hair color is dark brown
What's your favorite way to accessorize?
It depends on my mood. I'm usually in a hurry & with the kids I prefer to keep things more simple.
Can you tell us about any upcoming collections?
I sent you a sneak peak of a few. I have 2 highlighter collections 1 my signature shimmer on top of a matte satin base & a more shimmery set. Then another shadow collection. I am also updating my body butters with my new scents I've been working on for a while. Can't wait to see what everyone thinks of those.
What's your favorite chocolate?
ALL chocolate 🙂 If I had to choose it would have to be dark.
Do you have any pets?
Yes, we have a little Chihuahua & her name is Princess. We also have birds (little finches-I enjoy the little sounds they make) & fish.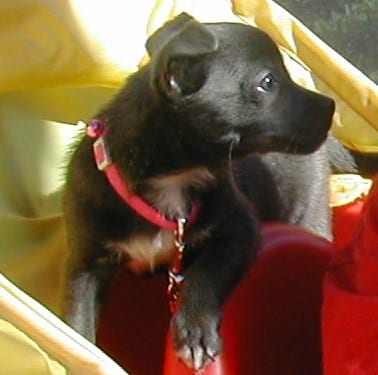 Do you play any video games?
No, I don't have any time unfortunately.
What are your favorite authors or books to read?
I wish I had time to read (or quiet time). It's one of my favorite things to do. I really enjoy Mysteries or something to clear my head/something lighthearted I enjoy a good Romance. One (of the many books I read) that I enjoyed when I was younger was On a Pale Horse.
What are your favorite tv shows?
I don't really get to watch any TV, the kids took them over.
Do you have any piercings or tattoos?
I have a belly ring (took it out when I was pregnant though) 1 in the cartilage of my ear on top & a scorpion tattoo.
What is your office like currently?
My lab (where I make all the products) is a long L shape black desk & pink walls. I'm in the process of changing it little by little. I can't wait until it's done.
What color is your bedroom?
Off white, like it came. I can't decide on a color yet.
What colors do you like to decorate with in your home?
Again, I like too many colors. My dining room is red, the sitting room is a beautiful almost teal blue, (not too bright & so soothing), my "lab" is pink, but I'm changing that to a more neutral color soon. The kids playroom is all different colors a light blue on the ceiling (going to paint some clouds) yellow on the other part of the boxed out ceiling, a pretty navy on the side of those & 1 wall, another cherry red, in front of the closet is dark grey (in the closet it orange) & the other wall is a gorgeous dark teal. My husband did a really good job & constructed the entire room.
What do you do to relax?
Relax? I forgot the meaning of that word :/
What do you do to pamper yourself?
There's nothing like a really hot bubble bath & some hot tea.
What's on your iPod or Pandora Station?
Another thing I need to get around to. My Ipod is still in a cabinet waiting for me to fill it up. My CD collection I've collected over the years is another thing that is full of this & that. I have CD's such as Chuck Mangione, U2, Depeche Mode, Erasure, The Cure, Nine inch nails, Led Zeplin, The Doors, Olive, Sade, Cat Stevens, Carly Simon, Rabbit in the Moon, Paul Oakenfold, Robert Miles, DJ Keoki, Notorious BIG, Method Man, South Beach club mixes from DJ's there & the list goes on. I have quite a broad collection
Can you tell us something about yourself that might surprise your fans?
It's not exciting or surprising. I'm sure you can tell from my answers I'm a very eclectic person. Nothing is Black & white with me. It's more of a rainbow. Variety is the spice of life…
———————————————————-
Lex is sponsoring a giveaway to go with this month's Indie Spotlight!
The prizes are:
3 eye shadows of your choice
1 blush from the duochrome blush set of your choice
a new lip color (a surprise color)
a new fragrance roll on (a surprise scent)
To enter:
A. You must be a subscriber of my blog and follow via BlogLovin' or GoogleFriend Connect.
B. You must leave a comment telling me which 3 eye shadows and which duochrome blush you would choose if you won.
C. You must leave an email address for me to contact you (the one you normally fill in to leave comments on my blog is fine, you don't have to type it out in the comments).
For an additional entry each:
2. 'Like' Sobe Botanicals on Facebook
3. Tweet @phyrra about this giveaway and leave me the url to your tweet
Please be sure to leave all your entries in one comment.
This giveaway will run from now until March 10, 2011. It is open worldwide.
This giveaway is now closed. A winner is being determined and will be announced.