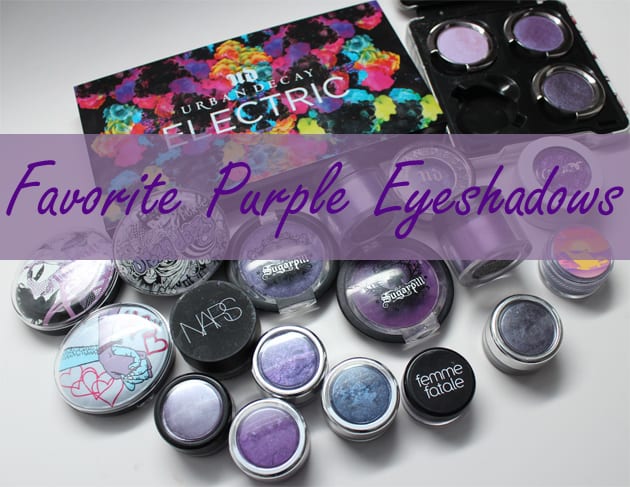 Happy Makeup Wars Monday! This time we're sharing our favorite purple eyeshadows. It's no secret that I love purple eyeshadow. I was ecstatic when we decided to share purple eyeshadows. I own a lot of purple eyeshadow so it was hard to narrow it down to my favorites.
Makeup Wars Favorite Purple Eyeshadows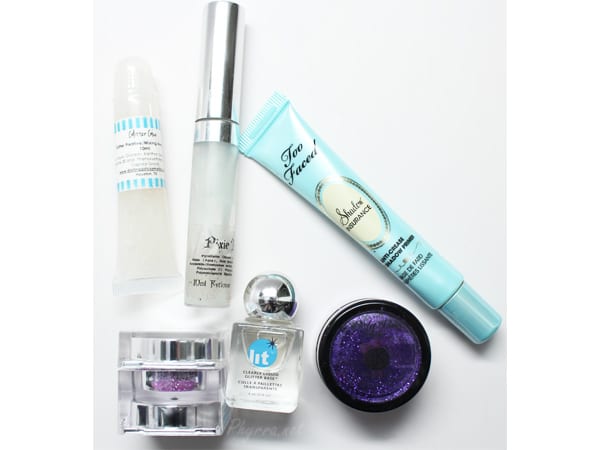 When it comes to applying eyeshadows, I always recommend using an eyeshadow primer. If you're using really sparkly or duochrome shades, you need something like Fyrinnae Pixie Epoxy or Darling Girl Glitter Glue or e.l.f. Studio Makeup Mist & Set (great cruelty free dupe for MAC Fix+) to help your colors shine. For glitters, try something like Violet Voss Secret Weapon or Clearly Liquid Glitter Base. For more tips check out my Best Ways to Apply Loose Eyeshadow and Best Ways to Use e.l.f. Studio Makeup Mist & Set.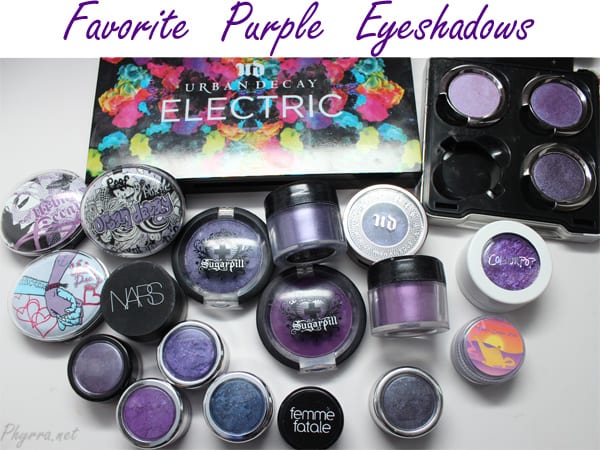 All eyeshadow swatches are on top of Too Faced Shadow Insurance eyeshadow primer. All shades that I know are vegan are marked as vegan.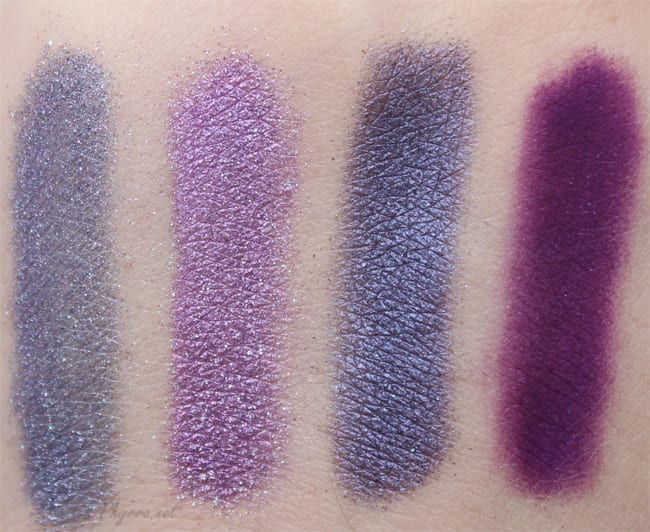 Sugarpill is known for super pigmented, quality eyeshadows and their purples are no exception. Most, but not all, of their eyeshadows are vegan.
Weekender
Metallic blue-violet with intense sparkle and sheen. (Vegan)
Hysteric
Metallic purple with turquoise sparkles and luminous flashes of green. (Vegan)
Elemental Chaos
Deep grape shimmer with iridescent blue undertones.
Poison Plum
Deep matte purple with a semi-pearly sheen.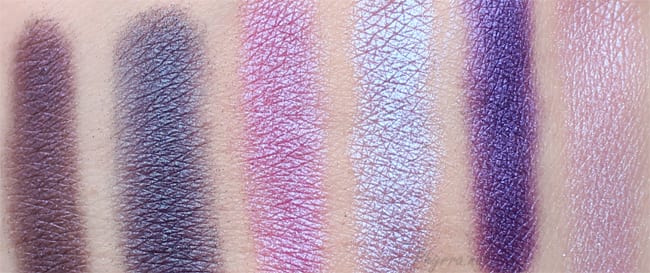 Urban Decay has a lot of purple eyeshadows. I first fell in love with their deluxe shadows and still reach for them on a regular basis. Surprisingly, none of the new purple shades from Urban Decay are vegan and I'm unsure of the old ones. UD has a lot of vegan teal shades though.

Check out my purple tutorial featuring Urban Decay, Sugarpill and Colour Pop. Don't forget to subscribe!
Freakshow (old deluxe formula)
deep purple with red sheen
Frigid (old deluxe formula)
deep purple with blue sheen
Fishnet (old deluxe formula)
iridescent pinky-purple
Omen
bright metallic purple with blue shift
Urban
bright metallic purple
Asphyxia
hyacinth with blue shift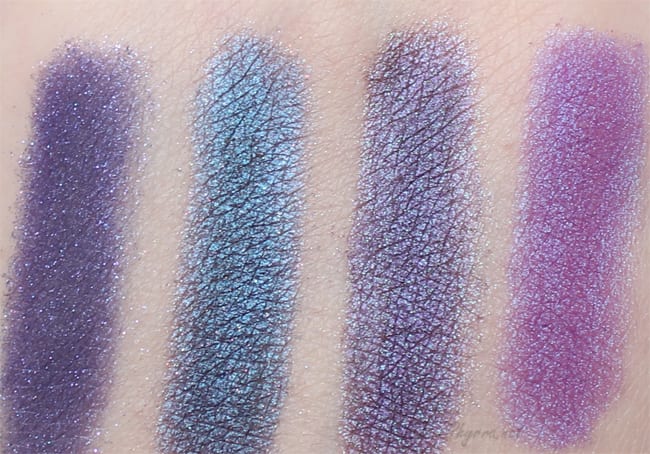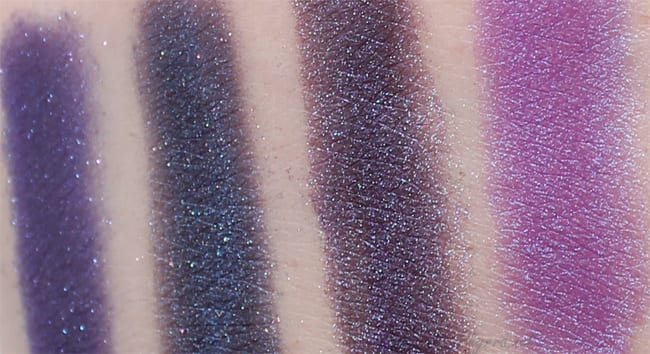 Fyrinnae has so many amazing purples it took me over a half hour to decide on which ones to show you. I made sure to choose shades that are still available. And of course, all of Fyrinnae's eyeshadows are vegan.
Cuddlefish
a vibrant violet, loaded with varying hues of purple and blue-violet sparkle(Vegan)
Because Cats
A wine-grape violet layered on a dark base, sprinkled with a rainbow of sparkle (Vegan)
Mystical Hedgehog
Appears as a vibrant, shimmering purple with a turquoise-green highlight at a distance, but changes to a warmer purple to pink at an angle or close to light. (Vegan)
Snowboarding
Vibrant purple which sometimes appears cool with a blue hue, sometimes it's more warm. Other times it just sits in the middle, undecided. No sparkle, but a fine shimmer finish. (Vegan)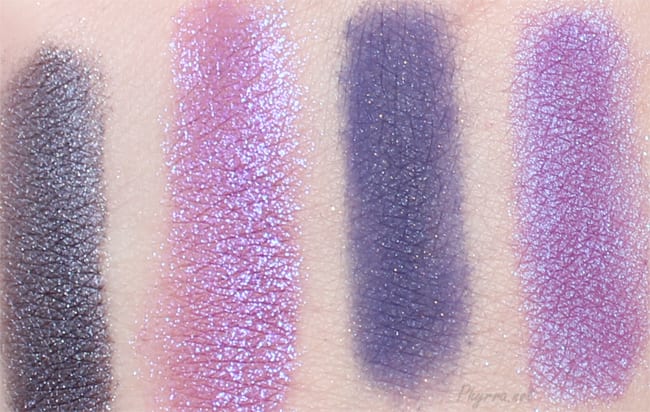 BFTE Love Potion #9
deep purple with fine silver sparkle
Colour Pop Dare
Shockingly bright neon purple with hot pink and violet glitter.
Pumpkin & Poppy Magic Carpet Ride
a blue-toned purple with subtle gold glitter, velvety in texture. (Vegan)
Femme Fatale Inner Madness
a bright mid-range cool-toned purple with a blue duochrome finish and blue/aqua sparkles. Femme Fatale has a lot of gorgeous duochrome purples.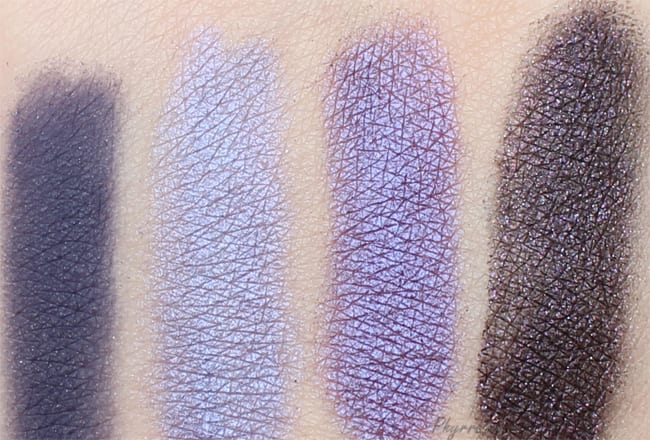 Makeup Geek Duchess
matte cool purple
Makeup Geek Pop Culture
vibrant iridescent lavender purple
Inglot Pearl 439
purple pearl with blue sheen
NARS Tatar
black with purple shimmer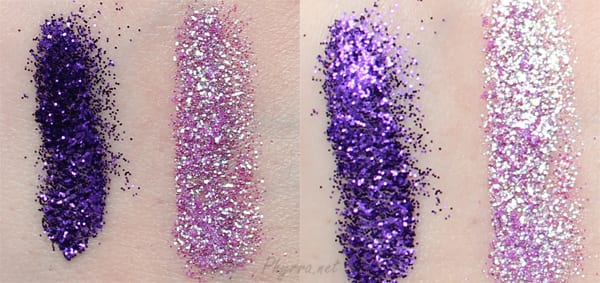 While I don't typically sport glitter eyeshadow, I had to include these two beauties for those of you who do.
Violet Voss Paige
beautiful royal purple
Lit Afternoon Delight
Pinky purple with silver, turquoise and blue shimmer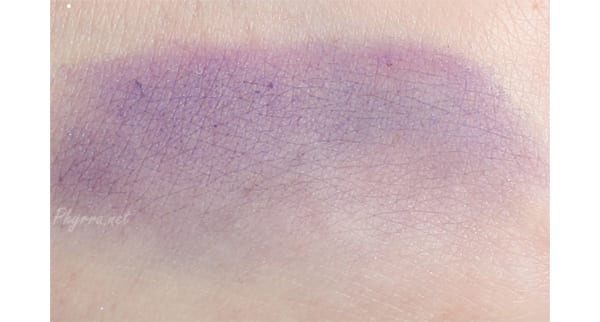 I had to include my only purple blush.
Fyrinnae Royalty Blush
Vibrant violet blush which doesn't blend down to a warm shade. It will rub down to a blue-violet hue, but with gentle blending or heavier application will remain more purple. (lip safe and eye safe)(Vegan)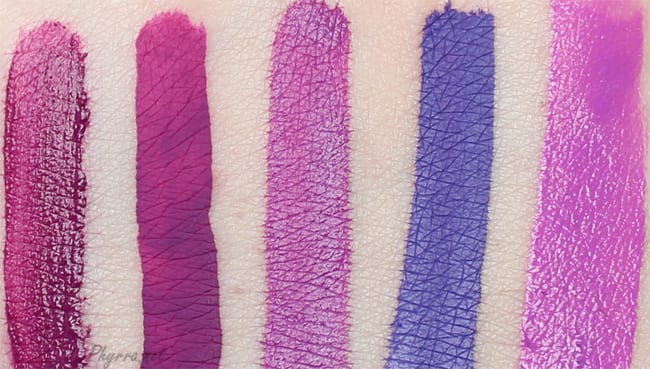 And it wouldn't be a purple post if I didn't include some purple lip products.
Morgana Cryptoria Lip Whip in Adrastea
rich red-violet matte (Vegan)
Kat Von D Liquid Lipstick in L.U.V.
rich violet matte
Pretty Zombie Liquid Lipstick in Purple Poison
pinky purple matte (Vegan)
Pretty Zombie Liquid Lipstick in 3 Witches
blue-toned purple matte (Vegan)
Too Faced Melted Liquid Lipstick in Melted Violet
violet orchid (Vegan) (see the rest of these pretty lipsticks)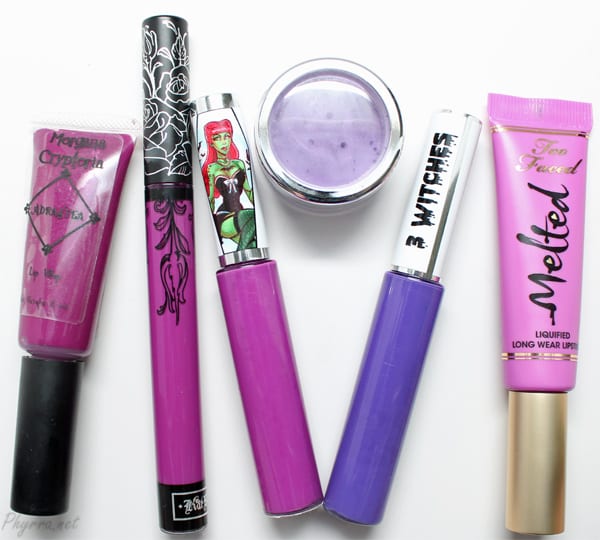 Make sure you check out my friends' purple posts!

What are your favorite purple eyeshadows?

[inlinkz_linkup id=413695 mode=1]