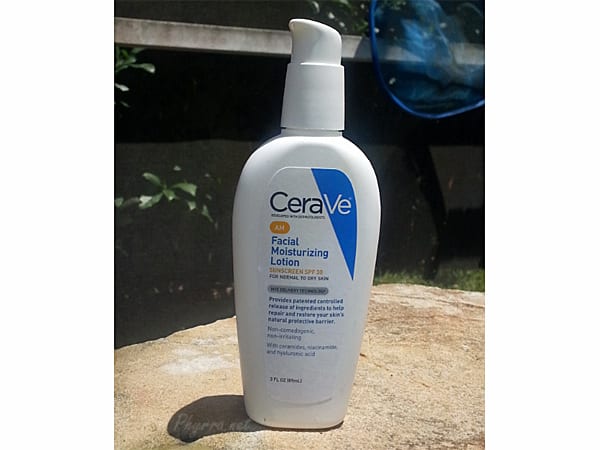 The last time I was at my dermatologist's office she recommended that I try the CeraVe Facial Moisturizing Lotion AM SPF 30. I purchased a bottle to give it a try, since I do like the CeraVe PM. My dermatologist loves the CeraVe line and says she recommends it more than anything else.
CeraVe Facial Moisturizing Lotion AM SPF 30 Review
About CeraVe Facial Moisturizing Lotion AM SPF 30
This lotion with SPF 30 helps to repair damaged skin and maintain the skin's natural protective barrier. It has ingredients that are not commonly found in other moisturizers. Its patented Multivesicular Emulsion (MVE®) technology releases theses ingredients over time, penetrating deep into the skin to hydrate and nourish.
SPF 30 – SPF 30 sunscreen provides broad-spectrum UVA / UVB daily protection against sun's damaging UV-aging and UV-burning rays.
Ceramides – Helps reduce lipid levels in damaged skin to repair, restore, and maintain the skin's natural barrier.  Essential in preventing water loss from the skin
Niacinamide – Helps the skin produce more natural ceramides and fatty acids essential for repairing and restoring the skin barrier.  Also shown to reduce redness.
Hyaluronic Acid – An essential ingredient (humectant) that attracts water to the top layer of the skin and ensures that the skin remains hydrated.
Cruelty free
Active Ingredients
Homosalate – 12 % (Sunscreen), Octinoxate – 7.5 % (Sunscreen), Octocrylene – 2 % (Sunscreen), Zinc Oxide – 3.5 % (Sunscreen)
Inactive Ingredients
Purified Water, Niacinamide, Behentrimonium Methosulfate, Cetearyl Alcohol, Glycerin, Aluminum Starch Octenylsuccinate, Boron Nitride, Dimethicone, Ceramide 3, Ceramide 6-II, Ceramide 1, Cholesterol, Hyaluronic Acid, Phytosphingosine, Hydroxyethylcellulose, Disodium EDTA, Sodium Lauroyl Lactylate, Methylparaben, Propylparaben, Carbomer, Xanthan Gum
Price
$10 – $13.99 for 3 oz. depending on where you purchase, right now it's on sale for $10.99 at Drugstore.com
Availability
Drugstore.com, Dermstore, Amazon, Ulta.com, Walgreens.com
My Thoughts
As I mentioned, this product came highly recommended to me by my dermatologist. I already like the CeraVe PM lotion (review upcoming on that one soon), so I hoped to love this product.
At $10 to $13 for 3 oz. it's a very affordable moisturizer with SPF. It's also easy to find locally at both Walgreens and Target, as well as online from a variety of stores. And you're getting 3 oz of product for the price, when many moisturizers with SPF only give you 1 to 1.7 oz! So that's a great deal.
It's got some interesting ingredients for a daytime product since it includes Niacinamide, Ceramide 3, Ceramide 6-II, Ceramide 1 and Hyaluronic Acid. If you saw my Top 10 Eye Creams post, you'll know that hyaluronic acid and ceramids are good ingredients to look for in products. Niacinamide is a form of Vitamin B3, and it's supposed to have anti-inflammatory benefits. It also can help to improve the skin's elasticity, enhance the barrier function and help to treat uneven skintone.
While I like the ingredients, availability and price point, this moisturizer just did not work out for me. If I put this on the way I put on LAVANILA the Healthy Face SPF 40 or any of my Paula's Choice Moisturizers with SPF, it irritates my eyes and they feel like they're burning. I can use this everywhere else on my face with no issue, but being unable to use it on my eyes is a deal breaker for me.
If you don't have sensitive eyes, this might be a nice affordable moisturizer choice for you.
Have you tried CeraVe Facial Moisturizing Lotion AM SPF 30?
Pros
Cruelty free
Affordable
Great value for price
Cons
Skip this if you have sensitive eyes like I do
Last Updated on