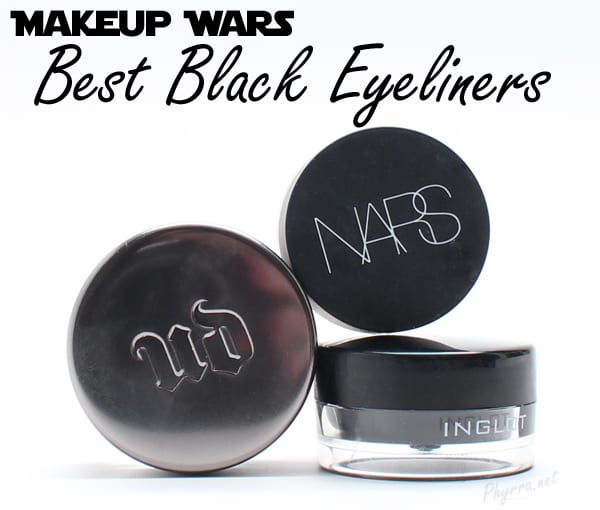 Happy Makeup Wars Monday! This time we're sharing our picks for the best black eyeliners. Black is the eyeliner color that I wear more than anything. Lately, I tend to prefer my liner to be on the upper waterline or tightlined, rather than along the upper lash line. All eyeliners mentioned are cruelty free. Products that I know to be vegan are denoted as such.
PR + purchased by me.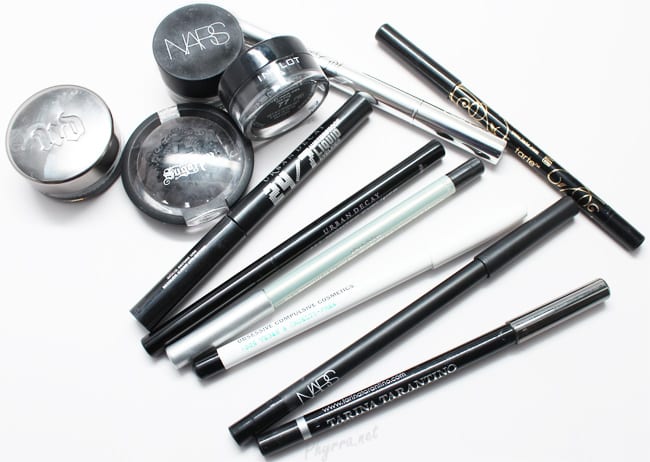 My go-to gel-like liner that I reach for more than any other is NARS Eye Paint in Black Valley. I bought Black Valley at the Makeup Show Orlando and have been in love ever since. For whatever reason, it's the product that lasts the longest on my waterline and works best with my personal body chemistry and allergy-prone, sensitive, watery eyes. It doesn't come off on my contacts or cloud my vision when my allergies are severe. If you only try one black liner from this list, I would say try Black Valley.
Two other gel-like eyeliners are Urban Decay Super-Saturated Ultra Intense Waterproof Cream Eyeliner and Inglot AMC Eyeliner Gel Matte 77.
You can apply gel eyeliners with a bent eyeliner brush (like the one by Makeup Geek or Sonia Kashuk) or with an angled brush like the UD Perversion brush. If you want to apply right at the lash line, you need a push brush like the goss 08.
When it comes to using any eyeliner, especially the gels or cremes, less is more. Definitely start out with a small amount and work up to the opacity you need. Don't overload your brush. If you have hooded eyes, like I do, you need to use the least amount of liner possible to prevent creasing or transfer. And of course, always make sure to use eyeshadow primer.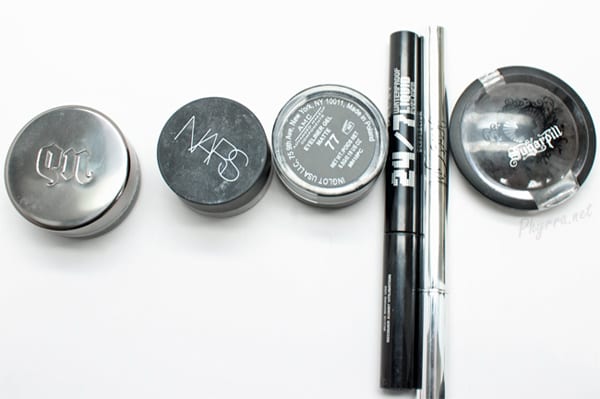 For precision cat eyes, I often like to use Urban Decay 24/7 Waterproof Liquid Eyeliner in Perversion and Jesse's Girl Waterproof Liquid Eyeliner pen. The UD has a flexible tip, like a fine paint brush. The Jesse's Girl has a calligraphy style pen.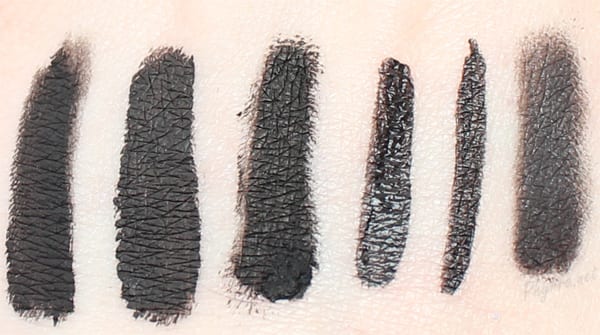 Sugarpill Bulletproof is great for tightlining. I use my goss 8 brush to tightline with both Bulletproof and Black Valley.  It's easy to use this brush to wiggle right at the root of the lashes or the upper waterline.
You can also use Bulletproof on top of other black products to help set them if need be. Or, you can even smudge Bulletproof this on top of a black pencil.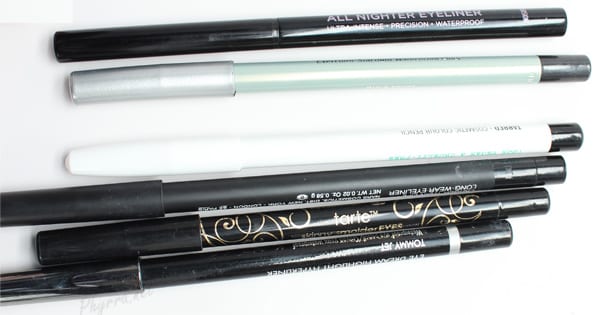 There are a handful of black pencils that I like. The top three are Tarte Onyx, NARS Via Veneto and UD All Nighter. These stick around really nicely for me. Tarina Tarantino Tommy Jet and and Mally Beauty Black Velvet are also nice. Finally, I list OCC Tarred, because many people love it. I prefer this for my lips, but I love that it's multi-purpose and you can use it for eyes, lips or anywhere else on the face and body.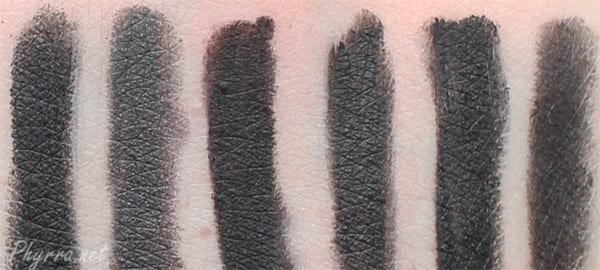 One thing that I've noticed, as far as pencils go, with my oily eyes I tend to do better with dry pencil formulas like Via Veneto and Onyx.
Best Black Eyeliners
NARS Eye Paint in Black Valley
Urban Decay Super-Saturated Ultra Intense Waterproof Cream Eyeliner
Inglot AMC Eyeliner Gel Matte 77
Urban Decay 24/7 Waterproof Liquid  Eyeliner in Perversion (vegan)
Jesse's Girl Waterproof Liquid Eyeliner Pen
Sugarpill Bulletproof (vegan)
Urban Decay All Nighter Eyeliner (vegan)
Mally Beauty Evercolor Starlight Waterproof Eyeliner in Black Velvet
Obsessive Compulsive Cosmetics Colour Pencil in Tarred (vegan)
NARS Larger Than Life Longwear Eyeliner in Via Veneto
Tarte skinnyEyes Amazonian Clay Eyeliner in Onyx (vegan)
Tarina Tarantino Eye Dream Hyperliner in Tommy Jet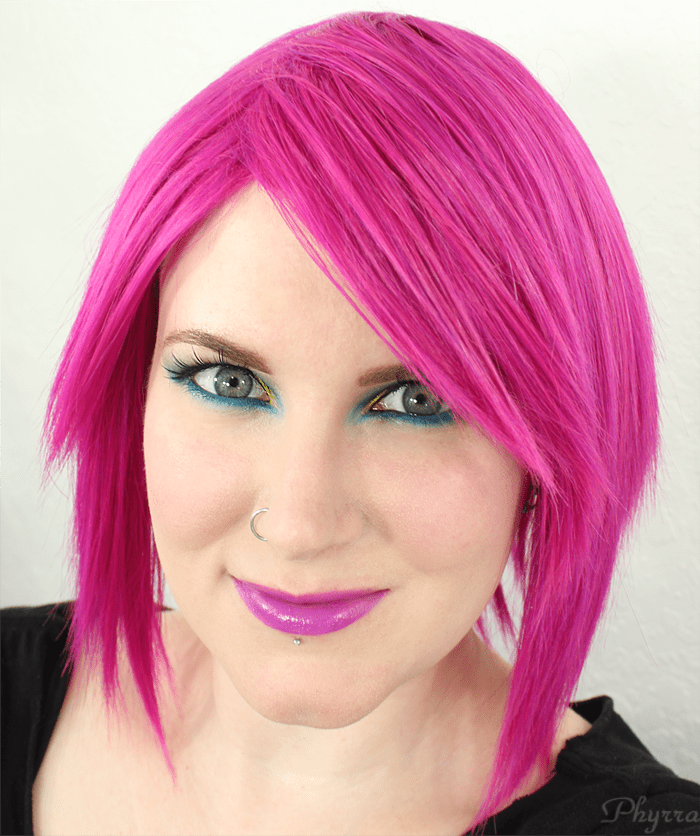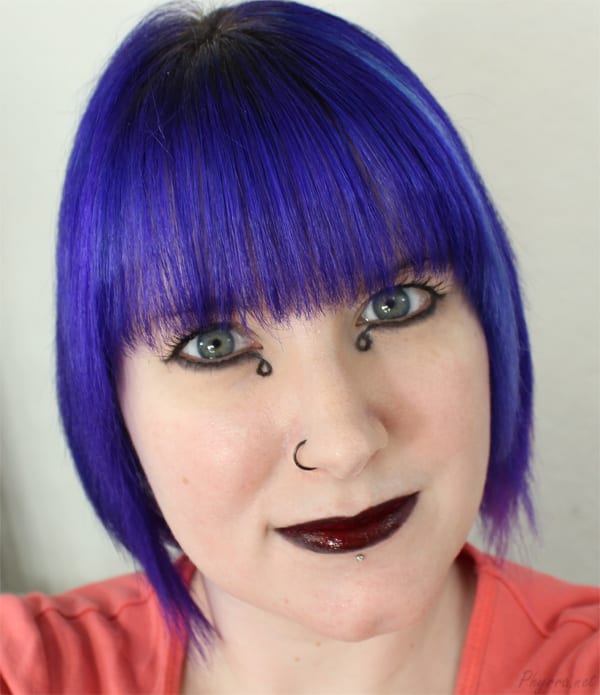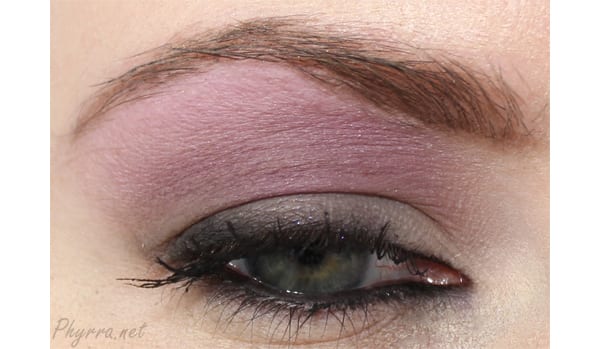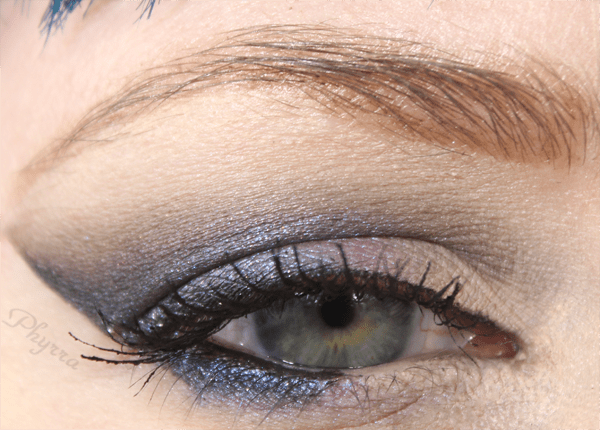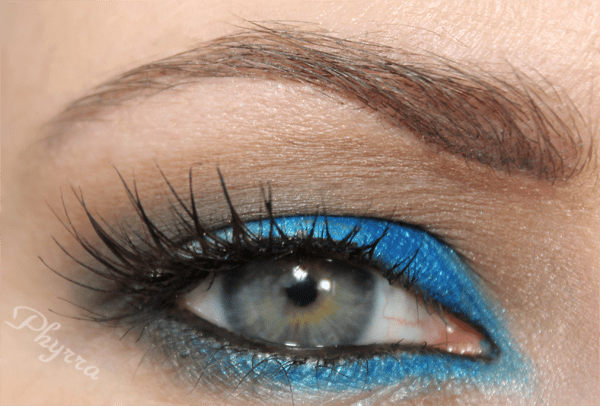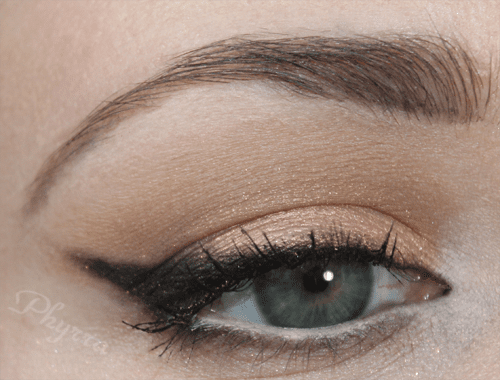 Really, for a gorgeous combination, use NARS Black Valley and smoke any eyeshadow on top. Black Valley will act as a primer for the eyeshadow and give it a soft, modern quality. I love how it looks when I do this. Make sure you line the upper waterline with Black Valley too, so that your eyes stand out.
What cruelty free black eyeliners make your 'best of' list? Let me know below!
[inlinkz_linkup id=423963 mode=1]