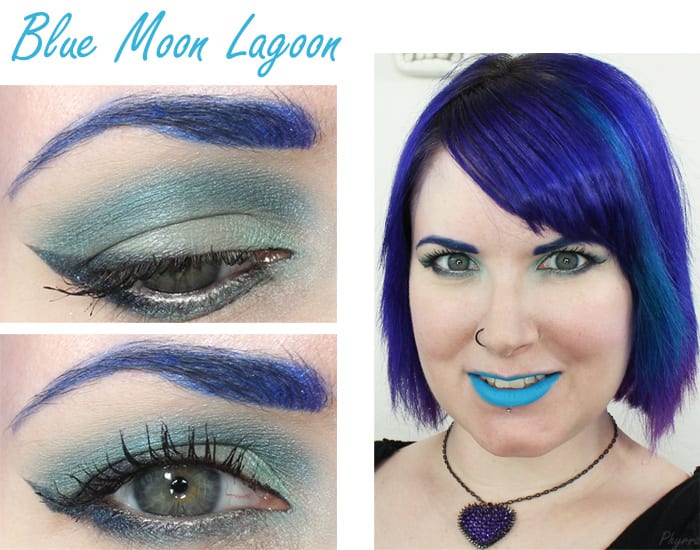 Today I've got a look to share with you featuring Glamour Doll Eyes and Sugarpill. I've seen a lot of gorgeous brows that were gold at the inner brow and matte brown everywhere else, so I decided to try a twist on that by using Sugarpill Velocity for the majority of my brow and Hellatronic for the inner brow. I think it turned out great.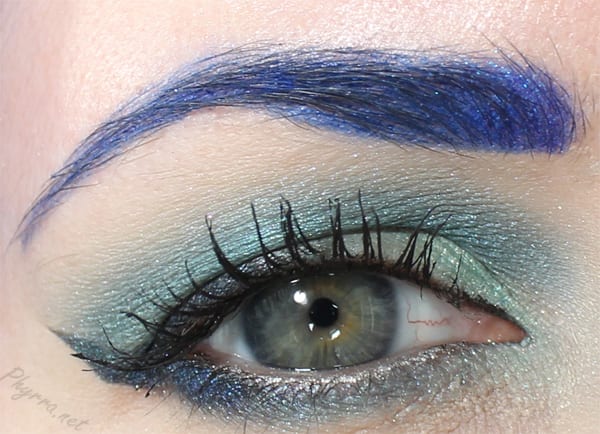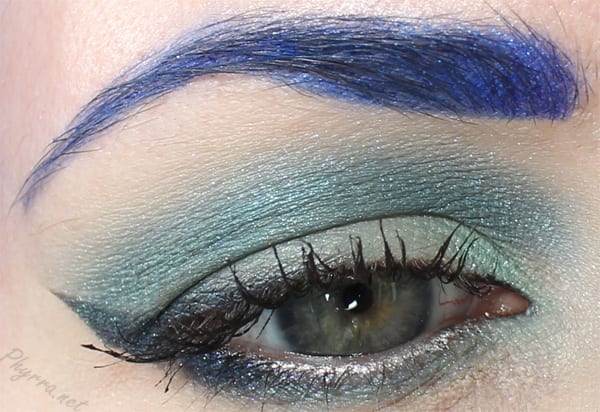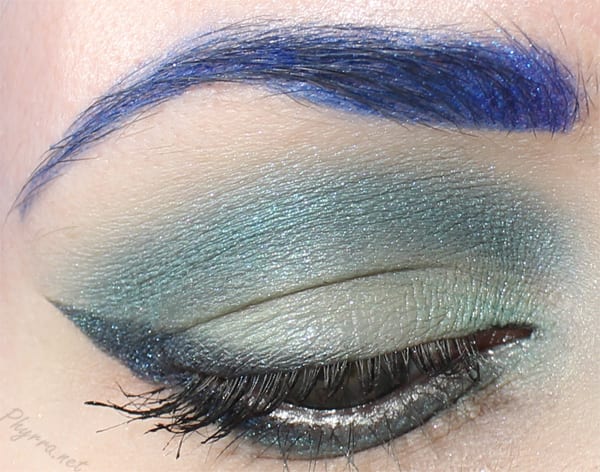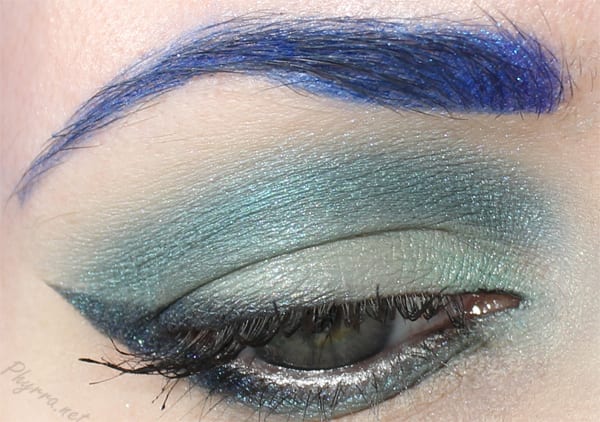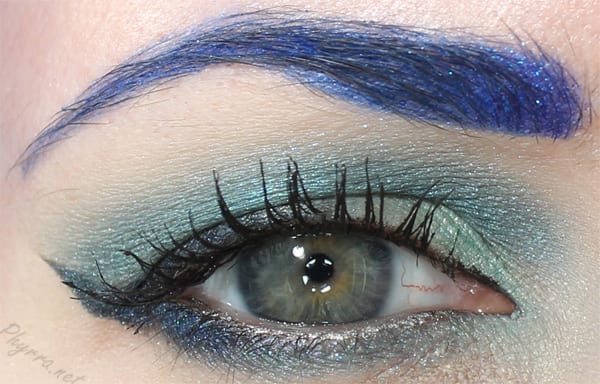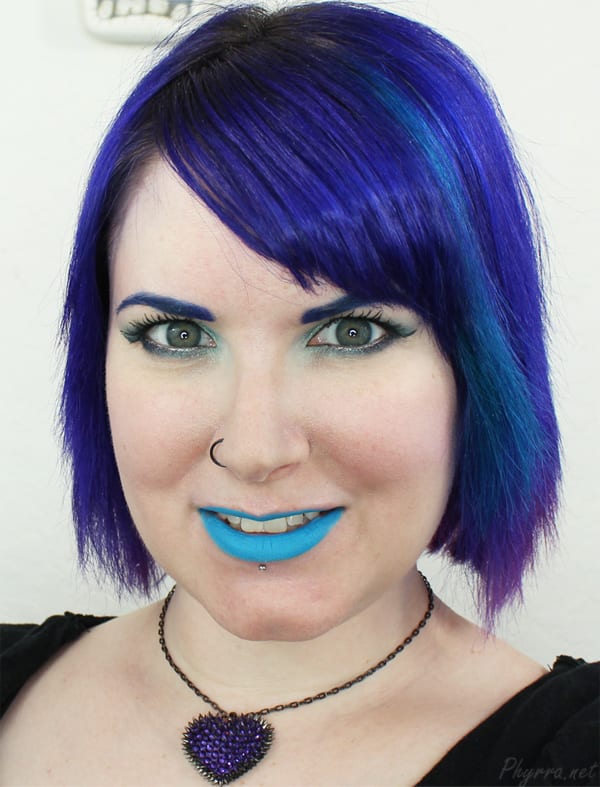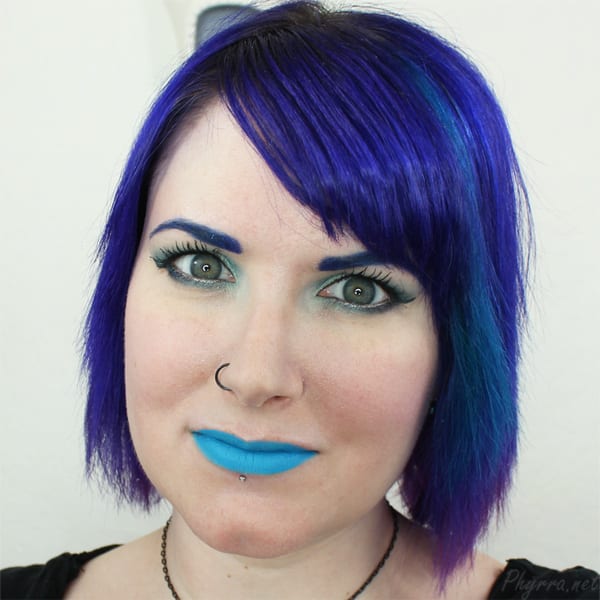 Brows
Sugarpill Velocity – brows
Sugarpill Hellatronic – inner brows
Eyes
Too Faced Shadow Insurance
Urban Decay Walk of Shame – base color
Glamour Doll Eyes Buyer's Remorse – lid and inner lower lash line
Glamour Doll Eyes Mermaid's Plumage (vegan)- crease
Glamour Doll Eyes Celestial Crow (vegan)- cat eye liner, outer lower lash line
Glamour Doll Eyes Grandiloquent (vegan)- inner corner
NARS Intergalactic – lower waterline
NARS Black Valley – upper waterline
Cargo LashActivator Mascara Primer
Urban Decay Perversion Mascara
Face
Obsessive Compulsive Cosmetics Skin Conceal in Y0 (vegan)- under eyes
e.l.f. HD Undereye Setting Powder – to set Y0
Purely Cosmetics Diamond Perfect Powder – dusted lightly all over
Makeup Geek First Love – blush
Pur Minerals Pur Radiance Highlighting Powder in Candlelit Pink (from Hautelook, looks like it was discontinued sub with Too Faced Candlelight Glow Duo) – dusted lightly to highlight
Lips
Pretty Zombie Cosmetics Vegan Liquid Lipstick in Blue Moon (vegan)
So I last dyed my hair on May 25th (about 6 weeks ago). I felt the need to touch up only my teal blue streak yesterday, so I used 50% Pravana Green with 25% Manic Panic Voodoo Blue and 25% Cocoa Pink Black Chocolate Raspberries Argan Therapy Creme conditioner. I left it on for an hour. Then I washed my hair and used Overtone Extreme Purple Hair Mask for 15 minutes (review coming soon!) Pravana Vivid Violet has held up extremely well in my hair. Pravana Wild Orchid was looking like it needed a slight touch up. After touching up my teal blue streak and using the tinted hair mask, I feel like my hair looks great aside from the roots.
I used several Glamour Doll Eyes shades and I'm really impressed with the colors. I haven't played with any GDE colors in quite a while. Two of the colors – Grandiloquent and Buyer's Remorse – are from the Paper Doll collection that was a collaboration with two other brands. Mermaid's Plumage was a gift with purchase color and I love it so much I ended up buying a full size. Celestial Crow was named after LadyCrowX and it's a great liner color. Buyer's Remorse, Mermaid's Plumage and Celestial Crow work beautifully together.
Did you have a fabulous holiday weekend? I had a great weekend but I'm worn out from it! Friday was grilling out / spa stuff / hanging out. Saturday was my friend's birthday party – Minecraft themed. Sunday was chores and I filmed a few videos.
I'm overloaded with a ton of things to write. Of course, I also need to start painting my living room. I have the paint but I need to make it happen!
Let me know how things are going with you 🙂
Last Updated on