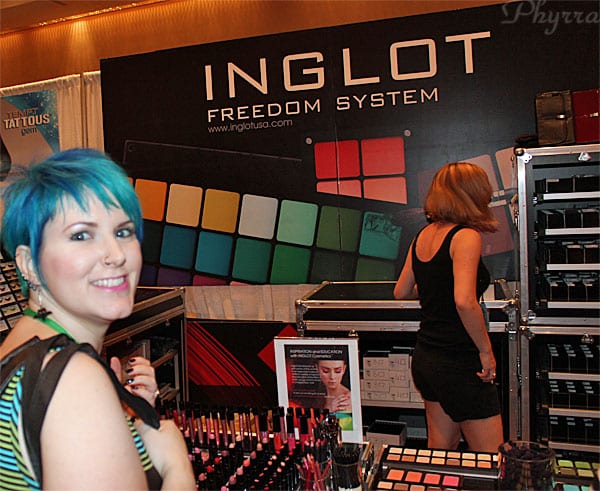 Friday night was the Blogger Preview for the Makeup Show Orlando. Saturday and Sunday were the official Show. Saturday I got there bright and early to walk around and look at the booths, talk to people, and see my fellow bloggers. I checked out the Inglot booth because I wanted to look at their lipstick palette, which was absolutely gorgeous.
Pr + purchased by me.
The Makeup Show Orlando Part 2 Recap

My outfit for Day 1
Bright Striped Skater Dress
crocs turquoise A-Leigh Mini Wedge Sandals
tokidoki necklace
bright turquoise belt
epiphanie Lola handbag in black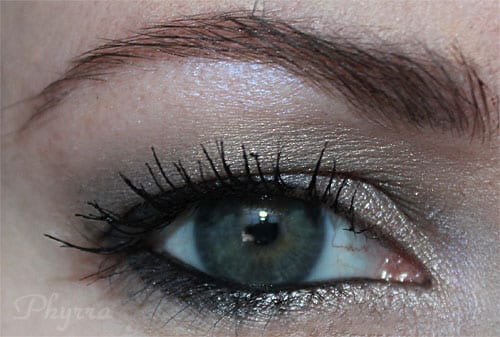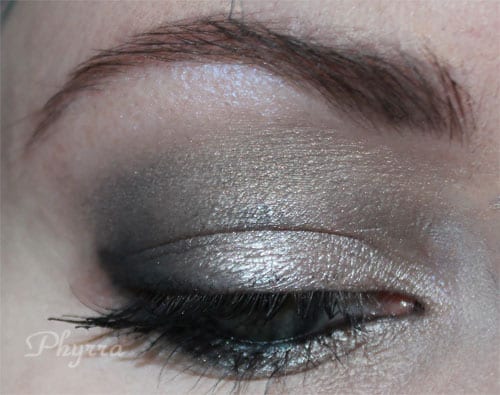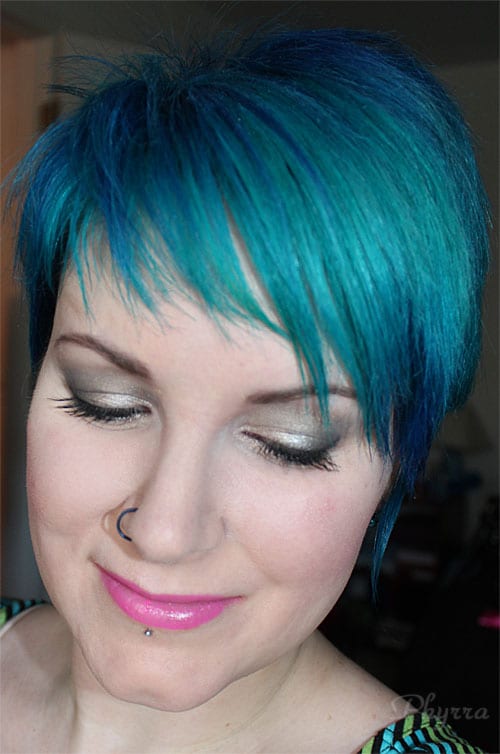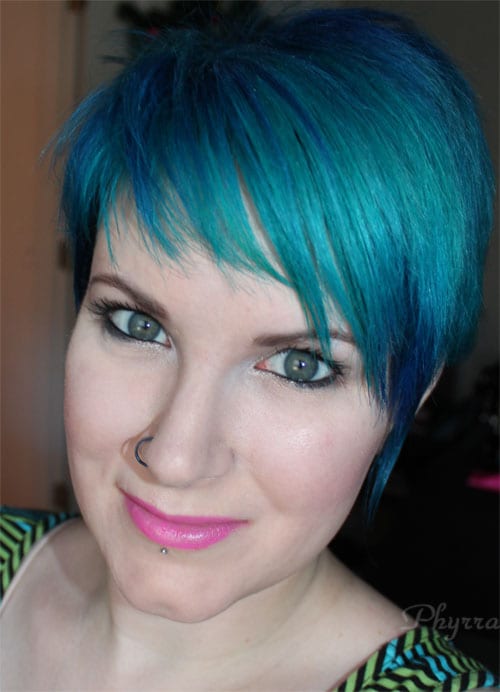 My makeup for Day 1
Eyes
Urban Decay Anti-Aging Eyeshadow Primer Potion
NARS Transvaal Eye Paint – outer lid, outer crease, upper and lower lash line
Urban Decay Verve – lid and crease
Urban Decay Aura (blue) – highlight
NARS Brow Perfector in Suriname
Buxom Call Me Liner – waterline
Too Faced Better Than Sex Mascara
Face
Cover FX CC Cream in N Light
Illamasqua White Light Skin Base Lift Concealer Highlighter
NARS Light Reflecting Loose Setting Powder
Kevyn Aucoin Creamy Glow blush in Pravella
Too Faced Candlelight Glow Duo Highlighter
Lips
OCC Lip Tar Pencil in Nylon
I had no idea that Verve and Transvaal would be so awesome together, but I really love them with my eyes. They really seem to intensify my blue-green eyes.
Ray came with me both on Friday and Saturday as my camera man. It was very sweet of him.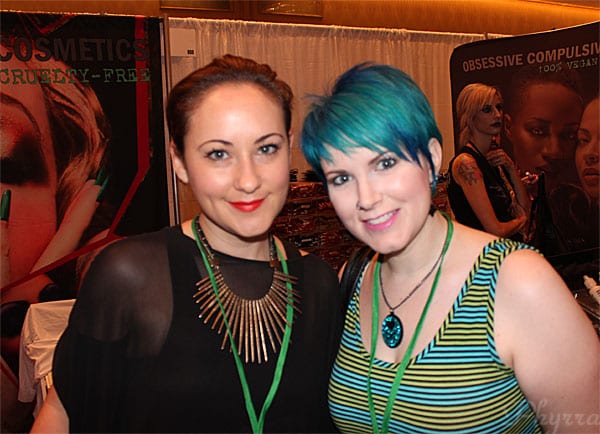 I got to see Melody soon after I arrived! She's always so sweet. She introduced me to David Klasfeld.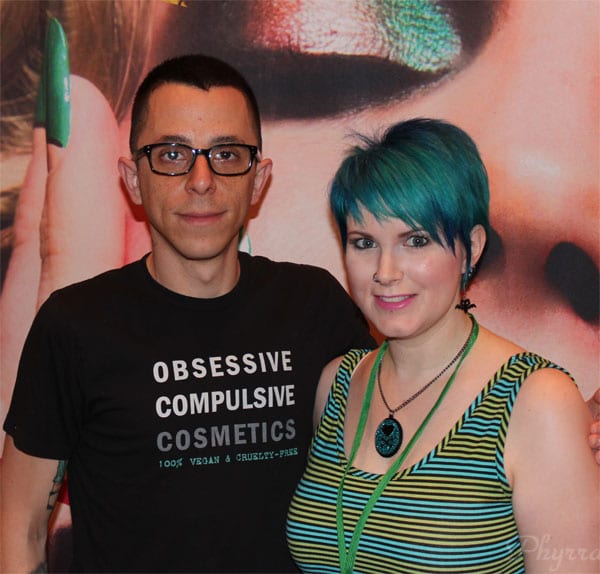 I was so starstruck at meeting David Klasfeld and getting to speak with him. He knew my blog! He even let me interview him! He told me that I could tell you all about his upcoming product release, which will be multi-purpose makeup pencils. They'll be for use on the eyes, lips and cheeks. They should be waterproof and smudgeproof. The colors will be Tarred, Feathered, NSFW, Anime, Grandma, and 3 neutrals (which I do not know). They're going to be available in mid-February 2014. I'm very excited about this! He spoke to me about how he was happy to see cruelty free and vegan bloggers. He's a very passionate vegan! I told him that I really thought what he did with January for transgender rights was awesome too. Totally starstruck. I felt like I was babbling! He was so nice. He also gave an amazing keynote. He spoke about Building a Brand and he talked about how OCC came to be. He also talked about other brands he likes and respects, such as Sugarpill. I had a total fan girl moment over that!
One of the things I loved hearing during his keynote was that he would not release a product if it didn't meet his standards. All too often I've worked with people who just wanted to get something out immediately, regardless of the quality, so it's nice to see someone who is successful who took the other route.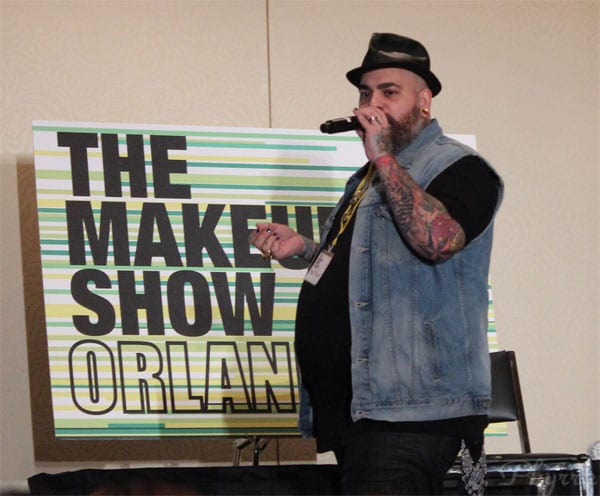 We also got to listen to James Vincent speak. I could listen to him forever. He's so funny, knowledgeable and talented. As you know, he also let me interview him! Catch that interview here! You don't want to miss it!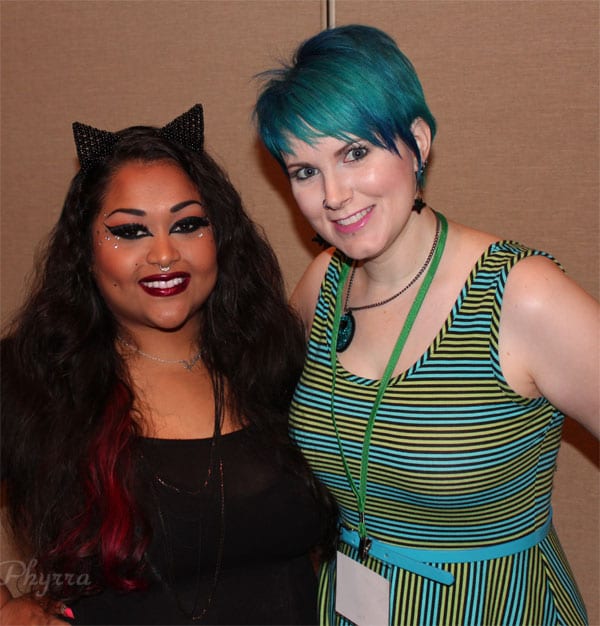 I got to see Lauren the Queen of Blending as she was at the Makeup Show working at the OCC Booth. The OCC Booth was conveniently located next to Cult Nails! Yay! It was great to see Lauren and I love her fierce cat eyes. Super cute!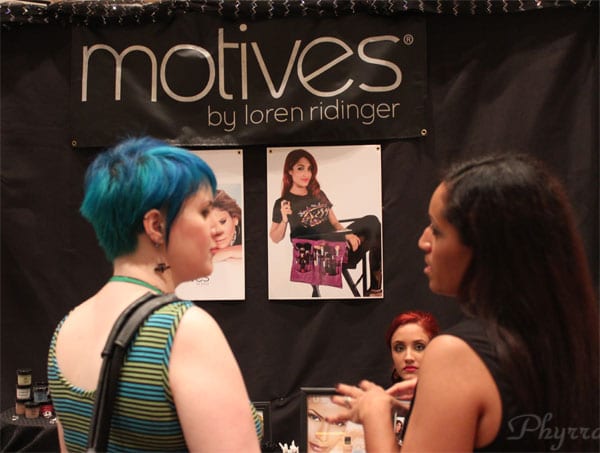 I got to speak with my friends at Motives 🙂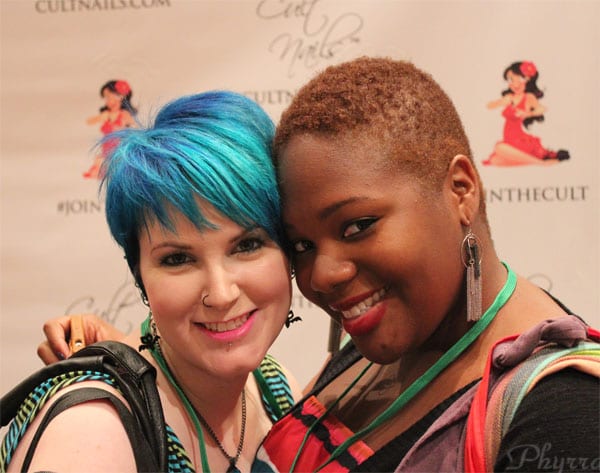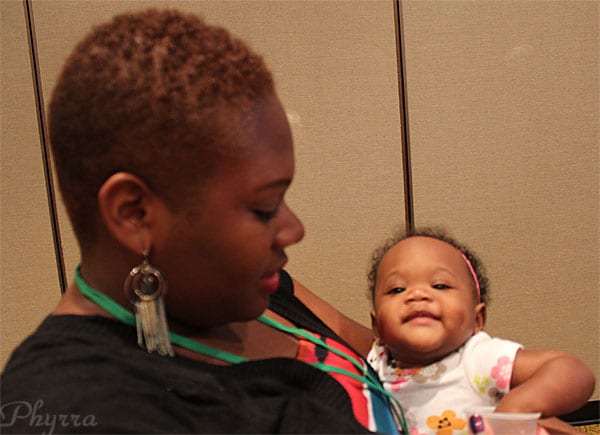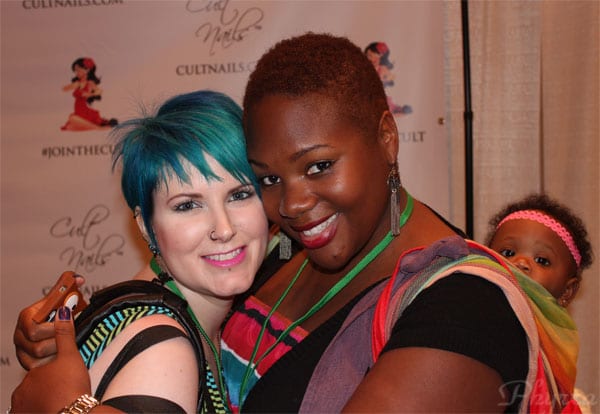 I got to spend time with Brittany and see her adorable Baby Clumps <3 I never get enough Brittany time!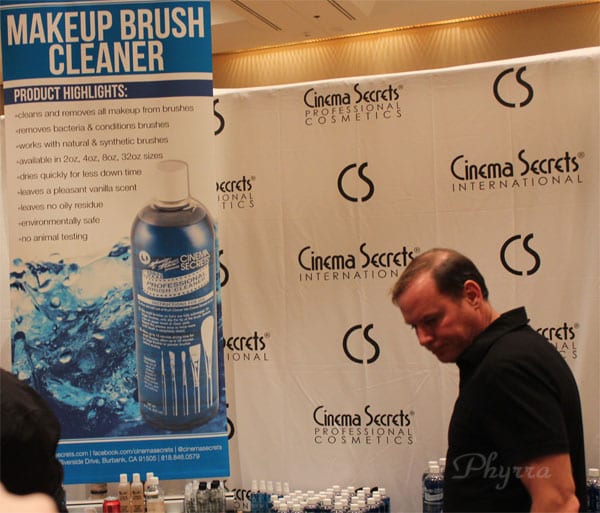 I went to see the Cinema Secrets booth and speak to them about their products. I bought a large container of their brush cleanser. It makes your brushes smell like vanilla!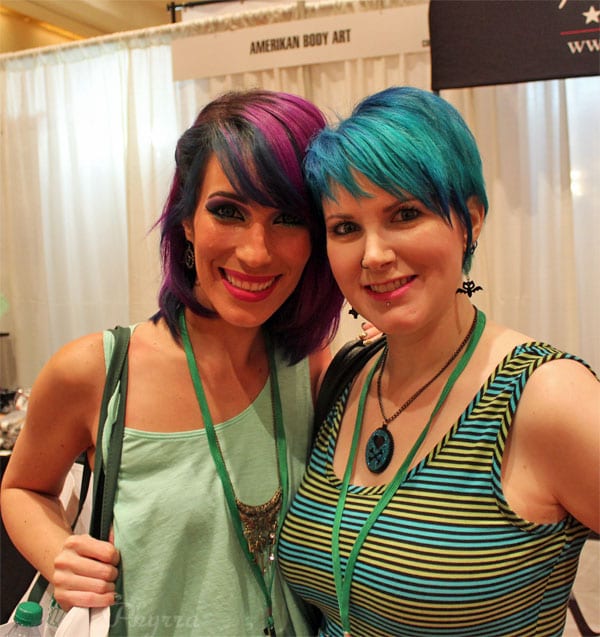 Cristina was walking around so we spent some time talking together. She looked adorable in her mint top!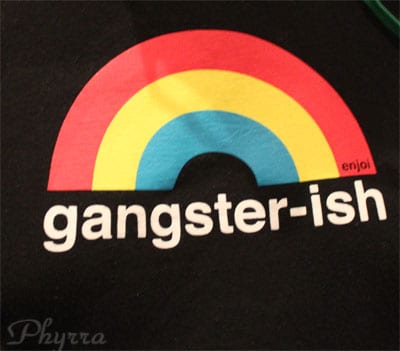 Her husband was wearing an awesome shirt that said Gangster-ish with a rainbow. I don't know why but this made me crack up.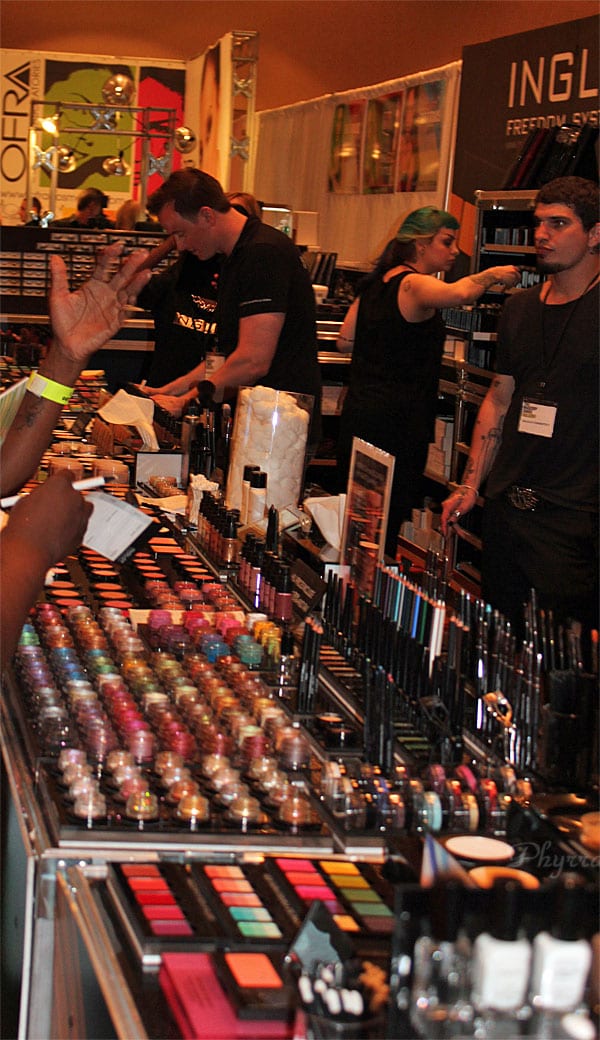 Lots and lots of Inglot! They were packed!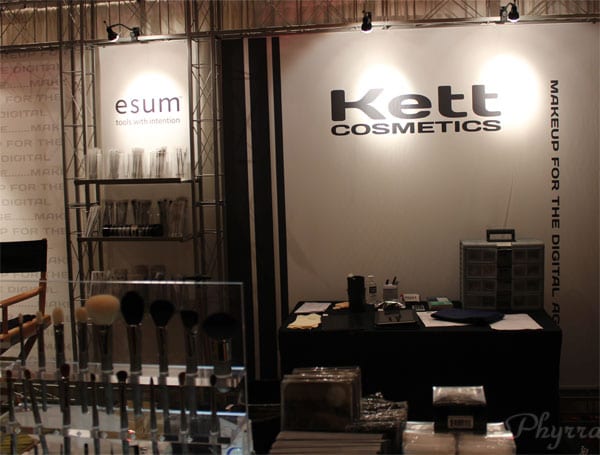 I spoke to the people at Kett cosmetics and they're an airbrush company. They're silicone free, paraben free and fragrance free. I'm still trying to determine if they're cruelty free. I'm waiting for a response back to my email.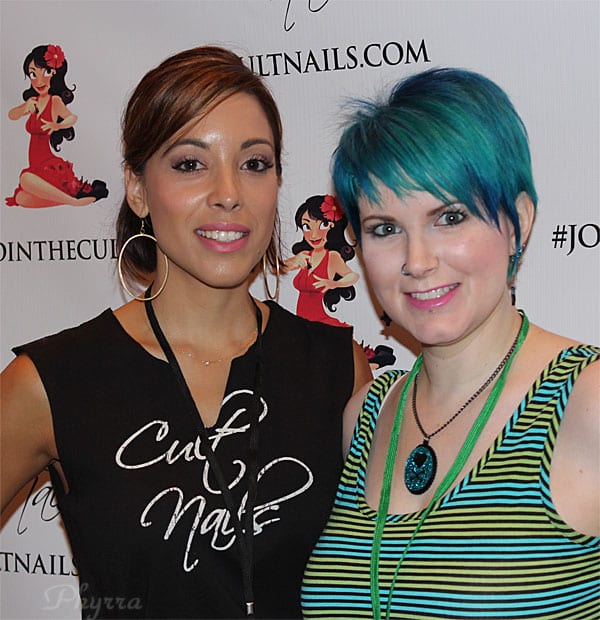 Of course I was happy because I got to spend time with Maria of Cult Nails! I also purchased another bottle of Nevermore and one of Hypnotize Me. I needed new ones. I go through Nevermore FAST! Ray and I both had our nails painted with Nevermore all weekend.
Wearing Nevermore 🙂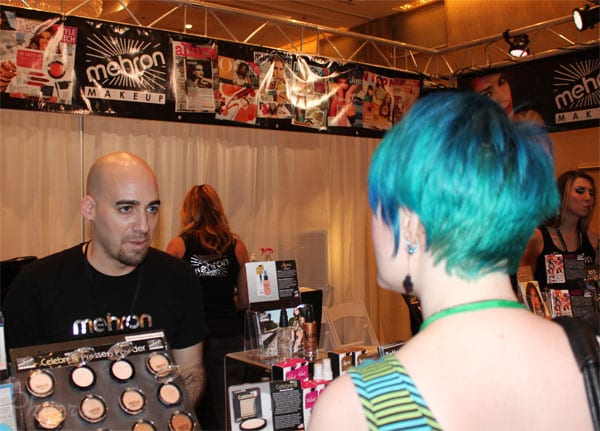 We stopped by the Mehron booth. They're cruelty free. I purchased their HD foundation. I spoke to the Mehron people at length and learned that they're a family run company that's been around for about a 86 years. I asked to get matched in their foundation and they suggested L3, which was shocking. So we'll see how it looks under daylight. They did tell me that they thought I had olive tones in my skin, which I've never had anyone say that before. Usually it's always red red red because of my rosacea.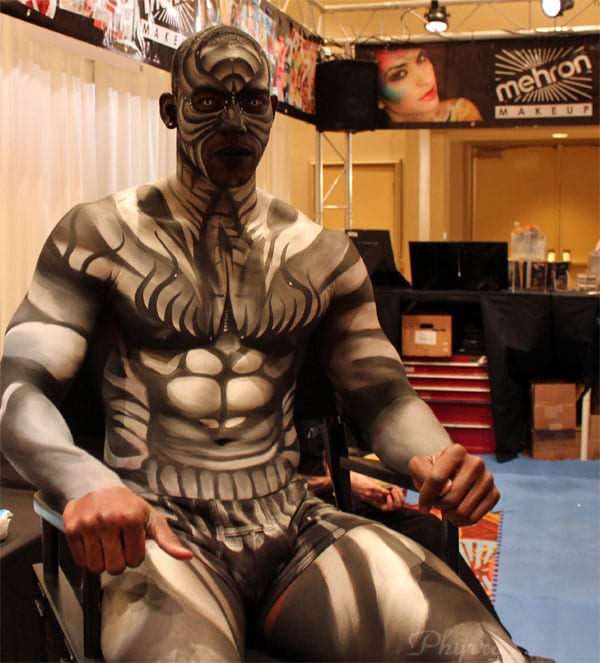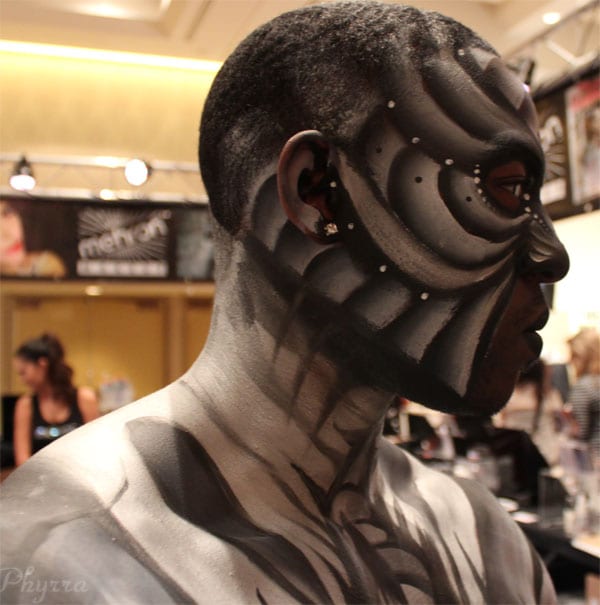 The shading and detailing on this man at the Mehron booth was amazing! It was all hand painting too! I love the gem accents.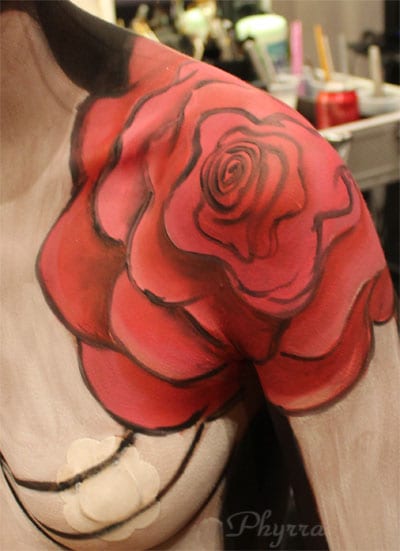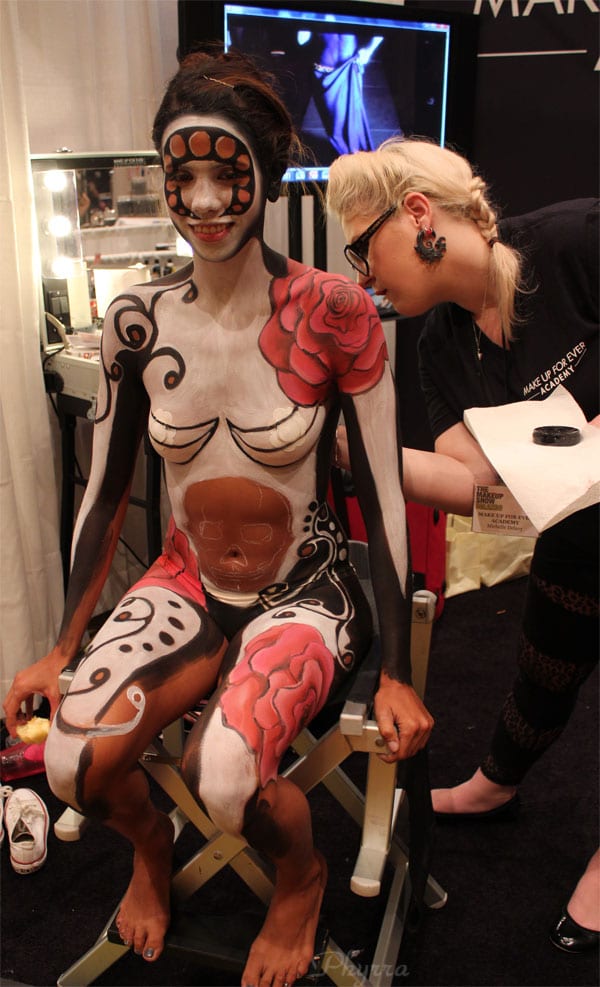 The talented makeup artist mdelavy did amazing work on the beautiful model Aicha Andelia. I always love to see what the makeup artists are doing at shows like this. It's so inspiring!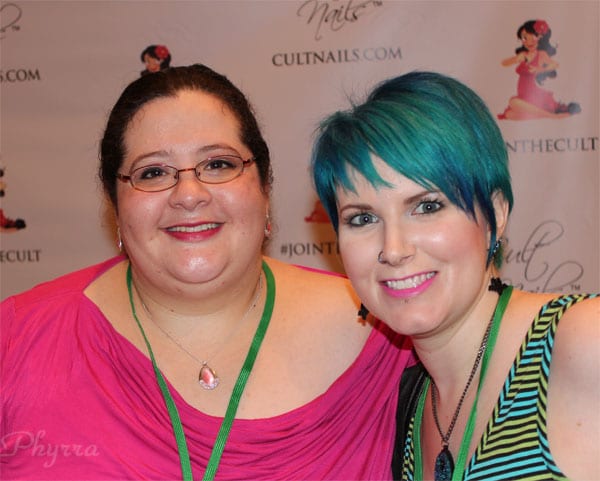 I got to see Nidia from Beauty Lit from Within. She's another one of my friends that I never get to spend enough time with her.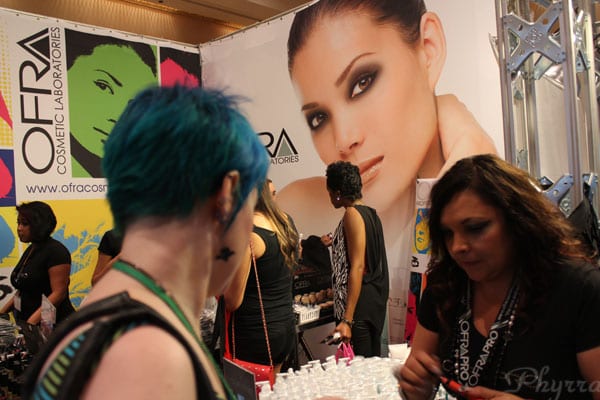 I went to the Ofra booth to check out their products. I purchased a large bright eyeshadow palette and a bright orange liquid lipstick that is supposed to dry down to a matte finish.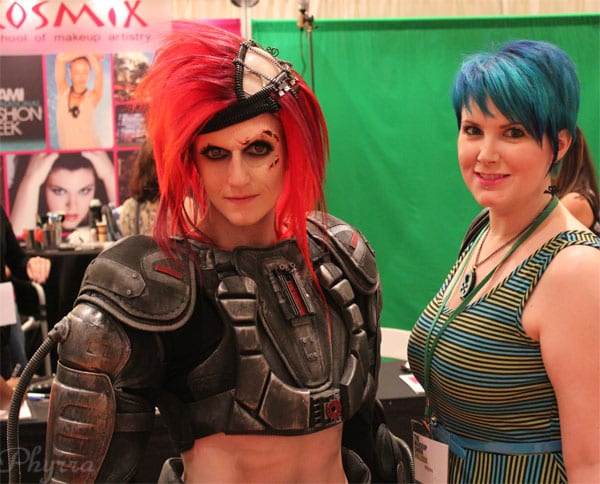 I love this awesome special effects costume!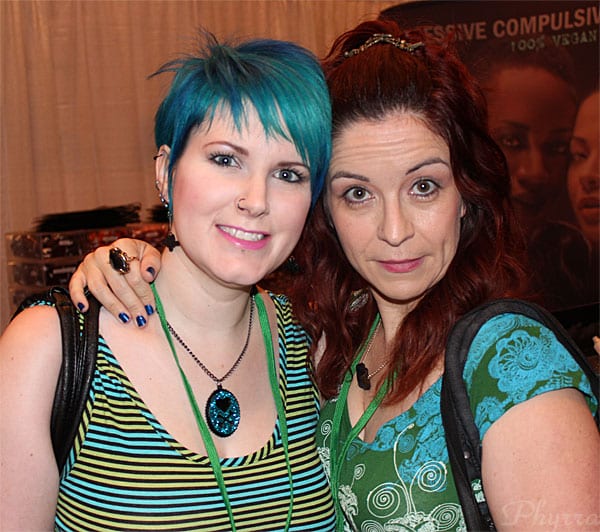 I got to see the lovely Su of Nail Veils! If you haven't seen Nail Veils, Katy Perry was wearing them. Of course, Cristina at Let Them Have Polish has done a lot of awesome looks with them too!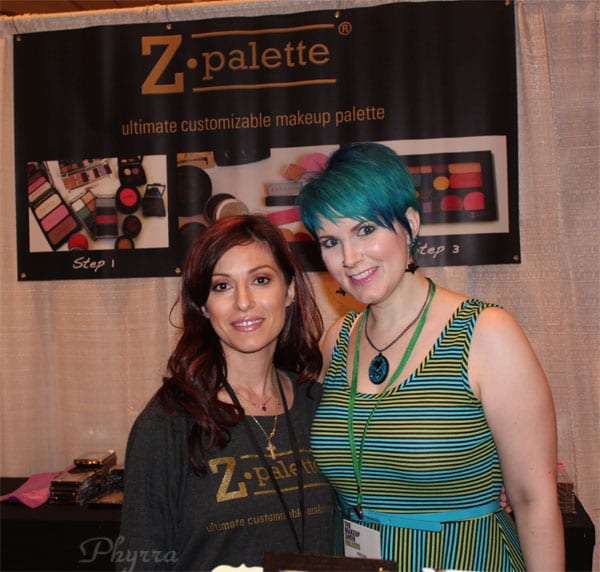 I got to meet Zena of Z-palette and tell her how much I love her product. I have a ton of the leopard print z-palettes for my Makeup Geek and Inglot shadows. I also purchased a new size of z-palette at the show. Yay!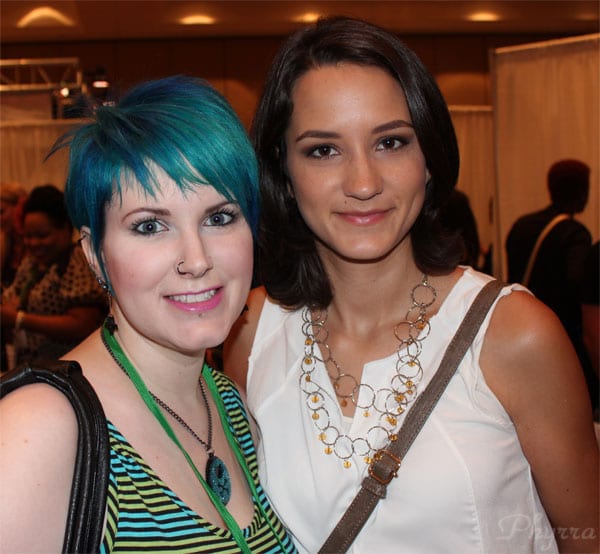 I got to meet the lovely Alison from 10am Beauty and introduce her to Cult Nails.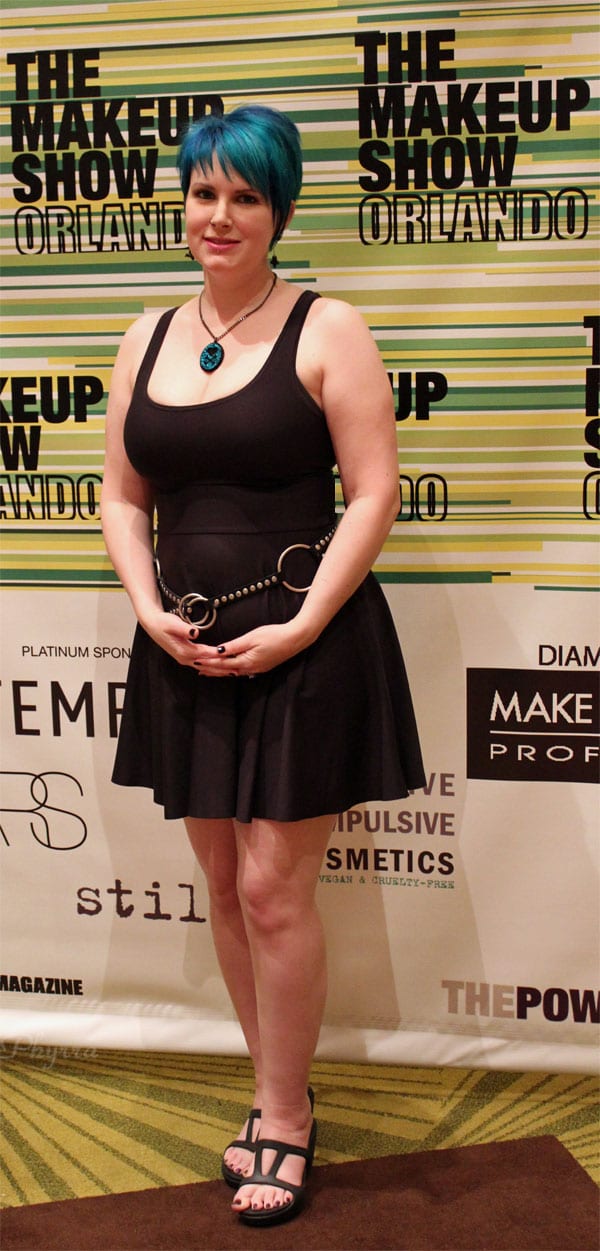 My outfit for Day 2
Black Milk Reversible Skater Dress
crocs black cyprus heels
tokidoki necklace
epiphanie Lola handbag in black
black rings belt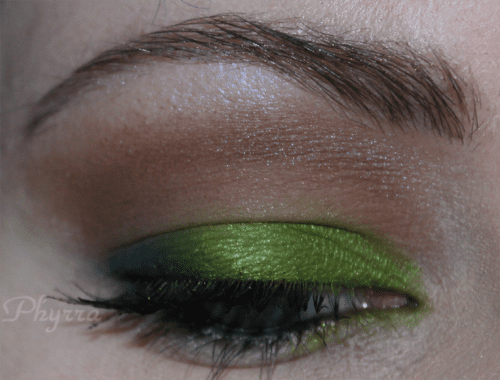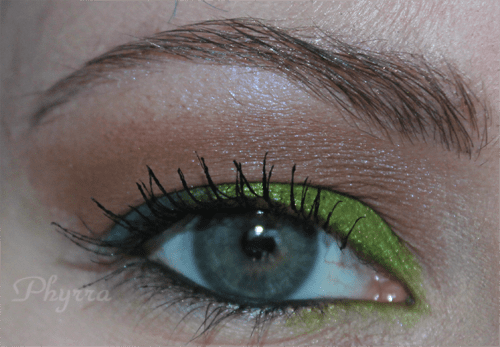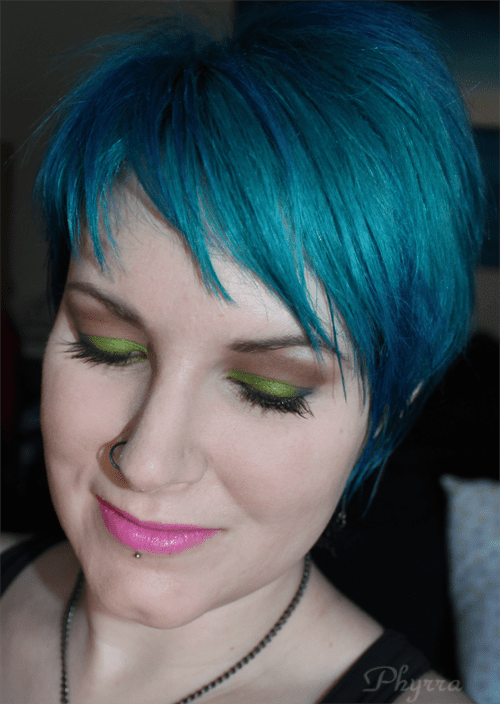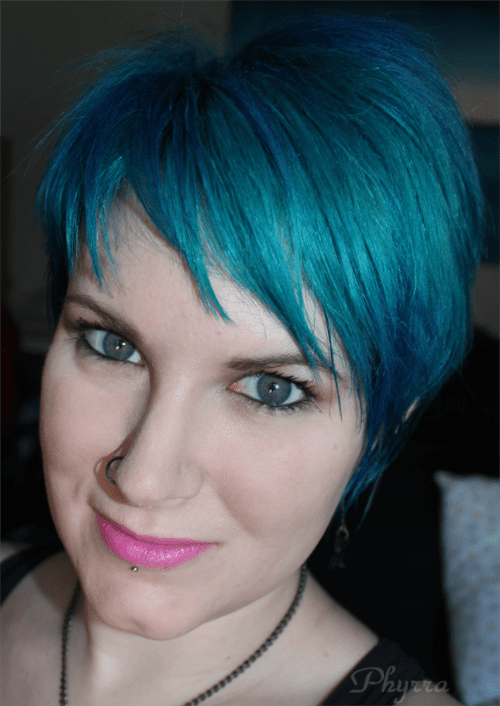 Eyes
Urban Decay Anti-Aging Eyeshadow Primer Potion
Sugarpill Acidberry – lid
Sugarpill Velocity – outer lid
Illamasqua Heroine – crease
Urban Decay Aura (blue) – highlight
NARS Brow Perfector in Suriname
Buxom Call Me Liner – waterline
Too Faced Better Than Sex Mascara
Face
Cover FX CC Cream in N Light
NARS Light Reflecting Loose Setting Powder
Lips
OCC Lip Tar Pencil in Nylon
It was very cute that at the OCC booth they recognized Sugarpill Acidberry on my eyes!
My friend Melissa came with me on Sunday as my camera woman.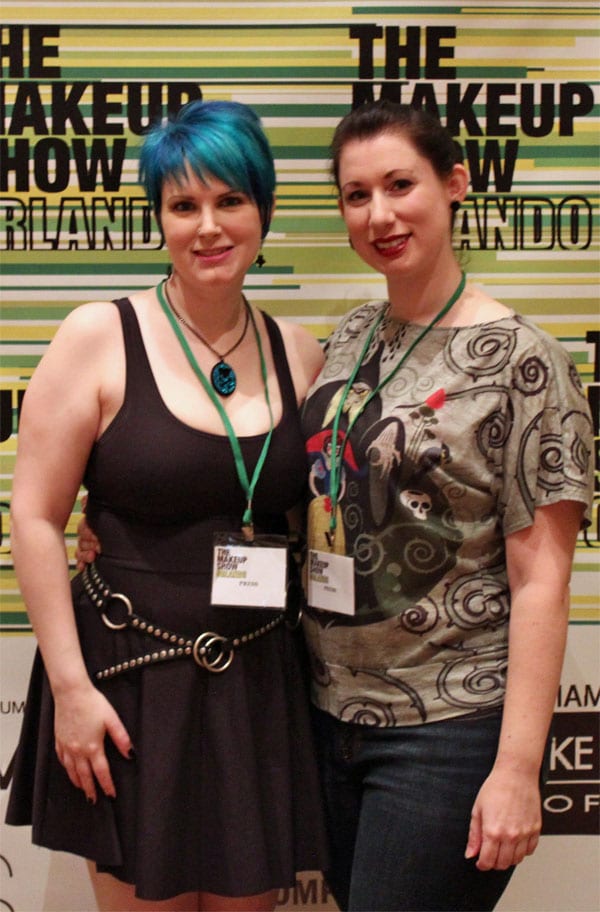 Doesn't she look cute in her Snow White shirt?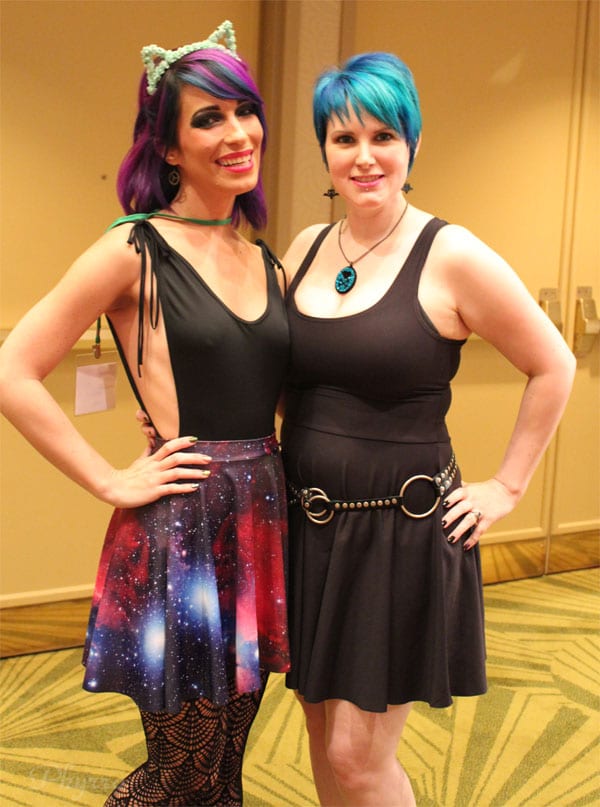 Cristina and I both wore Black Milk on Sunday.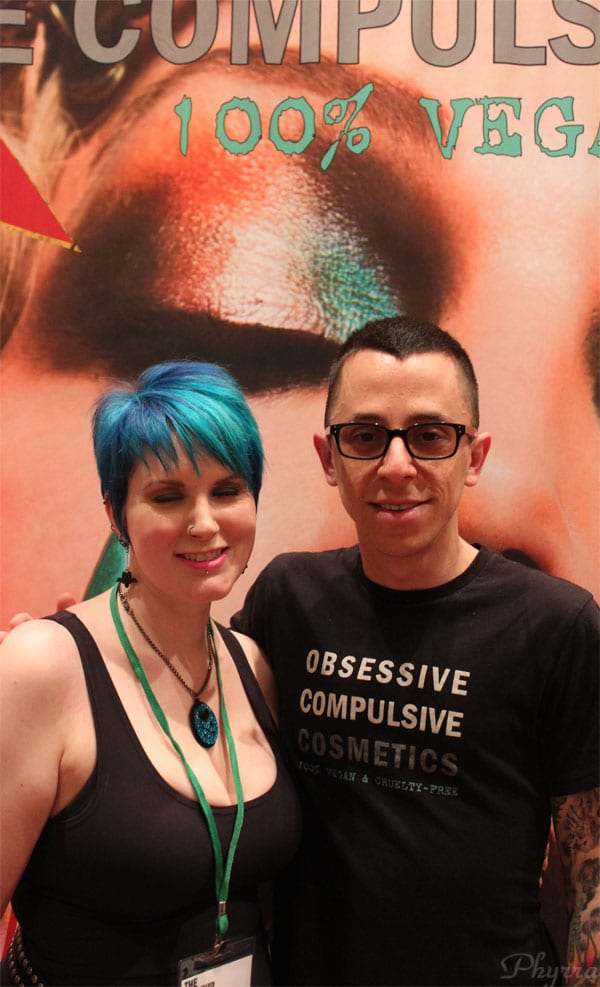 I got to see David again and was able to talk and be less starstruck. I purchased Dope eyeshadow and picked up several lip tars including Black Metal Dahlia and Beta. If you don't own Dope, I highly recommend it. You can see my tutorial with it here.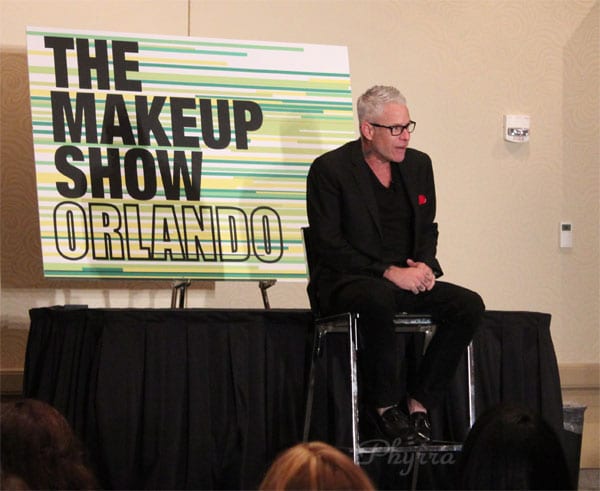 We went to Billy B's keynote and he was awesome! I loved hearing about how he got started. He basically ran from Mississippi to NYC. He interviewed at a Macy's and lied t get a job in Cosmetics. He's completely self taught. A beautiful biracial editor from Vogue magazine told him he was too talented for Macy's and it basically gave him permission and the idea t pursue what he wanted to do.
Some of his key points
Fake it till you make it. Fake confidence. Be Your authentic self,  but fake the confidence so others believe in you.
Fake it to get in and then learn the skills.
To be a star, you can live anywhere. You can achieve just as great where you are. Be the best you can be where you're at.
Amazing things can happen to you if you just allow them to happen.  Just get out of your own way.  Stop self sabotaging!
Don't be embarrassed of who you are.
Hate me all you want, because all it does is put fuel in my fucking tank.
He loves Pinterest and hates Instagram.
Quirky Tip
Effervescent denture cleaner to clean your nails.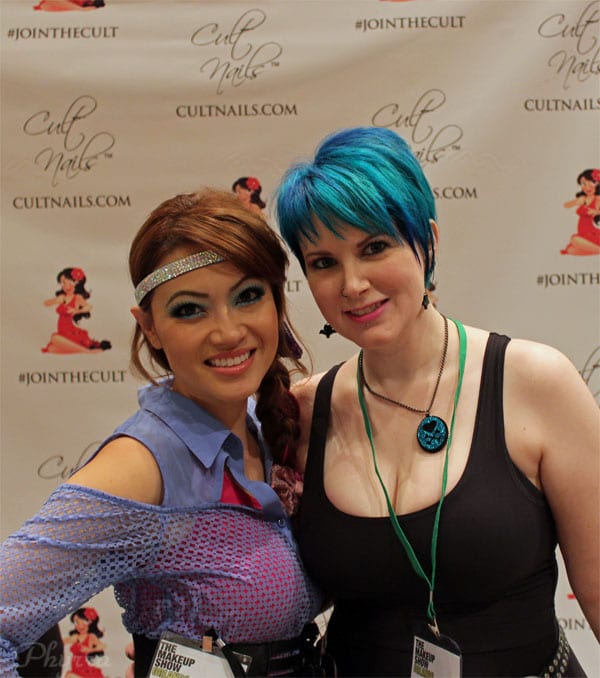 Of course I went to see Elessa again! Adore her 🙂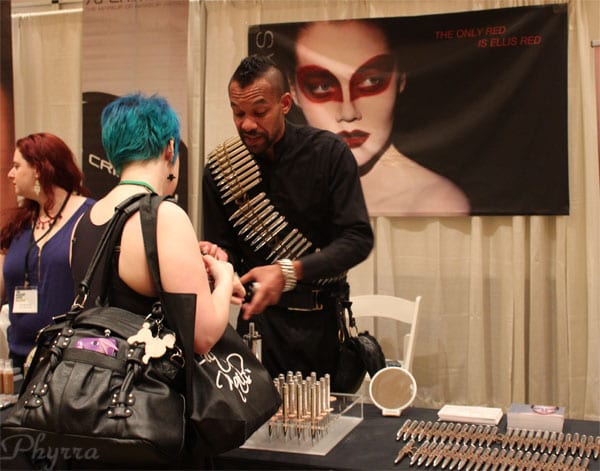 I went by the Ellis Faas booth to learn more about the brand. I purchased a pale antique Silver eyeshadow. They base all of their colors off of colors the body produces naturally, which is an interesting concept. Also they say 'Only tested on Supermodels'. I approve!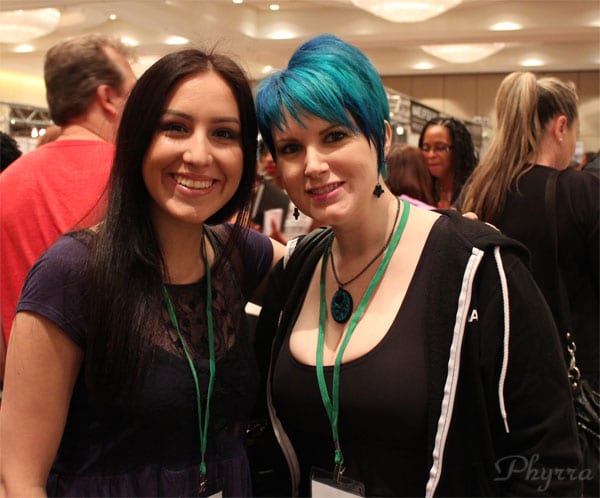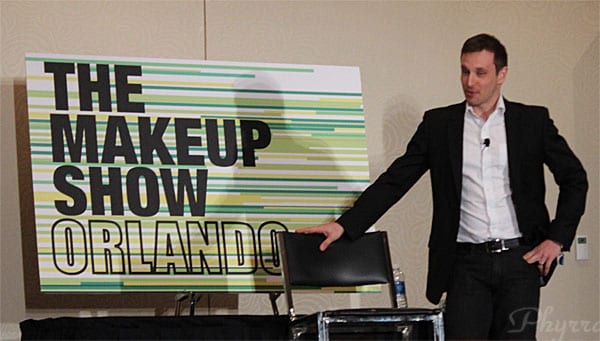 Melissa and I went to see the special effects makeup artist Jonah Levy. He was funny.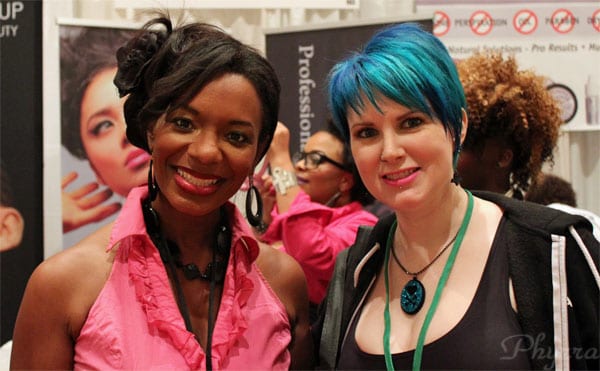 I got introduced to a new brand called Lolade Cosmetics. This is me with Donte, the owner and creator. She has super pigmented products!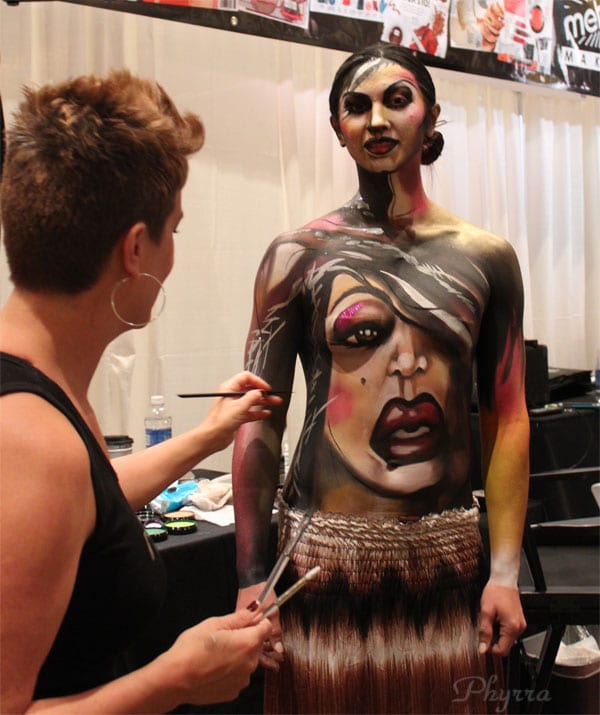 The Mehron people were doing more awesome painting.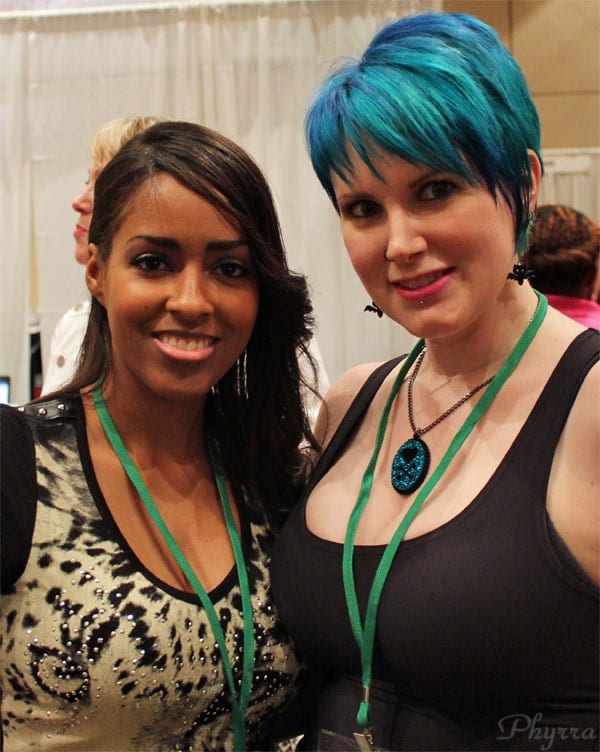 Me and Mina from Mina Slater. Love her top!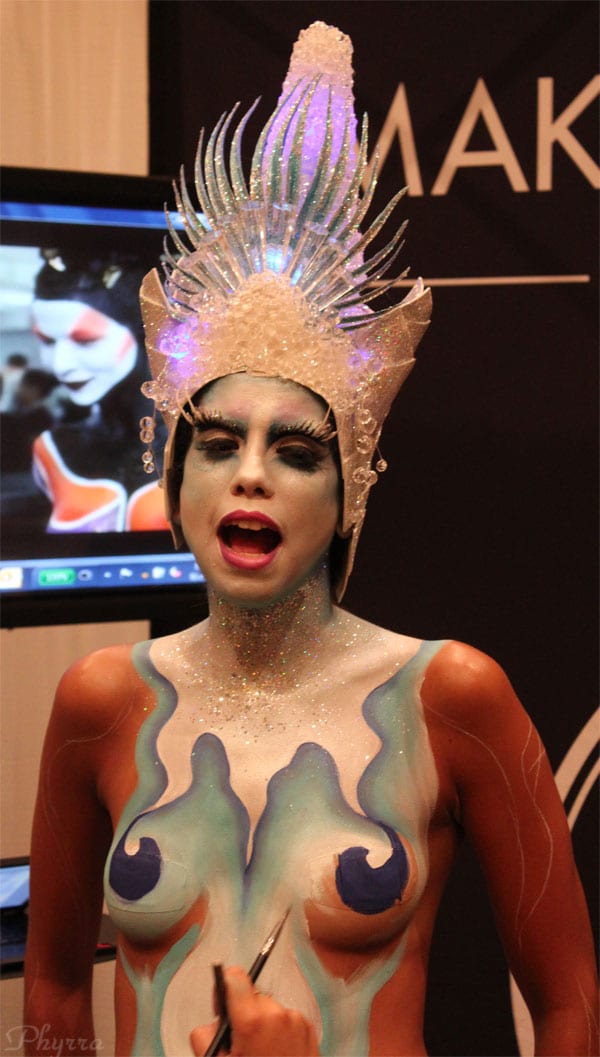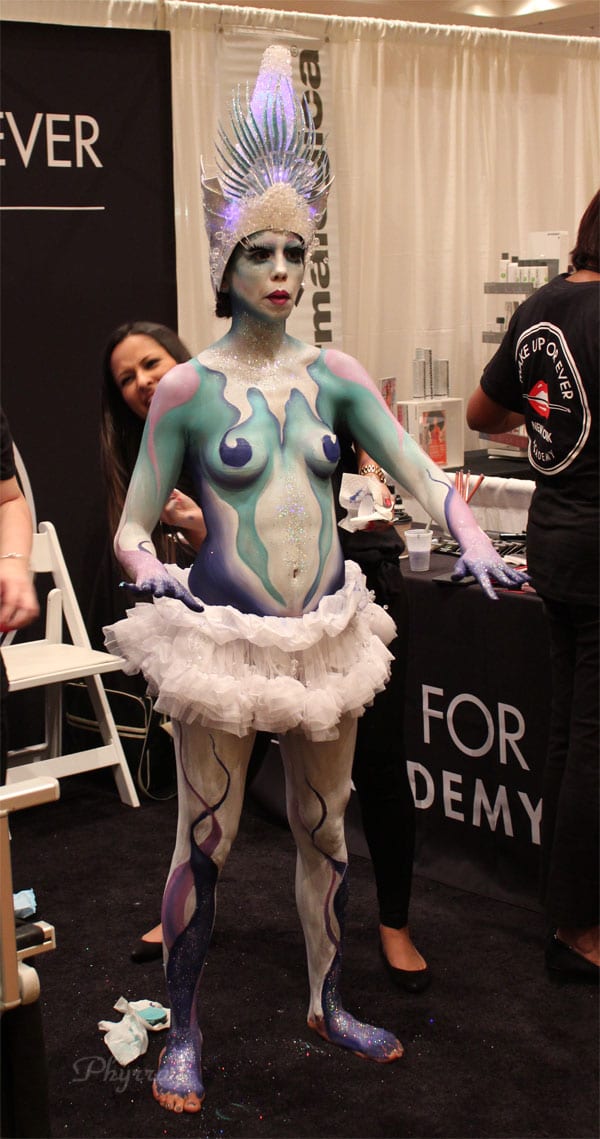 More beautiful work from the MUFE artist.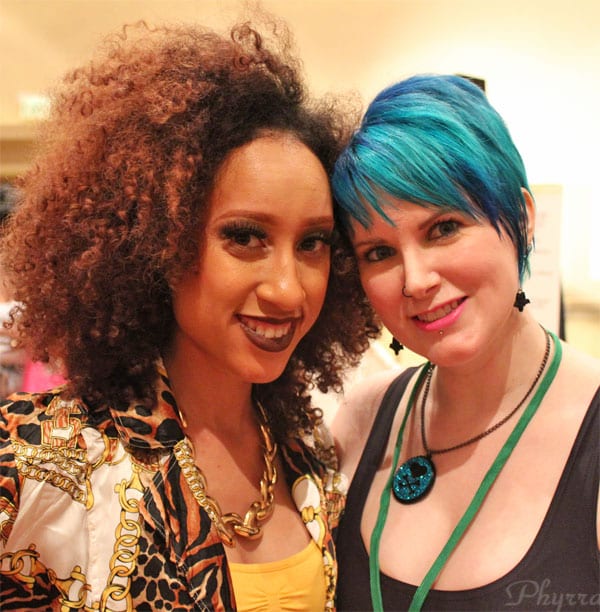 Me getting to spend a little time with Toni from ToniizBeauty. She's such a talented makeup artist.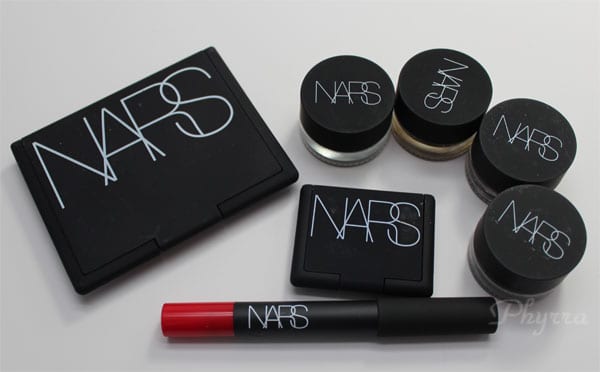 I know I stopped by the NARS booth both days, as you saw from all the NARS in my previous post. I purchased NARS Adult Content palette, Dragon Girl lip pencil, Intergalactic, Iskandar and Black Valley Eye paints, Galapagos eyeshadow and a NARS candle for Ray. I can't stress enough how much I love these eye paints and highly recommend them! See my review.  I now own every color except for the greens and brown.
I also stopped by the Eye  Kandy booth and bought a few headbands. They were sparkly and cute. I'm sure you'll see me wearing them.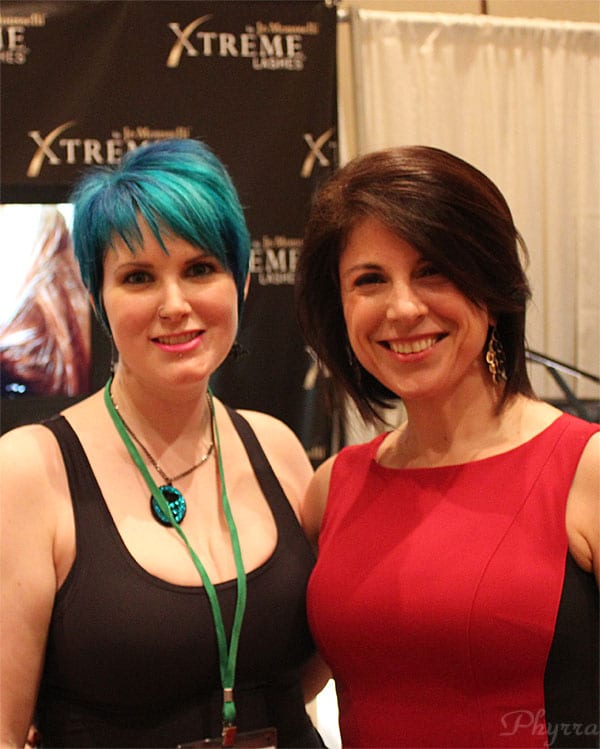 I met with Jo of Extreme Lashes. She's one of the original lash extension companies. She's an RN and very talented business woman. We talked about how these are installed, the upkeep, the care and the costs.  I will hopefully be covering a lash installation for you on my blog!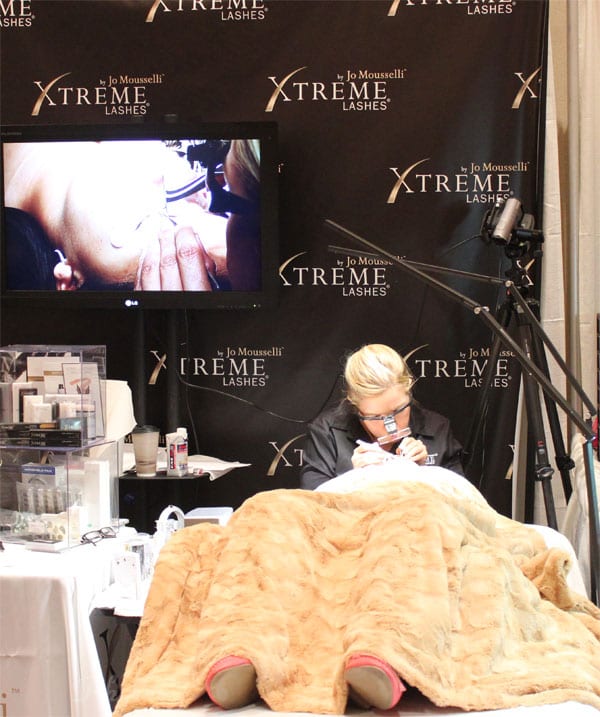 Apparently the procedure is relaxing for most people (if you're not freaked about eye stuff like I am), and most fall asleep!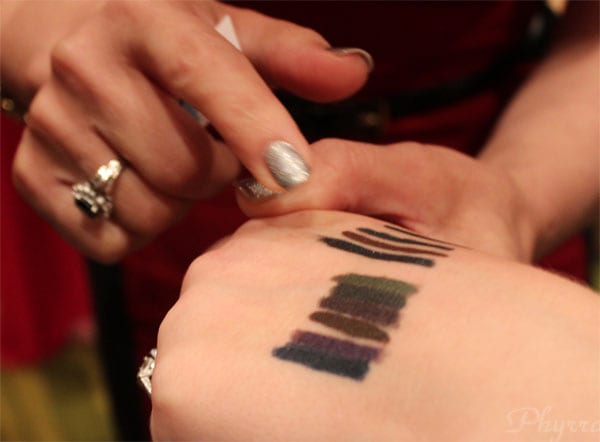 She also has created special long wearing makeup to go with the lash extensions. I'll be reviewing some of it 🙂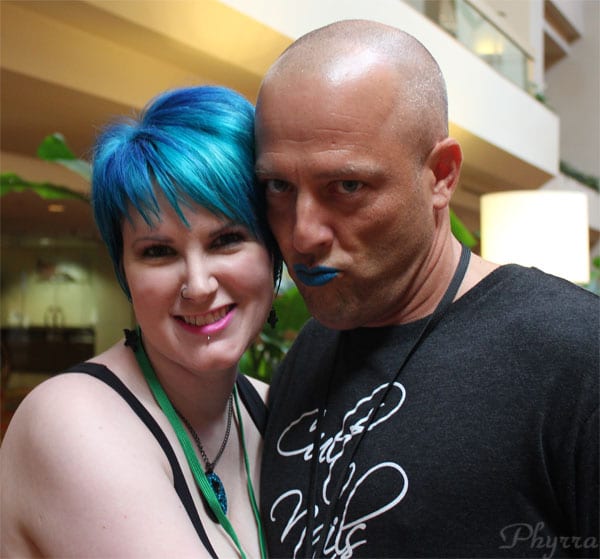 Before we left, we caught Jon wearing OCC Rx lip tar! I loved it! Here he is giving his Blue Steel face. So awesome 🙂
Overall I had an amazing time at the Makeup Show Orlando this year. It was great to get introduced to new brands and to get to interview James Vincent and David Klasfeld. Those were definitely the highlights of the Show for me, followed closely by David and Billy B's keynotes. I loved spending time with my fellow beauty bloggers.
What did you think of the Makeup Show Orlando this year? Let me know in the comments below!
Last Updated on