Happy Saturday! I'm so glad it's October! I thought it would be the perfect time to share the Black Phoenix Alchemy Lab Coraline Collection. Coraline is based off of a book (and movie) by Neil Gaiman. Keep in mind, that scents are very subjective. How something smells to me and on me may differ from your experience as my personal body chemistry is different from yours. Additionally, I have bad allergies that never cease, so sometimes I can't discern complex scent notes.
PR samples.
About Black Phoenix Alchemy Labs
Black Phoenix Alchemy Lab specializes in formulating intriguing, compelling body and household blends with a dark, romantic, and sexual tone. Our scents run the aesthetic gamut of romance era, Renaissance, Medieval and Victorian formulas, pagan and mythological blends, and horror / Gothic-themed scents. By utilizing our knowledge of homeopathy and aromatherapy, the conceptual theories of hermetic alchemy, and the aesthetic artistry of perfumery, we have mastered the art of encapsulating allegorical ideas into singular olfactory experiences.
We believe in compassionate consumerism, and in giving as much back to the community as we can through charitable contributions, volunteer work, and by supporting fair trade and self-sustaining growers whenever possible. We participate in the Green Power for a Green LA program at work and in our homes, and have participated in fundraisers for many fine organizations, including the Comic Book Legal Defense Fund, the Orangutan Foundation UK, AIDS Project Los Angeles, Covenant House, the Red Cross, and the Humane Society.
Animal Testing Policy
With the exception of our honey-based products, everything that comes from BPAL is vegan, and we abhor animal testing. Black Phoenix does not test on animals, and we do not work with companies that utilize animal testing. Black Phoenix is entirely cruelty-free, as our four dogs, many fish, and resident cat will attest. All products are tested on staff, family, and friends.
Black Phoenix Alchemy Lab Coraline Collection Review
The Website Says
This series is based on the characters, locations, and ideas found within the pages of Neil Gaiman's novel, 'Coraline'. This is a charitable, not-for-profit venture: proceeds from every single bottle go to the Comic Book Legal Defense Fund, which works to preserve and protect the First Amendment rights of the comics community. All illustrations for the Coraline series are by Vera Brosgol. All characters and scent descriptions are the intellectual property of Neil Gaiman and used with his permission.
Price for the Black Phoenix Alchemy Lab Coraline Collection
$26.00 per 5ml bottle.
Sample sizes, aka imps, are not available in this collection.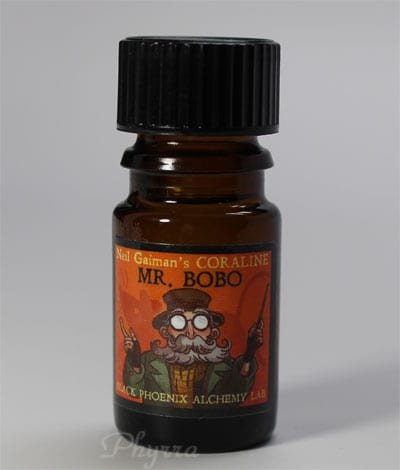 Mr. Bobo
Cooking herbs, pickles, and mouse fur. I definitely smell pickles!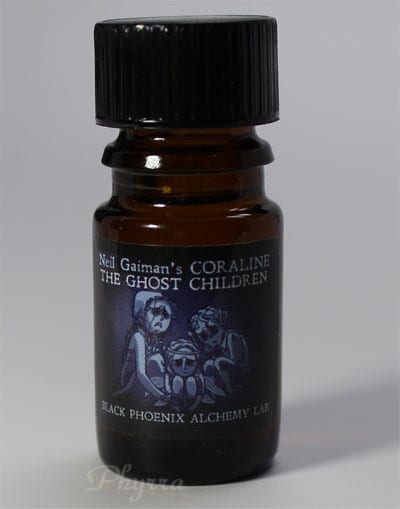 The Ghost Children
In the perfume, BPAL tried to capture the blue-violet-white of an afterimage and the silence of a snuffed candle. The scent is dry with age, taut with loss, grief, and heartbreak, and sorrowful in the unspeakable desolation of simply being forgotten.  It's strange, sad and cold.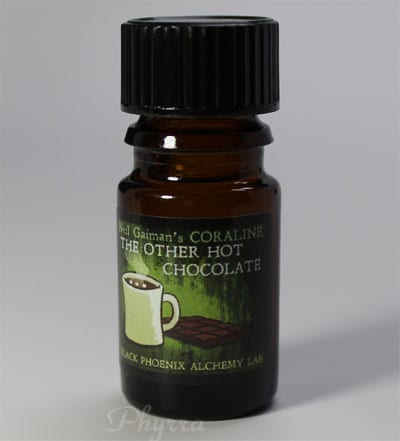 The Other Hot Chocolate
Mmmm chocolate.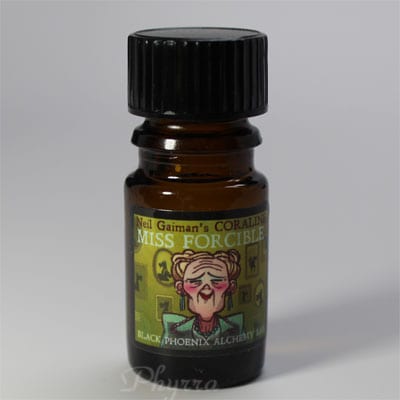 Miss Forcible
A classic vintage musk. A dark musk.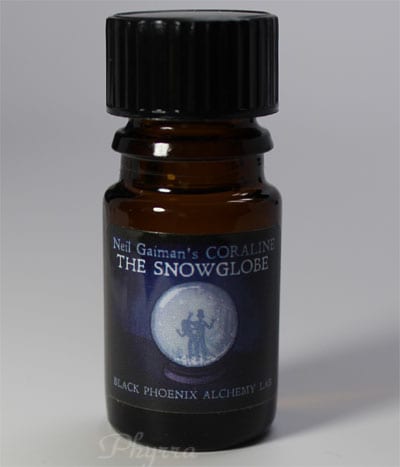 The Snow Globe
Cold leaded glass, bone chip snow, and glycerin. A chilling scent.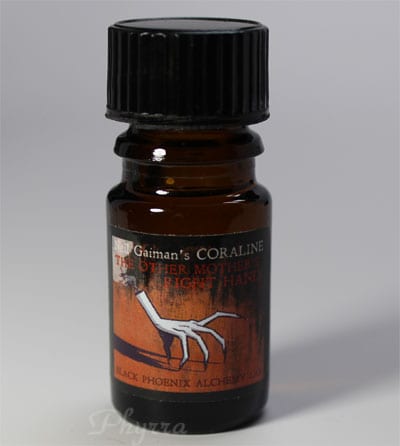 The Other Mother's Right Hand
A scrabbling, skittering, clacking scent: white as bone, black as a beetle, and red as blood – orris root, vetiver, and daemonorops. Smells like incense to me.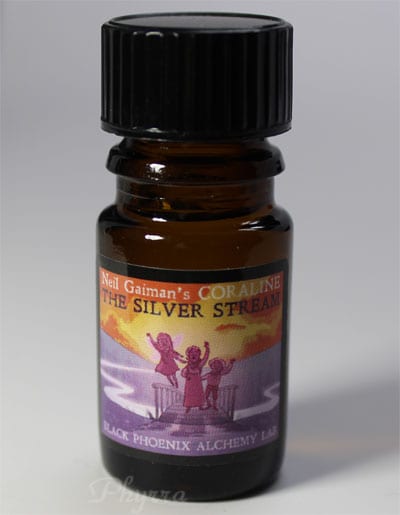 The Silver Stream
Bittersweet: the scent of forgetfulness, peace, and oblivion. Like asphodel petals on moonlit water. A sort of strange, powdery scent.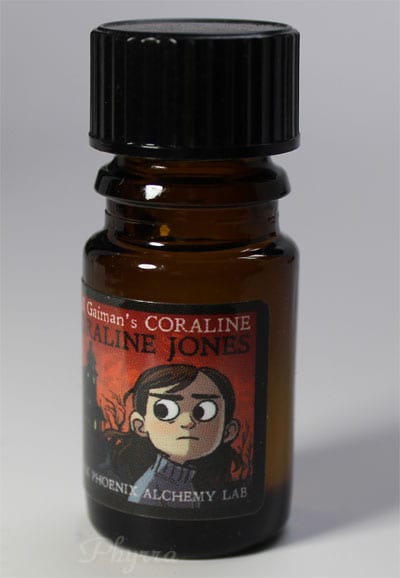 Coraline Jones
Dry grass, clean skin, and a little bit of mossy berry. This actually reminds me of clean cotton.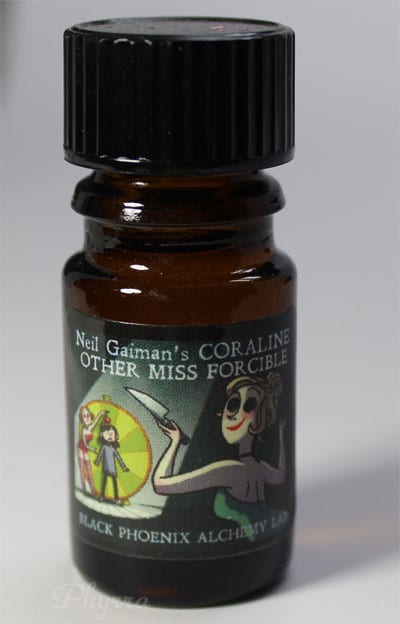 The Other Miss Forcible
Maybe a touch of apple and wood. I can't really identify the individual notes.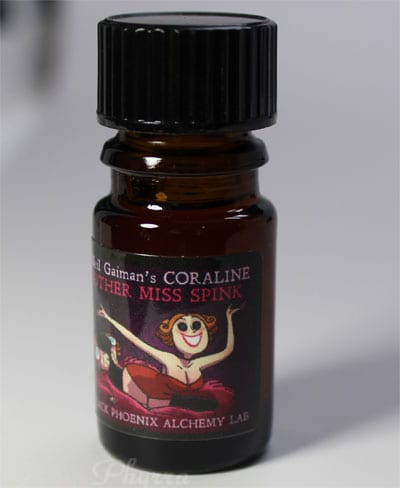 The Other Miss Spink
This one smells like lightly flowery.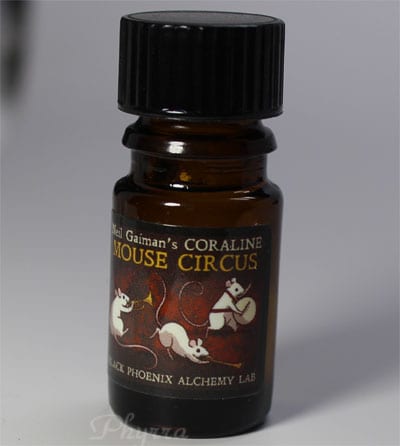 Mouse Circus
A toodle oodle of pink cotton candy noses, vanilla spun sugar fur, scattered kernels of popcorn, and a touch of polished golden wood.This one makes me smile. It immediately smells of popcorn and then a hint of cotton candy.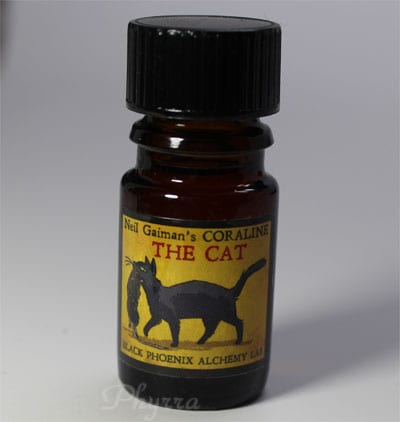 The Cat
Sleek, black, dark, and clever: benzoin, honey, cedar, and dark musk. Very dark with a hint of honey.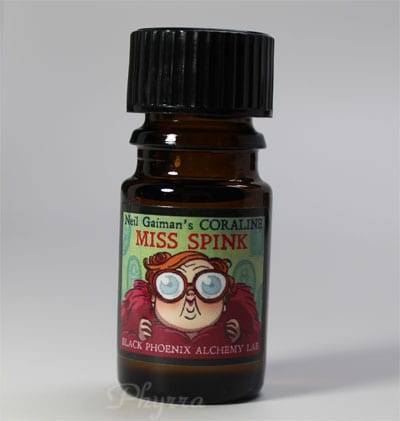 Miss Spink
A grand, over-the-top tuberose gardenia. This has a very sweet, flowery scent to me. I like it.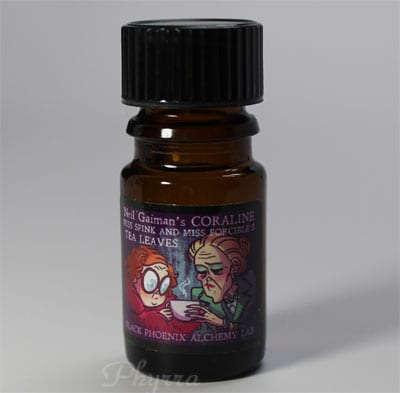 Tea Leaves
This has a pine and bitters smell to me.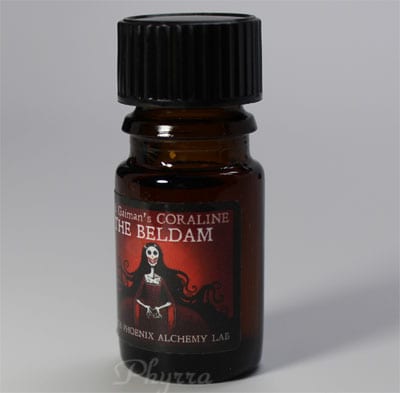 The Beldam
This has a dark, syrupy cherry smell to me.
You may think 5 ml isn't very much in a bottle for a perfume, but trust me, these perfumes are potent and pack a punch! These bottles will last you a long time!
I'm a huge fan of Neil Gaiman's Sandman Series and I fell in love with Coraline when we watched the movie, so I love seeing this collection. I think the scents are fun and unusual.
My favorites
The Beldam, Miss Spink, Mouse Circus, The Other Hot Chocolate
Have you heard of Black Phoenix Alchemy Labs? What are your favorite scents by them? Are you a Neil Gaiman fan?