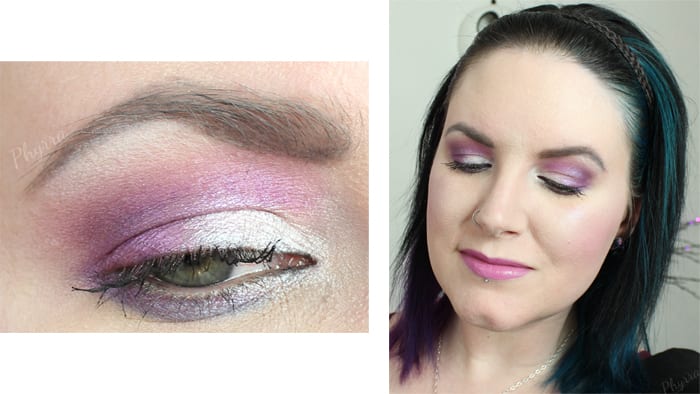 I wanted to have this tutorial up for you last Friday but I ran out of time because of heading to Miami. This is my Makeup Geek Whimsical Pegasus Masquerade tutorial featuring several of the new Foiled eyeshadows. It's actually mostly all MUG shadows, except for UD Venus (from the Naked Basics Palette). In the tutorial I also show how I prep my eye when dealing with eyeshadows that are likely to crease.
PR + purchased by me.
Makeup Geek Whimsical Pegasus Masquerade Tutorial
Makeup Geek Whimsical Pegasus Masquerade Tutorial - Cruelty Free Makeup


If you like this video please give it a thumbs up and share!

Eyes
Urban Decay Eden Primer Potion
e.l.f. HD Undereye Setting Powder
Makeup Geek Whimsical -- inner lid, inner v, inner lower lid
Makeup Geek Masquerade -- outer lid, crease, outer lower lid
Makeup Geek Pegasus -- lower lid
Makeup Geek Galaxy -- outer crease
Makeup Geek Vanilla Bean -- upper crease
Urban Decay Venus -- highlight
NARS Black Valley -- upper waterline
Physicians Formula Sexy Booster Cat Eyes Mascara
Smashbox Bare -- lower waterline
Anastasia Brow pencil Granite
Senna Cosmetics Brow pencil Ash Brown

Face
Cover FX Custom Cover Drops N10 + Glossier Perfecting Skin Tint Light
Silk Naturals Shady Lady Contour #1 -- cheeks
Silk Naturals Brightening Concealer #1 -- under eyes
Makeup Geek Secret Admirer -- blush
Notoriously Morbid Osteomancy -- highlighter

Lips
Colour Pop Brills lip pencil
Colour Pop Corset lippie stix

You can easily see why I love the Cover FX + Glossier skin combo. To me, my skin looks like good skin.

What do you think of this purple look? How would you use Masquerade and Pegasus?
Last Updated on