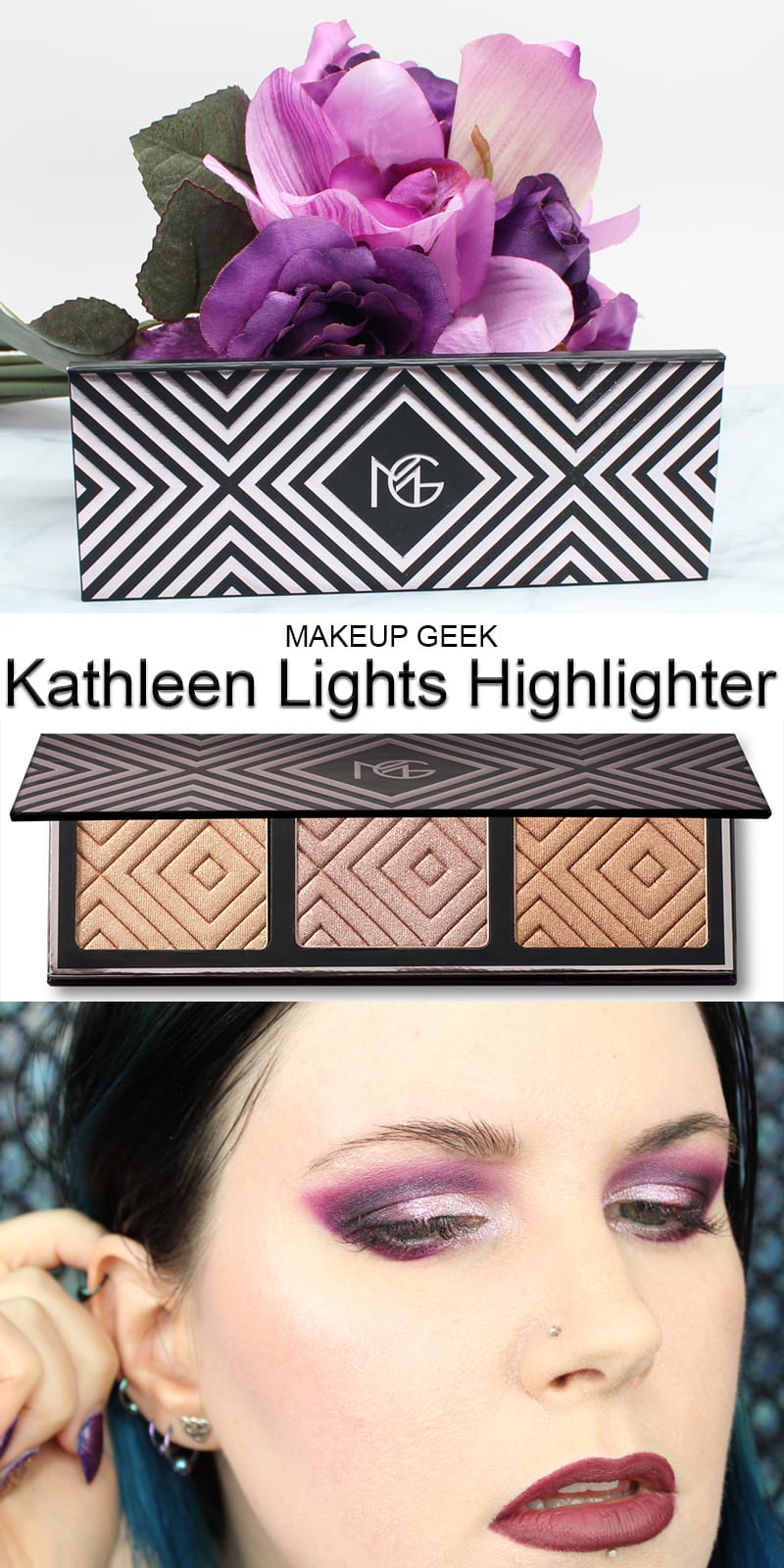 Today I'm sharing my Makeup Geek Kathleen Lights Highlighter Palette swatches with you. This palette just arrived so I wanted to get my swatches up as quick as I could so that you could see what the shades look like on pale skin. This is a limited edition palette, but Kathleen Lights says that there are enough palettes for everyone who wants one. I've had less than 24 hours to play with this palette, so this is not a review. Makeup Geek's site lists this palette as cruelty free, talc free, paraben free and vegan.
Get 10% off at Makeup Geek with code PHYRRA!
Makeup Geek Kathleen Lights Highlighter Palette Swatches
PR sample.
Where to Buy
Makeup Geek
Price
$39 for .25 x 3 (.75 oz total)
Ingredients
Triethylhexanoin, Magnesium Myristate, Silica, Boron Nitride, Phenoxyethanol, Ethylhexylglycerin May Contain: +/- Mica (CI 77019) , Titanium Dioxide (CI 77891), Tin Oxide (CI 77861), Iron Oxides (CI 77499, CI 77491)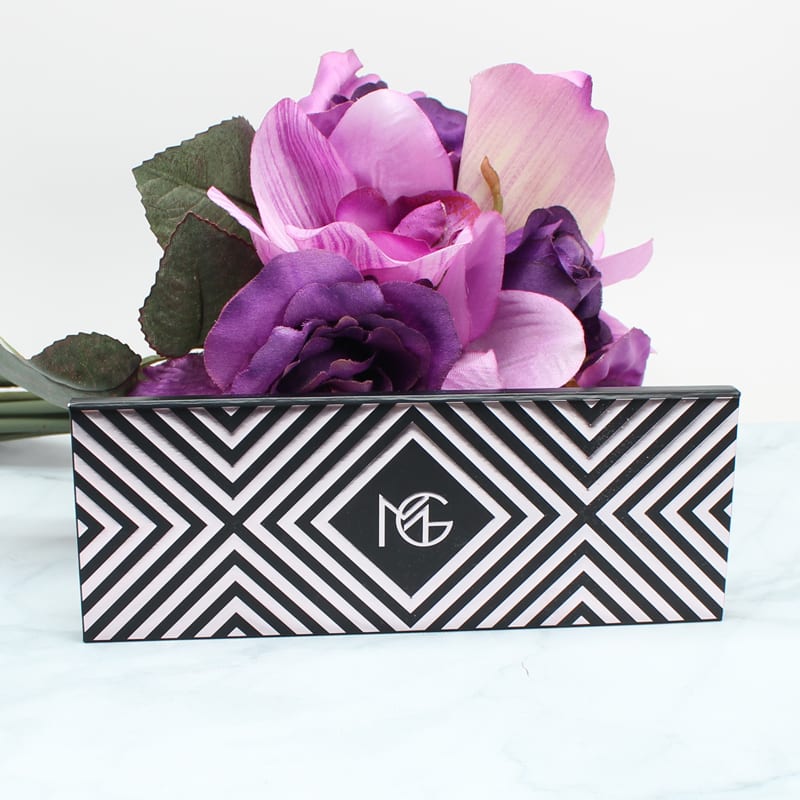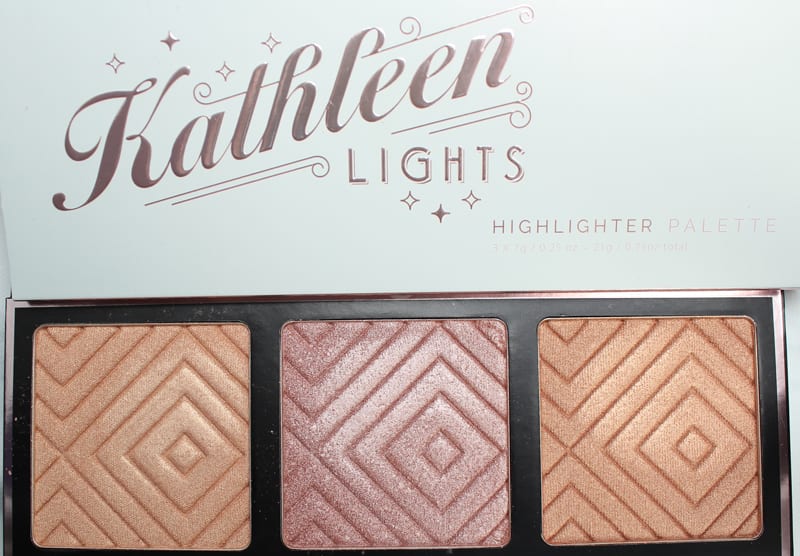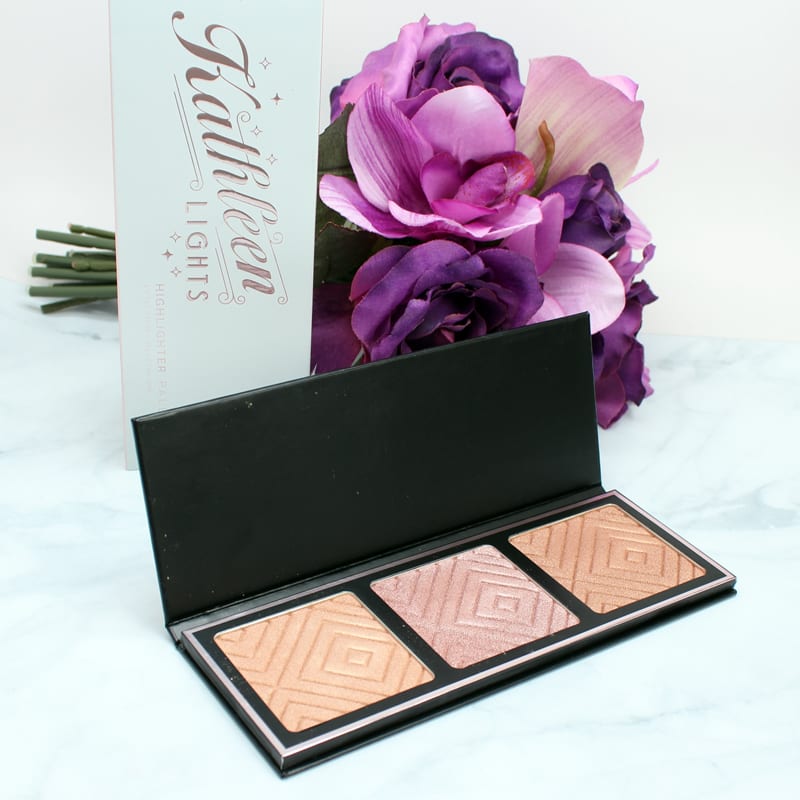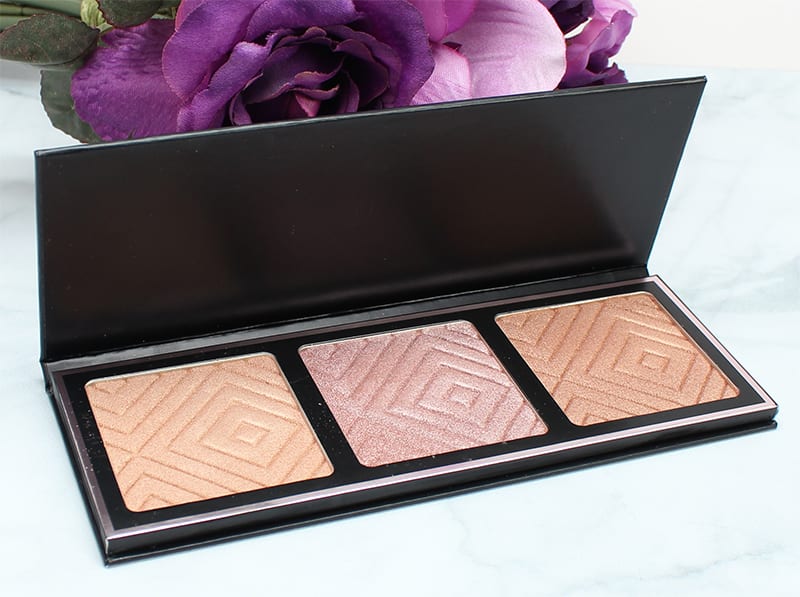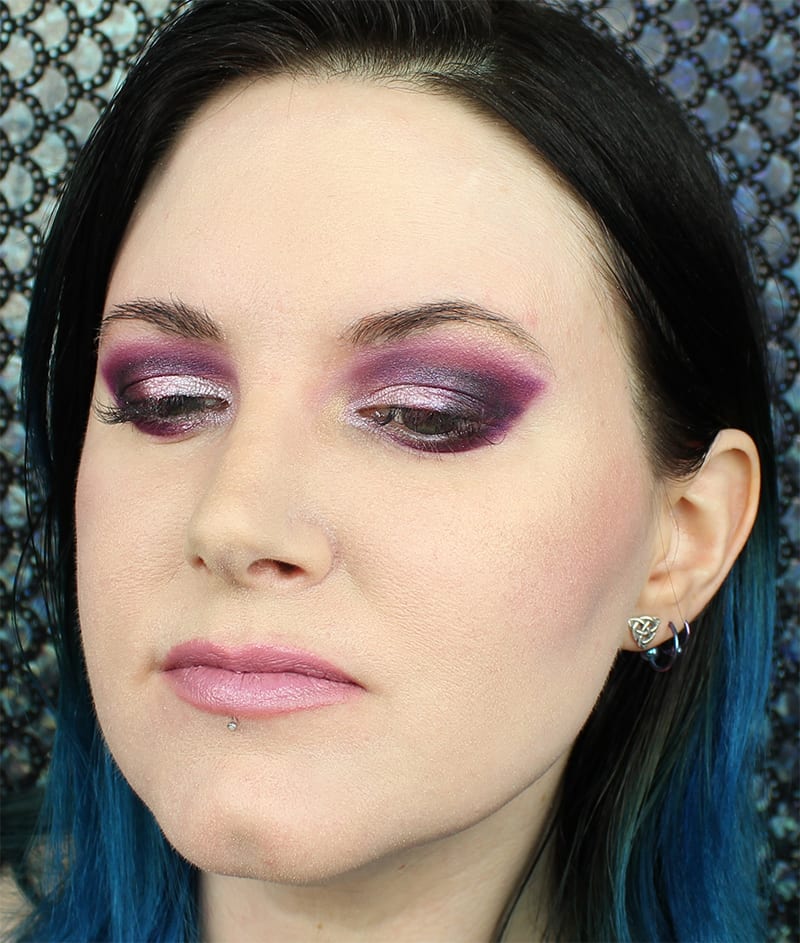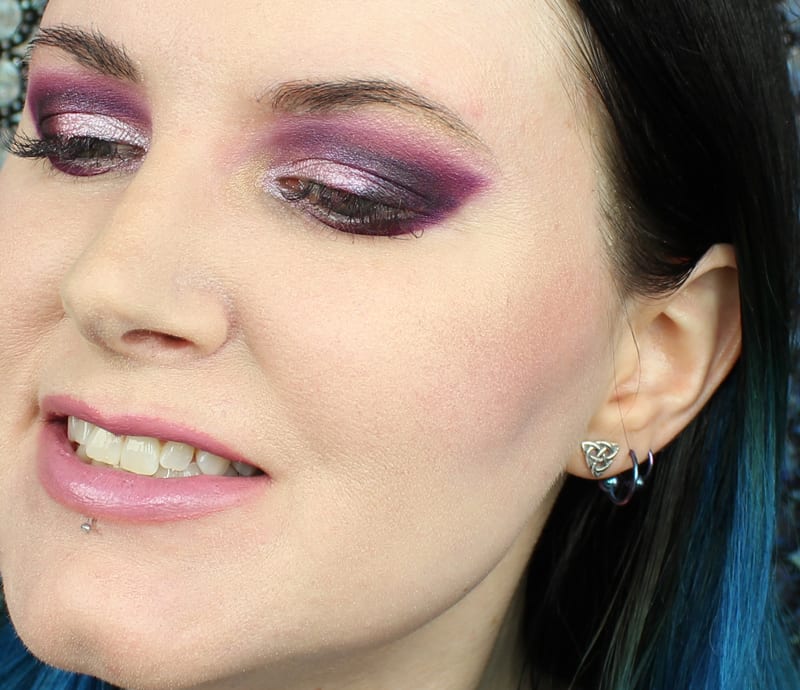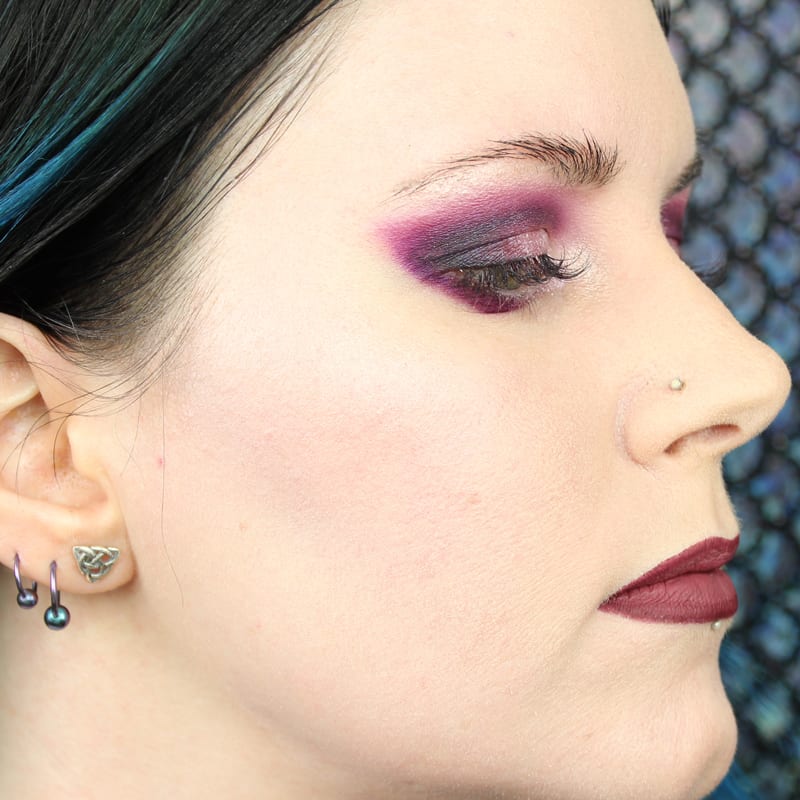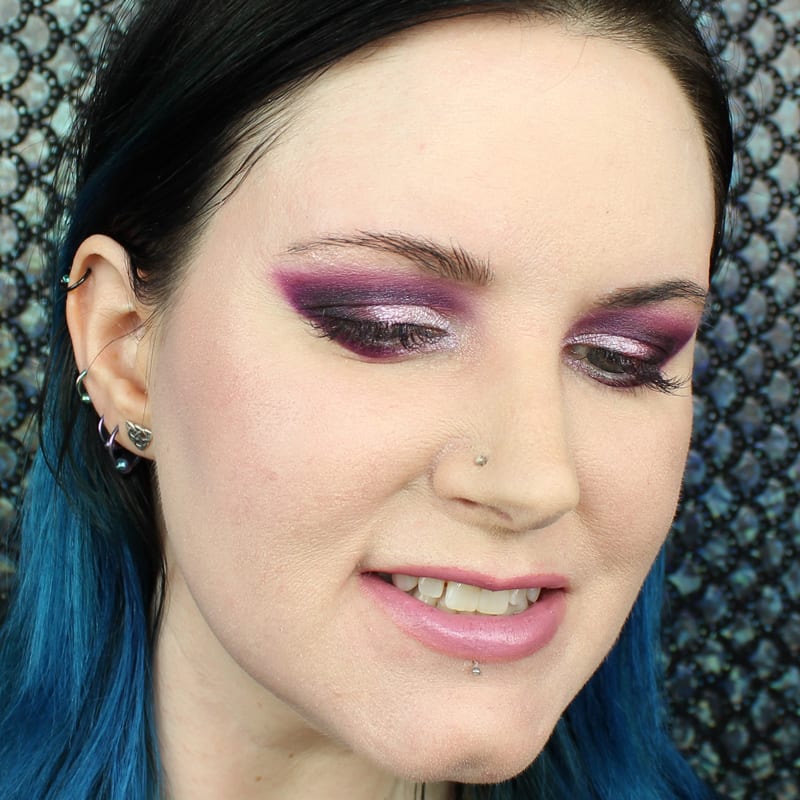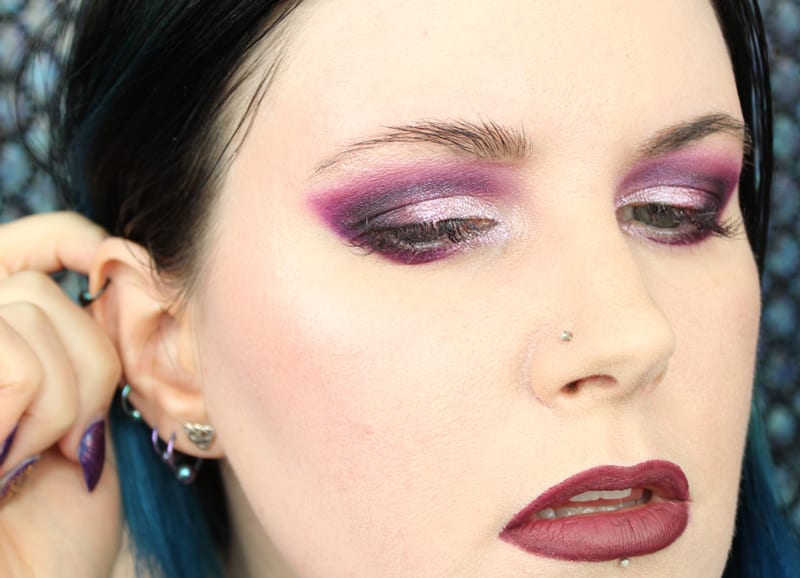 Face
Hourglass Veil Mineral Primer
DIY Cover FX CC Cream
Aromaleigh Aconitum Napellus (greyed violet, pressed) – contour
Aromaleigh Minerva (soft pink with peach tones and blue and copper shimmer)- blush
Makeup Geek Starlight (right cheek) – highlight (also used on the right eye)
Makeup Geek Nightlight (left cheek) – highlight (also used on the left eye)
Dark Lips
Urban Decay 24/7 Pencil in Hex – liner
Cryptic Cosmetics Gore Couture – lipstick
Light Lips
UD 24/7 pencil in Native
UD Vice lipstick in Violate
Bite Beauty lipstick in Opal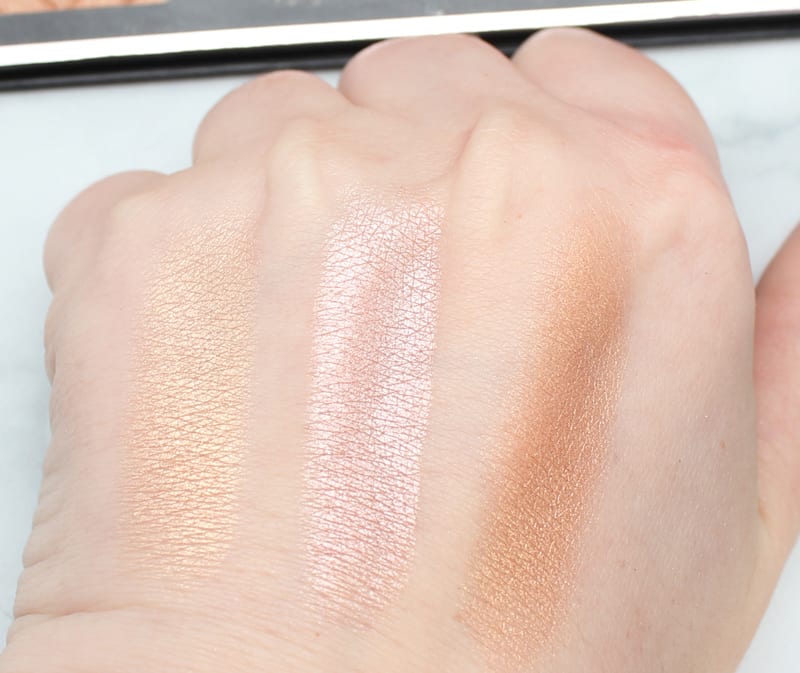 Kathleen Lights Says
"I'm so happy and in love with this highlight palette! I wanted to create three wearable shades that suit every single skin tone in one place! A shade for fair skin, medium skin and deeper skin tones! So, no matter who you are, you can rock these highlights and be glowy and beautiful! You can even mix them to create your custom shade! Hope you love it as much as I do!" XOXO, KathleenLights
Nightlight
light gold with a reflective luminous finish
It looks like a light peachy gold to me. Very pretty.
Starlight
rosy pink with a reflective luminous finish
It looks like a metallic ballet pink to me.
Sunlight
soft copper with a reflective luminous finish
It looks like a bronzey golden copper to me.
The packaging is gorgeous. I believe it's the new standard for makeup geek – rose gold and black. I think it looks classy. It matches the Makeup Geek x MannyMua Palette. The case is magnetic and stays closed with no issue. It's lightweight but feels fairly sturdy.
As far as value goes, these are the first highlighters that Makeup Geek has sold. The palette is $39 and that breaks down to $13 for .25 oz each / .75 oz total. Comparing the Makeup Geek Palette to some singles, Urban Decay Afterglow Highlighter is $26 for .23 oz, Tarte is $28 for .20 oz, Kevyn Aucoin Celestial Powder is $44 for .11 oz, and my favorite indie highlighter, Notoriously Morbid Osteomancy is $8.50 for a 20g jar (4.5 grams of product).
Comparing the highlighter palette to other palettes, the Anastasia Moonchild is $40 for 6 shades .15 oz each / .90 oz total (this one is perfect for my pale skin), the Anastasia Glow Kits are $40 for 4 shades .26 oz each / 1.04 oz total, the Honest Beauty Spotlight & Strobe Kit is $34 for 3 shades (size unknown), and the Pur Cosmetics Strobe Palette is $34 for 3 shades (size unknown).
After looking at the pricing on highlighter singles and palettes, I feel like the price might be a tad high for 3 shades. However, I really do appreciate that Makeup Geek uses high quality ingredients and they went the extra mile to make this palette vegan friendly.
Now, you know I love to glow. I absolutely adore highlighters. However, for my pale skin, I find that I need to use shades that are iridescent white, preferably with a blue, pink, or purple shift. If a color is too pink-based, too peach-based, too gold-based, etc it's too dark for my skin and just kind of sits there.
My initial feelings on this palette are that the colors are best suited to light, medium and medium deep skintones for highlighting. I don't think these colors are flattering as highlighters on pale skin like mine. Sunlight is way too dark for me to attempt to wear as a highlighter. I used Nightlight on the left side of my face and Starlight on the right side of my face. I put the colors on my cheeks, at the inner corner of my eyes, and under the outer part of my eyebrow, which is where I normally highlight. I did not like Nightlight or Starlight as an under the eyebrow or inner corner of the eye highlight. I do feel like these 3 highlighters would be pretty lid and lower lid colors for me to wear.
When I was looking in the mirror, I felt like Nightlight looked good on my cheek but not the eyes. I felt like Starlight didn't look quite right on my eyes and didn't seem to do much for my cheek. In the photos I think Starlight looks ok and Nightlight looks too dark. Both shades seem to emphasize imperfections in my skin, and my skin was pretty unhappy when I took these photos. Any day where I'm taking my foundation off and putting it back on 3 times will tend to leave my skin angry,  no matter how much I moisturize.
Anyway, what are your thoughts on this latest blogger collaboration?  What do you think of the Makeup Geek Kathleen Lights Highlighter Palette?
More to See