I thought I'd share swatches with you of the few things I picked up from MAC's M.A.C. Me Over collection, as well as a few other products you might like. I only purchased a few items from this collection, which is huge! It's got something like 51 pieces in it.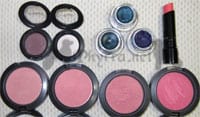 To begin with, I wanted to show you Blackberry, since that's what I've been using to fill in my brows. I really like Blackberry because it's got some deep red, violet, and brown tones in it, so it seems to work with my dark hair without feeling too dark. Next to that, I've got the highlighter shade, Creamy Bisque (MAC Me Over). Creamy Bisque is a light creamy shade with just a touch of pastel-peach or pink to it.


Blackberry to darken my brows and Creamy Bisque patted under my eyebrows, no primer.
Next, I swatched three fluidlines for you: Midnight Blues (MAC Me Over), Siahi and Waveline. Siahi, as you know, is my favorite deep teal shade. Midnight Blues is more of a navy blue, where as Waveline is a darkened royal blue. I really like gel eyeliner, even if I've not been wearing it much lately. These are all nicely pigmented and long-wearing, which is especially great if you have oily lids like I do.

The only lip product of the bunch is Blossom Culture. It's actually from Seasonally Supreme. To me, it's a light coral pink and really nice for a more natural lip color.

Stunner (MAC Me Over) is definitely a light blush shade and it gives me a really nice glow. You can see how light it is in comparison to the rest of the blushes I swatched. Fleur Power is definitely a deeper shade that has more coral to it, making it the darkest blush of the bunch. Peachykeen is more peach-orange tone by comparison with lovely shimmer. Dollymix is, of course, pink with shimmer.


Me wearing Stunner on my cheeks.
Shade Descriptions:
Blackberry – muted burgundy-plum brown (matte)
Creamy Bisque – dirty ivory with pearl (frost)(MAC Me Over)
Midnight Blues – blackened blue (MAC Me Over)
Siahi – deep turquoise blue
Waveline – solid flat black
Blossom Culture – soft pink with pearl (sheen supreme)
Stunner – light coral pink (satin)(MAC Me Over)
Fleur Power – soft bright pinkish-coral (satin)
Peachykeen – very baby peach (sheertone shimmer)
Dollymix – pure candy pink (sheertone shimmer)
Hopefully it helps seeing the different blush shades swatched together.
What do you think of the blushes? How do you feel about MAC's MAC Me Over collection? Did you pick up anything from it?
Products purchased by me. All opinions are my own.