Friday during the day at Dragon Con, I wore my steampunkesque gothic outfit. For makeup, I went with pink and purple eye shadows. I used Aromaleigh Phaedra in the crease with UD Fishnet on the lid.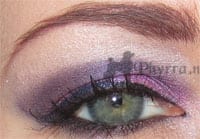 Eyes:
Too Faced Shadow Insurance
Urban Decay Fishnet – lid
Aromaleigh Phaedra – crease and outer corner of the lid and lower lash line
Too Faced Super Nova – to darken outer crease
Aromaleigh Phyrra – on browbone and inner corner of eye
MUFE Liquid liner in Matte black – upper lash line
Urban Decay 24/7 liner in Perversion – lower water line
MAC Blackberry – to define brows
Dior Diorshow Lash Primer
MUFE Smoky Eyes Mascara
Face:
Smashbox SPF 15 face primer mixed with MAC Pro Longwear NC15 concealer
Too Faced Amazing Face Pressed foundation in Vanilla Creme
Cheeks:
MAC Stunner
Lips:
Buxom Big & Healthy Lip Stick in Marrakech


Here's me with my friend Kev. He runs the MMO track 😉 Yes, I'm wearing croc heels.
Below are some of my other friends.