This past Saturday I purchased a permanent dye from L'Oreal Feria's new midnight collection, M32, Violet soft black. This color is states it is a black with warm violet tones. Since I've been feelin' very Faye Valentine about my hair, this sounded like the perfect permanent option to use to achieve that look, since I've been tired of dealing with semi-permanent dyes.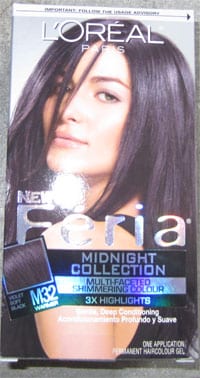 The Website Claims:
With Feria, what you see is the shimmer. Multi-faceted shimmering color with 3x highlights delivers intensified, brilliant results. Inspired by cutting-edge fashion, Feria's prismatic color spectrum is custom-blended by L'Oreal master colorist. Pure Shimmer. Silky Conditioning. Midnight Star is a warmer shade that adds violet tones.
Ingredients:
Aqua/water, trideceth-2 carboxamide mea, propylene glycol, hexylene glycol, peg-2 oleamine, polyglyceryl-4 oleyl ether, oleyl alcohol, alcohol denat., ammonium hydroxide, polyglyceryl-2 oleyl ether, oleic acid, sodium diethylaminopropyl cocoaspartamide, pentasodium pentetate, ammonium acetate, parfum/fragrance, 2-methyl-5-hydroxytoluene, p-phenylenediamine, sodium metabisulfite, p-aminophenol, erythorbic acid, resorcinol, phenyl methyl pyrazolone, p-methylaminophenol sulfate, 6-hydroxyindole, alpha-isomethyl ionone, eugenol, linalool, citronellol. color optimizing creme: aqua/water, hydrogen peroxide, cetearyl alcohol, trideceth-2 carboxamide mea, ceteareth-30, glycerin, pentasodium pentetate, sodium stannate, tetrasodium pyrophosphate. care supreme conditioner: aqua/water, cetearyl alcohol, glycerin, behentrimonium chloride, candelilla cera/candelilla wax, amodimethicone, cetyl esters, isopropyl alcohol, parfum/fragrance, methylparaben, trideceth-12, hexyl cinnamal, linalool, benzyl alcohol, chlorhexidine dihydrochloride, cetrimonium chloride, butylphenyl methylpropional, limonene, amyl cinnamal, ppg-5-ceteth-20, geraniol, benzyl benzoate, oleth-10, citronellol, disodium cocoamphodipropionate, alphaisomethyl ionone, lecithin, cnnamal alcohol, phosphoric acid, tocopherol, ethylhexyl salicylate, phenoxyethanol, methyl-2-octynoate, ethylparaben
Price:
$9.95 from most places. I purchased it from Ulta.
Does it live up to its claims?
Oh Feria, Feria. Again you lure me in with your siren song of promises of multi-dimensional color, only to let me down. Let me count your faults. To begin, the color you delivered is not warm violet. The color is a very dark burgundy red shade. While pretty, it's not the color I was looking for. Second, despite the fact that I mixed the color very thoroughly, there are a few places where I have red patches, rather than evenly distributed highlights, which is odd. Third, the box claims that this product provides silky conditioning, but my hair felt a little rough afterwards. However, it was nothing that Tigi's Dumb Blonde couldn't fix. The only claim that this product did live up to is that it does have gorgeous shimmer and shine.



Would I purchase again?
Probably not. If I wanted to go black with deep burgundy highlights, I would purchase this again. However, since I want to have black hair with dark purple highlights, this is not the hair dye for me. It's too bad I have a second box of it sitting around because I bought a back up. This dye is great in concept, but a very poor implementation. The color results really need some work.
Product purchased by me. All opinions are my own.