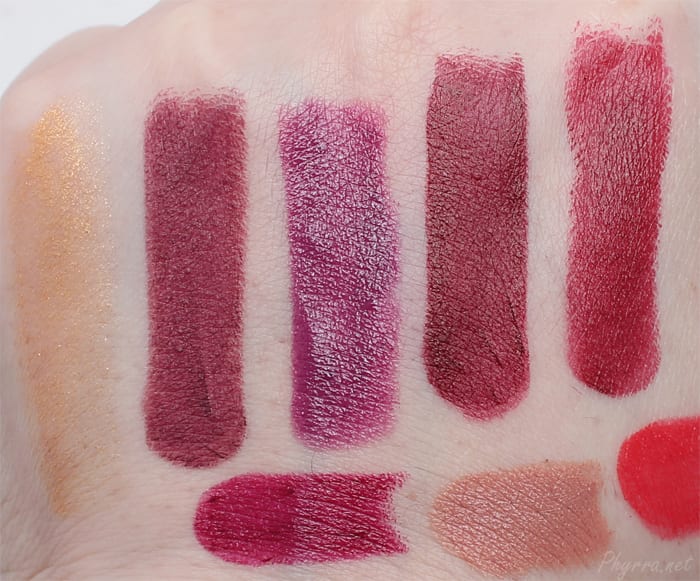 I have some more lip product swatches to share with you. The set above is Wet n' Wild lipsticks. I think these are all great shades for Fall. Depending on your comfort level you can go vampy or natural. I like Sunset Stripped because it's sheer and you can layer it at the center of your lips for extra dimension.
More Lip Product Swatches
All products except Silk Naturals purchased by me. Silk Naturals sent for consideration.
Row 1 – Sunset Stripped – Bordeaux Boulevard – 2AM Call Time – Cherry Bomb – Urban Night
Row 2 – Ferguson Crest Cabaret – Fergie Daily – Old School Glam
Sunset Stripped is a pretty gold shimmer.
Bordeaux Boulevard is a wine shade.
2AM Call Time is a deep violet.
Cherry Bomb is a deep burgundy shade.
Urban Night is a deep red.
Ferguson Crest Cabaret is a burgundy shade.
Fergie Daily is a nude peach.
Old School Glam is a bright red.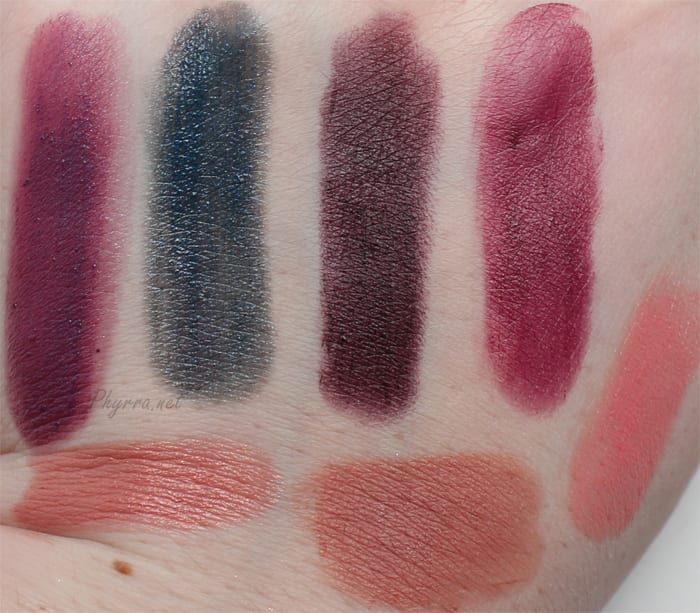 These are Performance Colors lipsticks from etsy. I think all of these except for Juicy are good for Fall. I especially like Committed and Bad Lands.
Row 1 – Zombie Bride – Committed – Bad Lands – Vertigo
Row 2 – Honey Tree – Hush – Juicy
Zombie Bride – something special and unique. Blue sheen and high reflection in a violet purple color.
Committed – dark blue black
Bad Lands – very close to NARS Train Bleu, dark purple black matte
Vertigo – dark violet brown
Honey Tree – nude neutral honey color with a sparkly golden sheen
Hush – a light pinkish neutral flesh tone with a touch of cocoa
Juicy – pale soft pink with gold highlights and peach undertone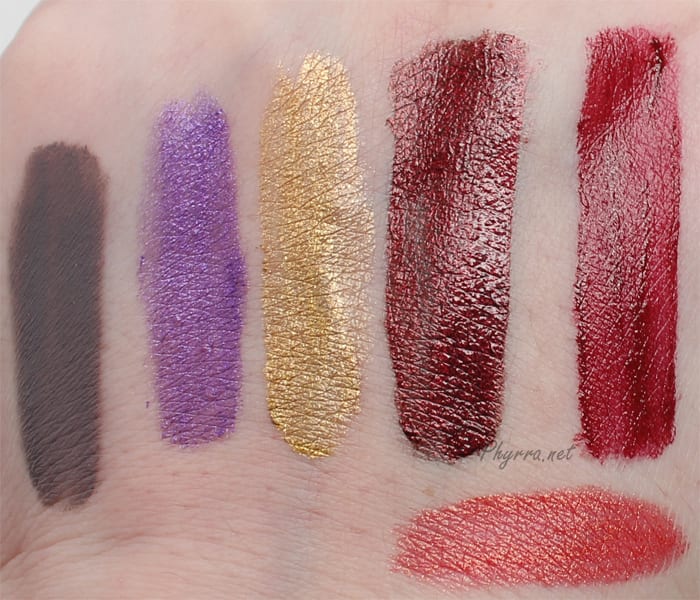 These are Fyrinnae Lip Lustres. All are vegan. I really like how unusual Ominous looks. I actually think it's a very flattering, wearable grey for many skintones. All of these are beautiful for Fall. I especially love the golden shimmer in Last Kiss. Demon's Desire makes me think of molten rubies. I love how it shimmers.
Row 1 – Ominous – Nemesis – Isis – Demon's Desire – Dragon's Blood
Row 2 – Last Kiss
Ominous – a warm dove-grey, but has a slight mauve undertone
Nemesis – rich medium purple, has a slight shimmery finish, but is not frosty or sparkly
Isis – a true metallic gold.
Demon's Desire – Glowing red shimmer embedded in a semi-transparent dark base creates a sultry, vampy shade. Fades down to a muted wine hue.
Dragon's Blood – a deep, rich, cool matte maroon-red, inspired by the vampy lipsticks of the 1920s.
Last Kiss – Bright, slightly cool red topped with fine warm gold shimmer. May appear to have an orange or dark pink hue depending on skintone. The gold is more prominent than in our Sexy Nerd Lustre, but is not large particle or gritty.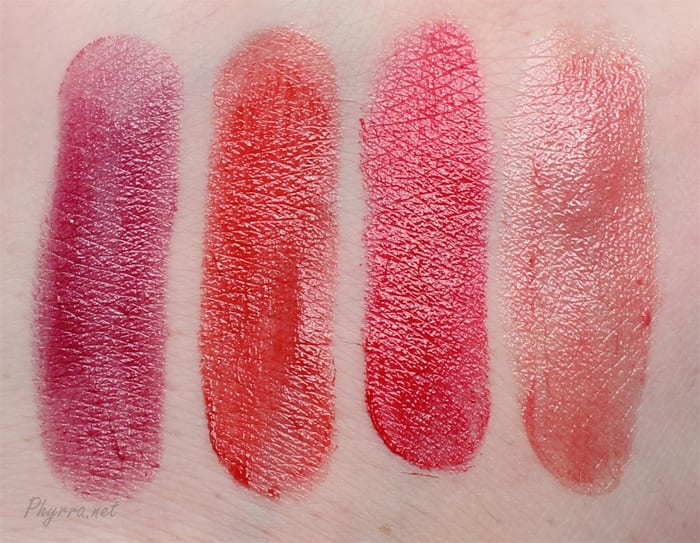 These are Silk Naturals lip products. All are vegan. Say No More is my favorite of these 4. While all are Fall appropriate, the plummy burgundy is definitely the color I'm drawn to the most.
Left to Right – Say No More – Consort – Double Decker – Proper
Say No More – a bold plummy burgundy shade that's absolutely stunning. It has the barest hint of shimmer, full coverage and a nice amount of gloss.
Consort – a very pigmented ever so slightly toned-down warm red with a glossy cream finish (no sparkle).
Double Decker – a very pigmented bright neutral red with a glossy cream finish (no sparkle).
Proper – a lighter neutral pink with just a hint of shimmer. It's sheer with a hint of coverage, and a great sheen.
What colors are you drawn to for Fall?