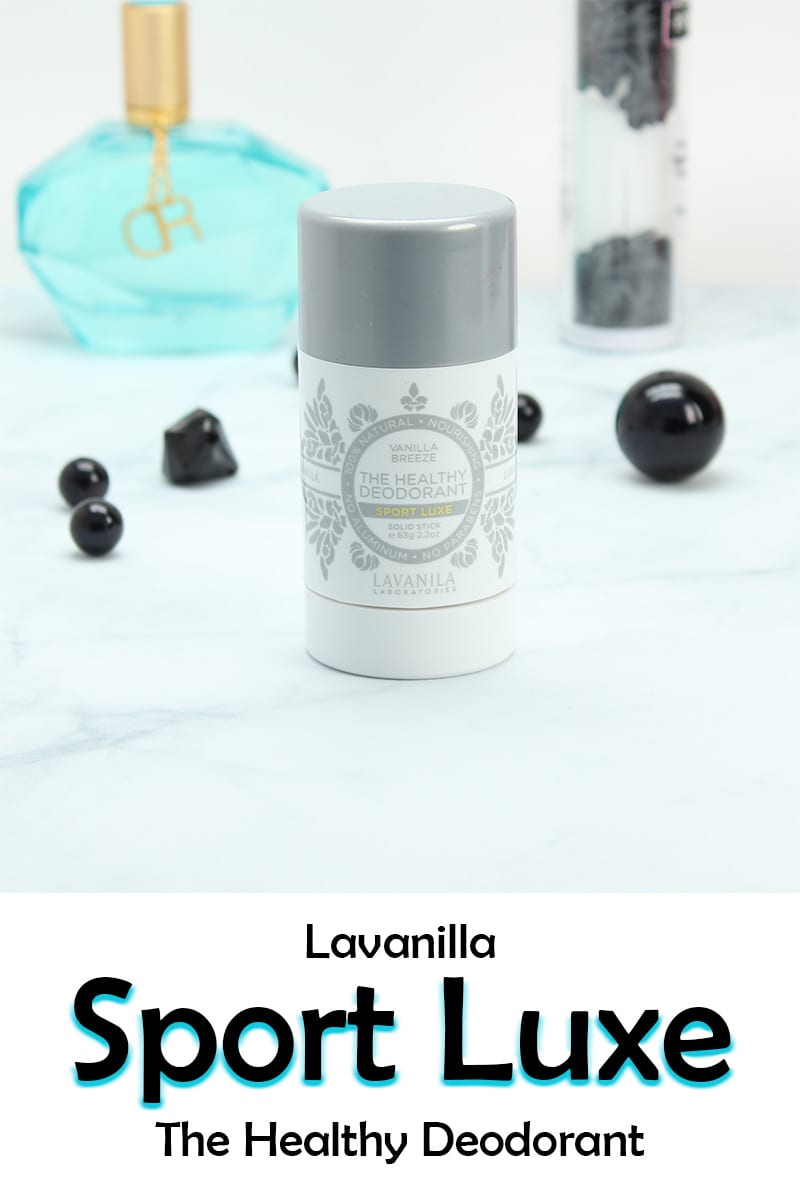 I wanted to share my Lavanila the Healthy Deodorant Sport Luxe review with you. Now, I live in Florida. It's hot and humid here. I sweat a ton, especially at the gym. However, I never want to be stinky. I have tried a LOT of natural deodorants, and the ones that have performed best for me are by Lavanila. Lavanila is known for their all-natural, organic, healthy, cruelty free and vegan products.
Lavanila the Healthy Deodorant Sport Luxe
PR sample.
Where to Buy
Sephora, Lavanila
Price
$16
About Lavanila the Healthy Deodorant Sport Luxe
Our aluminum-free, Sport Luxe deodorant was created for an active life in motion. Bursting with long-lasting, vanilla breeze freshness, our award winning formula is infused with proprietary SmartSport™ Technology for high performance defense & nourishment.
No aluminum, no parabens, no propylene glycol
Infused with aloe, goes on sheer, doesn't stain
Great for sensitive skin
Ingredients
Water (Aqua), Propanediol (Corn derived), Sodium stearate (Coconut derived), Zea mays (Corn) starch, Silica, Glycerin (Vegetable derived), Glyceryl laurate (Coconut and palm kernel oil derived), Aloe barbadensis leaf juice, Citrus medica limonum (Lemon peel oil), Inulin (Artichoke derived), Alpha-Glucan oligosaccharide (Sugar derived), Yeast beta glucan, Camellia sinensis (Japanese green tea) extract, Salvia officinalis (Sage) leaf extract, Lonicera caprifolium (Honeysuckle) åflower extract, Hydrastis canadensis (Goldenseal) extract, Melaleuca alternifolia (Tea tree) oil, Lycium barbarum fruit (Goji berry) extract, Rosmarinus officinalis (Rosemary) extract, Tocopheryl acetate (Vitamin E), Sodium phytate (Rice derived), Sodium bicarbonate (Baking soda), Botanical fragrance blend.
I typically use the regular Lavanila Healthy Deodorant in Fresh Vanilla Lemon as my daily deodorant if I'm working from home and not going out in public. It lasts between 6 to 8 hours for me before I need to reapply it. With the Sport Luxe, it covers me for 10 to 12 hours before I need to reapply, which makes me happy. I'll definitely be using the Sport Luxe from now on. I now rarely feel the need to break out an antiperspirant, which is a big deal for me because I never thought I'd be able to transition to only using aluminum free deodorant.
The Sport Luxe feels like a more traditional antiperspirant/deodorant when applied. It's white and soothing, and glides right on the skin. Normally when your deodorant has a white base it will give your shirts a slight white residue, so I'm happy that's not the case here. It's also an Allure 2015 Best of Beauty winner.
The scent is called Vanilla Breeze. It's described as white jasmine with honeydew, apple and powdery vanilla. It smells very floral to me, so not my favorite scent at all. I prefer my Fresh Vanilla Lemon, but since it works so well for me, I can forgive it the floral notes.
For those concerned with aluminum or parabens, this doesn't contain either. It has something that Lavanila calls SmartSport, so it supposed release scents over time to keep you smelling good for longer than the regular deodorant. I'm a fan!
So what I love about it:
That it really works!
That it doesn't stain my clothes.
That it's aluminum free.
That it doesn't irritate my skin.
The great ingredients.
What I dislike about it:
The scent isn't my favorite.
The price. The $16 price point is hard for a lot of people to swallow for deodorant when they're used to paying $6.99 for Certain Dri antiperspirant.
If you're looking for an alternative to the traditional antiperspirants or deodorants and want something that will keep you smelling good for 10 to 12 hours, give Lavanila the Healthy Deodorant Sport Luxe a try. I'm really happy with it. I'm hoping they're make it in my favorite Fresh Vanilla Lemon scent in the future!
What's your favorite cruelty free deodorant?