Today's post features my friend Marcia from Beauty Info Zone. She wanted to share her recent favorite brush purchase with us. Check out the It Cosmetics Buki Brush Box.
It Cosmetics Buki Brush Box Review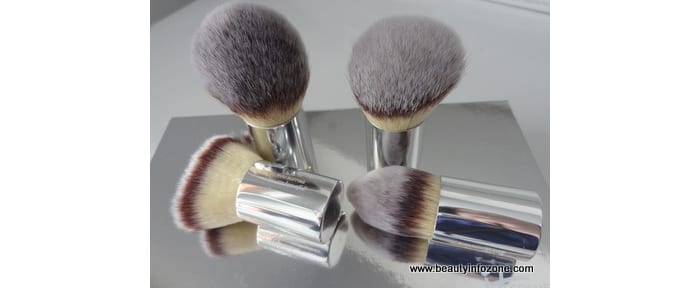 Open this beautiful silver box and you'll find a world of cruelty-free, vegan brushes from the one and only IT Cosmetics. The Buki Brush Box is a limited edition from the winter holidays that contain 4 of the best hand-size kabuki brushes I've ever bought. I hate to be tempting you with something that you can't easily buy but I just can't help it.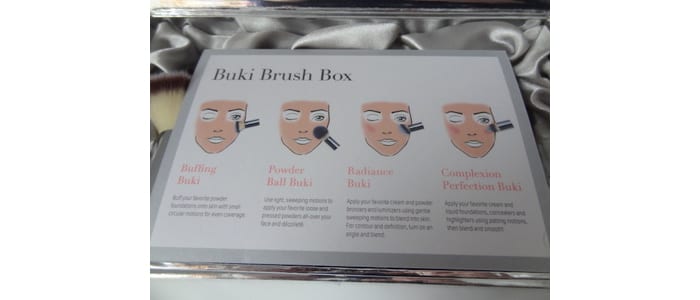 When Phyrra needed some posts for her convalescence I instantly knew that these brushes had to be shared. At the time I'm writing this there are several of these boxes available on eBay and you might want to check them out. Take a look at what you'll get.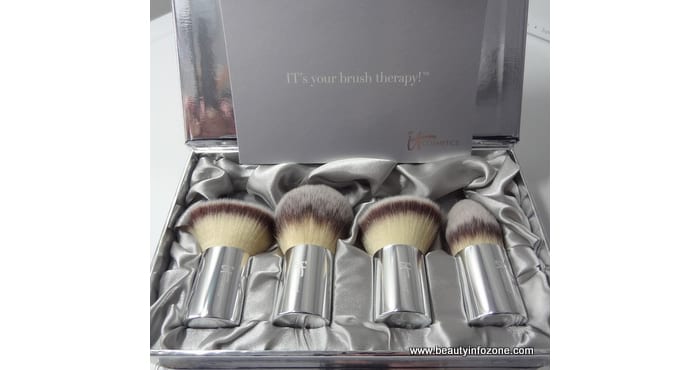 There are 4 brushes: Buffing Buki, Powder Ball Buki, Radiance Buki, and Complexion Perfection Buki. There's no way to pick a favorite since they are all pretty amazing. IT Cosmetics always produces wonderful brushes and these soft, useful bukis are no exception.

BUFFING BUKI has a totally flat top and is a gem for buffing powder foundations onto your skin evenly. It's best to buff in a circular motion so you don't miss any areas. Your complexion will thank you for using this. (Try IT's Celebration Powder foundation for a treat.)
POWDER BALL BUKI is wonderful with loose powders as well as powder foundations. This one has the loosest finish of the 4 which is why I prefer it with loose powders. It's also a great blending brush once your blush is on since it softens the edges making your blush appear seamless.

RADIANCE BUKI has an angled head so it makes it work wonders with cream or powder bronzing products. It blends them in so perfectly. And it's a double duty brush because you can use it for contouring. Just turn it sideways so the angle of the brush works for you. Have fun blending away.

COMPLEXION PERFECTION BUKI is the cream of the crop if you are a fan of cream or liquid foundations (and IT Cosmetics makes the best of those). It is a dream with concealers and highlighters too. Start with a patting motion to distribute the foundation and then blend to your heart's content. You can get into the niches of your nose and even your undereye area with this brush.
IT Cosmetics uses the softest cruelty-free fibers to create their brushes and you can't go wrong when purchasing any of their brushes. Keep your eyes out for specials on their website and on QVC so that you don't miss out on a set of their amazing custom cut brushes. Your face will thank you for the softness.
Be sure to follow my friend Marcia at Beauty Info Zone.
You can also find Marcia on Facebook, Twitter and Pinterest.