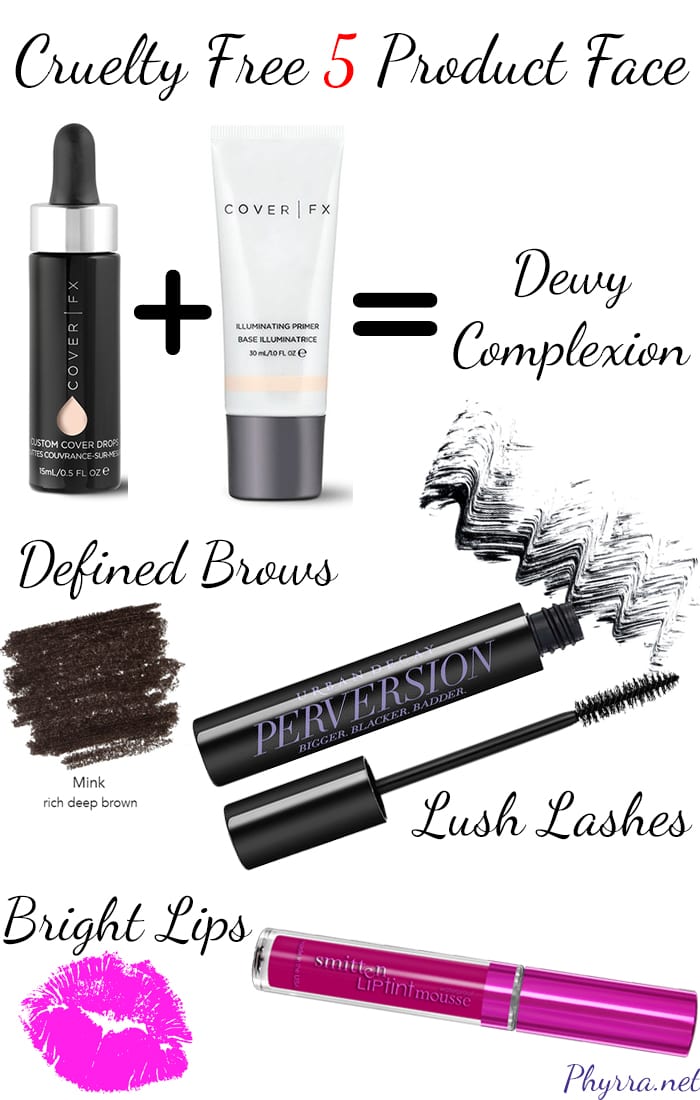 I still can't wear makeup, and I can't easily use my laptop (even on minimal brightness) for long periods of time, but I didn't want to miss out on a Makeup Wars! I've got my cruelty free 5 product face to share with you. Unfortunately I still can't wear makeup (if I accidentally touch my eyelids it hurts, so no eyeshadow or mascara for me for at least another week). What's great about this 5 product face is that 1. it incorporates some of the 2015 best beauty trends and 2. it's something I really like to wear. I really like glowing skin on me, since I don't use bronzer, and bold lips is a great way to punch up your look.
Cruelty Free 5 Product Face
1. Cover FX Custom Cover Drops in N10 (vegan)
I've been experimenting with the new Cover FX Custom Cover Drops in N10 and mixing it with the Cover FX Illuminating primer to make a sheer dewy foundation. I really love how this looks! I put enough primer for my entire face on the back of my hand and then mix in a single drop of the Custom Cover Drops. That's it! You can experiment to get the right amount for you. 1 is for sheer, 2 is for medium, 3 is for full and 4 is for total coverage. Custom Cover Drops are available in 24 shades and they cater to all skintones. If you're ultra pale (like me), N10 will be your new best friend. You can use this to make other foundations lighter. Use the code DROPLOVE (valid through April 31, 2015) to receive 50% off a face primer of your choice with the purchase of the Custom Cover Drops on coverfx.com.
2. Cover FX Illuminating Primer (vegan)
I love this illuminating primer because it gives a nice glow so my skin doesn't look flat.
3. Urban Decay Perversion Mascara
The results I get from this mascara are lust-worthy. What I do is curl my lashes at 3 different points – by the base, at the middle, towards the tips. Then I use the enkore mascara shield and zig zag through the lashes left and right, making sure that when I end my zig zag it's towards my nose. Then I pull up through the lashes.
4. Senna Cosmetics Sketch-a-brow in Mink
Mink is a very dark and neutral brow color. It defines my brows naturally. It's a great pencil!
5. LASplash Smitten Liptint Mousse in Bewitched (vegan)
I'm clearly thinking of spring with this beautiful vibrant orchid lip shade. It's a dead on dupe of Lime Crime Utopia, so if you want a drama free version, I highly recommend this one! If you don't like purple shades, Lollipop which is a pinky-coral, is a great alternative.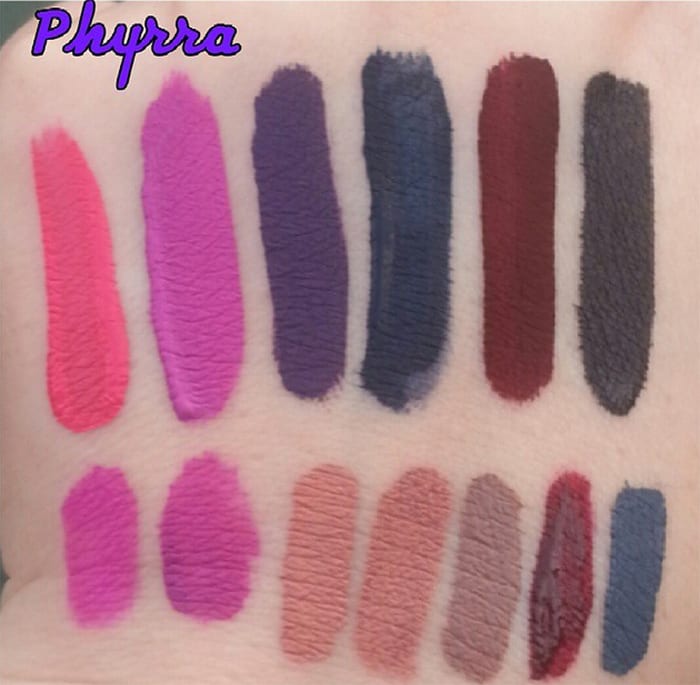 Row 1 L to R LASplash Lollipop – Bewitched – Bellatrix – Sirius – RavenClaw – Jeffree Star Weirdo
Row 2 L to R Aromi Pink Peonies – Lime Crime Utopia – LASplash Innocent Vixen – Jeffree Star Celebrty Skin – LaSplash Ghoulish – Malevolent – Vindictive

If bold lips aren't your thing, try LASplash Innocent Vixen or Jeffree Star Celebrity Skin. Both are peachy nudes that I find flattering.

If you're uncomfortable at the idea of mixing your own light coverage foundation, definitely try the Cover FX CC Cream, which you all know I love. No mixing necessary! Then you can swap the Illuminating primer for a Makeup Geek blush like Secret Admirer.

When you're trying to use minimal products but you want maximum impact, glowing skin and bold lips are a great choice. If you choose a bold lip color that flatters your skintone, it will brighten your complexion, too.

What products would you choose for a 5 product face? What do you make your focus?

[inlinkz_linkup id=492055 mode=1]