I'm a Cover FX brand ambassador and compensated to make this post. The thoughts and opinions are 100% mine. Today I wanted to show you how to mix Cover Fx Custom Infusion Drops with makeup and skincare products. Custom Infusion Drops come in four types – Vitamin A + Jasmine for anti-aging, Vitamin C + Lemongrass for brightening, Vitamin F + Neroli for hydrating and Vitamin E + Chamomile for calming. When my rosacea is flaring, Chamomile is a life saver for me. Lately I've been reaching for Neroli to add more moisture to my skin.
How to Mix Cover FX Custom Infusion Drops with Makeup and Skincare
Where to Buy
Cover FX, Sephora
Price
$48
I love that these drops are so concentrated that you really only need 1 or two drops.
Ever since Cover FX came out with N0 in the Liquid foundation, I've been addicted. I've experimented with different ways to wear it – such as applying my favorite Illuminating primer first, then applying the Liquid foundation. Or applying the Liquid Foundation with UD's All Nighter Setting Spray.
Recently, my skin has been on the dry side, so I've been mixing Illuminating primer in with Liquid foundation, then adding a drop of Neroli. This creates a light to medium coverage foundation for me. As you can probably tell, my hand, neck, and chest are all lighter than my face because my face has a lot of redness from rosacea. I match my foundation to my chest / neck and I make sure to blend down towards my neck. With the single drop of Neroli, I don't end up with dry, flaky or itchy skin.
Above is my nearly naked face. I still have some of my eyelash extensions in. I also have Bite Beauty Smashed lip mask on my lips. You can see my redness on my chin, cheeks, nose, and forehead from rosacea. You can also see the few zits I have on my chin, hyperpigmentation, acne scars, and other flaws.
I apply this mixture with my fingers first, then I go back with a damp beauty blender. This lets me apply a thin layer to cover up my redness from my rosacea. Then I go back with a tiny bit of the Liquid foundation on its own to the places that I need more coverage.
Then I apply translucent setting powder. Above I'm wearing Williamspro Translucent Zeropowder.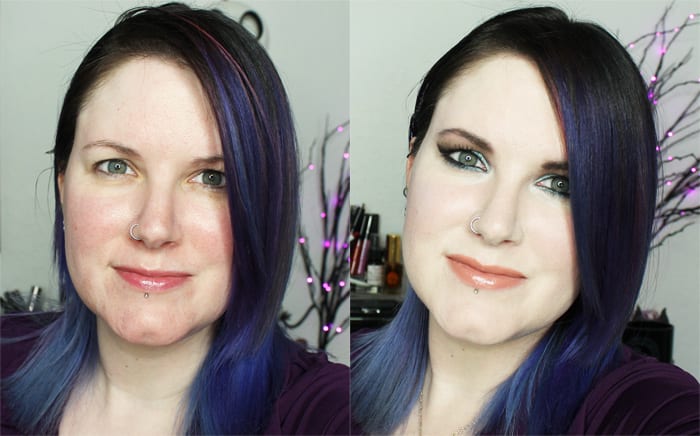 My before and after shot. You can see that my foundation mix does a great job at covering my redness and other skin flaws. I absolutely love this combination of products for my skin right now.  I don't feel like I'm wearing a heavy, thick foundation, but I get the coverage that I need to hide my rosacea.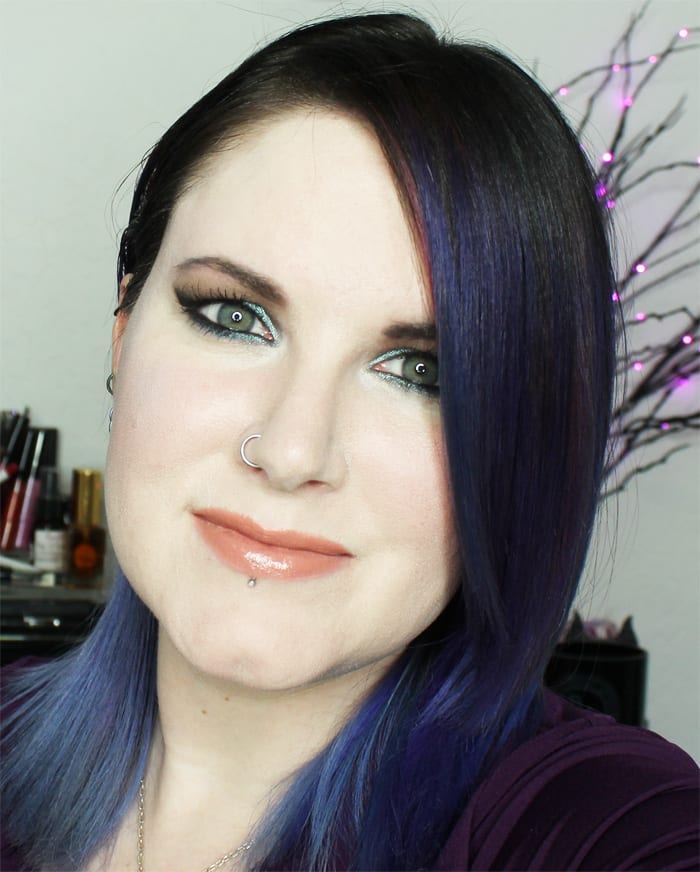 In addition to using Neroli to add a single drop to my foundation, I've been adding it to different skincare products.
You can mix a drop or two of Neroli in with serums to help combat dryness. In fact, it's one of the things that I recommend you do in my Best Ways to Transition from Autumn to Winter with Skincare.
You can also mix Neroli in with your night time moisturizer too. One to two drops is all you need to add in to help your skin stay hydrated.
What do you think of being able to customize your skincare and foundations with Cover FX Custom Infusion Drops?