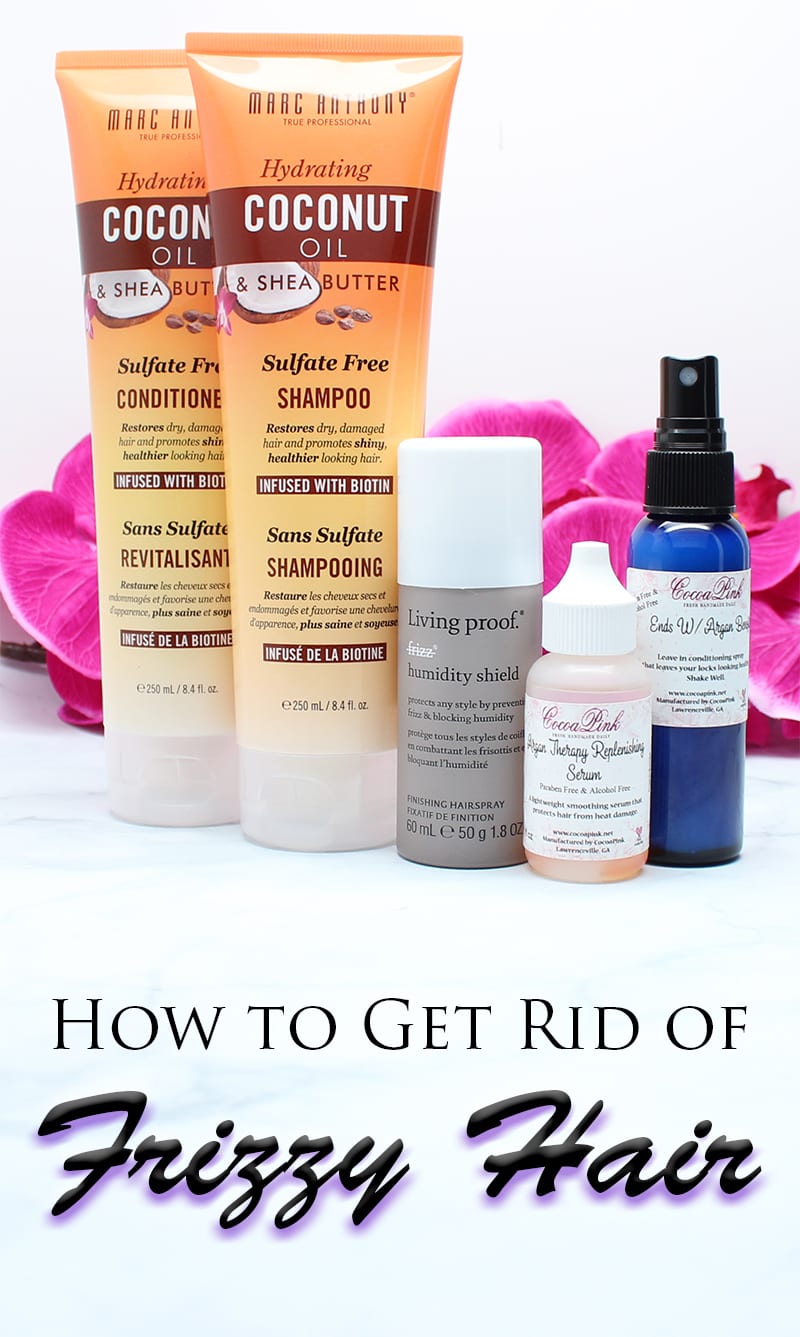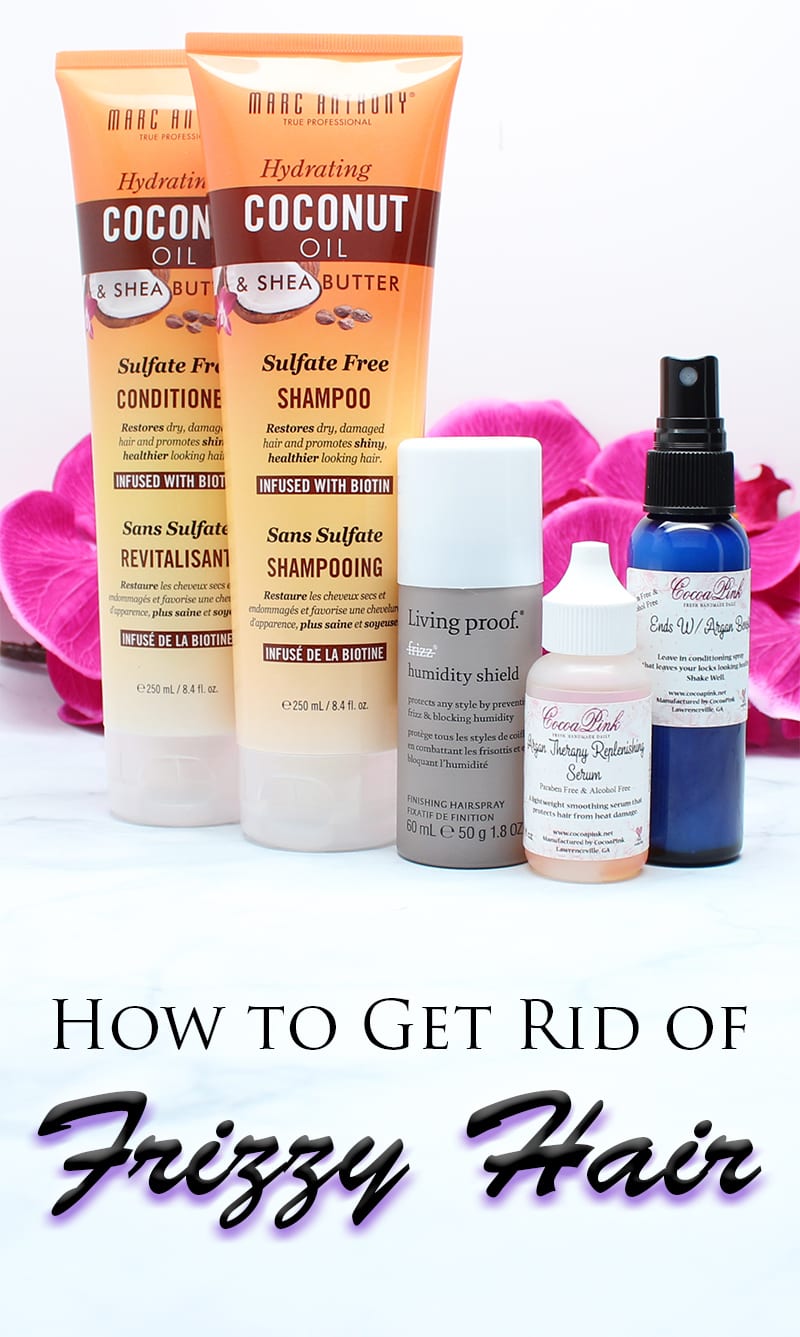 It's a special Makeup Wars Thursday! Today we're talking about how to get rid of frizzy hair. I'm sharing 6 of my best tips for combating frizz and getting rid of it fast. There are a lot of things that can cause your hair to frizz out. If you wash your hair too much, it could be dried out. If you don't brush your hair before you wash it, that can cause issues too. You want it detangled before you suds up.
How to Get Rid of Frizzy Hair
Living Proof 5-in-1 press sample. All other products purchased by me.
Use the right type of brush to help to combat frizz
If you're not using the right type of brush for your hair, that can lead to frizz too. If you have fine straight hair, you should use a brush that has a mix of boar and nylon bristles. This will help pull your natural oils through your hair to hydrate it. If you have natural hair that is curly, you should potentially use a wide tooth comb so that you don't damage your hair. This Goody Smooth Blends Brush is my favorite.
Your hair needs moisture to prevent frizz
The number one culprit of frizz in your hair is a lack of moisture. If you dye or chemically treat your hair, like I do, you need to add moisture back into your hair. So my favorite products to prevent frizz all add moisture.
Frizz fighters
Keeping your  hair hydrated is the best way to fight frizz in the long run. However, many of these products can help prevent or minimize frizz, too.
Marc Anthony Hydrating Coconut Oil and Shea Butter Shampoo & Conditioner
The Marc Anthony Hydrating Coconut Oil and Shea Butter Shampoo and Conditioner are perfect for my color treated hair and scalp. I need the extra hydration to help smooth frizz and keep my hair shiny. I only wash my hair every 5 to 7 days since my hair does not get oily and I color it. Also, use a wide tooth comb to evenly distribute your conditioner through your hair. It makes a world of difference.
Cocoa Pink Argan Therapy Replenish Serum
The Cocoa Pink Argan Therapy Replenishing serum is the perfect way to hydrate my hair without leaving it feeling greasy. Argan oil is great for adding moisture to hair. I just put a small amount of this into my hands, rub my hands together and then focus on the bottom half of my hair. I love that mine is Pina Colada Cotton Candy scented. You can use this to minimize frizzies or fly-away hair, too. If I have just a few fly-aways around my face, I'll use this. If my ends are looking sad, I use this to smooth them out.
Cocoa Pink Ends With Argan Benefits
The Ends with Argan Benefits is a lightweight, detangling, leave-in conditioner. I like to use this on my hair as well, since the longer it gets, the more it's prone to tangling. In addition to argan oil, it has quinoa extract (nourishing and hydrating, good for color treated hair), calendula extract (soothing for hair and scalp), abyssinian seed oil (gives shine, helps to detangle), and murumuru seed butter (helps to lock in moisture). I love this stuff. I will also spray this on my finger tips and work into my scalp if I feel like my scalp is dry. I have this in a few different scents but my favorites are the Pina Colada Cotton Candy and Hawaiian Cake.
Living Proof Humidity Shield
The Living Proof Humidity Shield is a product I wish I had known about years ago! I use it as the final step in my hair routine. So after I've styled my hair and set it with hair spray or whatever I'm going to use, I'll spray this on. It helps to prevent frizz without leaving my hair stiff or sticky, which is saying something considering how hot and humid it gets here in Florida during the Summer.
Living Proof Perfect Hair Day 5-in-1 Styling Treatment
Several of my friends are in the waist length hair club. One of the things they recommend doing to prevent frizz is to use a styling cream like Living Proof Perfect Hair Day. Divide your hair into two sides and put in braids (not too tight, though I'm reminded of Pippi Longstocking and her braids). Then either wait a few hours and take them out, or blow dry your hair after it's been in for about 20 minutes. You'll end up with gentle, hydrated wavy hair. If you're in a hurry, this is a fast, temporary fix for getting rid of frizzy hair.
Coconut Oil or Olive Oil
If you want to go the natural route, you can always use coconut oil or olive oil as a hair mask to help moisturize your hair. I would wrap a towel around it and leave it in for a half hour to an hour, then rinse it out.
What are your tips for getting rid of frizzy hair?
Loading InLinkz ...
More to See
Last Updated on