I get many reader requests for how to care for colored hair. I've learned several tips and tricks over the years, so I'm going to share them with you.
This is what works on my hair. What works on my hair may not work on your hair. My hair is fine, thin, and straight. My natural hair color is only a step or two away from black. I've even included a picture of my natural hair color in this post. Despite being dark, I tend to bleach up pretty easily.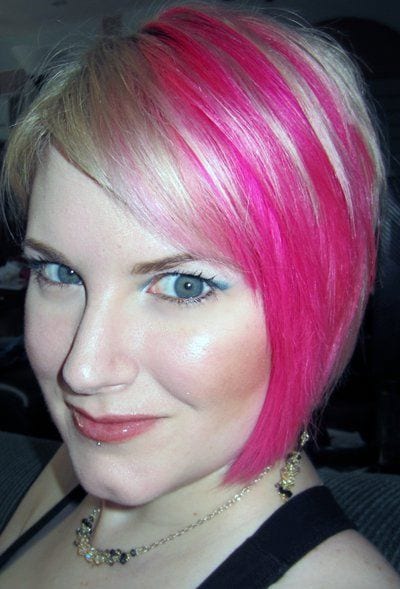 My blonde & hot pink hair from March 2011.
Don't wash your hair every day.
I think many people overwash their hair, which strips it of its natural oils. Unless the scalp is very oily, I don't believe it needs to be washed every day. I typically wash once a week, sometimes twice. If you're unsure of how often you should be washing your hair, talk to your stylist! I know they'll be happy to offer you advice.

I took my hair from fuchsia to turquoise.
Use Sulfate-free products.
I use sulfate-free shampoo and conditioner. This is easier on your color and it doesn't cause it to 'wash out' as much. You can even go a step further and use color-protecting sulfate-free products. I recommend Marc Anthony's product line or TIGI Bed Head Superstar Sulfate-Free Shampoo and Conditioner for Thick Massive Hair.

The front of my hair was lightened. The back is my natural color. I applied Turquoise over all of it to achieve the turquoise and dark blue-black effect.
Make Your Own Colored Version of Shampoo & Conditioner
I've done this in the past, but not for several years. I'd take a small amount of Manic Panic or Punky Color and mix it into my shampoo or conditioner to help my color stick around longer whenever I had to wash my hair.
Use dry shampoo in between washes.
If your hair is oily, try to prolong a day or two between washing it by using dry shampoo. I highly recommend Batiste, which can be found at Sally's Beauty Supply. You spray it in your hair at the roots, leave it in for about five minutes, and then brush it out. I've never found another dry shampoo as good as Batiste.
Use Warm Water.
Rather than blasting your head with the hottest water available, use warm (or cool) water. Hot water leeches dye out of the hair faster.
Leave-in Conditioner
If you have fine hair that is prone to being weighed down, I suggest you use your sulfate-free shampoo, and then use a leave-in conditioner  to detangle your hair. Tigi's Superstar Leave-In Conditioner has been my go-to for years.
Use Heat-Protectant
When styling your hair with the blow dryer, flat iron or curling iron, use a heat protectant such as Redken Blown Away Protective Blow Dry Gel or Marc Anthony Keratin Smoothing Blow Dry Cream.

That's my natural dark color on top with raspberry on the bottom.
Use a Hair Masque
Color treated hair needs some extra TLC. Use a deep conditioning treatment or hair masque. I love Redken Cat Strength Builder Plus. It's what I used when I had extensions in my hair to help the extensions lats longer. I also love Tigi Dumb Blonde Reconstructor. You want your hair to be moisturized.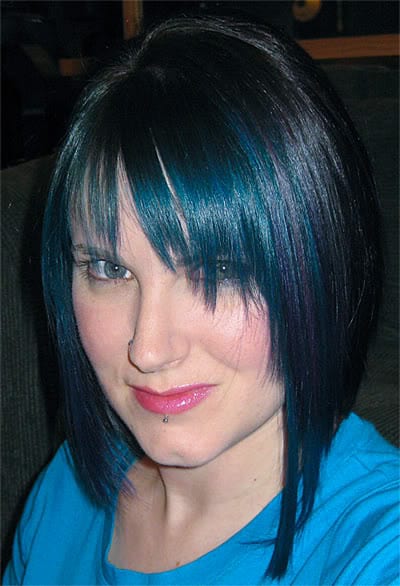 Water or Cap
I have a pool. So when I want to swim, I either fully saturate my hair with cold water, or I wear a swim cap. I typically use the swim cap when I'm swimming alone.

Deep Turquoise Blue December 2010
Ray Bans
Keep the UV rays at bay with a spray in UV protectant. Redken Color Extend Sunscreen protectant works wonders. You can also wear a large brimmed hat outside to help protect your tresses.
Color Extend
To extend my color and keep it bright, I typically use Manic Panic or Jerome Russel Punky Color. To lighten my hair I typically use Kaleidocolors Tonal Powder Lightener in Violet. After bleaching my hair, I apply Manic Panic color liberally to my hair. If I'm doing multiple shades, I foil the sections off to separate them. I then put a cap on and use my blow dryer on my head for a half hour or so. I'll usually leave on the color for another hour or two after that. You can only do this with a semi-permanent dye like Manic Panic, because they don't contain bleach. They're basically vegetable dyes that sort of conditions as they deposit color.

One of my many red hair styles with a bit of purple
I should say that while I do like Pravana Color Silk Vivids, once you decide to use that line you really have to stick with it as it's a pain to color over. That's why I haven't used it in a long time. I am too mercurial with my hair and like to change it all too often.
Color Mistakes
When coloring your hair at home, you may make mistakes. I know I have. What I've relied on to help me fix mistakes OR to remove color so I can change my look is One n' Only Color Fix. I've had this work well on my hair to remove color so I can start over. It doesn't always remove all of a Manic Panic or Punky color, depending how long you've been dyeing your hair that color, but it does a pretty good job at removing most of it. Semi-permanents like Manic Panic sort of act like a stain that builds up on the hair, from my understanding of it. So while One n' Only can remove a lot of the color, it can't always remove everything. The way it was explained to me that One n' Only works is that it somehow causes the color molecules to shrink and then you wash them out of your hair. It doesn't get every color molecule out, but it does remove a lot.
Equipment Tips
Make sure you buy a box of disposable gloves to use. Don't be afraid to change gloves during the middle of a dye if you need to!
I always recommend painting your nails with at least clear nail polish and 'wrapping the tips' (painting the underside of the nails) to prevent dye from getting on them.
I use plastic bowls and tint brushes from Sally's for mixing.
Dye Tips
I recommend trying the Manic Panic Amplified cream colors. If the color you want isn't available in Manic Panic Amplified Cream, try classic Manic Panic or Punky color. My favorite colors that are available in the amplified formula are Hot Hot Pink, Atomic Turquoise, Ultra Violet, Vampire Red, Pillarbox Red and Purple Haze. For coarser hair, it is my understanding that you need to use a 40 developer I typically use 20, 30 or 40 on my hair depending how light it needs to go. If you have trouble buying them at your local Sally's, you can always try to buy the Manic Panic Amplified cream formula online.
You can use a plastic spoon to mix the color. Some colors state not to use anything metallic with them, otherwise you can use a tiny whisk.
You can buy ear caps to cover your ears and prevent dye from getting on them during the process. Also, pick up hair dye remover wipes. They're great for removing stains from the skin.
Tips for Curly Hair – The Curly Hair Method – courtesy of Sarsie, created by Lorraine Massey (owner of DevaChan Salon)
There are a couple of versions of the Curly Hair method, but you can either wash your hair with only water (water washing or no-pooing), a sulfate- & silicone-free conditioner (co-washing), or with a sulfate- & silicone-free shampoo (low-pooing).
You then condition with a sulfate- & silicone-free conditioner and use a sulfate- & silicone-free leave-in. The final step is to use a silicone-free product while the hair is still really wet (most of us with curly hair use gel or some other type of product that will keep the curls in place until they dry, and then we SOTC — scrunch out the crunch). Not using regular towels is encouraged (instead use things like an old tshirt or flour sack towels or other towels without the terry loops), and most CGers plop (there are videos!) with the towels for at least a few minutes.
We try to air dry as much as possible, but diffusing for at least part of the drying time is ok, too. And also important — never brush hair and only comb with fingers or a wide-tooth comb in the shower when hair is coated with conditioner (so dry shampoos would never work for me).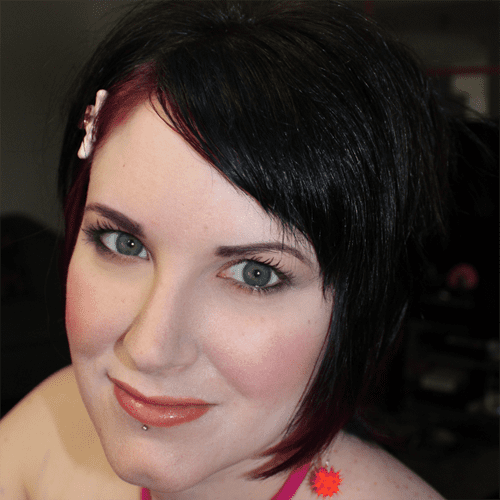 April 2012
I'm sure that there's still plenty for me to learn and new tricks to add to my hair routine to extend the color of my hair. These do work quite well for me but I'm always hunting for more knowledge!
Is there anything you think I should add to my routine?
How do you handle your hair if you color it?