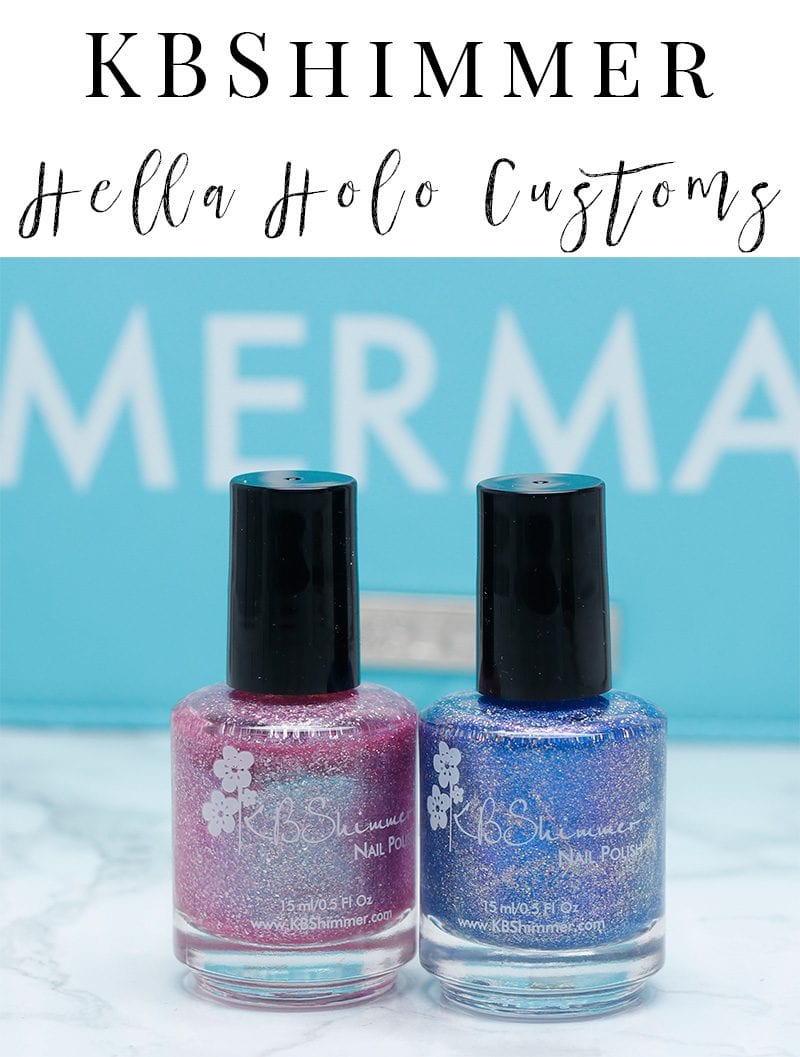 Very recently KBShimmer sent me the new KBShimmer Hella Holo Customs nail polish. There are 3 shades and I have 2 to share with you – Pinking of Paradise and One Holo-of a Storm. The third shade is That Goes Without Cyan.
Hella Holo Customs Facebook group can purchase these polishes August 14 through September 5, 2017. Each Hella Holo Customs nail polish will be $10 each. I believe these are all limited edition products.
You can join the Hella Holo Customs Facebook group here. While you're at it, you should join the PhyrraNyx Facebook Group!
You can buy KBShimmer at their website KBShimmer.com and Amazon.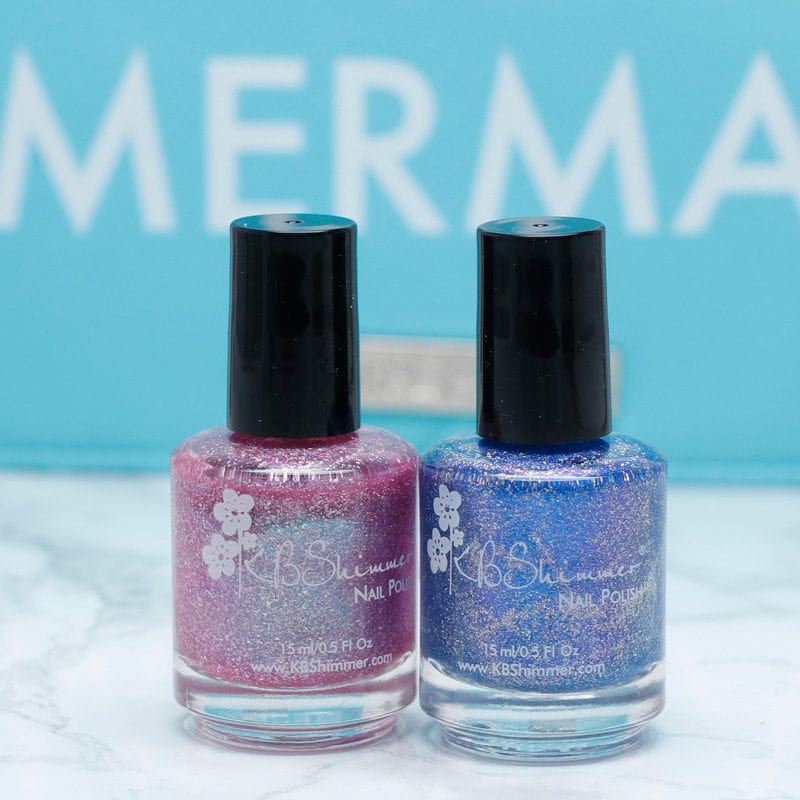 Hella Holo Customs Nail Polish Pinking of Paradise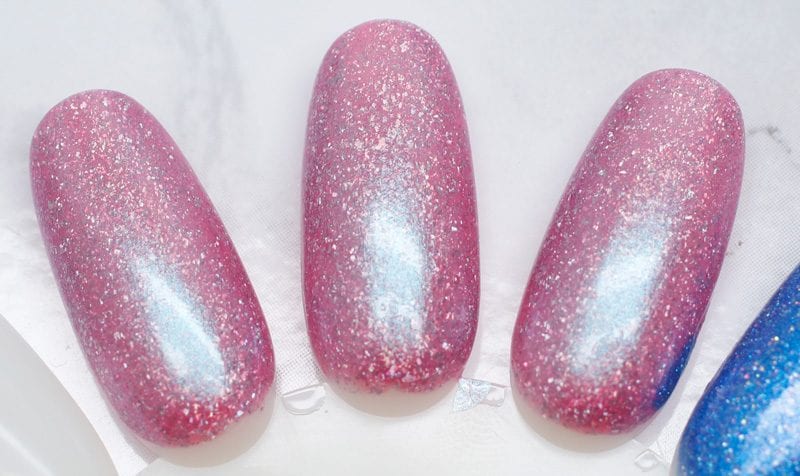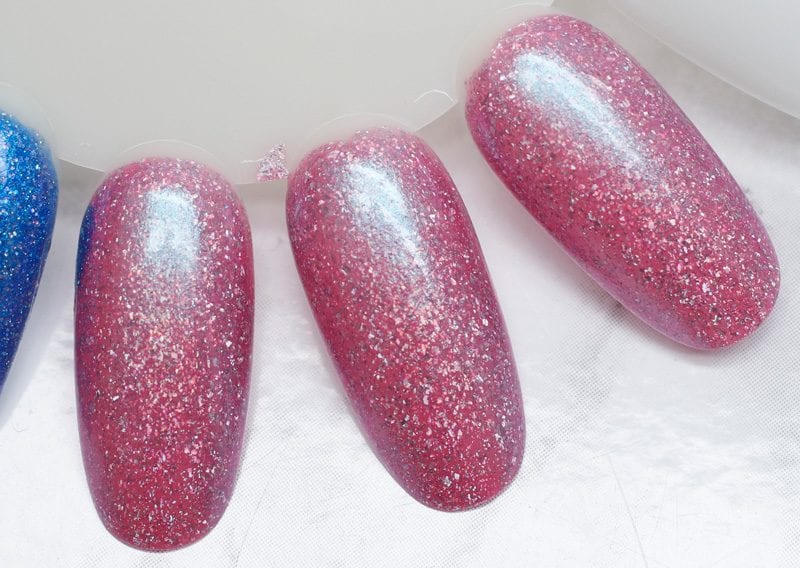 Pinking of Paradise
A setting sun softly tints the clouds a cotton candy pink, while crashing waves in a tropical aqua hue lap against pink sand. This photo of paradise has inspired our August Hello Holo custom polish. A softly tinted pink polish features our holo glow flakes. These flakes have a unique holo glow to them in bright lights, while in softer lighting, a turquoise shimmer pops out to say hello. This polish is sheer enough in one coat to layer over your favorite pink cream, but is best in 2-3 coats alone. If you loved our Polish Con exclusive, We Make Your Dreams Come Blue, you will not want to miss this sister shade!
Pinking of Paradise is the perfect sort of cotton candy pink that has a teal blue shift on top. It looks like rose quartz from some angles. The blue shift makes it look frozen and lit from within. I typically can't wear light pinks like this because they make my hands look really red.  I don't think Pinking of Paradise gives me that effect at all. It's a stunning color.
Hella Holo Customs Nail Polish One Holo-of a Storm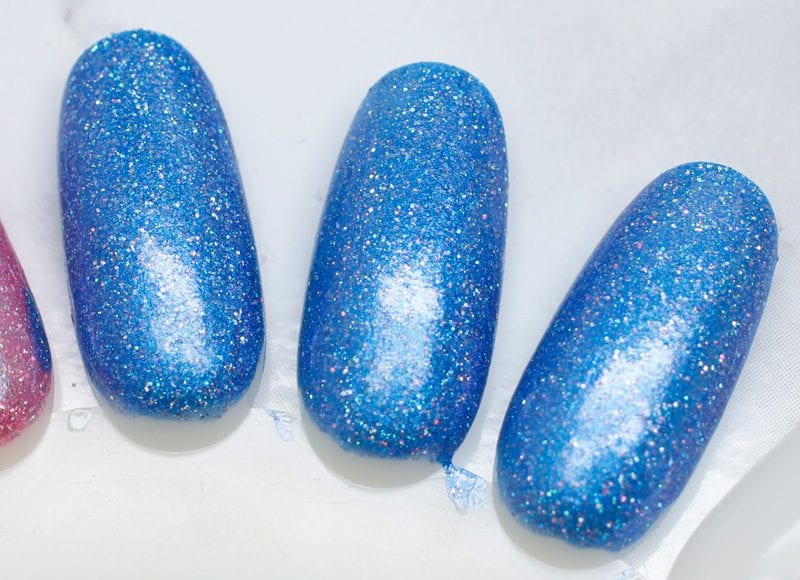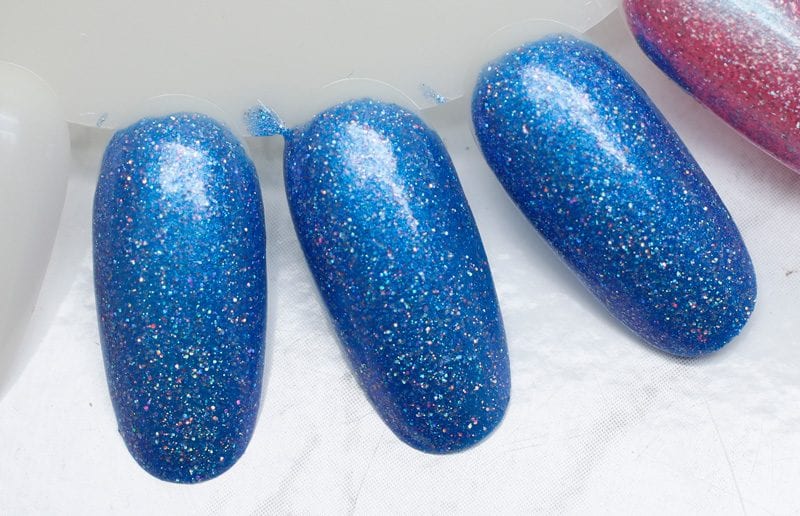 One Holo-of a Storm
A storm off in the horizon, the flash of lightning and setting sun fill the sky with deep dues of cobalt, periwinkle, pinks and fuchsia while reflecting natures artwork in the water below. This photo of the stormy seas has inspired our August Hello Holo custom polish. A periwinkle leaning blue polish, this holographic shade sparkles with holo glitters. At the right angles, a pink shimmery flake with blue shifts pops through for a vibrant polish your tips and toes will love. If you like our Mega Flame finish, this shimmery cousin to that collection is perfect for you! Best in 2-3 coats.
One Holo-of a Storm is a rich periwinkle blue with all kinds of pink and fuchsia shifts. It has extra sparkle in it, compared to many of the other colors.
Hella Holo Customs Nail Polish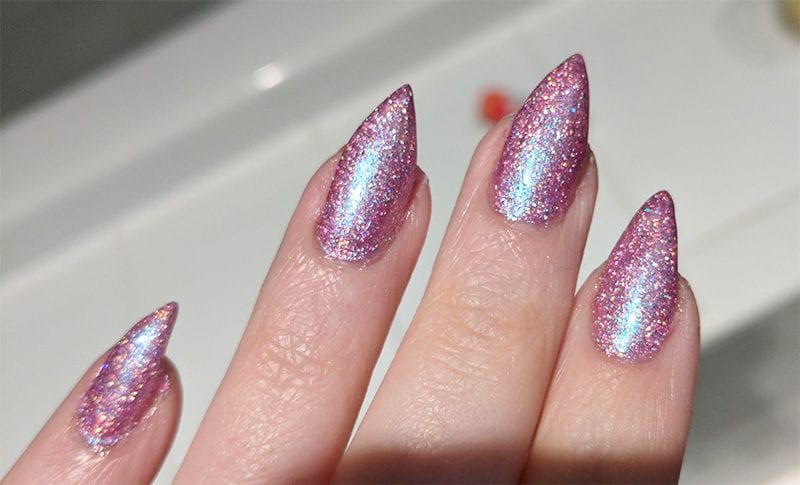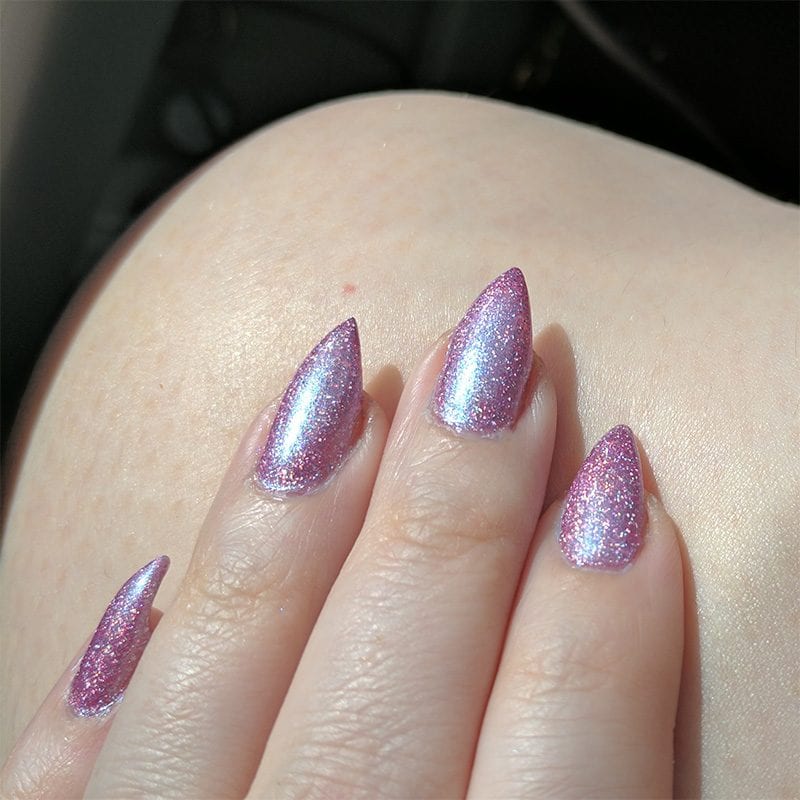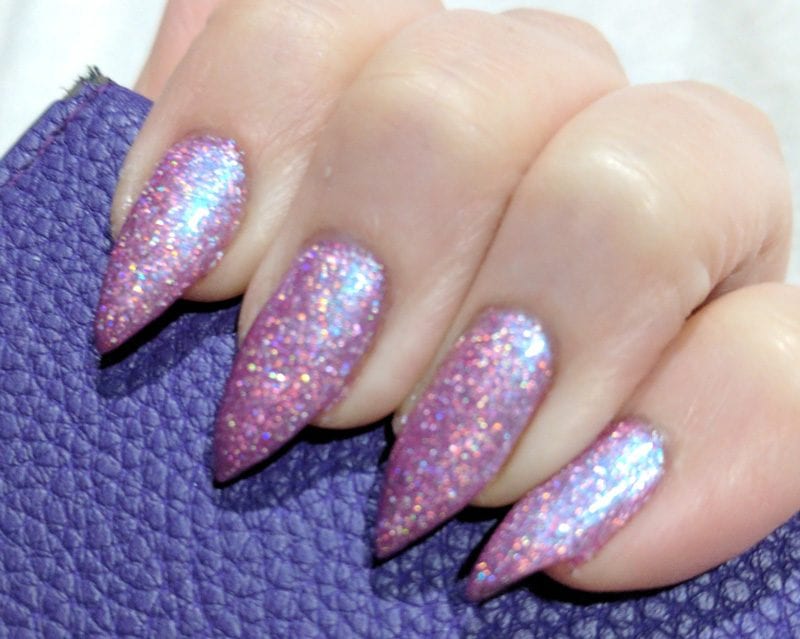 I took this blurred shot to show off this nail polish finish. It's very eye catching!
I did take some extra swatches of Pinking of Paradise under different lighting conditions. I was trying to capture how it's reminiscent of rose quartz from certain angles. I also wanted to better show off the strong light teal blue shift that I see. It's such a gorgeous polish!
The KBShimmer nail polish formula is on point for these colors! It's extremely easy to work with. You apply the polish and it stays where you put it. It doesn't pool at the cuticles. It just looks amazing.
I always get compliments on my gorgeous indie polish from KBShimmer. I'm glad that the names are usually very punny. Ray thinks they're hilarious.
You should check out my nail hacks for a better manicure!
What do you think of the Hella Holo Customs Nail Polish? Will you be picking up a shade or two?
Last Updated on