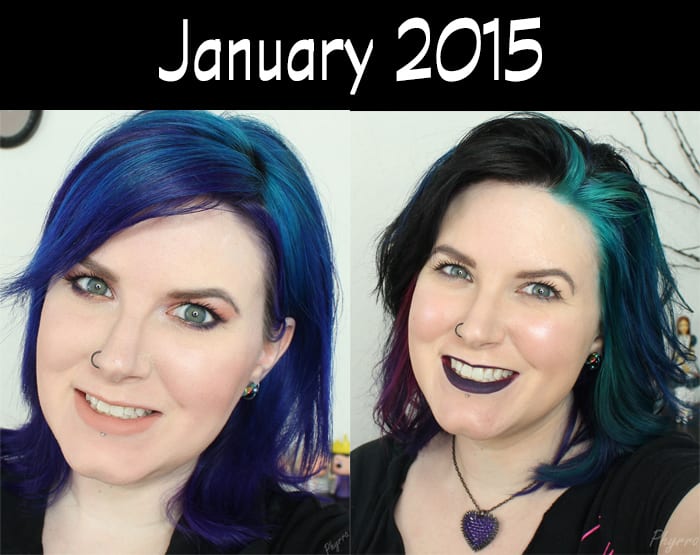 I wanted to share my hair journey for 2015 so you can see my changes from throughout the past year. In January of 2015 I stopped coloring my own hair and I started letting my stylist Christian from iStyleXG color my hair. You can see how I was bright purple and teal blue when I started seeing Christian. In January he made my hair black with a mix of different ocean blue tones and purple tones.
Hair Journey for 2015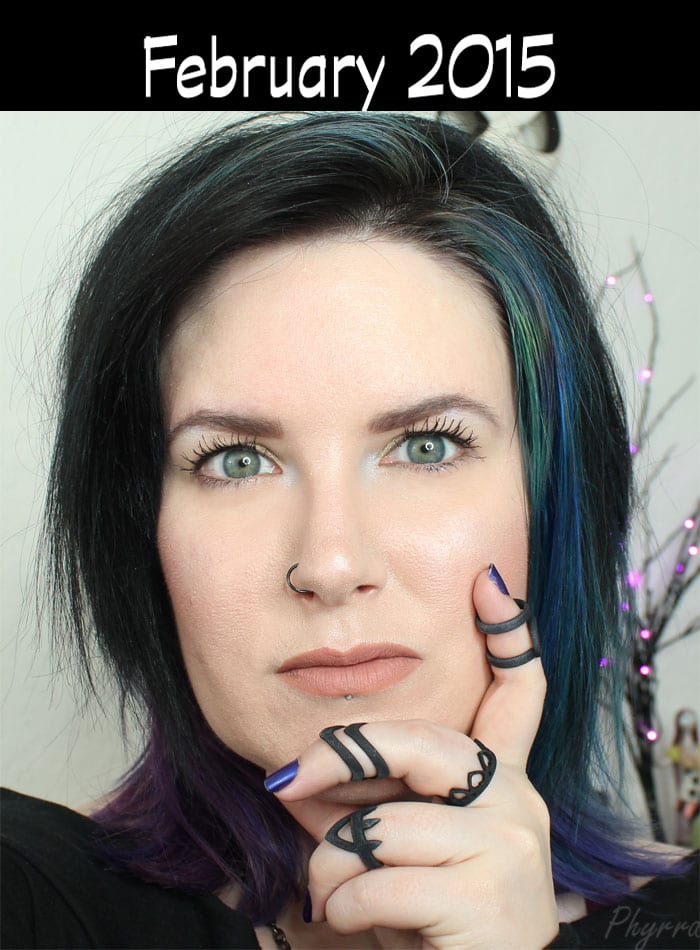 In February I just touched up my hair with oVertone to help maintain the color.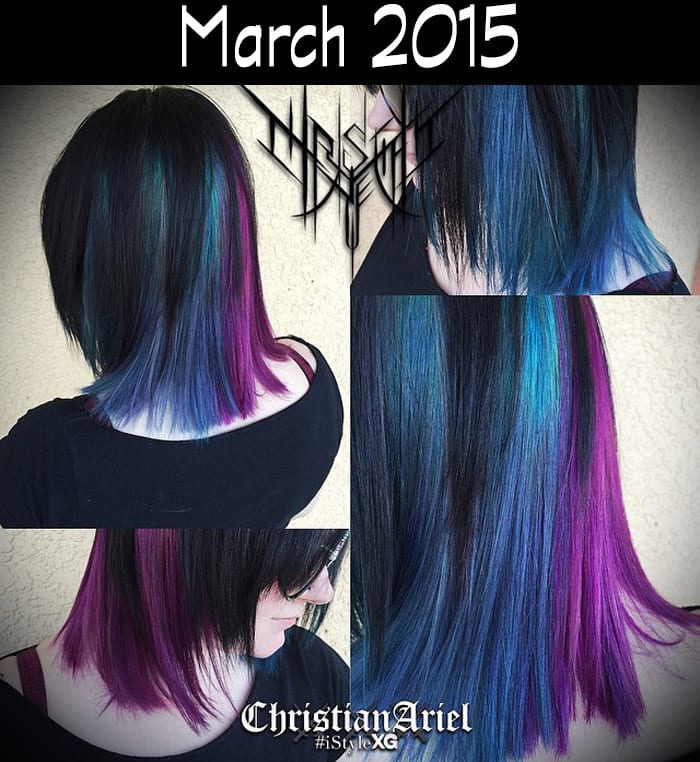 In March I saw Christian again and we did a blue purple split down the middle with black roots / panels on top.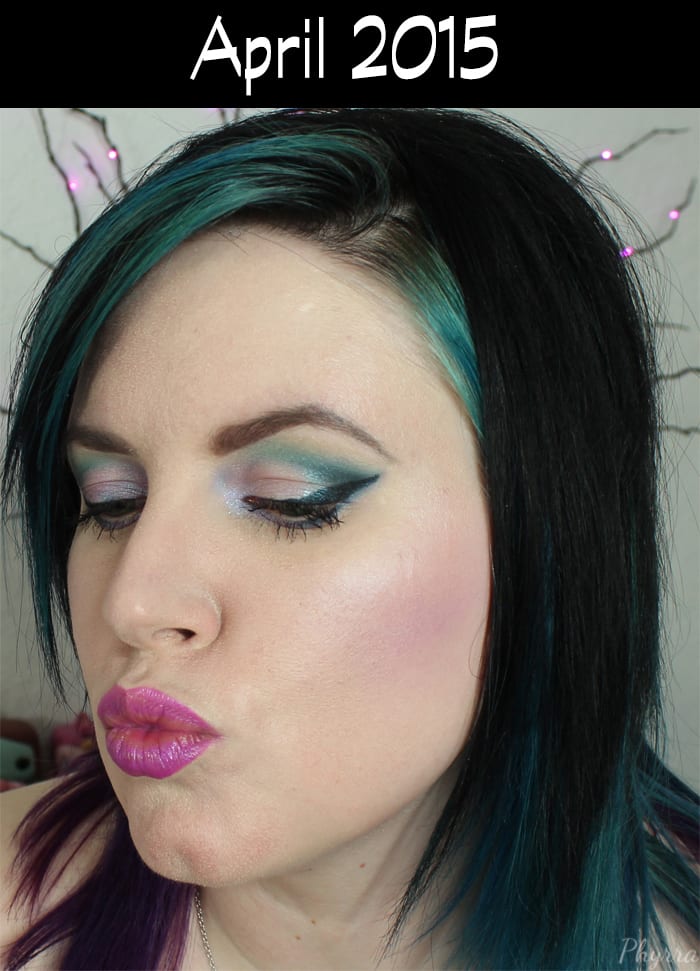 I maintained that split in April.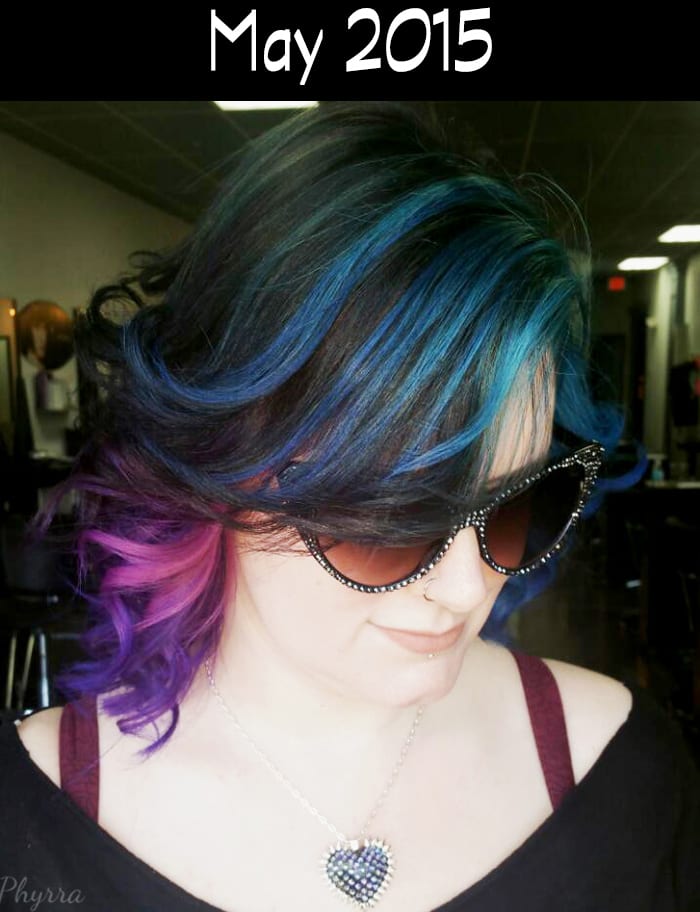 In May I saw Christian and he added some pink and more blue tones.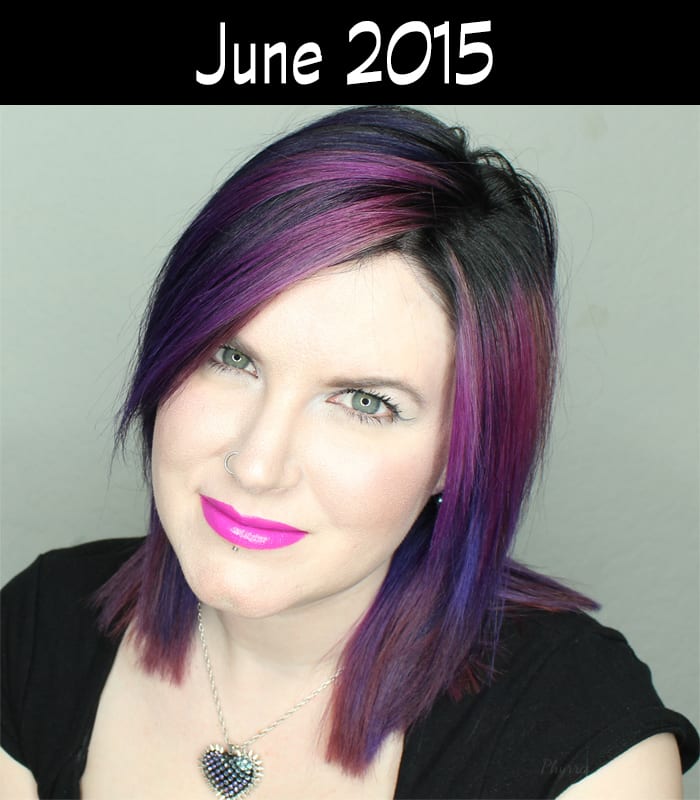 In June I saw Christian and we went purple and had a bit of orange at the tips.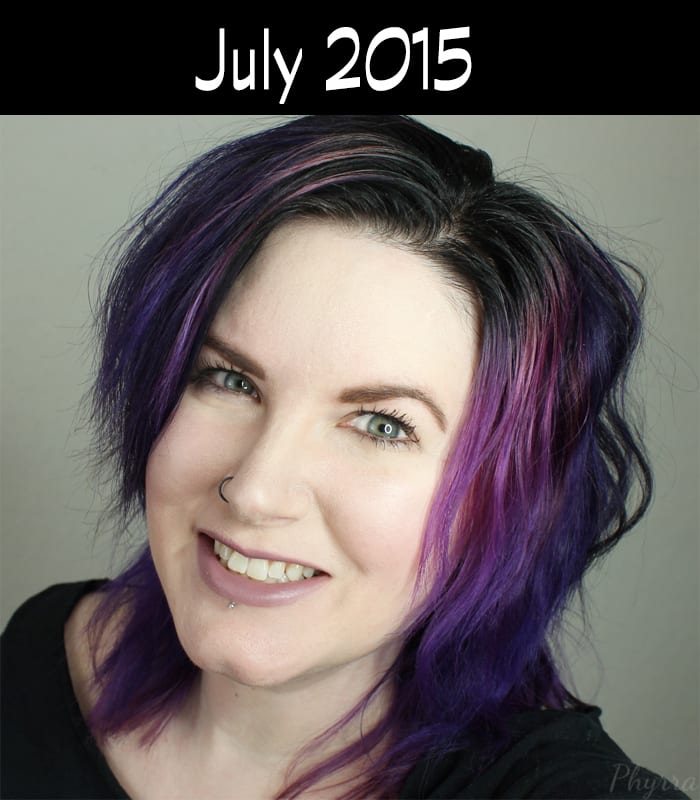 In July I kept my hair pinky-purple and purple.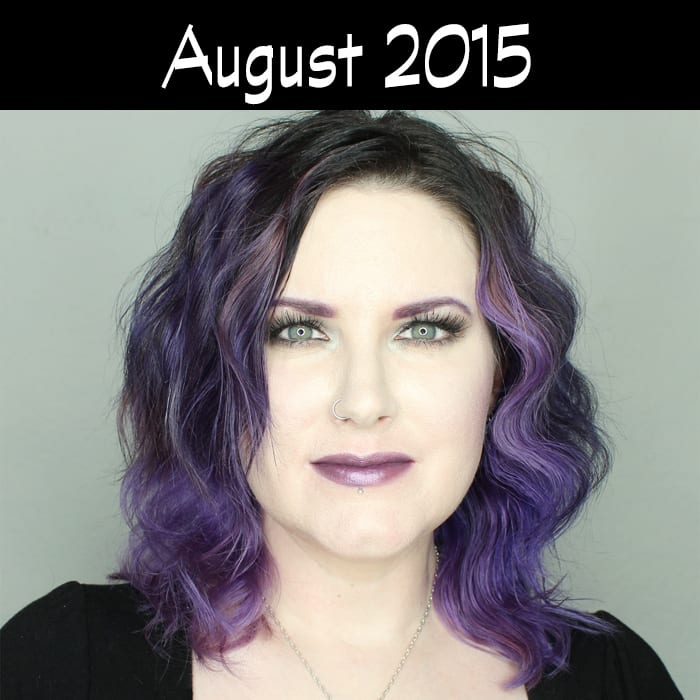 In August I kept my hair mostly purple.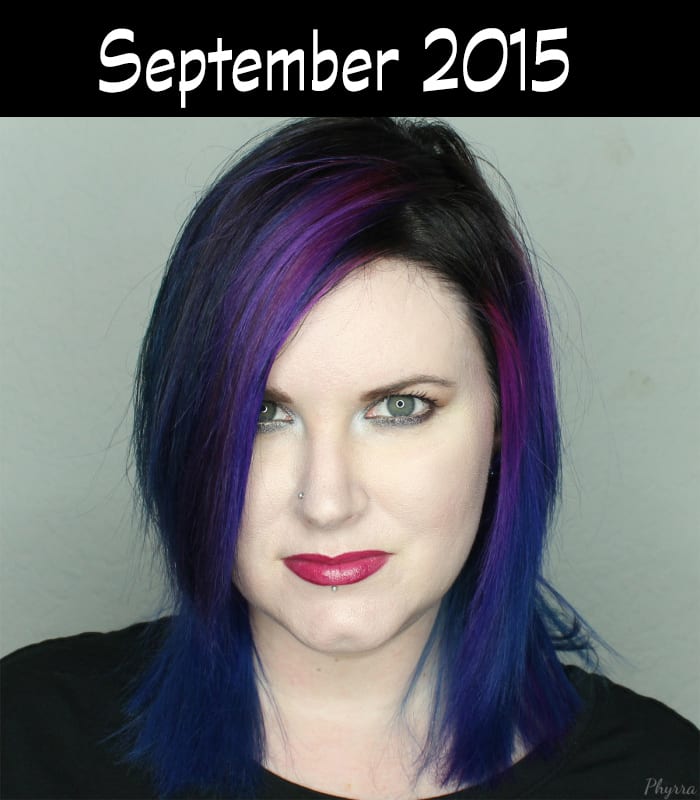 In September I saw Christian and he gave me oilslick hair.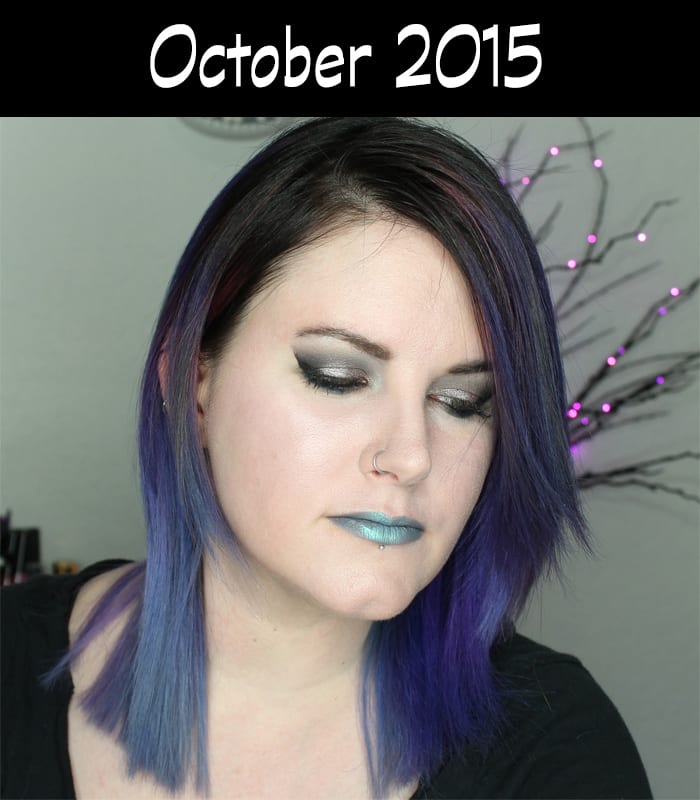 In October I kept a lot of blue tones in my purple hair.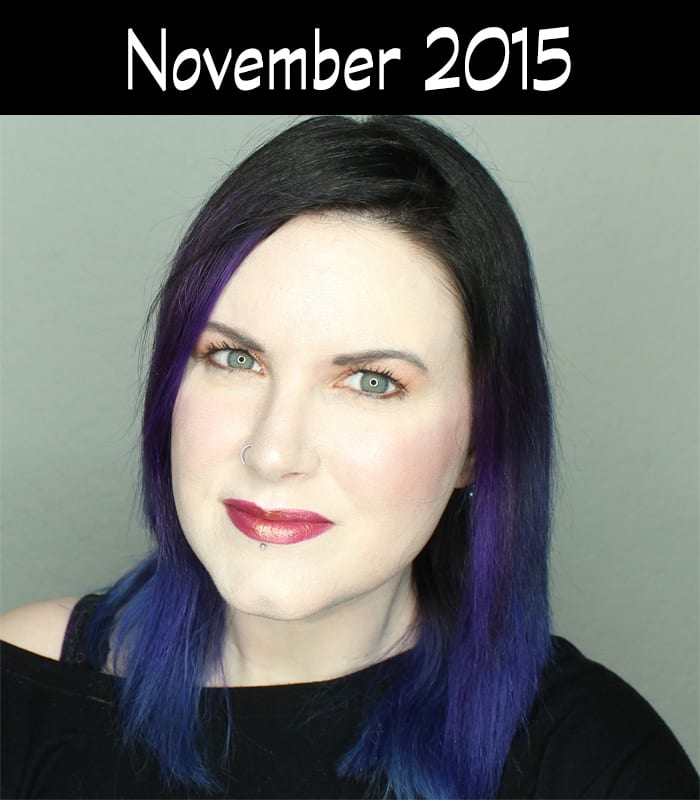 In November I refreshed the oilslick look.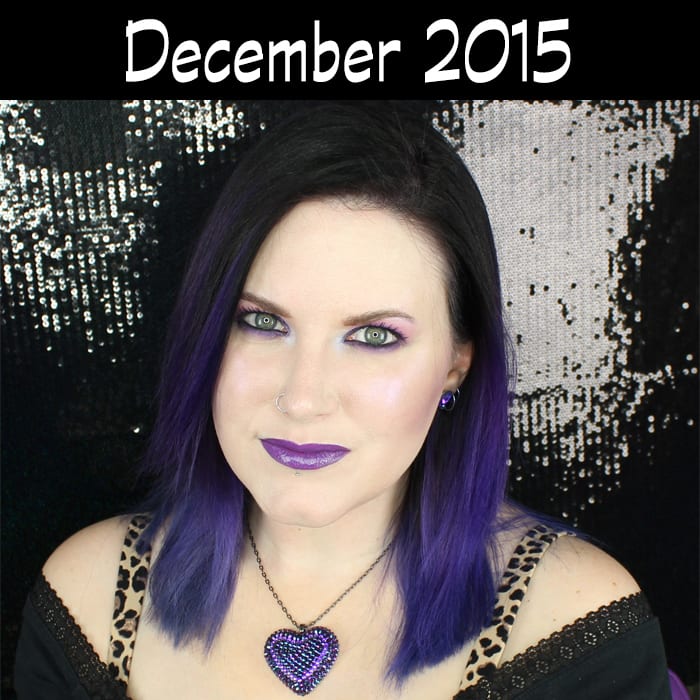 In December I strengthened the purple all over and only applied a bit of blue at my tips.
People always ask me how do you maintain rainbow hair. Below are some of my tips for helping to maintain color. Check out more of my tips for how to care for rainbow hair!
Don't wash your hair every day. Unless you're really, really oily, you don't need to wash every day. I wash every 5 to 7 days as needed.
Use Dry Shampoo to help prolong the time between washes. Batiste is my favorite and it's vegan.
Use Sulfate Free Shampoo. It doesn't have to be color safe, but sulfate free will help maintain your color. My favorite brands are Cocoa Pink ShamPink and Marc Anthony Oil of Morocco or Coconut shampoo.
Use oVertone Hair Masks. I use these every other time I wash my hair. Yes, really. They're that awesome!
Use a moisturizing conditioner. I use Cocoa Pink Argan Therapy Creme.
Use a heat protectant before you blow dry or heat style your hair. I love Paul Mitchell Hot Off the Press and DermOrganic Spray Therapy. See more cruelty free heat protectants.
Add a bit of protein to your hair. I use Paul Mitchell Forever Blonde Dramatic Repair (you can find this at your local Paul Mitchell salon) from about my ears down. It keeps my hair from getting tangled.
Try to heat style less frequently. I air dry my hair when I have time. My hair is relatively straight though, so I don't flat iron daily. Also, if you take your time when you do flat iron (slow and steady), it should last for days.
How to use Heat Protectant
If you're going to blow dry your hair, spray it liberally through your hair and comb it through. If your hair is dry and you're going to curl or flat iron, spray it liberally through, comb your hair, and make sure it's dry before you flat iron or curl. If you hear a sizzling sound when you're heat styling, you're doing it wrong and you're going to cause damage. I prefer to use Spray Therapy before I blow dry and Hot Off the Press for flat ironing or curling.
How to use oVertone Hair Masks
Wash your hair as normal. Put on gloves. If you have multiple colors in your hair, you may need someone to help you apply color to each section with oVertone. I have 3 colors I am using right now – extreme purple, vibrant pink, extreme teal. I put extreme purple on my roots. I mix vibrant pink and extreme purple for the middle of my hair. I use extreme teal on the tips. Leave this in your hair for a half hour or so. Then rinse clean.
If you're in the Tampa area, you should come see my stylist Christian! You can schedule an appointment with him at iStyleXG at 813-949-0604. You can check out more of Christian's gorgeous hair color creations here. You can also find him on Instagram.
Which style did you like best? Are there any color combos you'd like to see me wear?