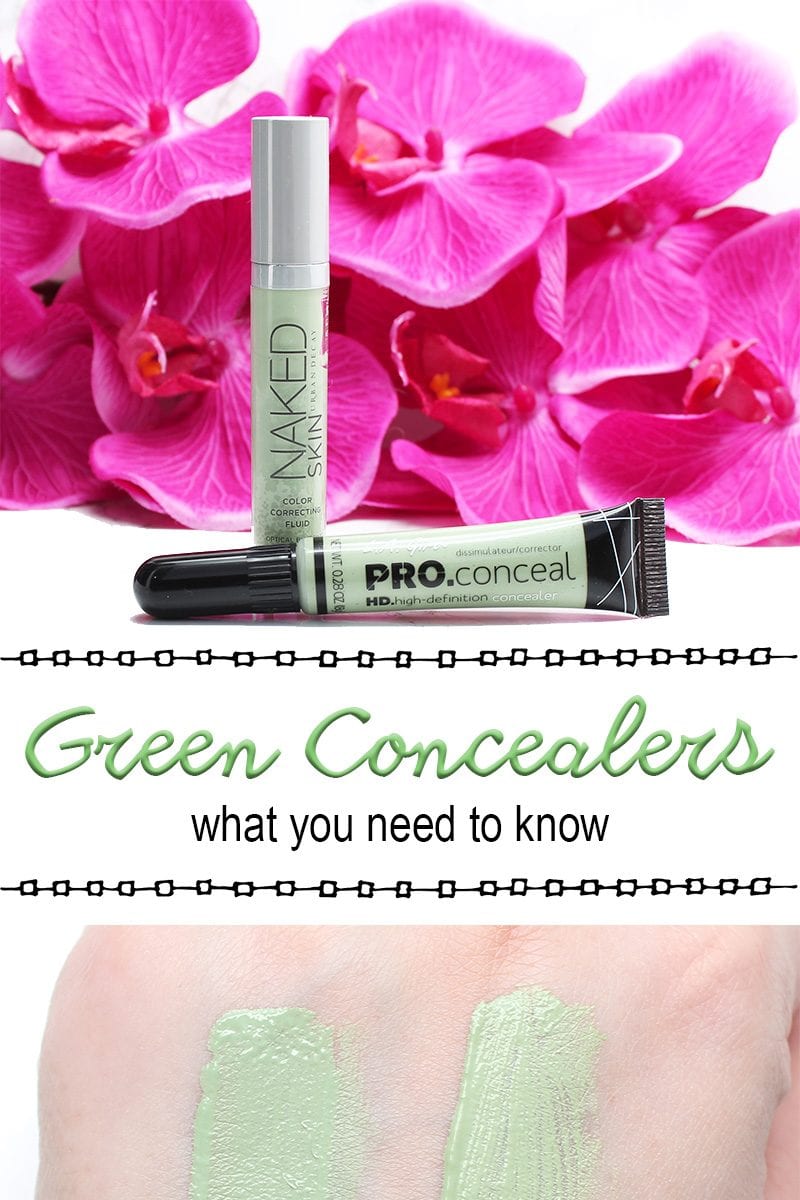 Green Concealers: What You Need to Know!
You asked, here it is – Green Concealers: What You Need to Know! I've included options for every budget with drugstore, indie, and department store choices. There are even vegan options too.
Now, you may be asking, do I need green concealer? Well, it depends. If you suffer with redness from rosacea like I do, you may want a green concealer in your makeup bag for bad skin days. Alternatively, you may prefer a good full coverage foundation instead. It's really up to you. I think that green concealers can be very helpful.
Purchased by me.
How to Use Green Concealers
First, don't make the mistake that I used to make! Don't use it all over your face. You'll end up look grey. What you want to do is only use the green color corrector on the areas with the most redness. Less is truly more in this case.
If you're applying a green color correcting primer, only use the green primer on the areas of your face that have redness. Use your favorite primer everywhere else. This means you'll end up needing to use less foundation.
If you're using any other type of green color corrector or green concealer, apply your face primer first. Then spot correct with the green concealer. Use a concealer that matches your skintone on top of the green concealer if you plan on applying a sheer foundation. If you're going to use a medium to full coverage foundation you can skip that step.
The Best Tools for Green Concealers
There are three options when it comes to applying concealer. For makeup, I find that applying the thinnest layer possible gives me the best results. Using a damp makeup sponge lets me apply my green concealer in a nice thin layer on my face. If you don't like that, you can use your finger tip to apply and blend it out. I'm also a fan of the Urban Decay Pro Concealer brush for softening the edges of my concealer.
My Green Concealers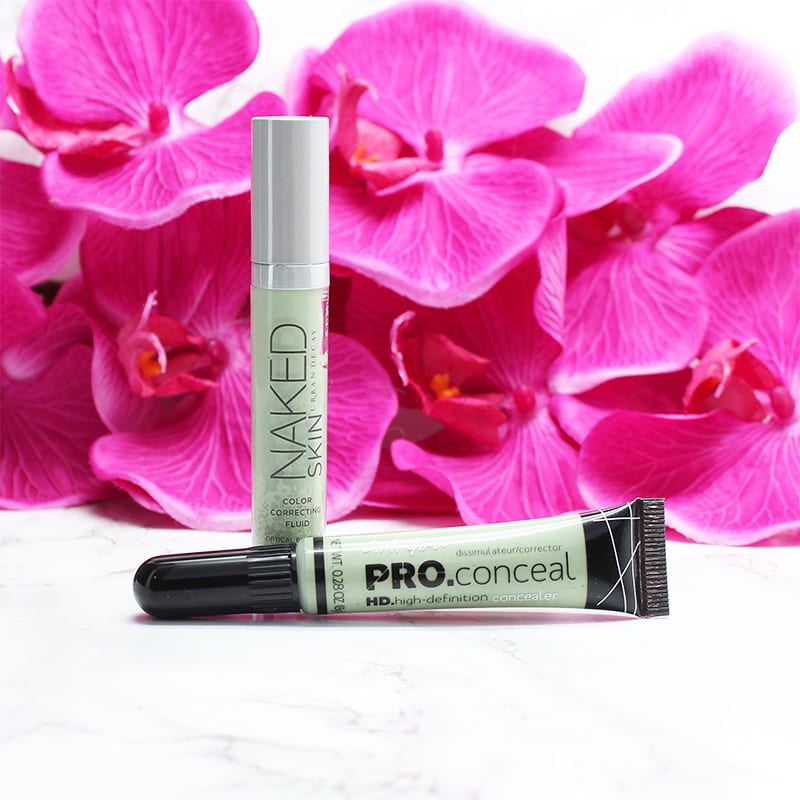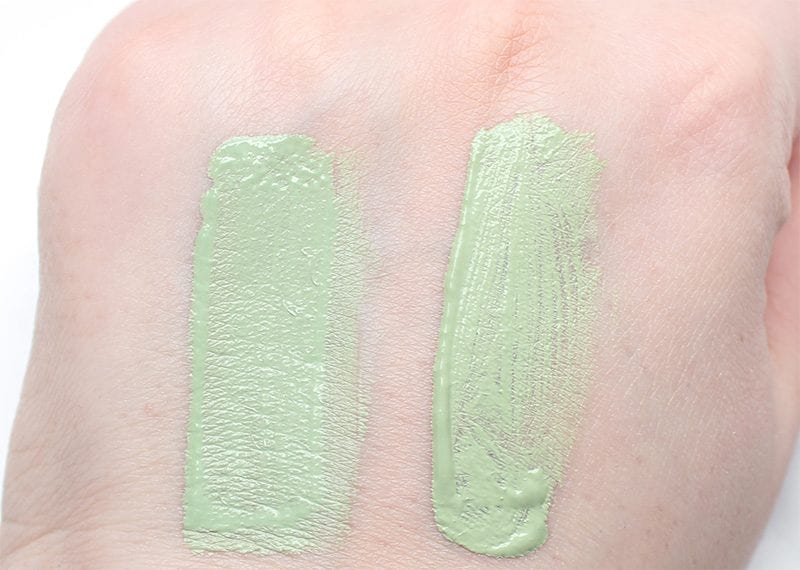 Top 10 Green Concealers
Essence Say No to Redness Pencil – $2.99 (.10 oz)
The Essence Say No to Redness concealer pencil has a soft texture that makes it easy to apply and blend.
LA Girl HD Pro Conceal Green – $5 (.28 oz)
The LA Girl HD Pro Conceal Green is hands down the best drugstore concealer that I own. It's the easiest to apply and blend out. So excited to see that L.A. Girl is now available at Ulta! Pro Conceal Green is my favorite drugstore green concealer option.
Silk Naturals Unblush Green Concealer – $6.50 (10 gram jar)
Silk Naturals Unblush is a green tinted Perfecting Powder that helps to reduce redness and set your makeup. (vegan)
Ulta Green Color Correcting Face Stick – $9 (.09 oz)
The Ulta Green Color Correcting Face Stick is easy to apply with a few swipes and blend out with your finger tips.
Meow Cosmetics Camo Cat Green Corrector – $12.95 (10 gram jar)
How can  you not want something called camo cat on your face? Camo Cats C3 (Color Correcting Concealers) are enriched with pure silk powder. It's supposed to have anti-inflammatory properties and be soothing on the skin.
Cover FX Green Correct Click Stick – $18 (.20 oz)
The Cover FX Green Correct Click Stick is super easy to apply to neutralize redness. (vegan)
Urban Decay Green Color Correcting Fluid – $28 (.21 oz)
The Urban Decay Green Color Correcting Fluid is a lightweight, comfortable concealer that's a breeze to apply on the worst of my redness to neutralize it. This is my favorite green concealer. See my review & tutorial on how to use green color corrector. (vegan)
Mineral Fusion Green Primer – $28.99 (1 oz)
Mineral Fusion Color Correcting Primer is meant to neutralize redness, help to even out your skintone, and prep your face for foundation.
BECCA Targeted Colour Corrector Pistachio – $30 (.16 oz)
BECCA Backlight Targeted Colour Corrector in Pistachio claims to neutralize redness in fair to medium skintones. You spot conceal with this on top of primer, under your foundation.
PUR Correcting Primer Redness Reducer – $33 (1 oz)
The PUR Correcting Primer Redness Reducer is supposed to be one of the best redness neutralizers on the market. It's the one that seems to work for people when everything else fails. I still haven't had a chance to try it. It does have shea butter in it, which is soothing and hydrating.
Bonus Method
Aromaleigh Gypsophillia Finishing Powder – $14 (20 gram jar)
While not technically green, Aromaleigh Gypsophillia Finishing Powder has yellowish hue that diminishes redness and gives you a subtle radiant glow. This is great to use on top of a more sheer, moisturizing foundation if you only have a little bit of redness peeking through and you want to hide it.
Do you use green concealers? What's your favorite concealer?
More to See