When I was at the Makeup Show Orlando in November I picked up the Graftobian HD High-Definition Glamour Creme Ultra Lite Palette. Right at the start of the show I went to visit the Graftobian booth because I wanted to buy one of the HD foundations from Graftobian but I wasn't quite sure which shade would match me. I'd been looking at this palette online for months!

The Website Claims
These HD Crème Foundations from Graftobian are a soft and silky formula, light enough for everyday use but with enough coverage to perform through thick and thin, yielding a beautiful finish, considered by many makeup artists to be the best HD crème makeup on the market today. These shades are formulated to yield flawless results whether or not you're in front of a camera. Some people don't even powder these crèmes, but it is recommended by Graftobian that you do. For a Porcelain Doll perfect finish, apply a suitable shade of Graftobian's HD Pro Powder over the HD Crème Foundation application in lieu of face powder. The intense pigmentation of the HD Pro Powder over the HD Crème Foundation is what yields that awesome final finish. This palettes allow you to sample 5 colors at once, very economically as well as providing you with a very attractive package to pull out of your kit on the set. Ultra-Lite Palette includes these colors: Silk Sprite (C), Nymph (C), Porcelain (N), Lady Fair (N), Ivory (W)
Ingredients
Caprylic/Capric Triglyceride, Octyl Palmitate (Ethylhexyl), Camauba Wax (Copemicia Cerifera), Petrolatum, Lanalin Oil, Bees Wax, Ozokerite Wax, Acetylated Lanalin Alcohol, PTFE, BHA, Silica, Phenoxyethanol, Isopropylparaben, Isobutylparaben, N-Butylparaben. May contain: Titanium Dioxide, Iron Oxides, Talc, Ultrmarines. (CI 77891, 77499, 77491, 77492, 77007)
Price
$26.99 at Amazon.com
Two lovely ladies at the booth gave me a hand. The first woman that I spoke to said she thought I would match to this palette, which is what I had deduced as well. She called the other woman over to color match my neck.




After playing with the shades on my skin, she said that I could get away with wearing any of these shades, but that she felt Lady Fair and Porcelain were my best matches. She also stated that the shades could be easily mixed together for a custom shade.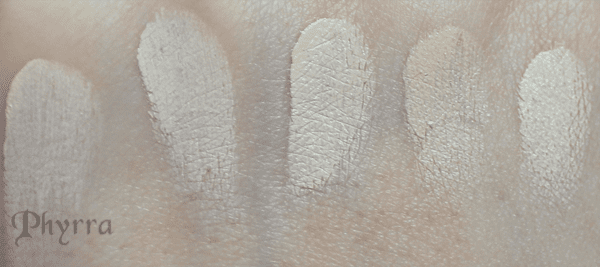 L to R – Silk Sprite – Nymph – Porcelain – Lady Fair – Ivory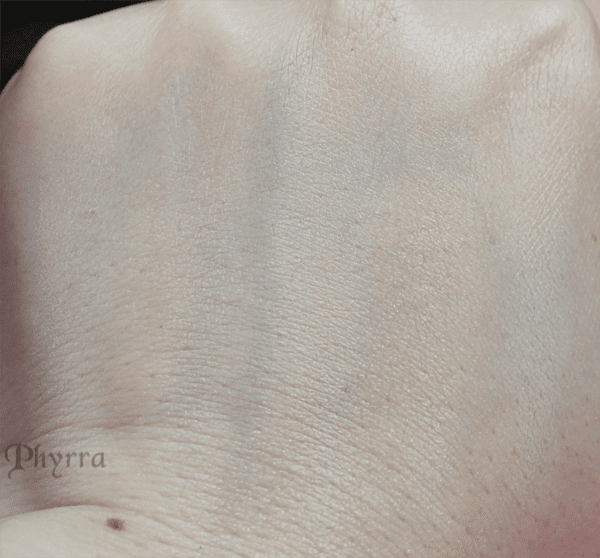 L to R – Silk Sprite – Nymph – Porcelain – Lady Fair – Ivory
You can see how the shades, when they're blended out, do meld nicely with my skin.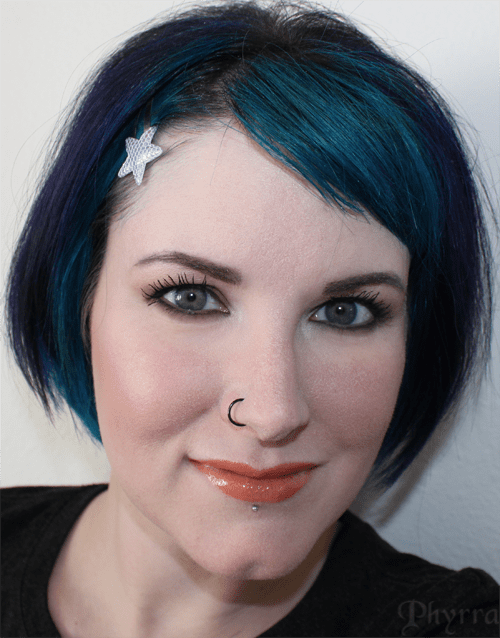 My Thoughts
What I really love about this palette is its versatility. It provides as full or as sheer of coverage as you need. It doesn't feel heavy or thick on the skin. The different shades can be used individually or mixed together as needed. I've used Nymph as under eye concealer, so it really can double as a concealer in addition to foundation.
Because it's a cream, I prefer to set it with a powder. You can use any sort of HD finishing powder to set it, or a beauty powder. If I wear sunglasses with it, I experience the typical 'my foundation is rubbing off on my sunglasses' but other than that it wears well for me.
It doesn't irritate my skin or have a smell, like some foundations do. You can use it with a beauty sponge if you're a fan of those, or apply it with your fingers and then blend it with a foundation brush. I'm still not entirely comfortable using the beauty sponges but I do love the results when I apply it and then use my Urban Decay Good Karma Optical Blurring brush to blend it out.
Would I recommend?
Absolutely! This is a reasonably priced versatile palette that provides you with sheer to full coverage, as well as doubling as a concealer. I think this should be a staple in any makeup artist's kit, as the shades blend together easy, too. They're also extremely portable. I also love the shade range because they have about 50 different foundation shades from ultra light to ultra dark.
Have you tried the Graftobian HD Glamour Creme Foundation? If so, what's your shade match?
Product purchased by me. All opinions are my own.