A while back I had the opportunity to try out the Mia Mariu Hydrating Anti-Aging Moisturizer with SPF 30+. As you know, I prefer high spf moisturizer, as I don't feel comfortable wearing SPF 15.  So I was happy to see that Mia Mariu offered an SPF 30 product.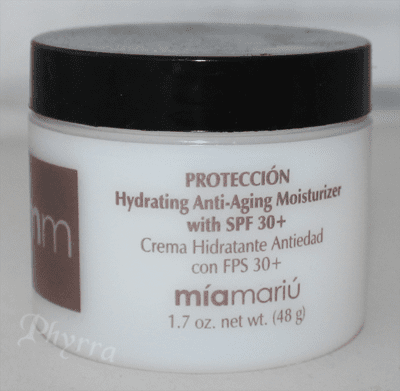 The Website Claims
Stop UV rays and free radicals in their tracks! Daily protection from the sun is critical to fighting the aging process. Our Hydrating Anti-Aging Moisturizer with SPF 30+ is a luxuriously rich age-fighting moisturizer. This revolutionary formula protects your skin by blocking damaging UVA and UVB rays while also stopping free radical damage. Infused with soothing Green Tea extract, White Birch Bark extract, Pomegranate extract and Vitamins A and E, this antioxidant powerhouse moisturizer helps reduce the appearance of fine lines and wrinkles, leaving your skin nourished and with a more youthful appearance. Suitable for all skin types, non-irritating, oil-free. Use AM. (1.7 oz)
Price
$44 for 1.7 oz.
Ingredients
Avobenzone 3%, Octinozate 7.5%, Octisalate 4%, Oxybenzone 1.5%, Water, C12-15 Alkyl Ethylhexanote, Cyclopentasiloxane, Sorbitol, Cetearyl Alcohol, Biosaccharide Gum-1, Polyglyceryl-3 Methykgkuose Distearate, Cornstarch Modified, Glyceryl Stearate, PEG-100 Stearate, Yeast Extract (Faex), Ceterareth-20, Camellia Oleifera (Green Tea), Leaf Extract, Betula Alba (White Birch) Bark Extract, Ubiquinone, Celyl Dimethicone, Squalene, Sodium Hyaluronate, Punica Granatum (Pomegranate) Extract, Plankton Extract, Tocopheryl Acetate, Allantoin, Lecithin, Phenoxyethanol, Retinyl Palmitate, Triethanolamine, Chlorphenesin, Methylparaben, Carbomer, Butylene Glycol, Disodium EDTA, Benzoic Acid, Fragrance (Parfum).
Does it live up to its claims?
Yes, I think so. It's a really nice moisturizer with SPF. It feels great on my skin. It doesn't irritate it. It has SPF 30, so that makes it the minimum of what I would use SPF wise. It has a light pleasant scent that fades quickly. I strongly feel that having a routine of using a daytime moisturizer with SPF and a nighttime moisturizer is key for keeping your skin healthy. I think it also helps with preventing the signs of aging.
With 3% avobenzone, this really will protect your skin. You may or may not know, but you should have either 7% zinc oxide, titanium dioxide or 3% avobenzone in your sunscreen. You should also avoid oxybenzone.
This moisturizer didn't cause me to break out. It also didn't make my eyes burn, which has been a problem with other moisturizers with spf. It also did a good job of moisturizing my face without making me feel greasy.
This product loses points from me because of the packaging. I really dislike the jar packaging. I hate sticking my fingers into a jar. I much prefer a squeeze tube or an airless pump, as they're just more hygienic.
Would I recommend?
If you don't mind the jar packaging, yes. It's a nice moisturizer. It's got a good amount of SPF and provides adequate protection from UVA and UVB rays. I took a star off for the jar.
Have you tried any Mia Mariu products? If so, what are your favorites?
Rating
4 stars
Product sent for consideration. All opinions are my own.