Happy Makeup Wars Monday! This time we're sharing our go-to makeup products. These are the products that are tried and true, which I love. I've got a quick makeup look, as well as my favorite products in each category to share with you.
All products are cruelty free and any products that I know are vegan are marked as vegan.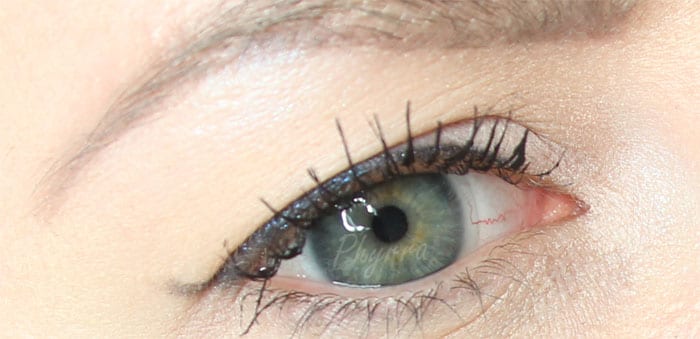 Yes, I have hooded eyes and you can see the hood very clearly in the above picture. My liner is barely visible, which is why I kept it skinny at the inner upper lash line and winged it out slightly at the outer upper lash line.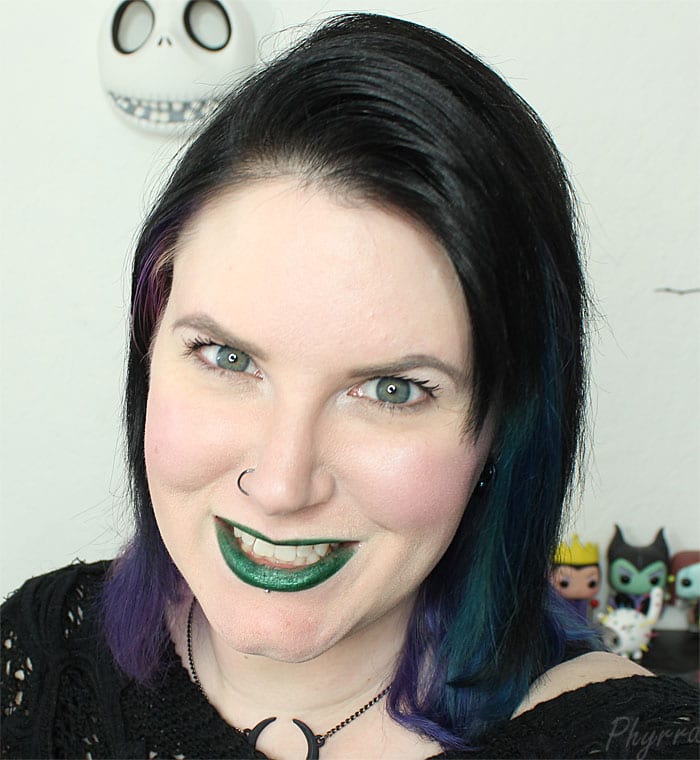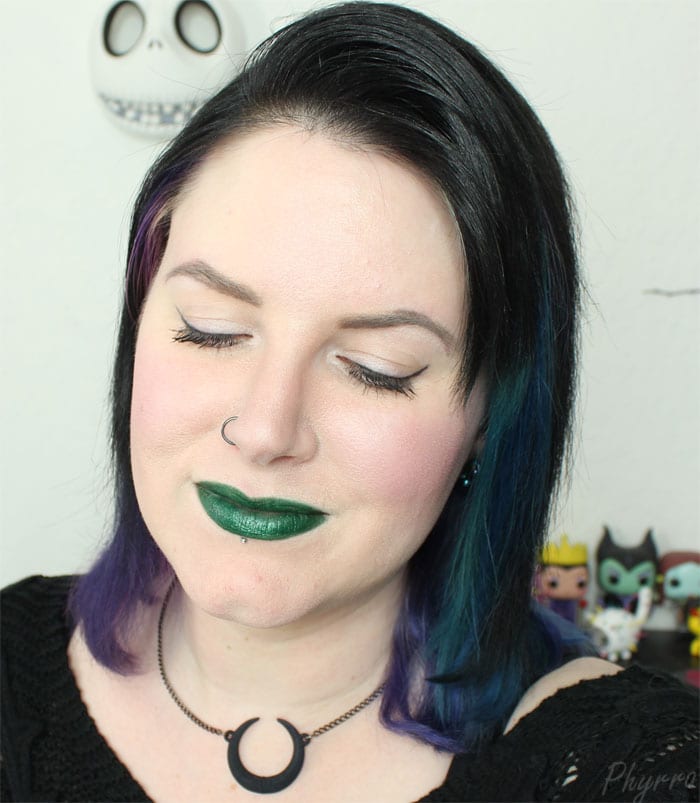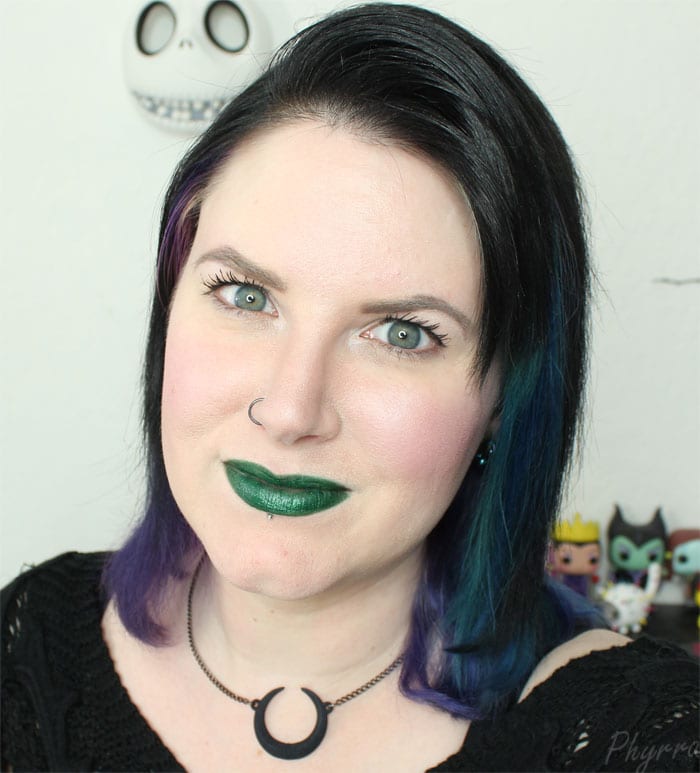 Eyes
Too Faced Shadow Insurance
Urban Decay Walk of Shame (Naked Basics palette) – all over eye area
NARS Ubangi Eye Paint – upper lash line
Physicians Formula Sexy Cat Eyes Mascara
Senna Cosmetics Sketch-A-Brow in Ash Brown
Notoriously Morbid Osteomancy – highlight
Face
Cover FX Illuminating Primer
Cover FX Pressed Mineral Foundation in N10 (applied with Nyx Dewy Setting Spray)
Makeup Geek Secret Admirer – blush
Notoriously Morbid Osteomancy – highlight
Lips
Colour Pop Lip Pencil in Bunny
Colour Pop Lippie Stix in Bunny
Now, I'm not going to lie and say that I wear green lipstick when I'm in a hurry. I don't. I really tend to go for a bright pink or pinky purple. However, my go-to look works with ANY lipstick color, which is why it's a go-to look.
Let me break it down for you. I do a tiny bit of liner to emphasize my eyes. I add a dab of blush. I make my lipstick the brightest or darkest part of  my look. The eye is easy to do because it's literally primer, then base shade, then liner, and finish with mascara. I use the same highlighter that I  use on my cheeks on my eyes.
Go-to Foundations 
Cover FX Pressed Mineral Foundation in N10 – if I'm in a real hurry, this pale neutral is perfection. (vegan)
Cover FX CC Cream in N-Xtra Light – This is my favorite foundation of all time. It's perfect whether my skin is dry or oily or sensitive. I prefer to apply it with a damp beauty blender but I can use a brush in a pinch. (vegan)
Too Faced Tinted Beauty Balm in Snow Glow mixed with Life's Entropy White Foundation – Snow Glow is too dark for me on its own, but if I mix in Life's Entropy White, it works well. (vegan)
Go-to Setting Powders
Go-to Blushes
Go-to Eyeshadows
Go-to Eyeshadow Fixatives
Go-to Eyeliners
Go-to Mascaras
Go-to Highlighters
Go-to Primers
Go-to Setting Sprays
Go-to Brow Products
Senna Cosmetics Sketch-a-brow in Mink or Ash Brown
Anastasia Beverly Hills Perfect Brows in Medium Brown or Granite
Anastasia Beverly Hills Tinted Brow Gel in Granite
Go-to Nail Polish
Cult Nails Nevermore – Cult Nails closed, so I bought several more bottles before they closed. It's my perfect one coat black so if I don't know what to wear, I reach for this.
Obsessive Compulsive Cosmetics Nail Color in Technopagan – the perfect melding of blue and purple
Crow's Toes Nidavellir – a purple base with bright teal blue shift and magenta sparks.
GlitterDaze Essence of a Unicorn – purple, pink, green and blue glitter flakes – this looks great on top of so many different polishes to add something extra.
My lipstick shade entirely depends upon my mood. But when I do a minimal go-to look I tend to go for bright pink or pinky-purple lips. I also love the Obsessive Compulsive Cosmetics Colour Pencils as lipsticks and I reach for those a ton. I've worn Hoochie, Anime, Black Dahlia and Sebastian a ton over the past several months.
Go-to Lipsticks
Gel eyeliners are what I reach for 99% of the time when I need to define at the lash line and want it to last. With oily, hooded lids, gel eyeliners are the way to go. For a go-to shade, I want black or blackened teal blue or blackened blue. I feel like blackened blue and blackened teal blue will emphasize my eye color while plain black just helps to make my eyes look larger if I do my liner placement correctly. Tightlining the upper lash line really makes a big difference in how your eyes look.
If you're in a hurry, a contour blush like NARS Olympia is great for defining your cheekbones.
When it comes to a go-to eyeshadow I typically want a light skintone nude / matte type shade or a wash of light shimmer. I used to use things like MAC Paint Pots for this but NARS Eye Paints are a great cruelty free alternative. So are Darling Girl watercolor paint pots. I know many people prefer a taupe or brown eyeshadow on the lid and lower lid when they want a simple look, but with my eye shape I really feel like a lighter shade is a better choice.
If I'm in an absolute hurry, I'll just do this – Apply foundation all over my face, including my eyes. Then I'll define my brows. Add mascara. Throw a little color on the cheeks. Finish with OCC Colour Pencil in Hoochie or Sebastian. Though trust me, I prefer to have the time to do some eyeliner because my eyes need emphasis on the upper waterline and outer upper lash line to help open them up.
What are your go-to makeup options? What do you reach for when you're in a hurry?
Loading InLinkz ...
Last Updated on