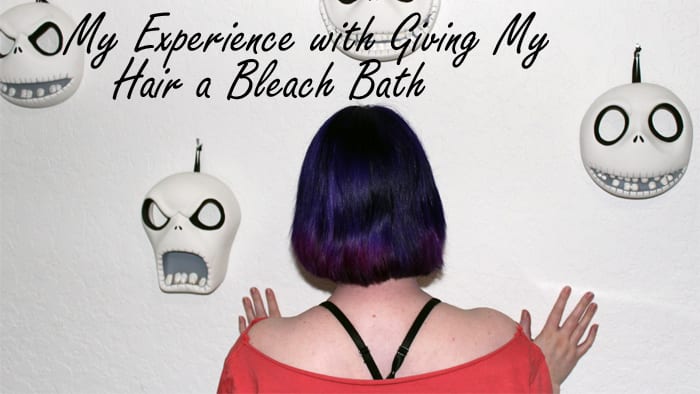 Recently I was hanging out at the Hair Crazy Forums and they had a guide on how to give your hair a bleach bath. When I asked people if they recommended a bleach bath over something like Color Zap, the answer was a resounding yes. So I decided to give it a try for you.
How to Give Your Hair a Bleach Bath

If you want to see more videos like this, give this a thumbs up and subscribe!
I mixed 1:1 Salon Care Prism Lites Lightener in Blue to Ion Sensitive Scalp Developer in 40. Then I mixed equal parts DermOrganic Conditioning Shampoo. I put that on my hair and left it on for 30 minutes. I got very spotty results. Where I had previously lightened a section of my hair for my fuchsia streak, the fuchsia came out completely. The rest of my hair was meh. I felt like it left the fuchsia section of my hair damaged.
I carefully applied Color Zap to the bottom of my hair (and a bit of my bangs), and left that on for less than the time recommended because I was nervous about my hair integrity.
After that, I decided I needed moisture. I put on Pretty Little Elixir Vegan Hair Masque, put on a turbie towel (and then later put another towel on top of it because the original turbie towel is way too thin), and left it on my hair for four hours. I rinsed it out, dried it, and went to sleep on it. My hair looked pretty minty.
I ended up waiting until the next day to do the color. I also filmed the color for an upcoming video.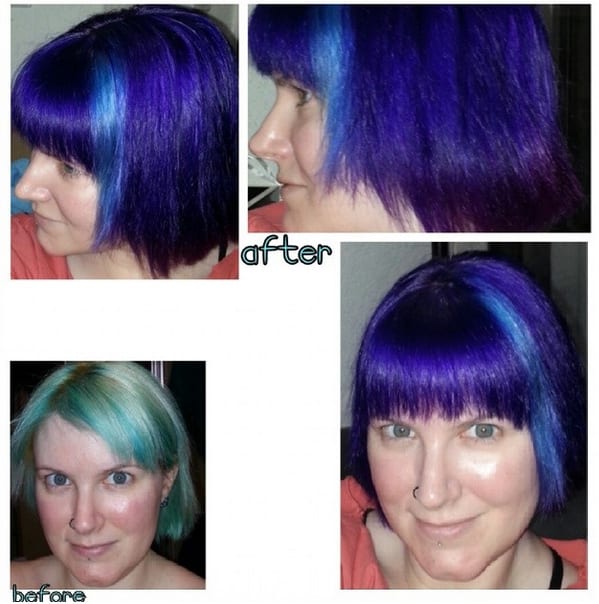 You can see how minty my hair looked here from the bleach bath and Color Zap. You can also see how vibrant it looks after I dyed it.

I made a quick Instagram Video to show it off as I was quite excited. My shirt says 'Pale? It's called Porcelain and I'm Rockin' It.'
Tomorrow I'll have my how to dye the hair video up. Don't forget, I'm still growing out my hair and I still have layers in it from when I had a pixie cut.
Again, I don't recommend doing a bleach bath. It didn't work for me and I feel it really put my hair at risk for damage (and it did damage one section of my hair). I recommend trying a product like Color Zap, which always seems to work well for me, or One n' Only Color Fix.
My Pretty Little Elixir hair mask saved my ass!  Leaving it in for 4 hours really helped to restore moisture to the hair, so that only that one small section on the right side (that was fuchsia previously), was left feeling meh. I think without it, my hair would have been fried and the integrity of my hair would have been compromised. As it is right now, it feels amazing and I can't stop touching it. And of course, I'm in love with the color.
What do you think of this video? Have you ever tried a bleach bath? Did it work for you?