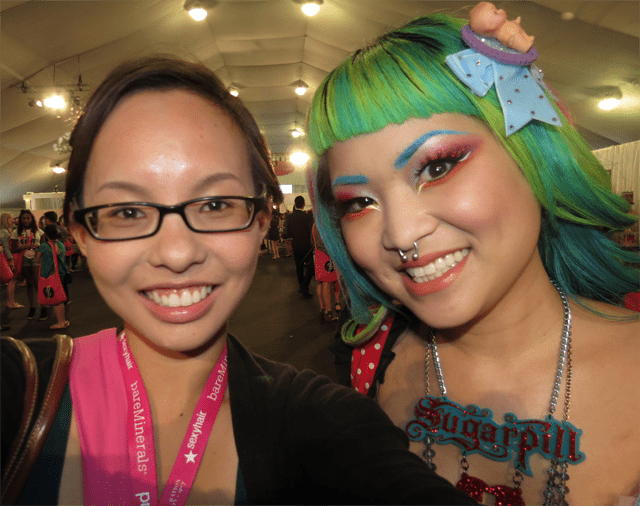 This is a post by contributing blogger Mai. Read more from Mai at Portrait of Mai.
This past weekend I had the pleasure of attending the inaugural Generation Beauty by ipsy event, an event for beauty tastemakers to meet up and be introduced to fellow enthusiasts in the atmosphere of LA Live.
Generation Beauty was kind of like a party with decorated and personalized brand booths that gave attendees a chance to access, swatch, and be shown how to use products from brand representatives and makeup artists. Some sold product and many had exclusive specials (can you say a Temptu Airbrush set for only $79?).
I think the show was very well catered to the consumer and beauty bloggers and vloggers; it was more personalized than going to a trade show like IMATS and less intimidating than going to a beauty counter and allowed for camaraderie to be built with attendees. As a beauty blogger, I really appreciated the opportunity to talk to the PR managers of each brand to get to know more about the brand from a blogger standpoint.
Alongside that, there were meetups and speaker events with Youtube Beauty Gurus. Considering this was their inaugural event, I was pleasantly surprised at how well it was run. I will say that going in, it definitely felt more geared for Youtube vloggers and their viewers. While there were many Youtube specific speaker events, there weren't any blogger specific speaker events though there were some general ones that did apply to both bloggers and vloggers. I think I was hoping there would be more of a shared blogger/vlogger emphasis at the show with blogger speakers and perhaps blogger meetups.
There were quite a few brands there but for brevity's sake, I'll cover the ones that I found to be the most interesting and include photographs of their beautifully decorated booths.
bareMinerals


For reals, my favorite booth of the show when it comes to design and brand activity. It was beautifully done with wide open spaces and an area in the back to swatch some of the bareMinerals READY line. The set up is actually a preview of the new bareMinerals store design so you might see this in person soon. The brand was also very generous and one of their brand activities was a "Make Under" where they would match you to a foundation, do a quick makeup look, and give you a complementary foundation and brush. I received their new READY foundation in the compact along with the Precision Face Brush. Unfortunately, artificial lighting is not kind to color matching and the foundation ended up being much too warm-toned/yellow on me. The best thing though is that the Precision Face Brush is quite literally, the best brush that bareMinerals has ever come out with. It blows the scratchy and unpleasantly bad Flawless Face Brush out of the water. 


Nicole by OPI



They were previewing their new Selena Gomez Collection and actually had three stations set up so attendees could receive a mini manicure. Along with that, there were several small stands where you could give yourself a mini manicure if you didn't feel like waiting in line. I usually like my things symmetrical so the strange bottle shape of the Nicole by OPI polishes have always gotten to me but I'm interested in trying out the bottle that I received as a gift from them.

NYX


Another booth that was decorated so well well. There were several screens displaying videos of their NYX Face Awards contestants and several couches to sit on and relax. You had the opportunity to vote in the NYX Face Awards and get a raffle ticket for one of three raffles during the day. I will say that the raffles were timed during some speaker events so it did clash a bit one time when Michelle Phan was a few feet over giving tips on videomaking just a few feet away. They had a product display there but I did find it a little confusing because while it looked like one of their store displays, they weren't actually selling any product at the show.

Pacifica


Pacifica's booth had an amazing stash of their perfumes and makeup line out to test out. I was so sorely tempted to get one of the rollerballs or bottles of perfume but I decided to resist (which I'm regretting at the moment). I had seen some of their line at Target and it was nice to have an opportunity to test it out in person. If I have a chance to, I'm picking up a rollerball of their Hawaiian Ruby Guava fragrance.

Proactiv/Sheer Cover/WEN


Proactiv, Sheer Cover, and WEN all shared one booth. I feel dumb for not having gotten a full picture of it because on one side of the wall there were the tables displaying the products and space for the brand representatives to demo and on the other there were very comfortable and squishy couches for people to sit at. I felt so stoked when I got the gift which was a Proactiv Refining Mask which used to be one of my favorite face masks. 
Soho Beauty


I adored Soho Beauty's booth. I really liked their brand activity where you got to design your own traincase based off several design swatches available for the inside, outside, and zipper of the traincase. They also had an Instagram giveaway for a set of brushes in a brush roll (which I unfortunately didn't win). They also previewed some of the bags and cases for the upcoming collections and I'm already convinced that I will get my hands on the Surfette Weekender bag (so cute!!)


Overall, I did enjoy the event. I appreciated the opportunity to try some of the products and get mini makeovers. I don't necessarily think it was worth having a two day event because I'm not sure if the speakers and meetups would have necessarily been worth it for me to trek up to LA again and there were only so many times I could walk around to each booth. I think for next year's show, I'd like to see more blogger-specific speakers and meetups and perhaps even more brands attending! Tickets are actually already on sale for next year if you'd like to get a head start and get yours now! (early price is $50.00)
Thanks to Mai for covering this event for Phyrra: Beauty for the Bold!