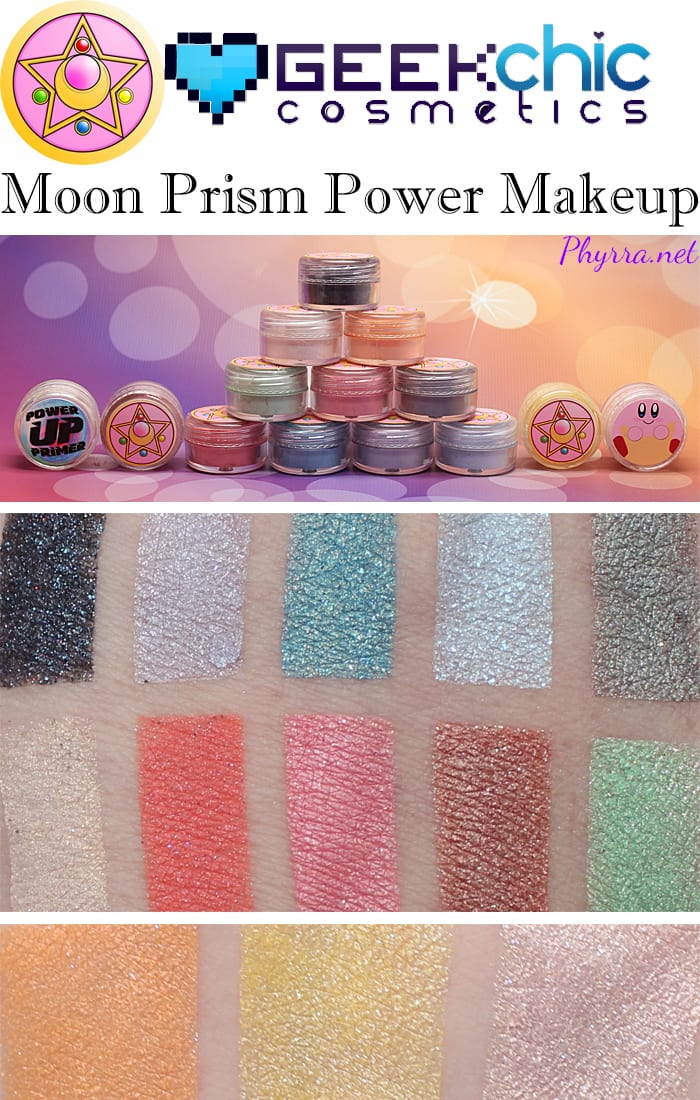 Happy Thursday!  Today I've got my Geek Chic Moon Prism Power Makeup Collection Review and swatches to share with you. I was a huge Sailor Moon fan as a teen (and an anime lover), so I am super excited to share this collection with you. (You may remember that a long time ago I did a Sailor Moon Collaboration – Sailor Mercury and Prisma, god those were terrible wigs!)
Geek Chic Moon Prism Power Makeup Collection Review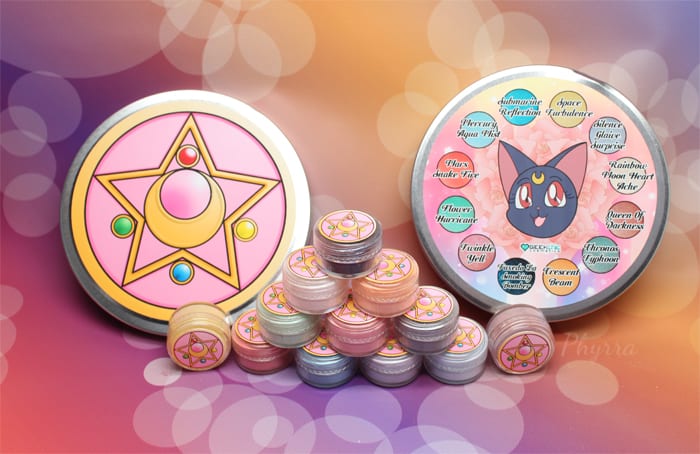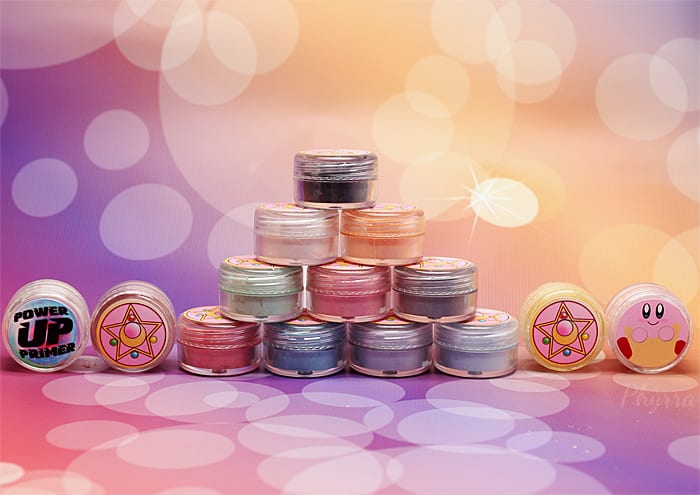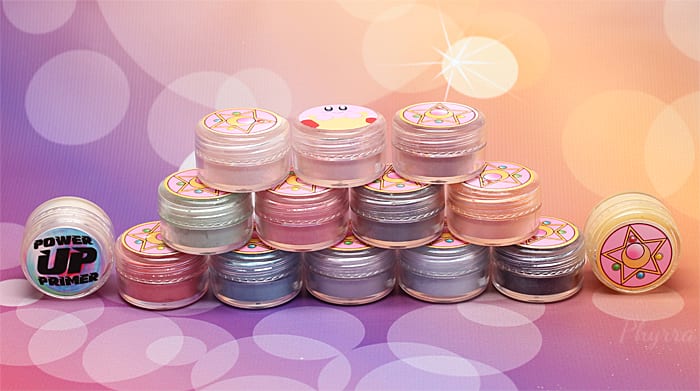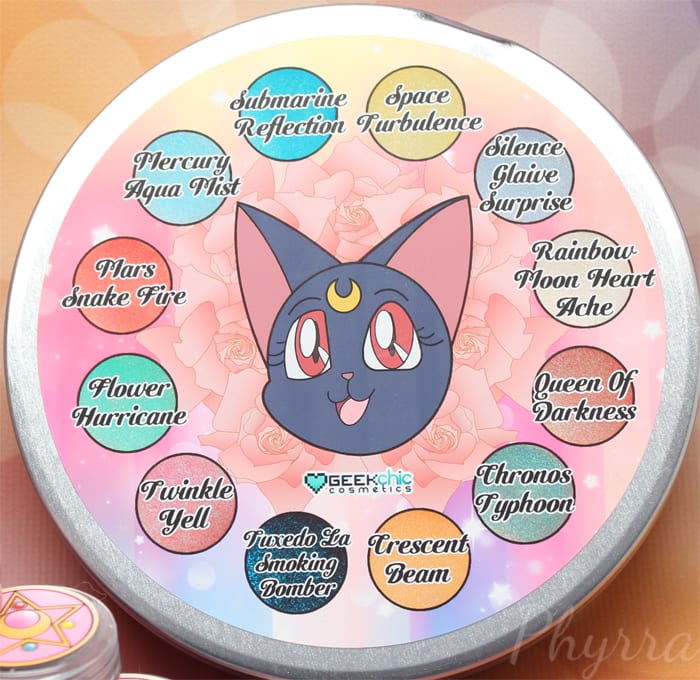 Geek Chic is cruelty free and vegan.
Availability
Geek Chic Cosmetics
Price
$1.25 sample
$5.99 full size eyeshadow
$64.69 (on sale) complete set (normally $71.88)
$129.99 (on sale) magical girl final transformation pack (normally $167.76)
The Moon Prism Power collection is made up of 12 eyeshadows. I've also got the limited edition Hypernova to show you too. You can buy Moon Prism Power colors individually or in different collector sets.
All eyeshadows were swatched on Geek Chic Power Up eyeshadow primer.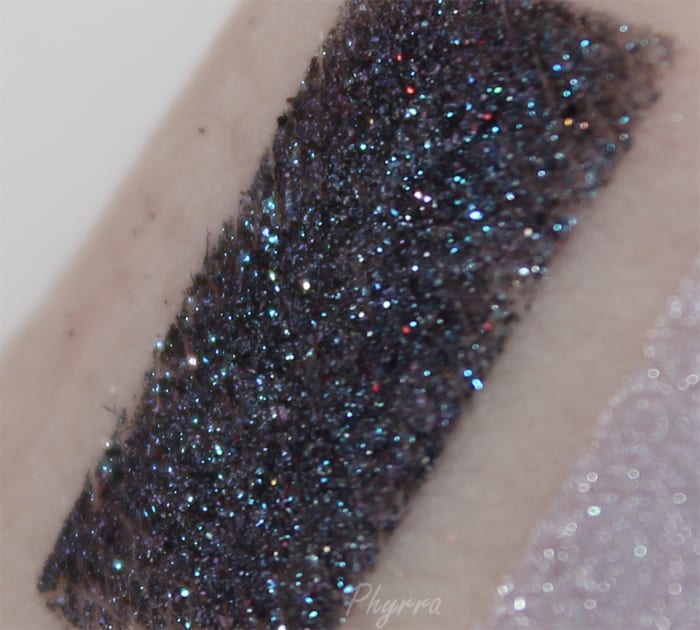 Tuxedo La Smoking Bomber
a velvety matte black based shadow that is jam packed with OODLES of red micro glimmer, lavender to blue color shifting shimmer, teal to lavender to blue color shifting shimmer, black holo sparkle, deep blue to magenta color shifting sparkle, and silver holo micro shimmer!
My Thoughts
black base with blue, purple, magenta, teal blue, lavender and silver holo. I'm in love! the sparkles are amazing.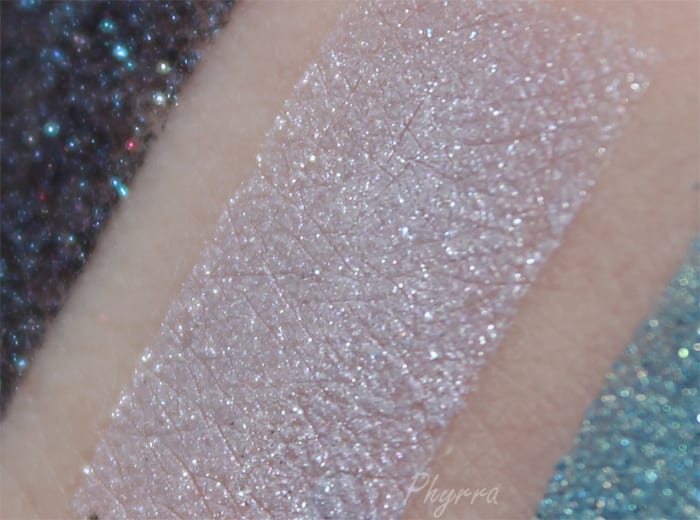 Silence Glaive Surprise
a soft, dove grey toned purple satin shadow (we like to call it "gurple") with a soft violet sheen. It has just the right amount of color shifting blue to purple shimmer, soft lilac shimmer, and purple sparkles throughout.
My Thoughts
light greyed lavender with purple sparkles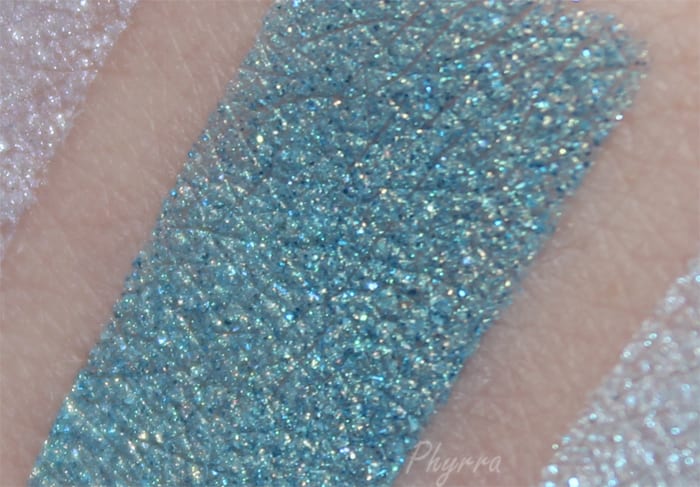 Submarine Reflection
a gorgeous ocean blue teal satin shadow with a subtle golden green sheen. It sparkles with pops of rich blue to purple color shifting sparkle, sea glass green shimmer, and rich sapphire sparkle.
My Thoughts
lovely turquoise blue with golden green sheen and violet and blue sparkles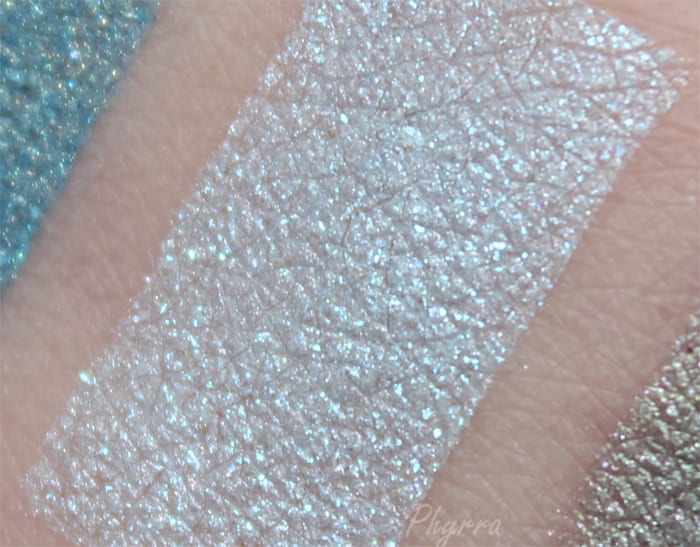 Mercury Aqua Mist
as its name implies, a misty pale blue shadow with a subtle periwinkle sheen. It has a good dose of blue to purple color shifting shimmer, aqua shimmer, and bright blue sparkles!
My Thoughts
pale greyed blue base with blue iridescence and blue and purple sparkles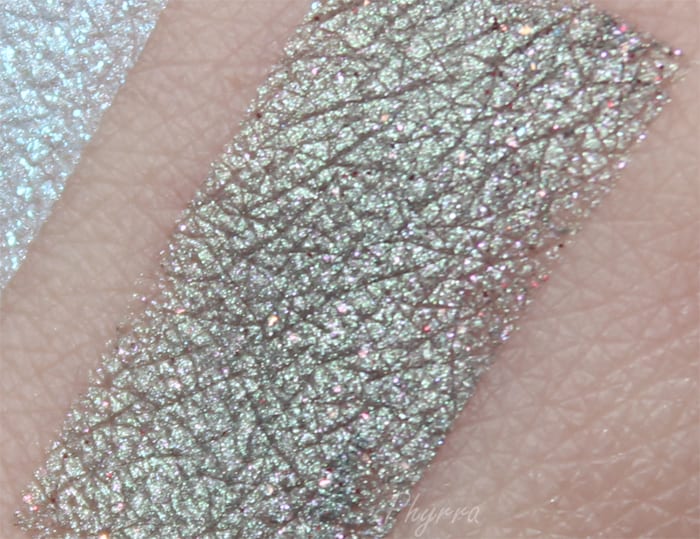 Chronos Typhoon
a burnished silver based satin shadow with a very strong green shift with pops of crimson glimmer and deep rose to purple shifting shimmer.
My Thoughts
deep silver grey base with green iridescence and bright red, pink and purple shimmer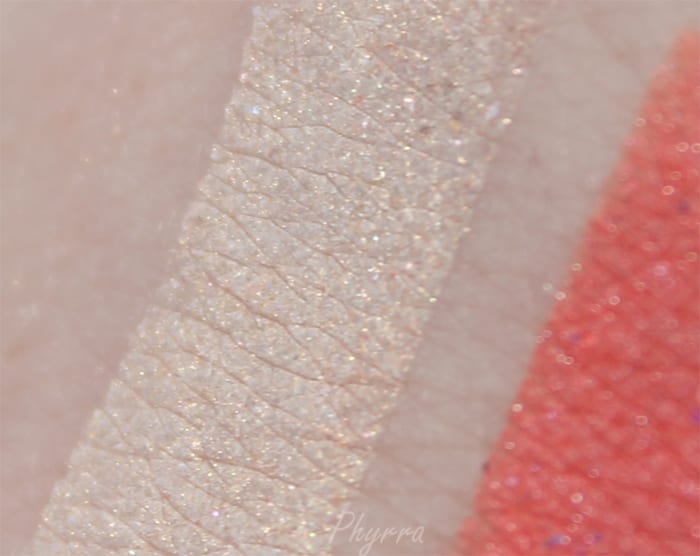 Rainbow Moon Heart Ache
a feminine, ethereal soft gold shadow with a shiny golden sheen. It's jam packed with soft blue and soft red sparkle that dances in the sunlight. This shadow is incredibly versatile, suitable as a highlight color, transition or blending color, and even as a shimmery cheek highlight.
My Thoughts
pale creamy gold with golden sheen and blue, red and gold sparkles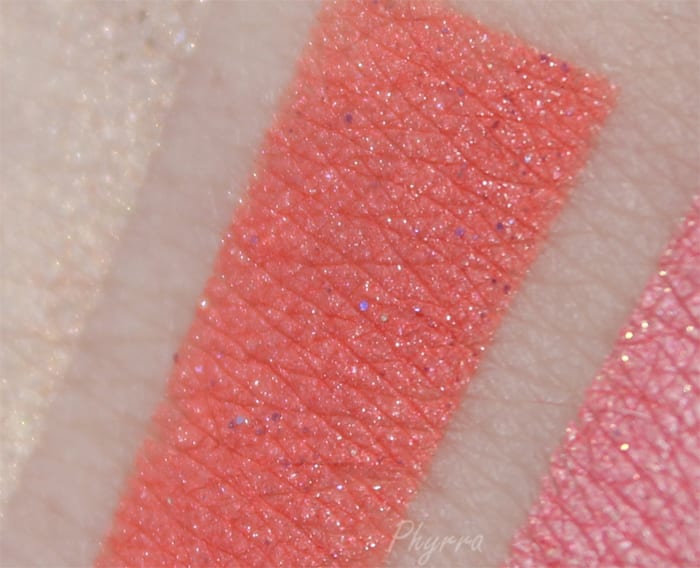 Mars Snake Fire
a soft red satin shadow with a soft fiery red to orange color shifting sheen, sprinkled with holographic purple, lavender, and purple sparkles.
My Thoughts
coral red with red sheen and purple and lavender sparkles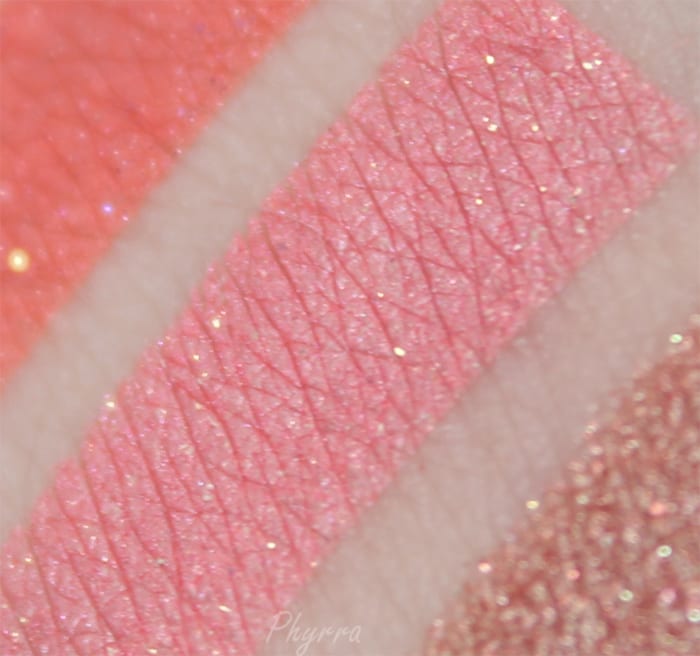 Twinkle Yell
a perfect candy floss pink with a slight orange undertone with a punch of golden sparkle. Perfect for spring and summer looks!
My Thoughts
mid-tone candy pink with a hint of orange and lots of golden sparkles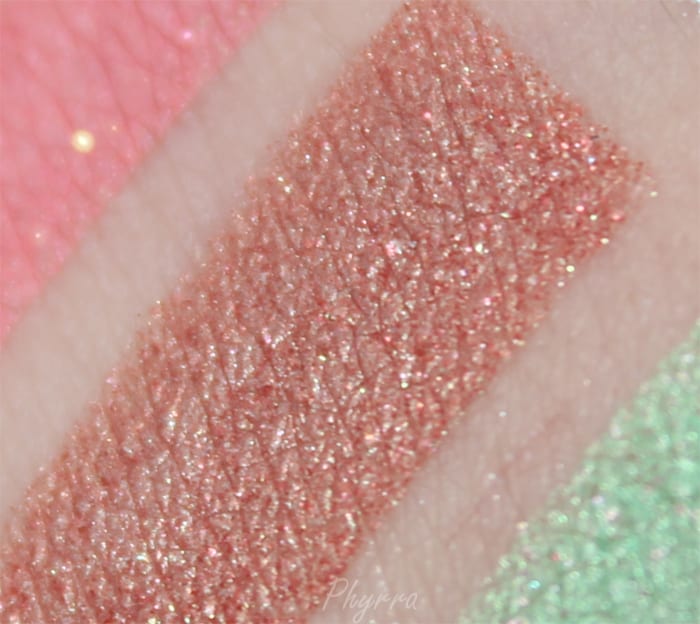 Queen of Darkness
a soft marsala red based shadow with a subtle green shift and a good sized pinch of bright green sparkles. A unique twist on 2015's color of the year, this shadow would be great as the crease color in a sunset themed eye look for summer.
My Thoughts
pale marsala reddish brown with a green shift and golden green sparkles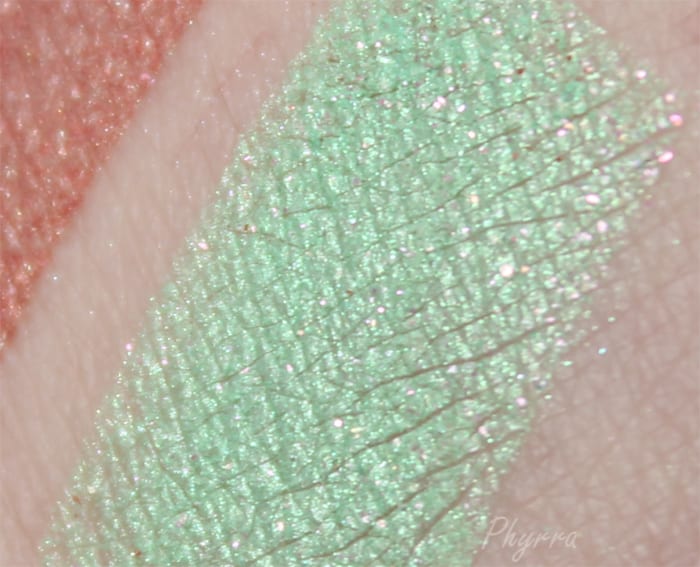 Flower Hurricane
a mid-toned soft green with a fresh minty sheen, popping with glints of hot pink, rose, and soft pink shimmer.
My Thoughts
Light minty green with hot pink and violet sparks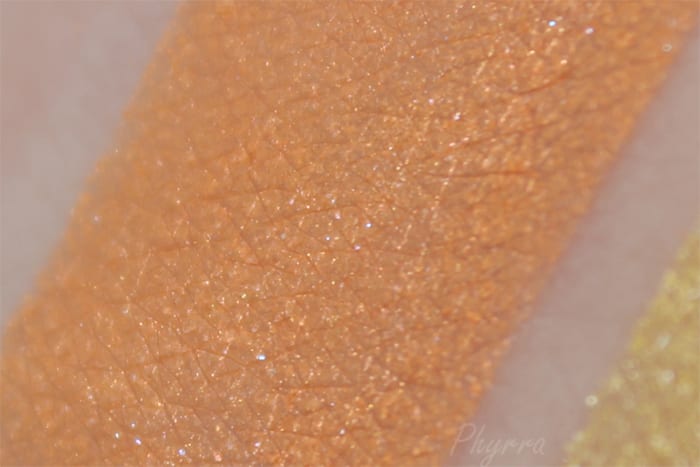 Crescent Beam Shower
a punchy creamsicle orange with a soft golden sheen and little glints of bright orange glitter and a tiny pinch of light blue sparkle. A great color for a pastel spring sunrise look.
My Thoughts
pretty light orange with orange and blue sparkles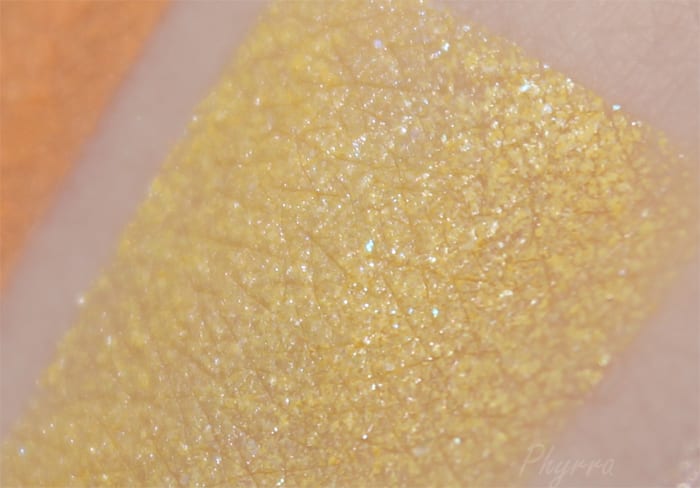 Space Turbulence
a lively pastel lemon satin shadow that is dripping with iridescent rainbow shimmer and soft blue sparkle. It reminds us of lemon shaved ice!
My Thoughts
gorgeous light lemon yellow with lots of sparkles and blue shimmer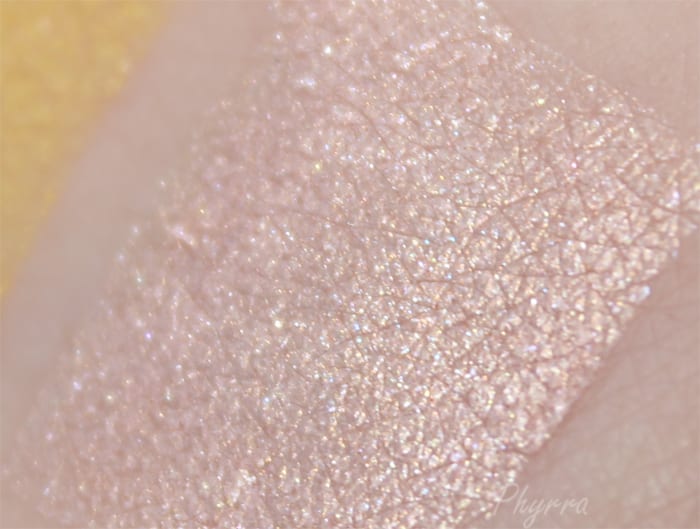 Hypernova (expires March 31, limited edition)
a pale rosy pink satin shadow with a strong golden sheen, dripping with oodles of gold to green color shifting sparkles, iridescent rainbow shimmer, rose to purple color shifting sparkles, and bright blue shimmer!
My Thoughts
palest pink with strong golden sheen and twinkles of pink, violet, blue and gold shimmer
The Moon Prism Power Makeup eyeshadows really do evoke that 90s anime cell shaded color palette. My favorites in this collection are Tuxedo La Smoking Bomber, Submarine Reflection, Rainbow Moon Heart Ache, Mars Snake Fire, and Twinkle Yell. I absolutely adore Hypernova too! I think Hypernova would be gorgeous as a lid shade. I really can't wait until I can wear eyeshadow again so I can use Tuxedo La Smoking Bomber foiled on the lid with a smoked out crease. Mars Snake Fire and Twinkle Yell have me thinking of Spring!
I love seeing collections inspired by some of my favorite animes! There needs to be Tenchi Muyo and Rwby collections, stat! I'm sad that I won't be able to wear any of these colors for weeks!
What do you think of the Geek Chic Moon Prism Power Makeup Collection? Which colors would you wear?