TGIF! I'm so glad I made it to Friday. Today I have a Fyrinnae Deceptive Sidhe and Werewolf Moon look to share with you. I also used more of the Makeup Geek mattes. I tried to use colors that I don't normally reach for, especially together. Fair warning, my lashes look like hell. Since I'm waiting for the rest of my lash extensions to fall out, I've still got enough in that I'm not supposed to curl them. I can use mascara on them, but I have to be careful with application. It's rather annoying. I should have used Fyrinnae Pixie Epoxy for the eyeshadows, but for some reason I spaced on it, so I ended up with a lot of transfer. These are shades that really come to live with Pixie Epoxy so my pictures aren't doing them justice. They're ten times more beautiful in person.
Fyrinnae Deceptive Sidhe and Werewolf Moon
This post contains a mix of press samples and products purchased by me.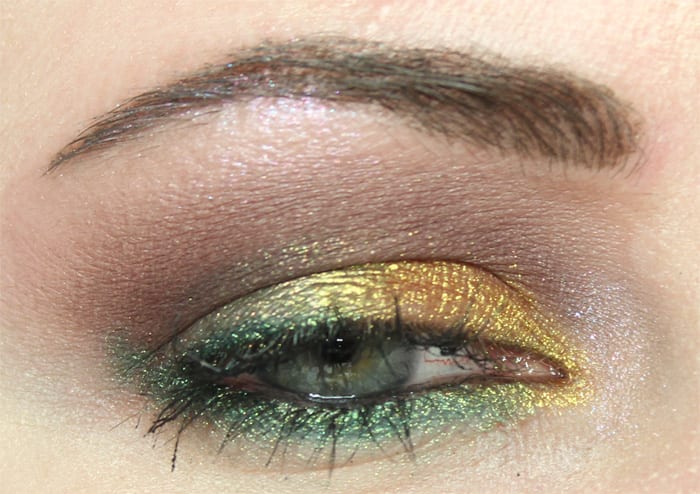 Eyes
Too Faced Shadow Insurance
Fyrinnae Deceptive Sidhe – inner lid, inner v (vegan)
Fyrinnae Forest Creatures – outer lid (vegan)
Fyrinnae Werewolf Moon – lower lid, outer upper lid (vegan)
UD 24/7 Perversion – outer upper lid, lower lash line (vegan)
UD Waterline pencil in Legend – lower waterline
Makeup Geek Confection – browbone (vegan)
Makeup Geek Vintage – hood
Sugarpill Tako – to blend out edges (vegan)
Makeup Geek Americano – outer hood
Nyx Eyebrow Gel in Black
Darling Girl Tragic Death of Mr. Stay Puft – highlight
Face
Cover FX Illiminating Primer + N0 Liquid Foundation + Neroli Hydrating Drops (all vegan)
Silk Naturals Close Up Illiminating Powder (vegan)
Urban Decay Kinky – blush
Looxi Bombshell – highlight
Lips
Nyx Liquid Suede Cream Lipstick in Vintage
Mini rant time! Why does every effing brow product  I reach for turn brown on me? Nyx Black eyebrow gel turns so brown. I need a cool-toned ashy black brow product. It seems like no matter what  I use, it goes brown. At times like this it makes me feel like I should just use dark purple to fill in my brows and be done.
I WISH I had remembered to take the Cover FX Custom Infusion Drops in Neroli with me when I was in Indiana. Just a single drop helps to add moisture and prevent my skin from feeling too dry. For my foundation I mixed a dollop of Cover FX Illuminating Primer with the Liquid Foundation in N0 and then added 1 drop of Neroli. I mixed it together with my finger tips and applied it with my fingers, using a sponge to get around my brows and under the eyes. Then I used Silk Naturals Illuminating Powder (which is pore refining, illuminating, finishing) in Close-Up to set it. I think it's a pretty combination, though it looked slightly more golden than it normally does.
While I didn't do a tutorial for this look, I wanted to explain the way I applied the eyshadow on my hood. I used Confection on the browbone first. Then I applied Vintage and blended it upwards and outwards, trying to diffuse it. I added Americano to the outer hood to deepen the color and then went back over with more Vintage. I used a bit of Tako to blend out the edges (especially right under the eyebrow).
This weekend I've got so much I want to accomplish. I'm also spending time with friends I haven't seen in a while. We're going to go see the Last Witch Hunter with Vin Diesel.
What are your weekend plans?