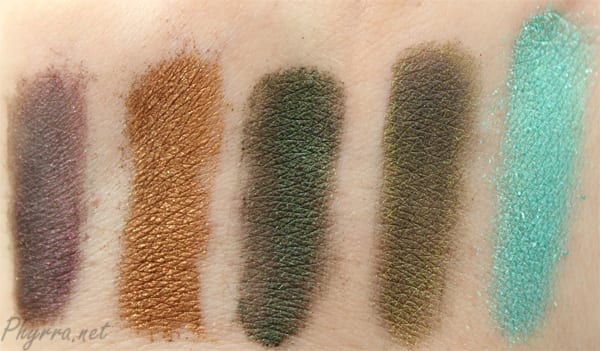 I've got swatches and a review of the new Fyrinnae Burlesque Collection for you today. If you saw my recent Phyrra Says video (Vol. 14) you would have caught my swatches of these shades. If not, check out the video!
Fyrinnae Burlesque Collection Review
Fyrinnae is vegan and cruelty free.
Price
$6.80 (full size) Arcane Magic
$6.25 (full size) Loose
$2.25 (mini jar)
Availability
Fyrinnae.com

Gaiety
Gleaming, glittering, cheerful aqua! A light but vibrant shimmering blue-green is further enhanced with plenty of coordinating sparkle. Named in tribute to the now defunct "Gaiety Male Burlesque" in NY.
My Take
This reminds me of MAC Aquadisiac, only this is more shimmery/glittery. I would recommend a sticky base to make the most of this shade.

Cabaret Noir
Vibrant lime green shimmers on a soft black base, but changes to deep turquoise blue at an angle or closer to light. Similar to Dark Fantasy initially, but more chartreuse and contrasting.
My Take
This is a gorgeous, velvety lime green on a black base. It's hard to capture the deep turquoise blue shift, but you can see it a bit in my video. It's so complex and beautiful.

Brazen Burlesque
Smoky emerald shimmer mingles with a dash of copper sparkle on a black base. At an angle or closer to light it becomes a deep cobalt to blue-violet with golden sparkle on black. (if you like our Velveteen Werewolf, try this one!)
My Take
Rich emerald with a charcoal base.
Bawdy Librarian
This is no basic brown! This, my good guys and dolls, is a lush, shimmery, golden brown rich with gold sparkle. Cameras cannot capture its true beauty; you must get to know the shade in person. Warm-toned, but would work well on many skintones. Darker than it appears here, but gleams in light.
My Take
This is a rich gold on a brown base with bronze tones. It's a wonderful, metallic shade.

Devilish Debutante
Magenta shimmer is entwined in soft black, making this an excellent liner, or a dramatic dark lid shade. Closer to light or at an angle, it becomes a coppery to golden-green hue. Slightly darker than it appears. Similar in hues to Alchemist's Curse, but more vibrant and without sparkle.
My Take
This reminds me of Cult Nails Disillusioned. It's a gorgeous charcoal black with magenta shimmer threaded throughout.
Fyrinnae, being delightfully sneaky, released 2 more new shades, which I have purchased and I cannot wait until they are on their way to me.



Titania's Bottom
Rich gold filled with fine light red shimmer at a distance, but closer to light it turns a very green-gold, almost metallic chartreuse.  (eyeshadow)
Royalty
Vibrant violet blush which doesn't blend down to a warm shade. It will rub down to a blue-violet hue, but with gentle blending or heavier application will remain more purple. Nearly matte, deeper and cooler than Seduce (slightly warmer than it appears here). Often requested shade, new in 5/2014. Lip-Safe and eye-safe.  (blush)As usual, I'm happy with my Fyrinnae eyeshadows. If you're thinking about giving Fyrinnae a try, I highly recommend them.
What shades do you like best from the Burlesque collection? What are your favorites from Fyrinnae?
Last Updated on