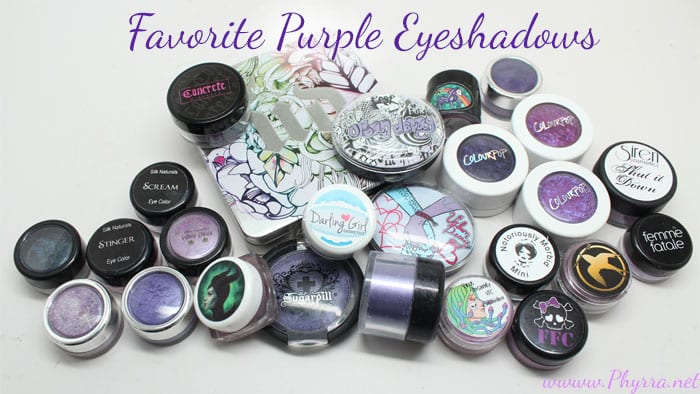 This is a reader request – my favorite purple eyeshadows. Some of these are LE (limited edition), but many are permanent shades.
Favorite Purple Eyeshadows
All brands are cruelty free. Many are vegan.

If you like this video please give it a thumbs up and subscribe!
1. Urban Decay Electric Palette – Urban; Build your Own Palette – Omen, Gravity, Flash, Asphyxia, UD Frigid, UD Freakshow
2. Sugarpill Hysteric, Weekender, Poison Plum, Elemental Chaos, Frostine (vegan)
3. Darling Girl – Sushi Flower, The Count, Mistress, Dark Heart, Don't Teal Me You Love Me, Melancholia
4. Silk Naturals Siobhan, stinger, scream, romp, kick (vegan)
5. Fyrinnae When I Grow Up, Glitterboi, wake not the dead, because cats, cuddlefish, sequined master, mystical hedgehog, delvian, royalty (blush), matte liquid lipsticks desire, delicious (vegan)
6. Aromaleigh Phaedra
7. Meow Cosmetics Eerie, ROFL
8. Morgana Cryptoria Freaking Angels (vegan)
9. Virus Insanity XTC
10. BFTE Midnight Kisses, Love Potion #9
11. Concrete Minerald Wanderlust (vegan)
12. Geek Chic Starcrossed Lovers (vegan)
13. Notoriously Morbid Morgana (vegan)
14. Siren Cosmetics Shut It Down
15. Scaredy Cat Cosmetics Poysenberry Pie
16. Colour Pop Lace, Fantasy, Dare
17. Makeup Geek Duchess, Pop Culture
18. Femme Fatale Cosmetics Haunt, Shooting Star, Inner Madness
What are your favorite cruelty free purple eyeshadows?