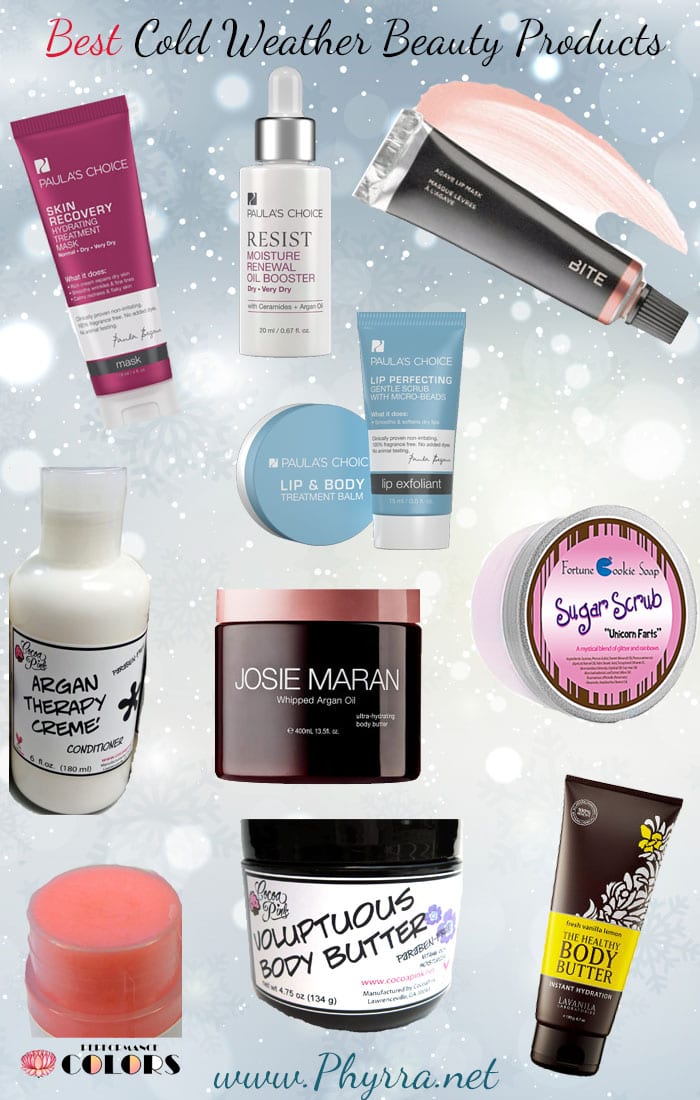 Happy Top Ten Tuesday! Today I'm sharing my 10 best cold weather beauty products. First, and I probably don't need to say it, I hate the cold. I grew up in the Midwest, dealing with the snow, ice and extremely dry air. Yuck!
10 Best Cold Weather Beauty Products
All brands are cruelty free. Some products are vegan.
1. Bite Beauty Agave Lip Mask
While I loved the original lip mask, I hated the original packaging since the tube sprang leaks. I was so happy when Bite came out with new packaging, which is why I picked up a tube of the Champagne (which really looks like a subtle rose gold). I'm almost finished with that first tube of Champagne, which thankfully did not leak at all! I have a second tube of Champagne ready for me to break into it once the first is completely done. I wear this mask any time I am not wearing a lipstick. I sleep in it. I put it on first thing in the morning. I live in this mask and I love it! It recently came out in a red tinted version, too.
2. Fortune Cookie Soap Sugar Scrub
Skin gets dry in the winter air, and especially if you have to run the heat. Using a good sugar scrub to knock off the dry skin will help. I love this one. Bonus, it's paraben free! I love my Unicorn Farts scent.
3. Cocoa Pink Voluptuous Body Butter
Made with over 30% organic refined shea butter, babassu oil, rice bran oil, avocado oil, meadowfoam oil and calendula oil, this is an awesome body butter for moisturizing the skin. And did I mention it's vegan? Cinderella's Carriage smells divine in this body butter. (vegan)
4. Cocoa Pink Argan Therapy Creme
Lately I've been using this as a deep conditioning mask in my hair. I'll leave it in for 15-20 minutes and then rinse it out for super silky soft hair. It's made with argan oil and coconut oil, so it's great for adding moisture into my hair without weighing it down. I love Black Chocolate Raspberries or Cinderella's Carriage in this. Though I've used Naughty Pumpkins too.
5. LAVANILA the Healthy Body Butter
This comes in so many nice scents, I especially like Vanilla Lemon, Vanilla Summer and Vanilla Coconut. It's made with 100% pure shea and cocoa butters.
6. Paula's Choice Luscious Lips Duo
This is a new duo I picked up recently to help combat dry, flaky lips. The Lip scrub is great for gently exfoliating lips. The Body treatment can be used on the lips or anywhere else. I really love the lip scrub! (lip scrub is vegan, lip balm is not, see Paula's Choice non-vegan products here)
7. Paula's Choice Moisture Renewal Oil Booster
If you still feel like you have dry skin and your normal moisturizer isn't cutting it, consider giving the Moisture Renewal Oil Booster a try. It's got borage seed oil, echium plantagineum seed oil, evening primrose oil, jojoba oil, cranberry seed oil, sunflower oil, safflower seed oil, apricot kernel oil and ceramides blended together to help moisture sink into your skin instead of sitting on top of it. It's been a life saver for me this Winter. (vegan)
8. Josie Maran Whipped Argan Oil
I've heard amazing things about the Whipped Argan Oil. It has argan oil, shea butter, avocado oil and white tea extract along with aloe vera. So it's supposed to sooth and moisturize the body. Plus, it comes in Vanilla Apricot scent! Yum! (vegan)
9. Performance Colors Lip Repair
This is a quick penetrating lip moisturizer that lives up to its name. It has jojoba oil, macaddamia oil, aloe vera, sodium hyaluronate, Vitamin E and shea butter. It's not greasy, it's great if you just want to swipe and go.
10. Paula's Choice Skin Recovery Hydrating Treatment Mask
Finally, a cold weather list would be nothing without a face mask! I really like this hydrating mask from Paula's Choice. It has macadamia nut oil, april kernel oil, olive oil, evening primrose oil, Vitamin C, sodium hyaluronate, borage seed oil and Vitamin E, all whipped together to restore radiance to your face. (vegan)
What are your must have beauty products for cold weather?
Loading InLinkz ...

Last Updated on