Happy Makeup Wars Monday! For this Makeup Wars we're sharing our favorite perfumes. I used to buy just one bottle of perfume and wear that daily until I finished it. I have my scents denoted below as daytime and nighttime so that you know when I prefer to wear them. However, I do believe you can wear whatever fragrance you want whenever it strikes your mood, so think of those notes as suggestions.
My Favorite Perfumes
Before I started blogging, I'd moved to having around 3 perfumes that I rotated – Alfred Sung Shi, Hugo Boss Deep Red and Kenneth Cole Black. I don't believe any of these are cruelty free.
Shi – Water Lily, Fig Leaves, Orange, Frangipani (daytime)
Black – a delicate aroma of lush florals, citrus, sandalwood and musk, a warm fragrance.(nighttime)
Deep Red – Top notes Clementine, Blood Orange and Blackcurrant, Heart notes Freesia, Pittosporum and Ginger Flower, and Base notes Sandalwood, Cedarwood and Vanilla. This one always made me feel sexy. (nighttime)
For help finding cruelty free perfumes, please check out my Beginner's Guide to Cruelty Free Perfumes.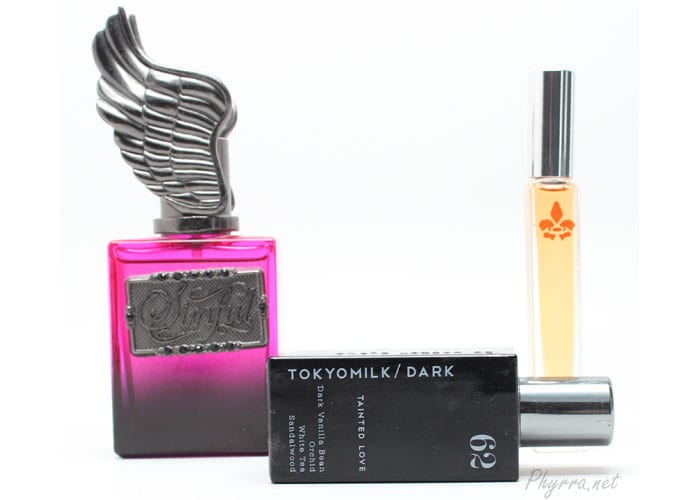 Since I now buy only cruelty free perfumes, I usually stick to independent companies that you can't find in department stores.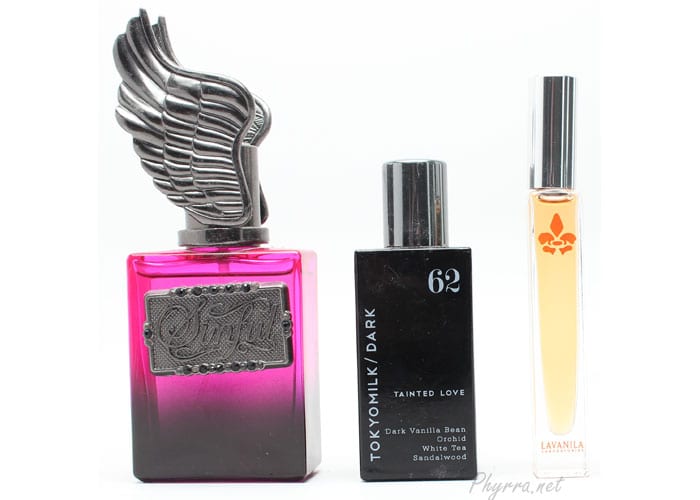 My favorite department store perfumes are TokyoMilk Dark Tainted Love and Tru Fragrance Sinful. I also enjoy some of the LAVANILA scents, like Vanilla Summer.
Tainted Love – Dark Vanilla Bean, Orchid, White Tea, Sandalwood. (nighttime)
Sinful – top notes of mandarin, grapefruit and raspberry, mid notes of rose, gardenia and sparkling mimosa, base notes of sandalwood, patchouli and tonka bean (nighttime)
Vanilla Summer – Tropical mango, juicy pineapple, creamy coconut milk, and island sugar cane are steeped in base of warm Madagascar vanilla for the ultimate summer scent. (daytime)
There are a lot of great indie perfume companies out there, but my favorites are BPAL, Cocoa Pink and Fortune Cookie Soap Co.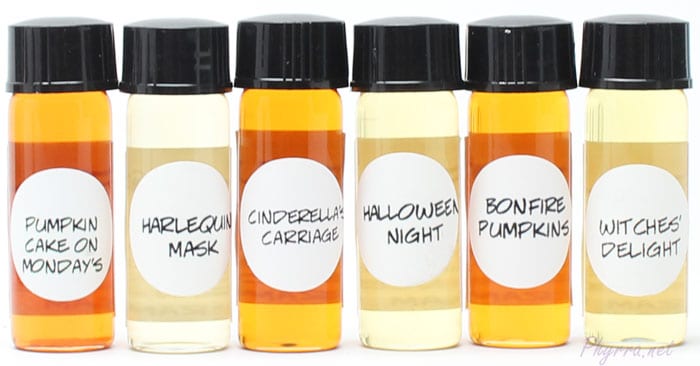 My favorite scents from Cocoa Pink are almost all pumpkin themed. Bonfire Pumpkins is a smoky scent that I didn't expect to love, but I do. I don't normally like smoky scents. Cinderella's Carriage is a perfect sexy foodie type scent. Harlequin mask is a soft shea and vanilla scent, another scent I wasn't sure if I'd love but I do.
Cinderella's Carriage – What did Cinderella really wish for? We think it was this blend of Coconut Cream Pie with Marshmallow Meringue, Sweet Pumpkin, Spiritueuse Double Vanilla, and Vanilla Bean Noel. (nighttime)
Black Chocolate Raspberries ~ Fresh, juicy raspberries coated in a layer of rich dark chocolate with a hint of seduction. (nighttime)
Harlequin Mask – Smooth shea gently sweetened with tinges of warm vanilla, yellow pear smothered within gobs of golden honeycomb (daytime)
Halloween Night – Honeycrisp apples coated in buttery melted caramel, bourbon vanilla, crumbles of muscavado sugar, white sugar and candy corn. (daytime)
Pumpkin Cake on Mondays – pumpkin and delicious sponge cake made with almond extract, vanilla, and a hint of cinnamon, then slathered in cream cheese buttercream frosting. (nighttime)
Bonfire Pumpkins – This scent started out as an accident then turned into my personal all time favorite scent. This year I decided to share. We accidentally mixed Pumpkin porridge with Marshmallow Fireside and created a sensational creamy bonfire scent with notes of maple oats drizzled with pure golden clover honey, a pinch of muscovado sugar all topped with a dollop of sugared pumpkin puree plus toasted vanilla marshmallows over a roaring fire. This is a smoky scent. (nighttime)
Witches Delight – Brimming with the true olfactory essence of the fall season! Soft buttery vanilla cookies dusted with orange and black sugar, fresh cranberries, blood orange oil, dark brown sugar, Turkish mocha whipped with shards of bitter almond, roasted hazelnuts tempered with a cool blast of iced vanilla. (nighttime)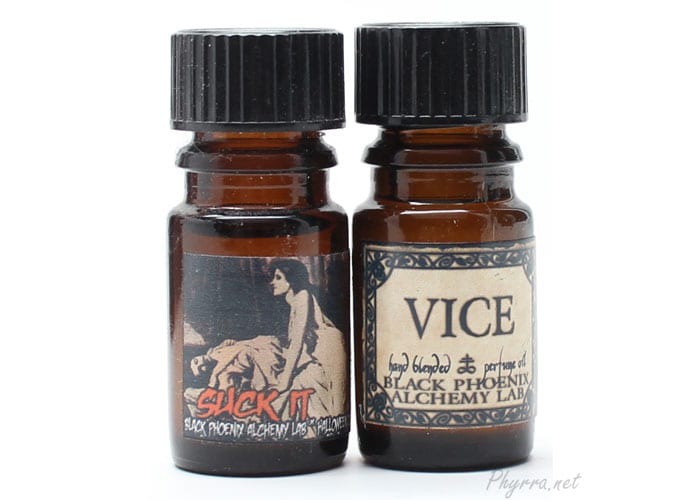 With BPAL, it can be overwhelming to figure out where to begin and they have so many complex scents. The two I reach for over and over again are Vice and Suck It. I also love Lady Death Savage.
Vice – Black cherry, dark chocolate and hints of orange (anytime)
Suck It – Sexy and suckable: black cherry brandy and a whisper of red wine. (nighttime)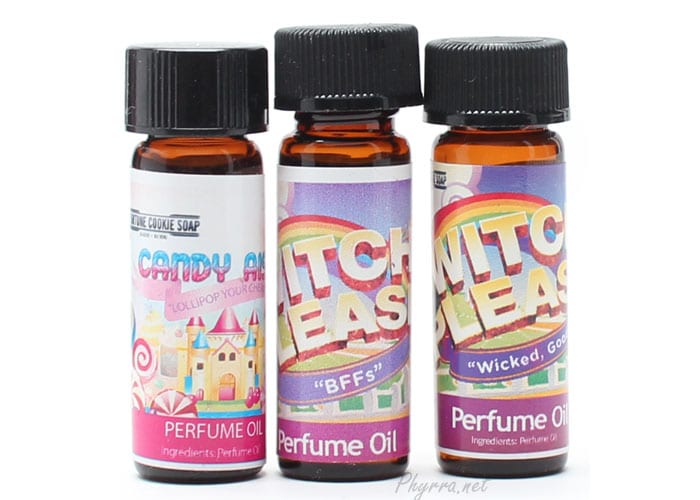 Fortune Cookie Soap Co has a mix of great scents. I have 3 and I'm lusting after a fourth, Unicorn Farts.
BFFs – Blueberries and pumpkins might be considered an unexpected friendship, but in this unique scent, they're inseparable! Sticky sugared blueberries and luscious baked pumpkin with all the fall spices atop a warm cake accord.(daytime)
Wicked, Good – Because orange would have been too obvious! Sweet pumpkin pie filling with the perfect touch of cinnamon, ginger and brown sugar, finished with a generous dollop of fresh whipped cream. (nighttime)
Lollipop Your Cherry – Cherries, cherries and more cherries swirled with vanilla, and a hint of orange and pineapple. (daytime)
What do you like to wear during the day? Do you change it up at night?
[inlinkz_linkup id=438619 mode=1]