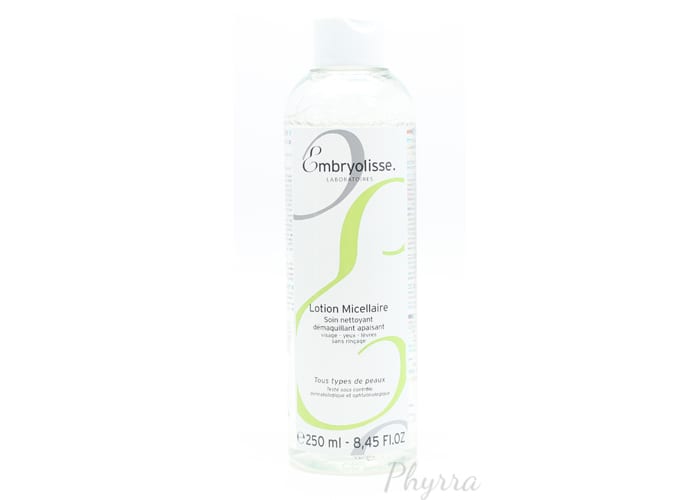 Now that I'm on my second bottle of the Embryolisse Micellar Cleansing Makeup Remover I knew I needed to review it for you. I received my first bottle as a press sample at the Makeup Show Orlando and I bought my second bottle recently. This is touted as a gentle, total cleansing product suitable for the entire face, and yes that means the eyes, too.
Embryolisse Micellar Cleansing Makeup Remover
Where to Buy
Embryolisse, Amazon, Sephora
Price
$32 for 8.5 fl. oz.
About Embryolisse Micellar Cleansing Makeup Remover
This Micellar Lotion is so gentle it is suitable for even the most sensitive skin – it contains micelles (gentle cleansing agents) in solution in cornflower, camomile and witch-hazel water, combined with glycerin to soften, soothe and tone the skin.
Ingredients
Aqua. Centaurea Cyanus. Anthemis Nobilis. Hamamelis Virginiana. Peg-6 Caprylic, Capric Glycerides. Glycerin. Methyl Propanediol. Hydroxyde De Sodium. Polysorbate-20. Lactic Acid. Polyaminopropyl Biguanide. Parfum.
Micellar water is a light, effective cleanser that is made of micellas, aka tiny oil molecules suspended inside it. Basically these little oils grab onto the makeup and dirt on your face and help to remove them. Since you don't have to scrub your face, this makes it a gentle cleanser.
The Embryolisse Cleansing Makeup Remover is great on my sensitive skin. I saturate a cotton round and and then gently rub my face to remove my face and eye makeup. While this works well on my face, it does take more for my mascara and eyeliner. With my eyes being so sensitive, I saturate another cotton round and gently rub down my lid and lashes, trying to carefully focus on my lashes. So you can expect it to easily handle your face makeup and eyeshadow, but you'll need a round 2 on your lashes and liner.
On that note, it doesn't irritate my eyes, even when I use it to carefully remove liner from the waterline. This is a big plus in my book.
I like that after I use it, I don't need to wash my face with soap and water. It's supposed to gently tone the face, too. After using this, I like to apply a serum and then night time moisturizer. On occasion I will splash some cool water on my face and pat dry, then go for the serum and moisturizer.
The only thing I don't care for with this product is that it has a light sort of floral scent. I'm lucky this doesn't irritate my skin or my eyes.
Since I've already repurchased once, I'm likely to repurchase this again. I love that it feels like water but actually works to dissolve my makeup.
Have you heard of micellar water? Let me know below!