As you know, I normally prefer foodie scents. I like my pumpkin, pineapple, vanilla, and marshmallow. Today I bring you something different – Embellish perfume by B Fragranced. B Fragranced (owned by Alpha Aromatics) is cruelty free.
Embellish retails for $54.00 for a 1.7 oz. bottle and $76.00 for a 3.4 oz. bottle at www.bfragranced.com.
It's described as
Classy, Romantic and Glamorous… all characteristics of a sophisticated lady. An indulgent, light, fragrance, Embellish infuses sparkling notes of apple and peach with a splash of citron. Effervescent notes of jasmine and honeysuckle balance the base of soft amber and sandalwood.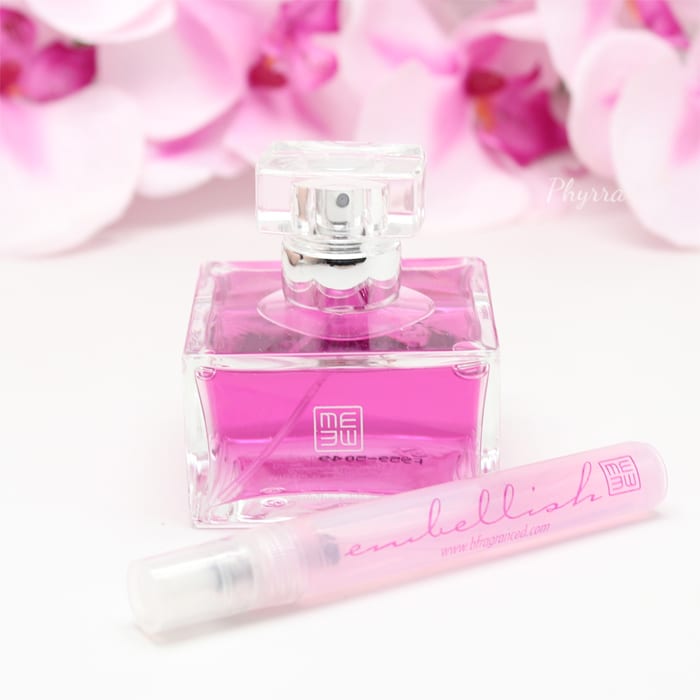 I like the simple, square packaging and fuchsia pink color.
As you know, scents are very subjective. Perfume smells different on everyone based on personal body chemistry.
When I first spritz it on me, I smell sweetness, almost like a foodie scent. Then I'm hit by the honeysuckle and I can't really detect jasmine. Later I pick out the hints of amber and sandalwood. Finally it mellows out until I can only pick out amber. I really like it on me. One of my favorite indie perfumes is made of black cherry and amber, and it mellows in a similar fashion to that scent.
I really like that it doesn't smell overly flowery, since I really don't like super strong floral scents. Give me sweetness any day! I love sandalwood, but I don't really detect any strong notes of sandalwood in this scent.
While I applied it sparingly – a spritz on each wrist, it did last about 4 hours on me. The throw wasn't very big when applied like this, not until I was within a foot of someone. Dave really liked how this smelled on me.
If you like sweet scents that mellow out to amber without ending up powdery, this is definitely a perfume to check out. I really like it.
You can read about what inspired this perfume in an interview here.
What type of perfumes do you prefer? Foodie, floral, woods, spicy or clean?