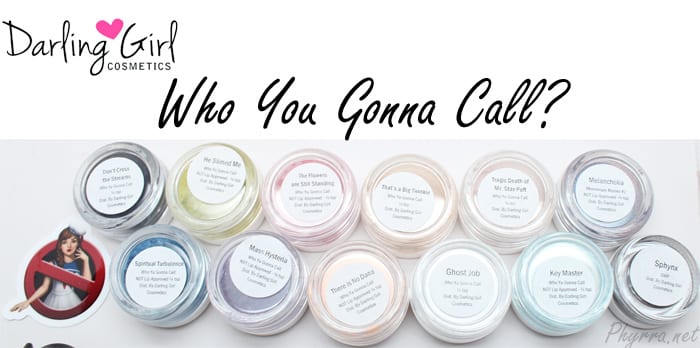 I'm excited to share with you the Darling Girl Who You Gonna Call? Halloween collection. This collection is inspired by Ghostbusters, one of my favorite films as a kid. This may have been the film that sparked my love of paranormal / urban fantasy.
Darling Girl Who You Gonna Call Review
Darling Girl is cruelty free.
Availability
Darling Girl Cosmetics
Price
$5.90 full size (5g jar)
$2.50 petit jar (3g jar)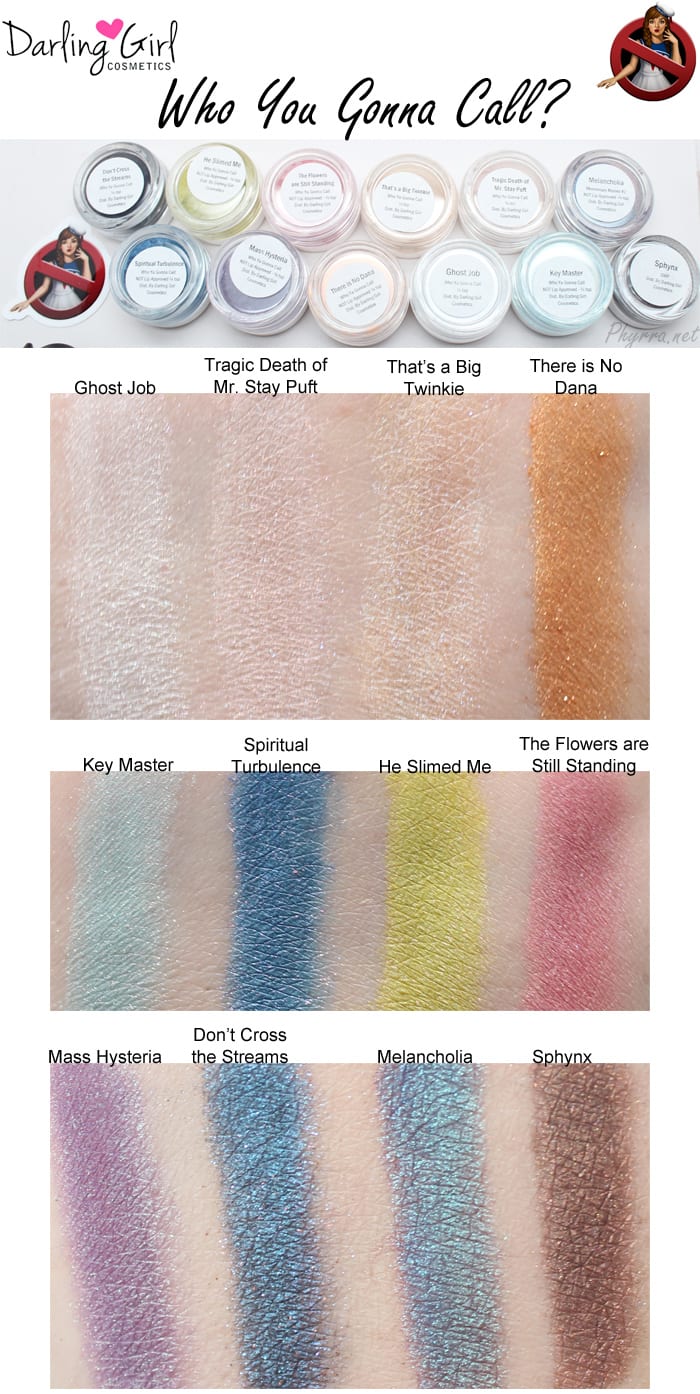 Swatched on Ofra's Primer.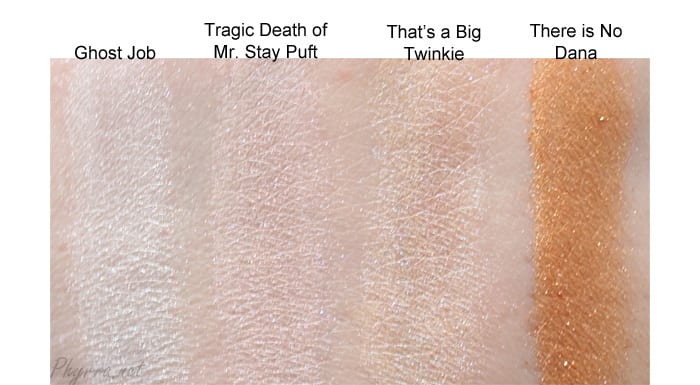 Ghost Job
A irresistable sparkly silver-y white just like the dreamy phantasmal seductress which enchanted Dr Spantz. While you may not make people pass out from the beauty of this shadow, they may secretly dream about you.
My Take
silvery white with multi colored sparkle
Tragic Death of Mr. Stay Puft
A light toasted tan with a hint of blue, red and gold iridescence just like the adorable toasted villain we loved. No need to worry about catching fire from the beauty of this color even if heroes are in the room.
My Take
light beige with pink iridescence and multi-colored sparkle
That's A Big Twinkie
A delicate light golden brown combined with a blue sheen and blue iridescence like the snack cake we all grew up with. But have no fear, indulge to your heart's delight since there is no worry of nasty calories and psychokinetic energy getting in the way.
My Take
light yellow-toned beige with multi-colored sparkle, i see blue and violet iridescence
There is No Dana
A bright copper with a gold shift and sparkles just like the dress when Zuul made her fabulous appearance. Possession never looked looked so fabulous!
My Take
copper with a golden bronze shift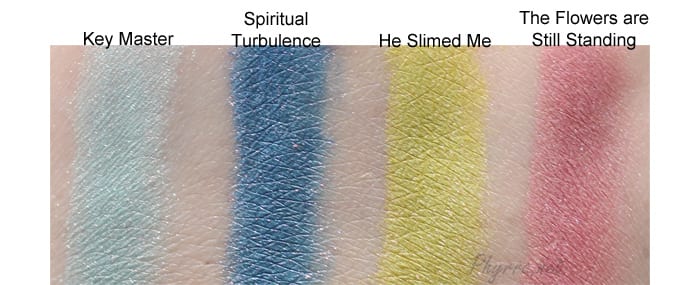 Key Master
While we all know that the Key Master may had humble beginnings, his shadow counterpart is anything but humble. Key Master a delicate minty aqua combined with a golden sheen and silver iridescence like the money our favorite accountant makes for all his clients.
My Take
light icy blue with silver overlay and multi colored sparkle
Spiritual Turbulence
A fascinating combination of blue and purple (blurple) with pink and purple sparkles. While this color may transform more towards purple depending on the light.
My Take
deep royal blue with strong pink iridescence and pink and copper sparkle
He Slimed Me
A brilliant chartreuse with a green/gold shift and pink sparkles that may cause others to stop and look at your other worldliness. Slime and brilliant witty Doctors not included.
My Take
rich chartreuse with gold and pink sparkles
The Flowers are Still Standing
An alluring combination of a light rosy pink combined with a golden green sheen and blue sparkles. This color is elegant enough to look amazing even during a ghostly capture while ripping table cloths off the table.
My Take
midtone pink with pink and blue and violet sparkles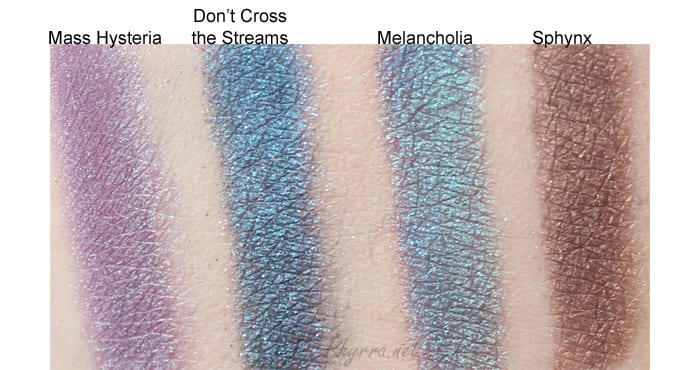 Mass Hysteria
A medium purple entwined with a green to pink shift which may even appear to have a slight blue sheen at some angles. While this color is dazzling enough to cause mass hysteria, there is no need for human sacrifices but dogs and cats living together is perfectly acceptable.
My Take
midtone purple with pink iridescence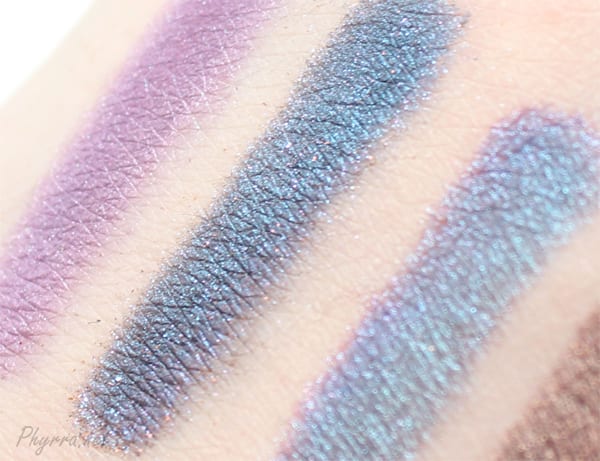 Don't Cross the Streams
A stunning combination of dark blue with a electric blue shift and orange sparkles similar to those famous streams that saved the world.While your body won't explode at the speed of light, however we are not responsible for all life as know if from stopping instantaneously at this gorgeous shadow.
My Take
deep midnight blue with royal blue and pink sparkles
I really love the indigo tones of Don't Cross the Streams. It's a really stunning shade.
Melachonlia
deep blue with purple iridescence
Sphynx
deep brown

If you like this video subscribe and give it a thumbs up!
Don't Cross the Streams and Spiritual Turbulence make great crease and liner shades.
Ghost Job is great for highlighting at the inner corner.
Tragic Death of Mr. Stay Puft and That's a Big Twinkie are shades that would look great on the inner lid or as highlighters.
He Slimed me, the Flowers are Still Standing, Key Master and Mass Hysteria would make great lid shades.
The colors I like the best from the Who You Gonna Call? collection are Tragic Death of Mr. Stay Puft, Don't Cross the Streams, Mass Hysteria, Ghost Job, He Slimed Me and Spiritual Turbulence. I LOVE Melancholia (the Momentary Marvel).
What shades do you like best? Let me know below!
Last Updated on