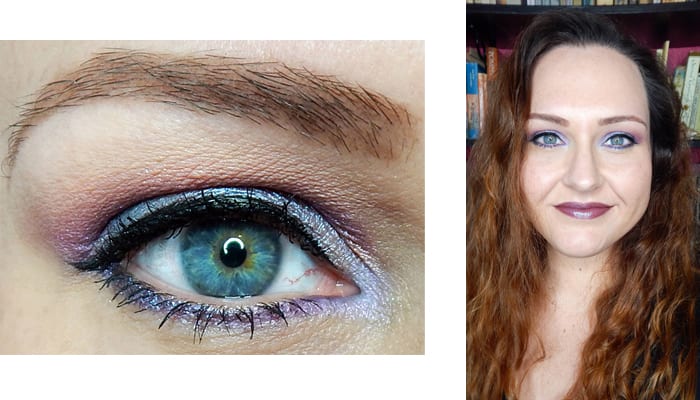 Today's post features my friend Sam from Kiss my Sparkle. Sam and I share a love of Darling Girl Cosmetics. She was as excited as I was for the Monster High inspired Ghoul School collection.
Darling Girl Ghoul School Look
Hi! I'm Sam from Kiss My Sparkle beauty blog. I've known Phyrra for a few years now, and have always relied heavily on her blog for her swatches and reviews, so I was delightfully surprised when she asked me to do a look for her blog while she's recovering from her eye surgery. Let's all send lots of sparkle wishes for a speedy recovery in Phyrra's direction!
I've been a makeup enthusiast for as long as I can remember. At a friend's urging, I started the Kiss My Sparkle beauty blog several years ago as a place to write about and share the various products I'm currently enjoying. I particularly love eye shadows—there are just so many beautiful colors, textures, and finishes, and I can't get enough of them!
One of my favorite cosmetic companies is the small indie company, Darling Girl Cosmetics. The first place I read about Darling Girl was here on Phyrra's blog, so I thought it only fitting that I should do a look for this post using some of the colors from a new eye shadow collection that Phyrra collaborated on with Darling Girl, the "Ghoul School Collection." I created this look using all Ghoul School eye shadows, plus a beautiful Darling Girl blush and two fabulous Darling Girl lippies.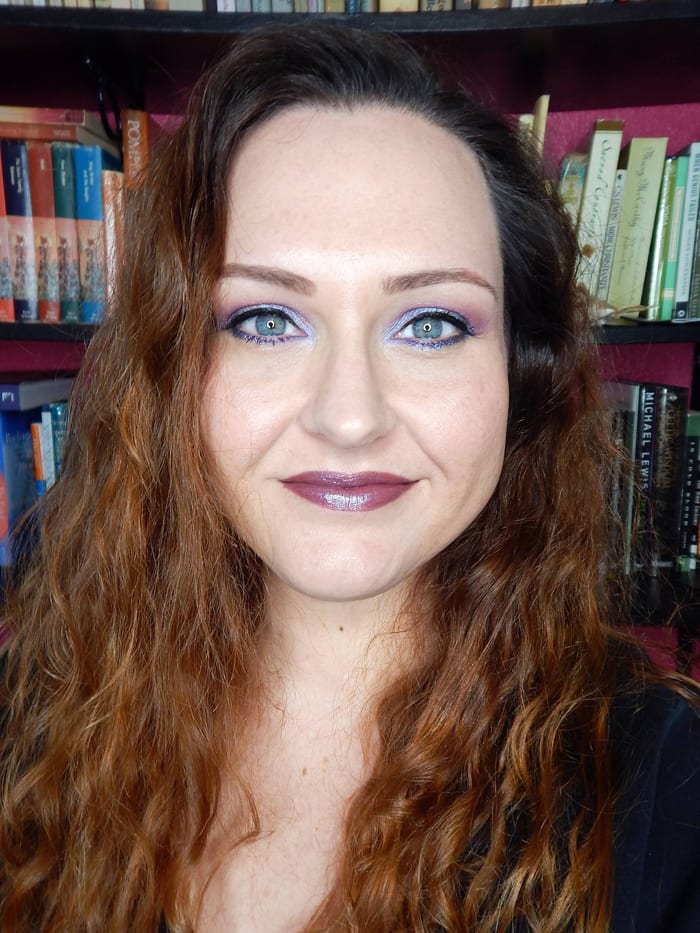 Eyes
Too Faced Shadow Insurance all around eye area
Darling Girl Cosmetics:
– Glitter Glue all around eye area
– Calla on brow bone
– Goth Moth to transition from brow bone to crease
– Vegan Vampire in crease
– Equestrian Couture on inner 2/3 of moving lid
– Stitched In Style on outer 1/3 of moving lid
– Rockstar Diva on outer 2/3 of lower lid
– Scarisian Artist on inner 1/3 of lower lid
– Snowboarding Cutie as inner corner highlight
Urban Decay Ink For Eyes Waterproof Precision Eye Pen lining upper lashes
Urban Decay Perversion Mascara (two coats, upper and lower)
Gerard Cosmetics Brow Bar To Go in Medium to Ebony on brows
Face
Tarte Clean Slate Perfecting Primer
Illamasqua Skin Base in Shade 8.5
NARS Light Reflecting Loose Setting Powder
Darling Girl Cosmetics Don't Eat The Apple Inner Glow Blush
Lips
Darling Girl Cosmetics Pucker Paint Matte Lip Cream in Punky Princess
Darling Girl Cosmetics Balm Gloss in Fairy Wings on top of Punky Princess
I hope you enjoyed my Ghoul School look!
Be sure to check out Sam at her blog! You can also find her on twitter, Pinterest and instagram!