Current Makeup Favorites February 2018
Thank goddess it's Friday! Today I'm sharing my cruelty free current makeup favorites for February 2018. I haven't done a monthly favorites video in a while and since it's really more the middle of the month, I'm not going to call it a monthly favorites. I've been super busy due to issues in my personal life (don't worry, my job is going well and my marriage is going well, I'll fill you in when I can), so I'm not getting enough sleep and barely having any time to blog or create videos (though I haven't missed my Wednesday videos).
I thought I included all the cruelty free makeup products I wanted to discuss in this video and then when I was editing realized I left 2 products out, so I added some text at the end. You know I'm not typically a bronzer girl, I rarely wear it, but I've been loving the Laura Geller bronzer for my neutral makeup days. I put it on my cheeks and my eyes for a bit of natural color and it looks great. I also forgot to mention my Colorescience eyeshadow primer/color corrector spf 35. That product has been a life saver because it hides my dark circles and helps with the fine lines around my eyes. I need more quality sleep.
PR + Purchased by me.
Current Makeup Favorites Cruelty Free Makeup Look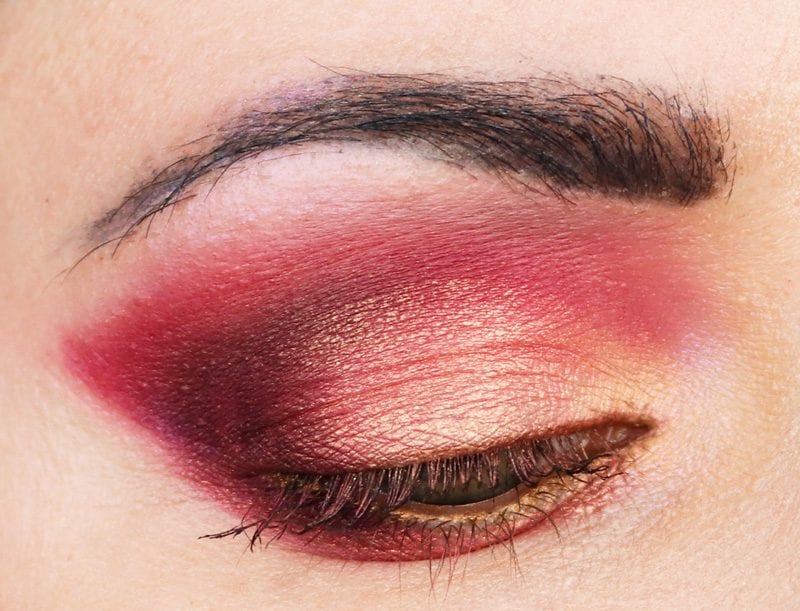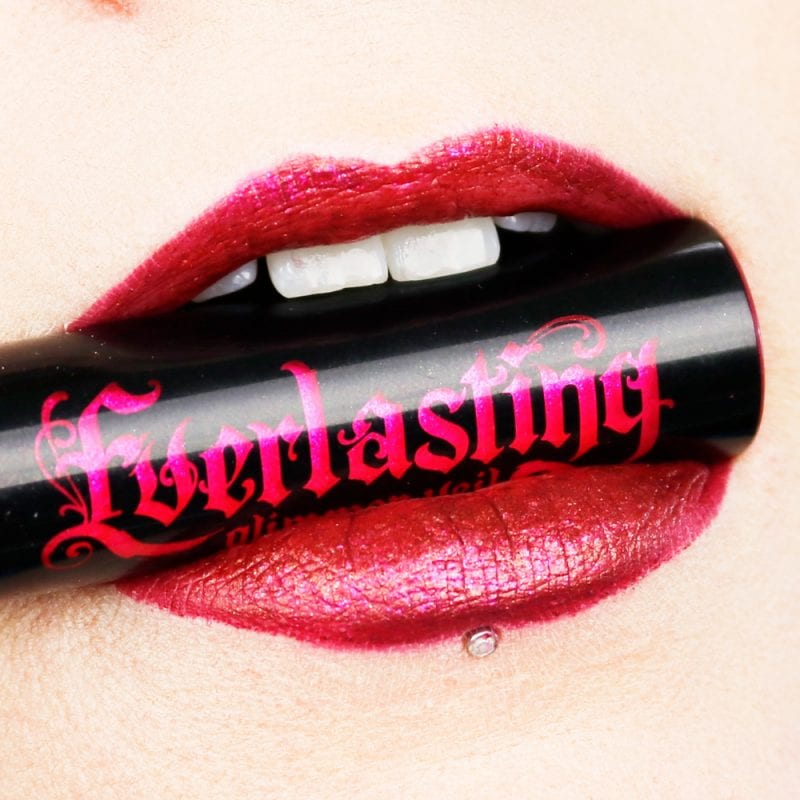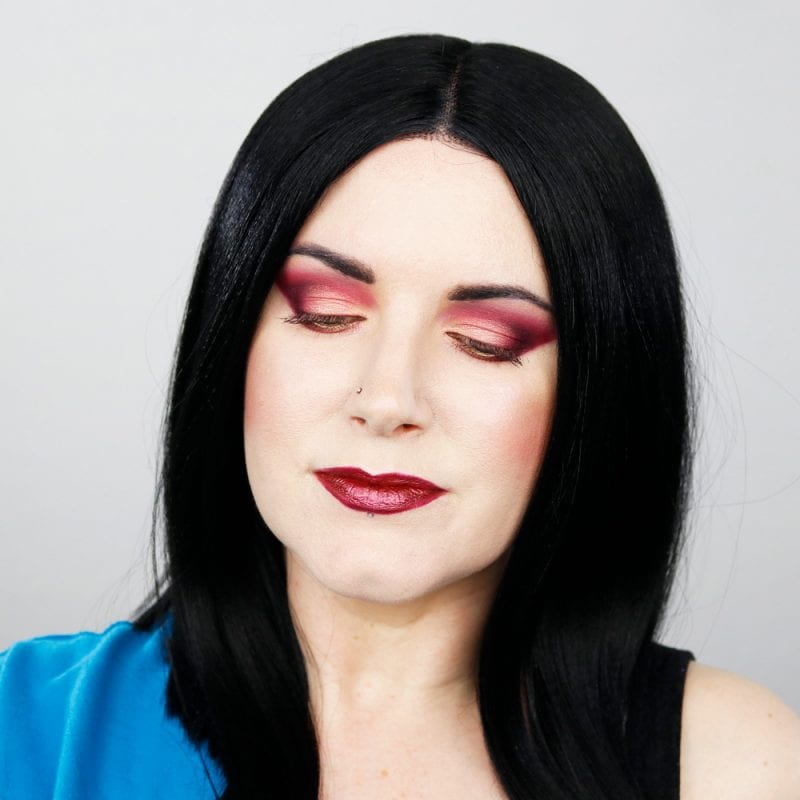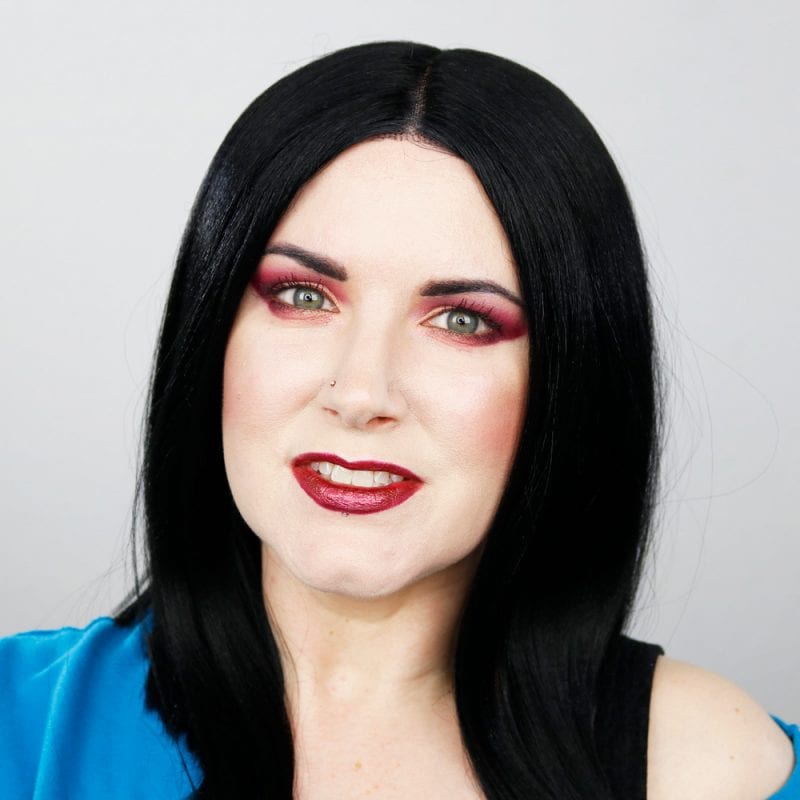 Eyes
Colorescience Total Eye 3-in- 1 Renewal Therapy SPF 35 Primer
Milani Prep Set Go Setting Powder
Anastasia Buon Fresco – transition
Suva Beauty Hookah – crease and lower lid
Makeup Geek Wild Fire – inner lower lid and lid
Nabla Millennium – inner lid and inner v
Sugarpill Poison Plum – outer v
Melt Meanstreak – outer v, upper lash line
Aromaleigh Ostara – highlight
Wunder 2 Essential Black Pencil – upper waterline
Urban Decay 24/7 Pencil in Scorch (try Smog) – lower waterline
Smashbox Mascara Primer
Urban Decay Perversion Mascara
Queen of the Fill Brow Gel in Black
Colour Pop Jet Set Black Brow Pencil
Face
Milk Luminous Blur Stick
Idun Minerals Nordic Veil in Jorunn
mixed with Hourglass Veil Mineral Primer
Laura Geller Balance-n-Brighten in Porcelain
BareMinerals Gen Nude Blush in Beige for Days – contour
Urban Decay Afterglow Blush in Score
Artist Couture La Peach – blush topper
Aromaleigh Ostara – highlight
Lips
Kat Von D Bloodmilk pencil
Urban Decay Conspiracy lipstick
Kat Von D Shockful and Dazzle glimmer veils
Nails
Pretty Serious The Pink One
KBShimmer I'm Onyx
To create my eyeshadow look for this video I used my DIY Jeffree Star Blood Sugar Palette Dupes. I did film a tutorial on it but I hate how the photos turned out. I keep having to move my lights around and then my lights + camera settings get changed and I take photos without them being on their optimal settings. Ug. My mistake for not remembering to check before I take photos.
Current Makeup Favorites Swatches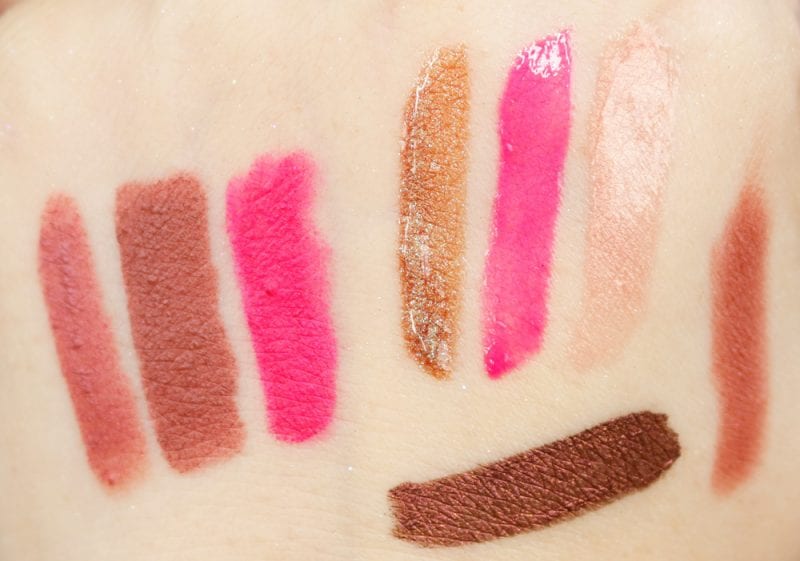 Row 1 – Night Mauves, Send Nudes, Flaming-Oh!, Ch-Ch-Changes, Whip It!, Love Buzz, Peyote
Row 2 – Eternal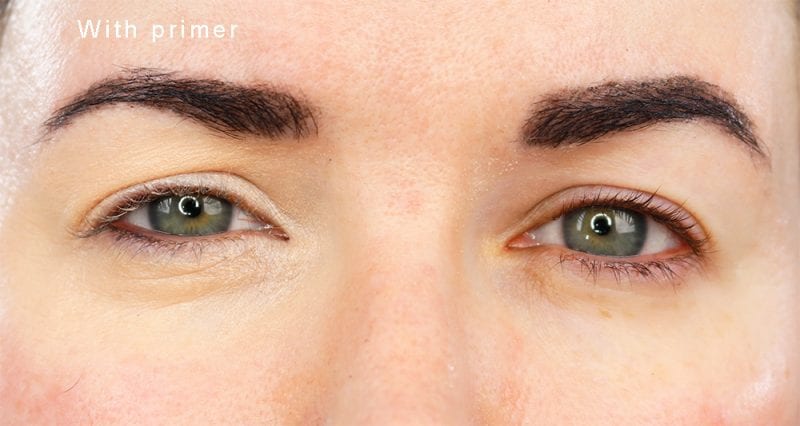 Here's the Colorescience Total Eye 3-in- 1 Renewal Therapy SPF 35 Primer on my pale skin. My left eye has primer. My right eye is naked.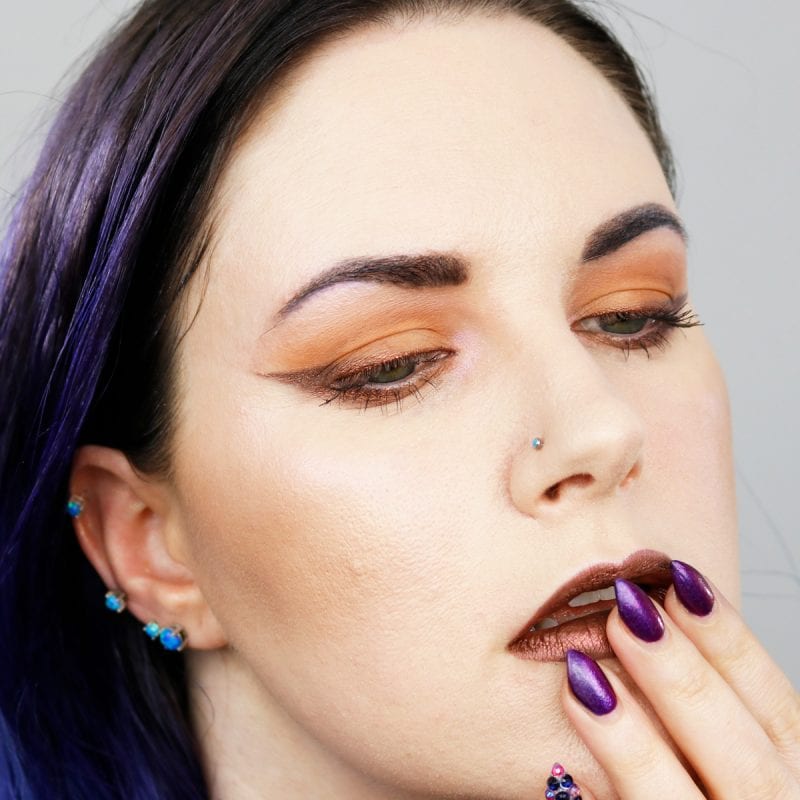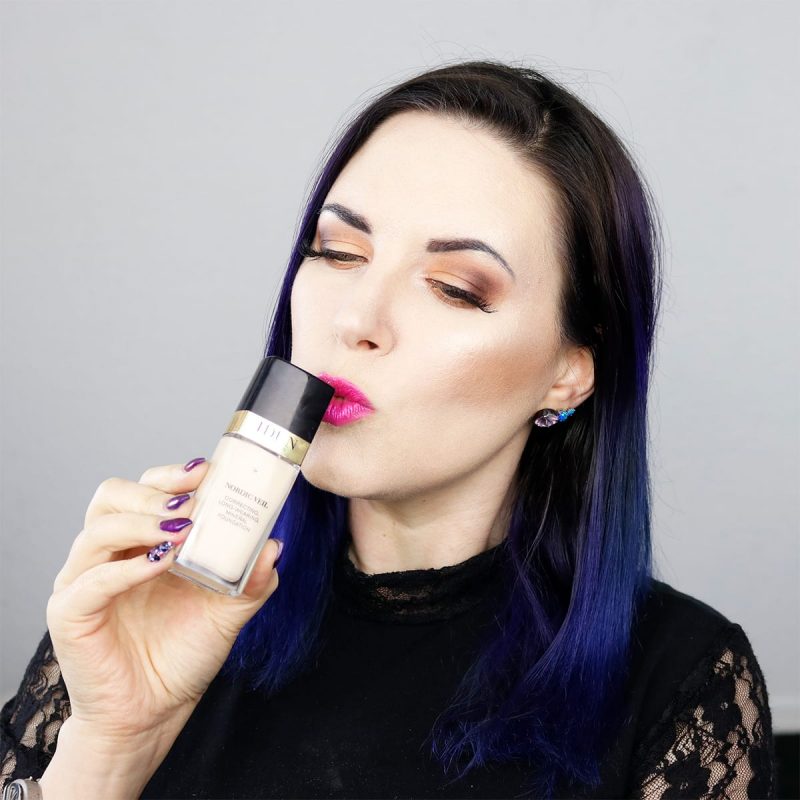 As I mentioned above, I forgot to mention in my video (due to my lack of quality sleep) that I've been loving the Laura Geller Beach Matte Baked Hydrating Bronzer in Sunrise Fair. I'm wearing it in both of the photos above. I find it gives me a nice glow without being super orange. I can now understand why a lot of bloggers like to wear bronzer as blush. I think it looks pretty flattering on me!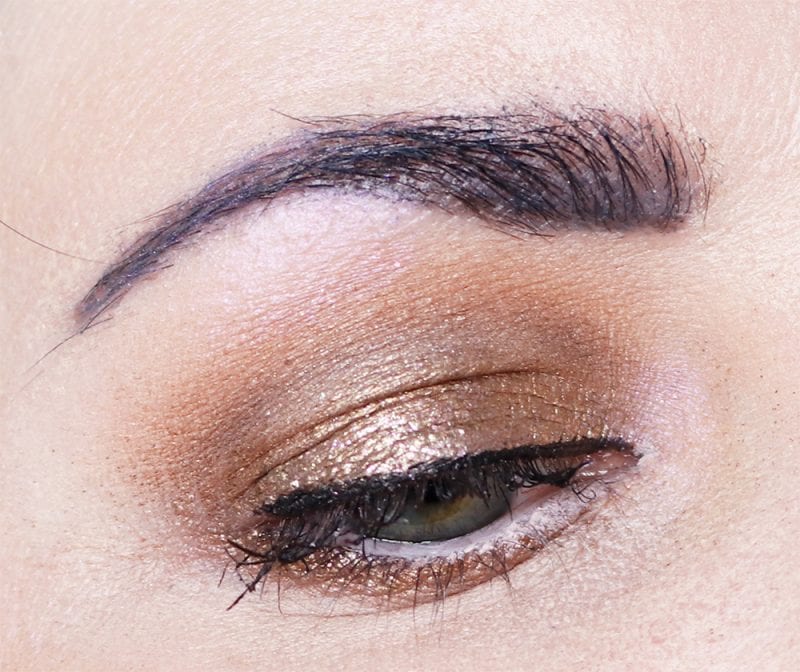 I  used Colorescience Total Eye 3-in- 1 Renewal Therapy SPF 35 Primer to hide my dark circles and as my eyeshadow primer in the look above. I layered 3 of the Urban Decay Heavy Metals neutrals on the lid and blended them into the crease. I used Sunrise Fair as my crease color. I then layered Stila Fairy Tale on the lid and lower lid.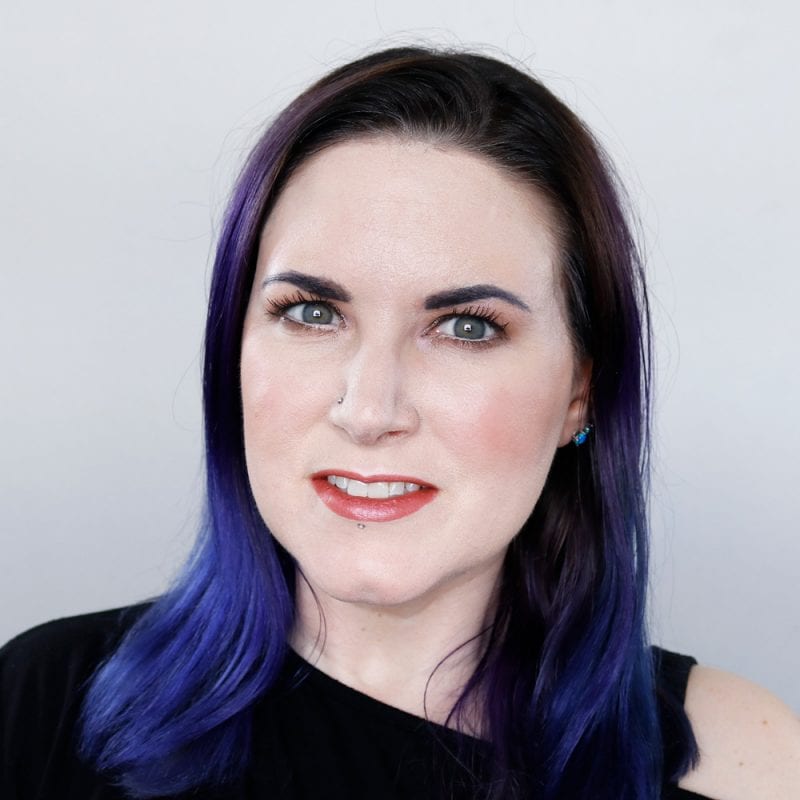 I'm wearing Marc Jacobs Le Marc Liquid Lip Crayon in Night Mauves along with Sunrise Fair on my cheeks. You can see how Night Mauves has a slight sheen when worn on the lips.
Current Makeup Favorites February 2018 Video
Cruelty Free Makeup Mentioned in Video
What are your current makeup favorites for February – old or new? Have you shopped your stash?