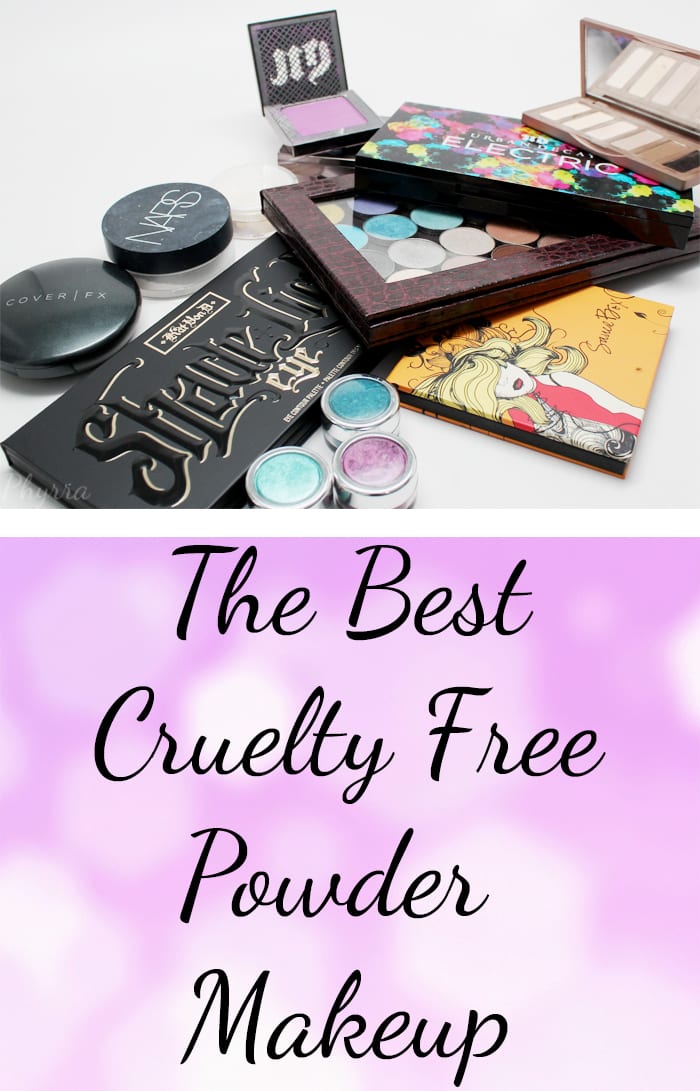 Happy Beauty Top Tens Tuesday! Today I'm sharing my top ten cruelty free powder beauty products. Powder foundation was probably my first makeup love and I'm always drawn to powder products over liquids. If I'm in a hurry, it's a powder product I generally reach for because I feel like they're more fool proof. Of course, now that I've been blogging for a long time, I'm all about the eyeshadows, so I've got several of my favorites below.
Pr + purchased by me.
Best Cruelty Free Powder Beauty Products
1. Cover FX Pressed Mineral Foundation in N10 (vegan)
I LOVE LOVE LOVE this pressed foundation! Shade N10 is a great match for me. I apply it with a dense powder brush. It works wonderfully whether I apply it wet or dry. To apply wet I use something like Nyx Dewy Spray or e.l.f. Studio Makeup Mist & Set (see more uses for e.l.f. Studio Makeup Mist & Set) on the brush to apply it.
2. Notoriously Morbid Osteomancy (vegan)
This is my favorite cool-toned highlighter! It's a silvery white with blue iridescence. So beautiful!
3. NARS Light Reflecting Loose Setting Powder
This is my all time favorite setting powder. It's great for setting eyeshadows or face makeup. It's super flattering because it diffuses light and helps to blur fine lines.
4. Urban Decay Eyeshadows (some are vegan)
I can't have a powder makeup post and not talk about my beloved UD. From the eyeshadow singles to the Naked Basics palette to the Electric palette, UD's eyeshadows are stunning.
5. Urban Decay Afterglow Blushes
I love the new blushes and they come in so many beautiful shades! See them here.
6. Makeup Geek Eyeshadows
Between the foiled and original shadows, MUG has an impressive line at a great price point. I love so many of the teals and purples. They also have several fun loose eyeshadows too. See the newest foiled here.
7. Fyrinnae Eyeshadows (vegan)
Fyrinnae makes so many beautiful eyeshadows it's hard to choose just one. Check out the arcane magics for super complex shades. They're all so lovely.
8. Sugarpill Eyeshadows (most are vegan)
Sugarpill is the queen of bright pressed eyeshadows! They also have pretty loose eyeshadows too. I love their pressed shades like Poison Plum, Afterparty, Dollipop, Kitten Parade and Mochi. See the 2015 collection here.
9. Saucebox Eyeshadows
I'm dying for my Saucebox Batalash palette to get here! I've loved every Saucebox palette I've picked up and their eyeshadows are huge, just like Sugarpill's. In fact, the 2 can be interchanged to create the ultimate palette. Learn about the Batalash palette or see my other reviews here.
10. Kat Von D Shade + Light Contour Eye Palette
As you know, I've loved Kat Von D for years and stated that they were cruelty free. Tashina from Logical Harmony worked with Kat Von D to verify that they were cruelty free with vegan options (see all the vegan items here). In this palette Laetus & Shax are vegan. I love this palette because it's mostly mattes that are surprisingly flattering on my skintone. I like the formula too. I even bought the brush, which comes in a coffin! How cute!
Loading InLinkz ...
Last Updated on