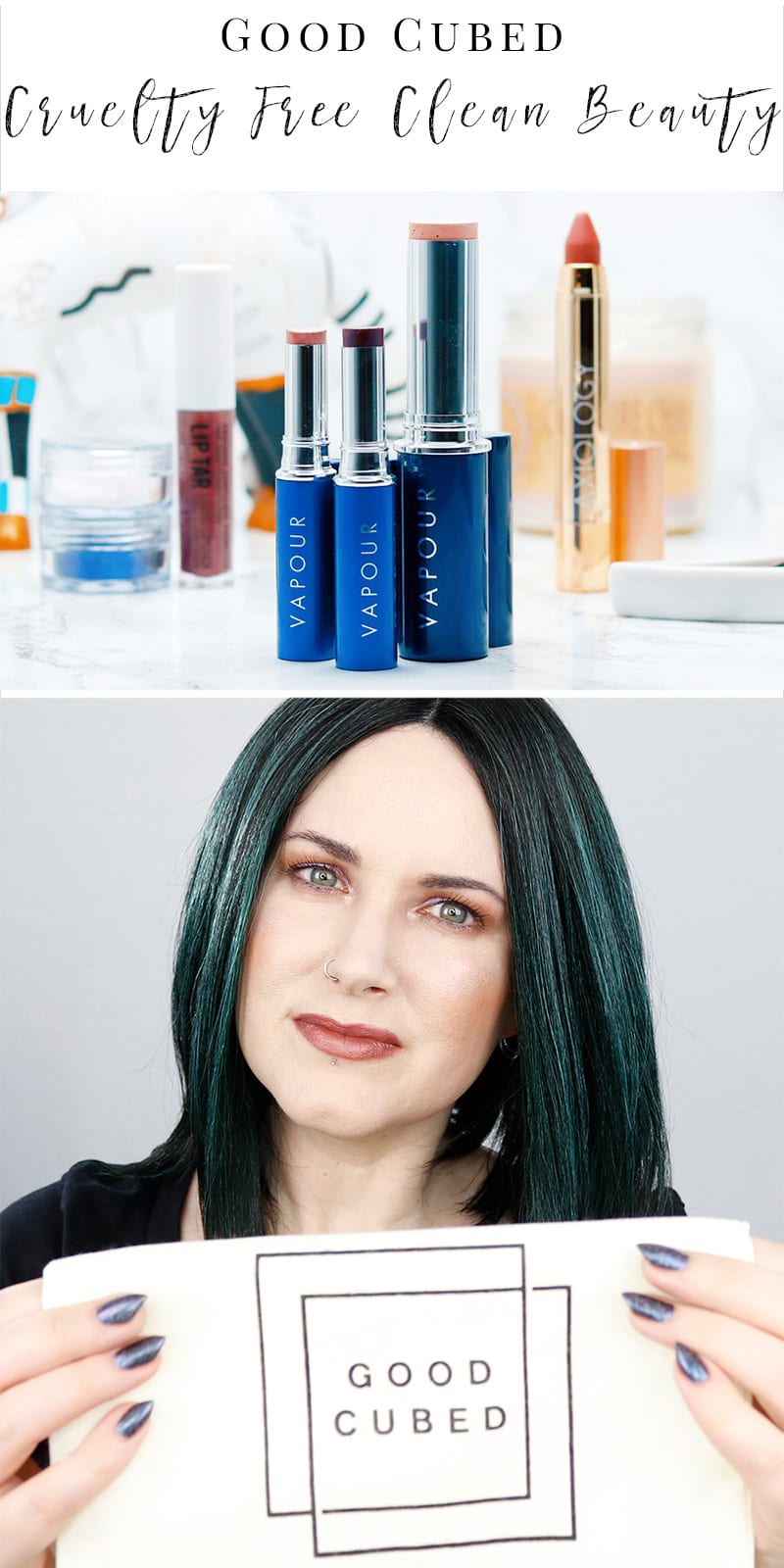 Thanks to Good Cubed for sponsoring this post!
Cruelty Free Makeup at Good Cubed
Today I wanted to talk to you about cruelty free makeup at Good Cubed. Good Cubed is a new clean online beauty department store that sells cruelty free makeup. They're a woman-owned business located right here in Florida. They focus on 100% cruelty free, paraben free and sulfate free products. They even have eco-friendly packaging!
After talking to the owners, Nicole and Zach, I learned that they love animals deeply like I do. They give 1% of all sales to the Beagle Freedom Project, which rescues animals from laboratories and finds them loving homes. I think that's extremely endearing.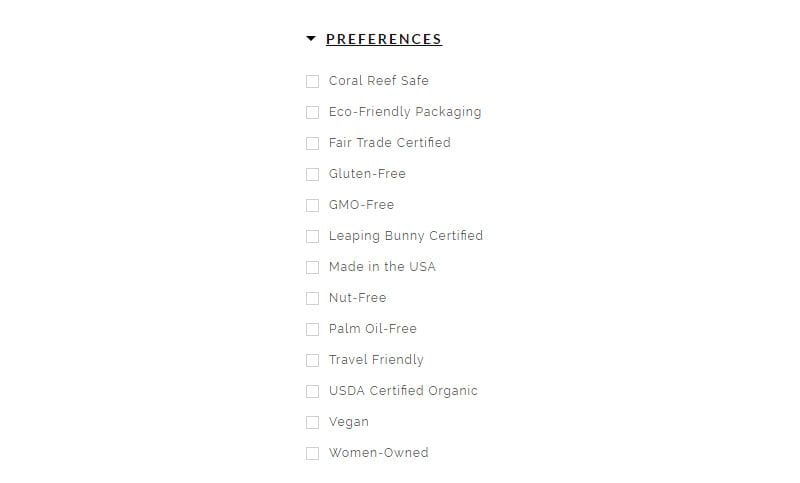 It's easy to shop online for cruelty free makeup at Good Cubed. They have preferences boxes you can tick so that if you're looking for vegan, women-owned, fair trade certified, gluten-free, nut-free, palm oil-free products, etc so you can find them. I know many of my friends and loved ones have a gluten allergy, so this is very helpful. It's also great for people who are concerned about palm oil and its impact on the environment. And they have an option to only shop from Leaping Bunny Certified, which I know many of you will love!
Good Cubed is committed to doing their part to help eradicate animal testing in the beauty industry. They only partner with companies that don't test on animals or sell in mainland China or any other market where testing is mandatory. They want to help demand change in the beauty industry so that everything is 100% cruelty free. That's something I can agree with!
Cruelty Free Makeup at Good Cubed – the Brands


They have a lot of lesser-known indie beauty brands alongside some familiar names. Seeing Obsessive Compulsive Cosmetics on their site was exciting to me, as they're no longer carried in Sephora or anywhere near me. Good Cubed is adding new brands that fit their ethics all the time. You can see Good Cubed's cruelty free pledge here. They even take recommendations! I've recommended several brands to them that I think they should carry. Wouldn't it be amazing to see indies like Aromaleigh, Fyrinnae or Silk Naturals stocked there?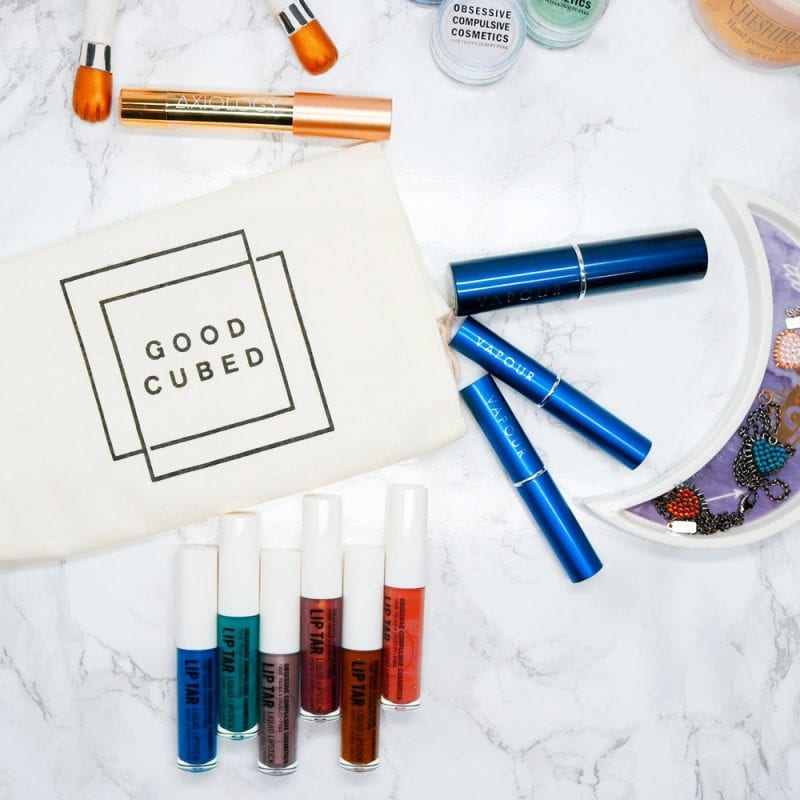 Good Cubed sent me some products from Vapour Organic Beauty and Axiology. I've never tried anything from either brand so I was happy to get the chance to play with them.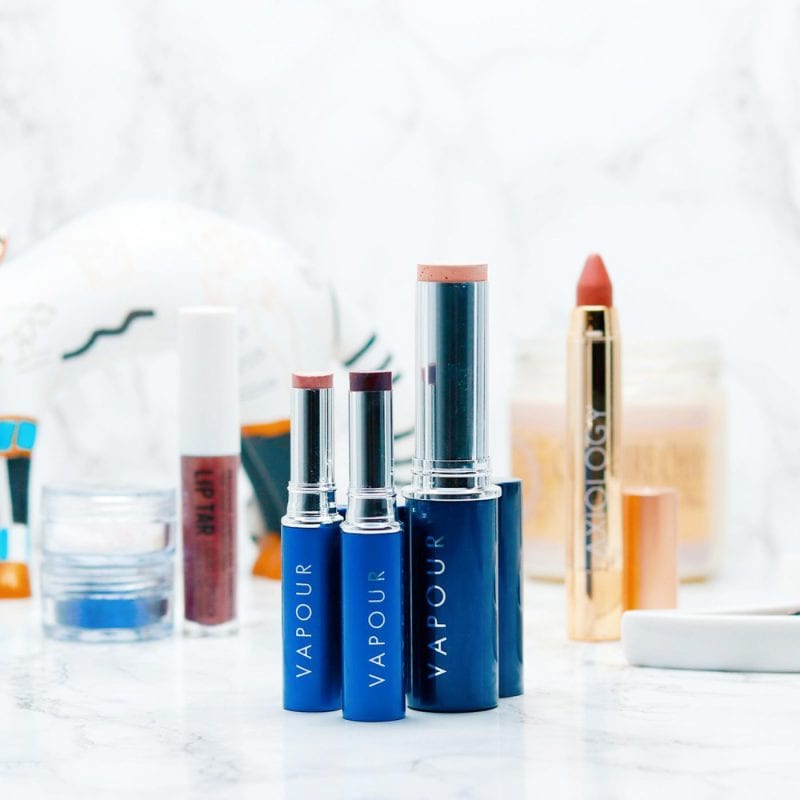 Axiology Beauty is based out of Bend, Oregon. They make 100% vegan lipsticks and lip crayons that are hydrating and long wearing. The Lip Crayon I received, Serene, has great ingredients like shea butter, candelilla wax, avocado oil, avocado butter and more.
Vapour Organic Beauty is from Taos, New Mexico. Their products are concentrated, moisturizing and contain high antioxidant activity to blur the lines between skincare and makeup. I received a foundation and two eyeshadows. The Atmosphere Luminous Foundation is a sheer foundation that it supposed to even your skintone to give you a lit from within glow. The shade 090, Fairest, is their ultra pale neutral. It's even an Allure Best of Beauty winner. It's meant for dry sensitive skin like mine.
Good Cubed Makeup Swatches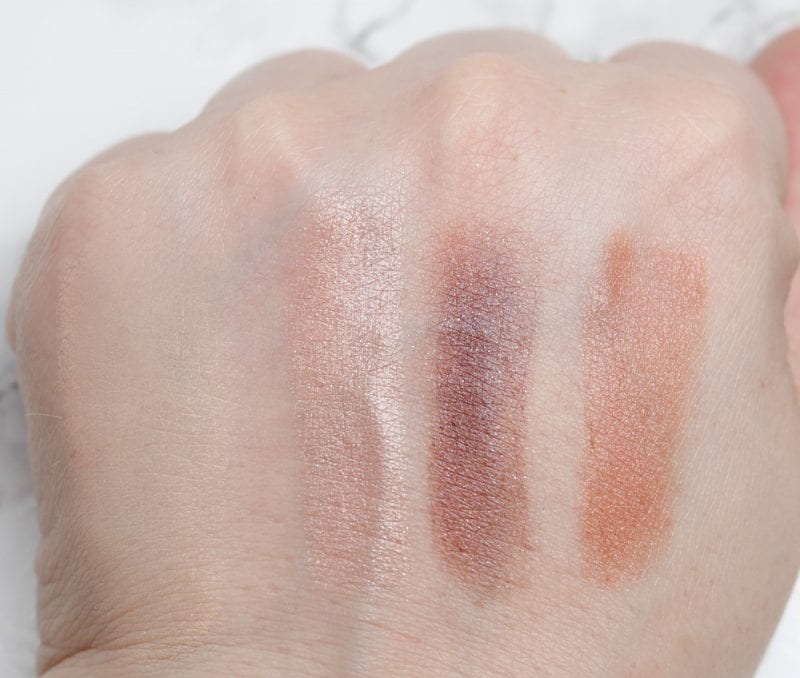 The Vapour Organic Beauty Mesmerise Radiant sticks are lovely. Seduce is a smoky warm brown with flashes of blue and violet. Cinder is a smoky warm pink shimmer.
Axiology Serene is a mix of burnished rosewood and brown sugar. It's perfect for pairing with any makeup look from a cat eye to a simple wash of color.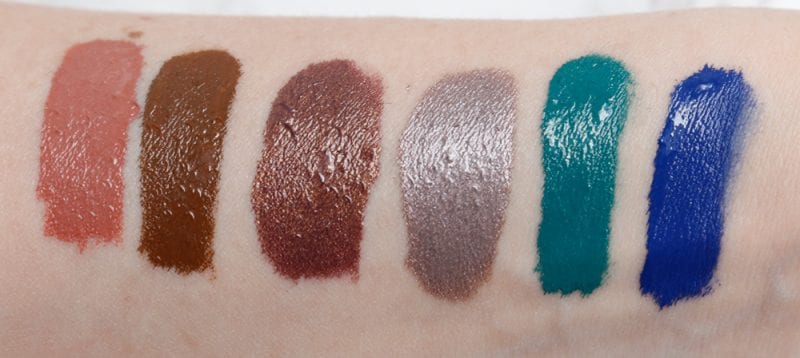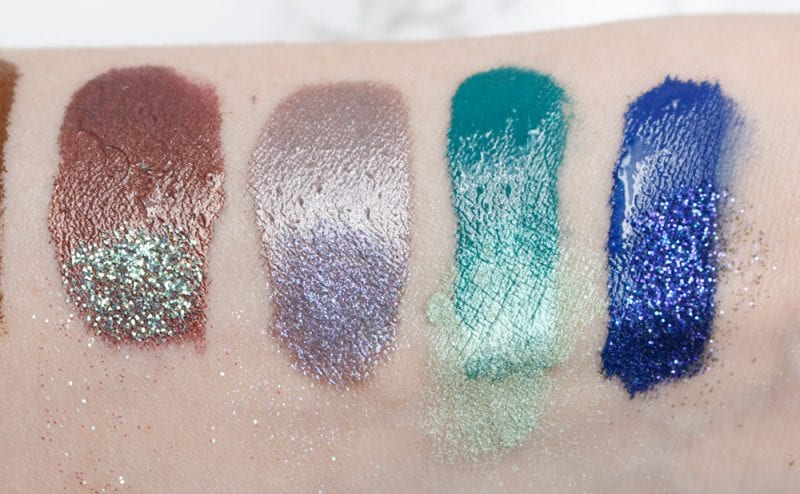 Obsessive Compulsive Cosmetics sent me their Fall 2017 Season of the Witch Collection.  It's gorgeous! Since OCC Makeup is carried at Good Cubed, I wanted to include swatches of some of their products here.
First are the RTWs (ready to wear liptars). Sleepwalker is a hazy neutral rose. Ghostwood is a rich tobacco brown. Hex is a deepest plum with antique gold shimmer. Quicksilver is a metallic platinum silver. Abyss is a deep sea teal. Blue Rose is a true cobalt blue. Hex and Quicksilver are my favorites. Quicksilver reads like a silvery taupe on my skin, while Hex is a brown with plum tones and subtle antique gold shimmer.
If you've never used a liptar before, you need only the TINIEST amount of product to cover your entire lips. A little goes a very long way.
Ghostlight is an opalescent pink with green duochrome glitter. Technopagan is a blackened violet with blue shift glitter. These are not meant for the eyes but can be used elsewhere around the face. They're stunning!
Astral is a sheer blue-violet shimmer. Atmosphere is an iridescent jade green. These are both loose eyeshadows. These are both beautiful but I especially love Astral.
Good Cubed Makeup Look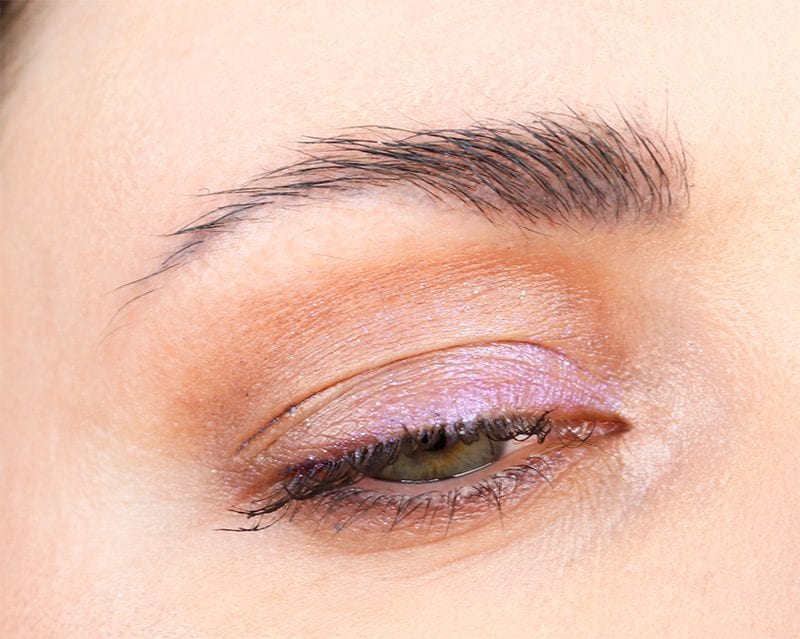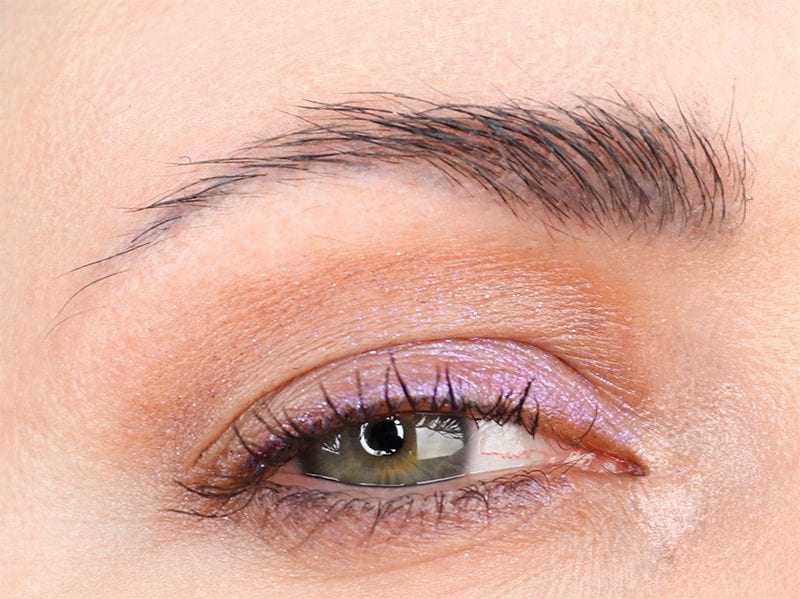 I did my eye makeup different than I normally would. I didn't use an eyeshadow primer for once. I applied a thin layer of Vapour Organic Beauty Seduce all over the lid, lower lid and crease and blended it out with a fluffy brush. I layered OCC Makeup Astral on the inner lid. I highlighted at the inner corner with Vapour Organic Beauty Cinder. I topped it off with Urban Decay Perversion mascara and Glossier Boy Brow in black.
The next time I wear Seduce it will be on primer. My eyes are just too hooded for eyeshadow to survive without it.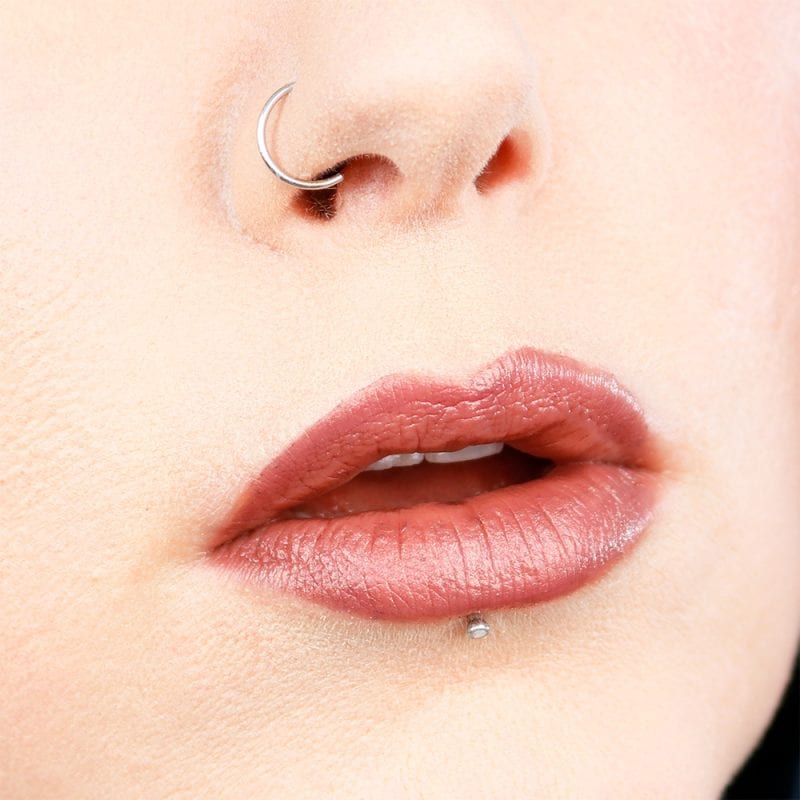 For my lips I applied Axiology Serene as a base all over. Then I used a lip brush to blend OCC Makeup Hex on top. I really like the lip color I created!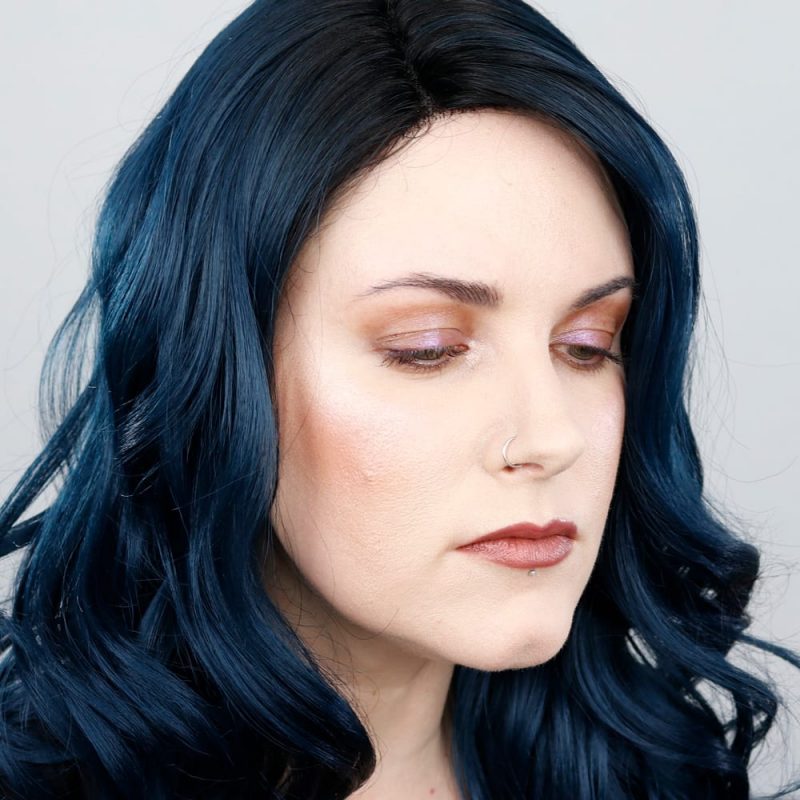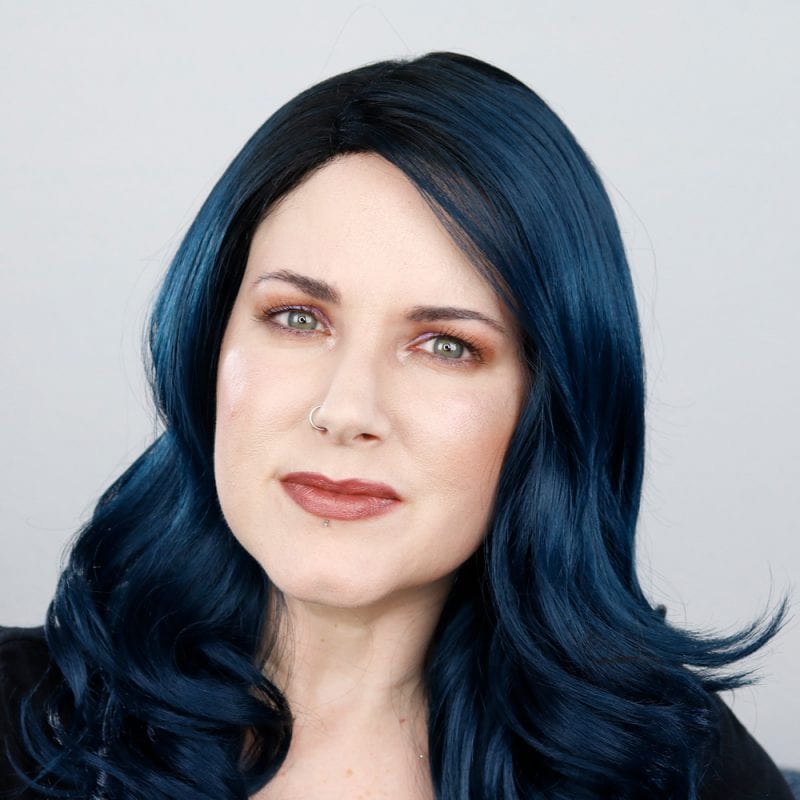 For my face I started by using Milk Makeup Blur Stick as my base. Then I used a brush to apply Vapour Organic Beauty Luminous Foundation in 090 all over. I needed a bit more coverage to hide my redness from rosacea, so I topped that with Laura Geller Balance-n-Brighten in Porcelain. I used Aromaleigh Kupala blush on my cheeks. I highlighted my cheeks with Physicians Formula Butter highlight in Pearl.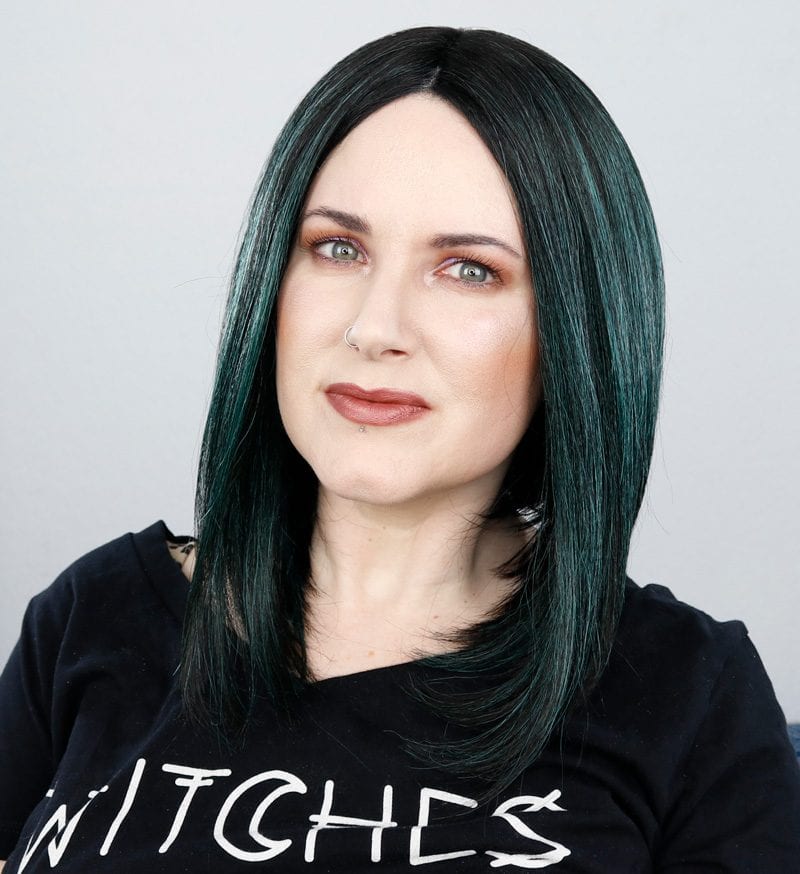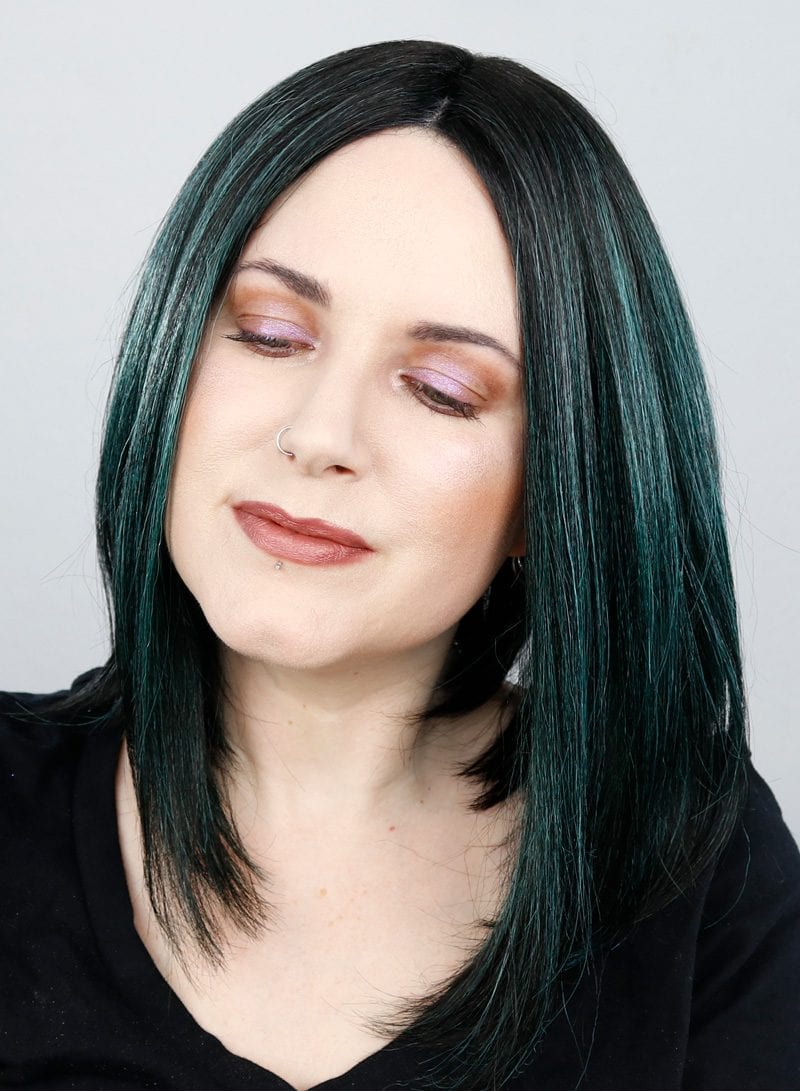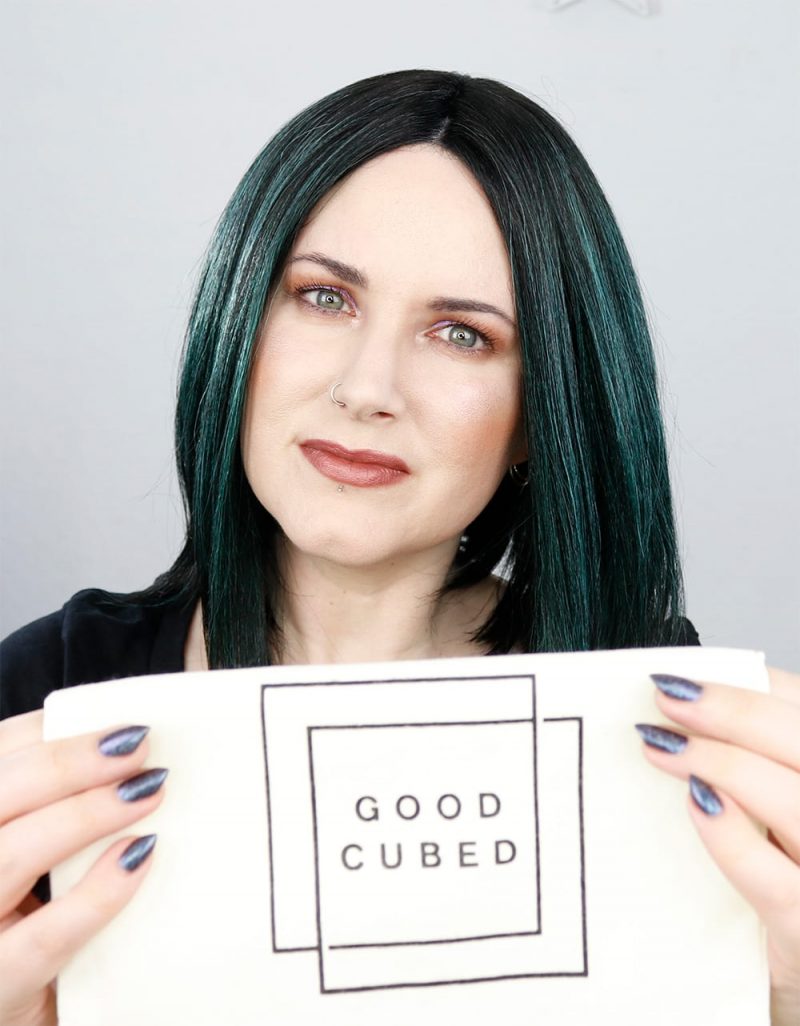 Wig 1
Janet Ludian Wig in Black Green (looks deep teal blue)
Wig 2
It's a Wig Kandle NT Moss Green
Eyes
Vapour Seduce – as a wash of color all over
Vapour Cinder – inner corner highlight
OCC Astral – inner lid
Urban Decay Perversion Mascara
Glossier Boy Brow in Black
Face
Milk Makeup Blur Stick
Vapour Luminous Foundation in 090
Laura Geller Balance-n-Brighten in Porcelain
Aromaleigh Kupala – blush
Physicians Formula Butter Pearl – highlight
Lips
Axiology lip crayon in Serene
OCC RTW in Hex
What do you think of this laid back makeup look? Which wig do you like best with it? Have you tried Vapour Organic Beauty, Axiology or any of the other brands at Good Cubed?
I'm so glad I found Good Cubed! I love that Nicole and Zach's passion for animals led them to found Good Cubed so that they could share cruelty free makeup with others while giving back. I think it's great that they're connecting socially conscious beauty enthusiasts with indie brands. It's awesome that they've made it easy for my friends and family who have gluten and nut allergies to safely shop online.
Check out Good Cubed and let me know what you think of them! You can also follow Good Cubed on Instagram for your daily dose of cute, as they share a lot of cute animals. They're on Facebook, too!
Save 15% at Good Cubed with the code PHYRRA!