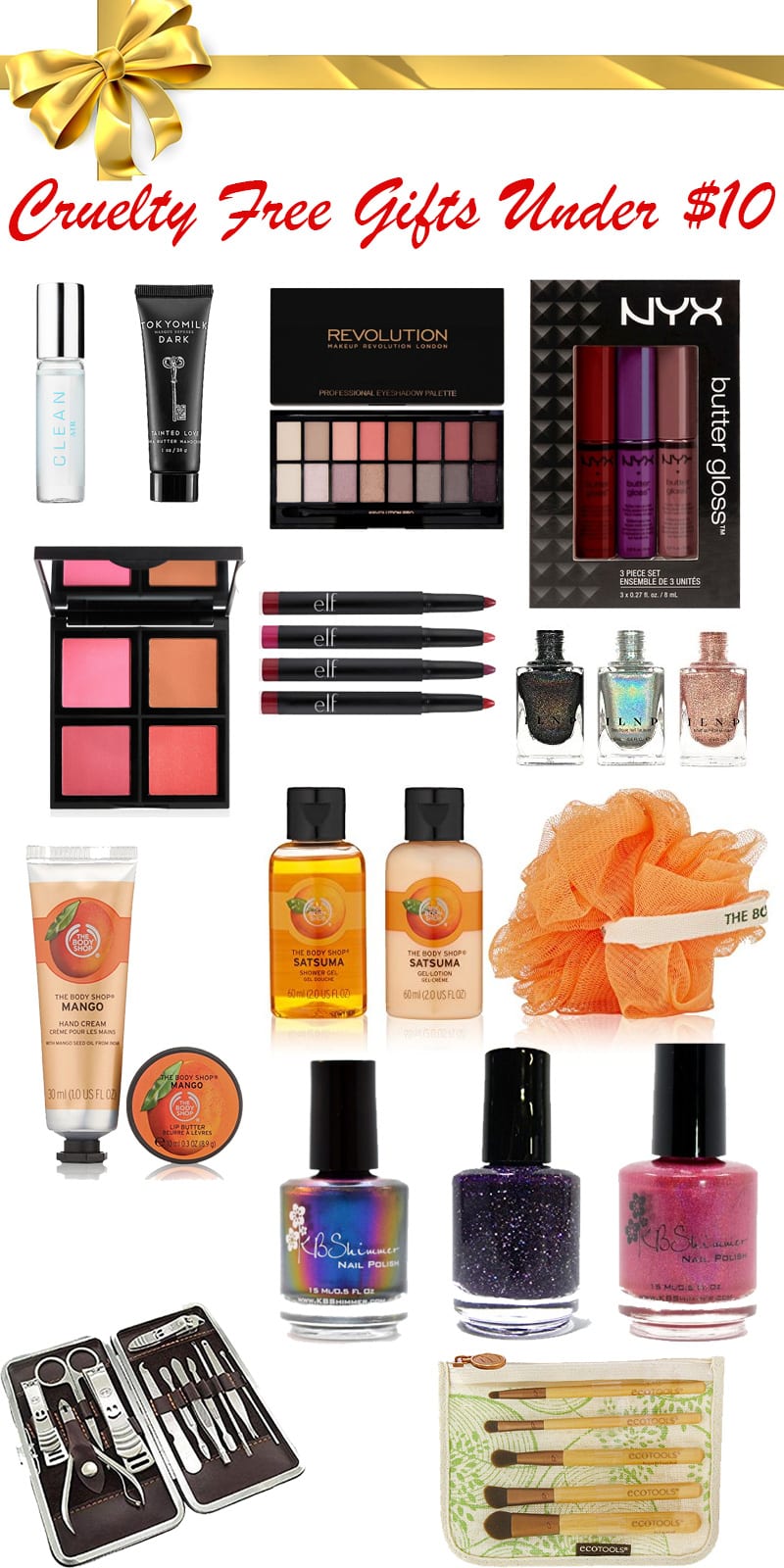 I wanted to share a gift guide for cruelty free gifts under $10. Well, really $10 and under. These petite picks are sure to please the cruelty free lover!
Cruelty Free Gifts Under $10
PR + purchased by me.
Clean Air Mini Rollerball – $8
This is a feminine perfume that has a floral nose that deepens into amber, cashmere woods and musk.
TokyoMilk Dark Tainted Love Handcreme – $9
This is my favorite fragrance by TokyoMilk Dark. It's a mixture of dark vanilla, sandalwood, a hint of spices and a kiss of orchid.
Makeup Revolution New-Trals vs. Neutrals Eyeshadow Palette – $10
This is a cute neutral palette with a few fun tones thrown in. It's also a nice mix of cool and warm tones.
e.l.f. Cosmetics Powder Blush Quad – $6
This is a highly underrated blush quad with 4 pretty shades. (vegan)
e.l.f. Cosmetics Mad for Matte Lip Color Set – $10
This is a cute lip set that comes with Dash of Pink, Berry Sorbet, Cranberry and Rich Red.http://15minutebeauty.blogspot.com/p/makeup-wars-link-ups.html
Nyx Butter Gloss Sets – $9.99
Available in 3 different color sets, people love these creamy glosses.
ILNP Nail Polish – $10
With a wide range of colors available, these are beautiful and eye catching.
The Body Shop Cube Gift Sets – $9
Available in various scents, they cme with a shower gel, body lotion and mini bath lily.
The Body Shop Soft Hands Warm Kisses Duo – $10
Available in a variety of scents, you get a hand cream and lip butter.
KBShimmer Nail Polishes – $9.25
These are my all-time favorite indie polish brand. They have a wide variety of stunning shades. Check out Stark Raven Mad for a black holographic, Eclipse for a one coat black, and all sorts of multichromes.
Luxehome Mani & Pedi Set – $7.59
This set contains 12 mani and pedi tools. Accessories include: scissor, medium-sized nail clipper, large-sized nail clipper,pedicure tweezer, cuticle trimmers, ear pick, cuticle knife, acne needle, hairdressing clamp, eyebrow tweezer, dead skin trimmer, and nail file.
ecoTools 6 Piece Eye Brush Set $7.16
The ecoTools 6 piece set comes with with the large eye, angled crease, petite eye, highlighting and smudge brushes. I've included this brush set in many giveaways on my blog, plus bought it for friends and family who expressed an interest in makeup.
Be sure to check out my other gift guides!
Last Updated on