It's a Makeup Wars Monday! As you know, I'm all about cruelty free beauty. Today I'm sharing the Best Cruelty Free Holiday Beauty Buys of the season. Most of these items are limited edition, so when they're gone, they're gone for good. Everything is cruelty free and there are tons of vegan options!
Best Cruelty Free Holiday Beauty Buys
Pr + purchased by me.
Eyes
Kat Von D MetalMatte Palette – $60
This palette is my pick for the best palette of the year. If you only buy 1 palette this year, this is the one to get. It's got 13 mattes and 9 Metal Crush eyeshadows. The colors are gorgeous. You've got cool tones, neutrals, and warm tones. The teal Watt is amazing. You get so much product in this palette as every single eyeshadow is more than full size. See my review.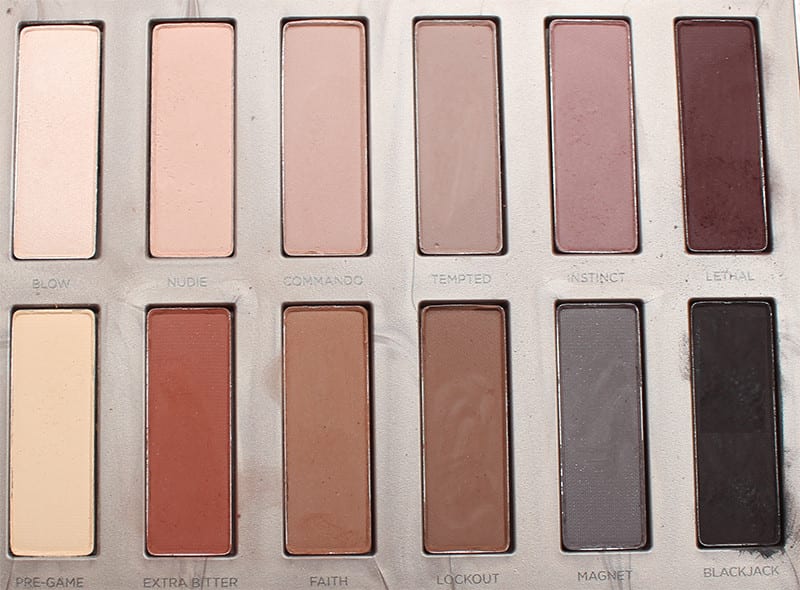 Urban Decay Naked Ultimate Basics – $54
This is a nearly all matte palette. It's the perfect workhorse neutral palette. If you need office friendly shades, or you have hooded eyes, this is a great palette. It's also perfect as a companion palette to brighter eyeshadows. See my review.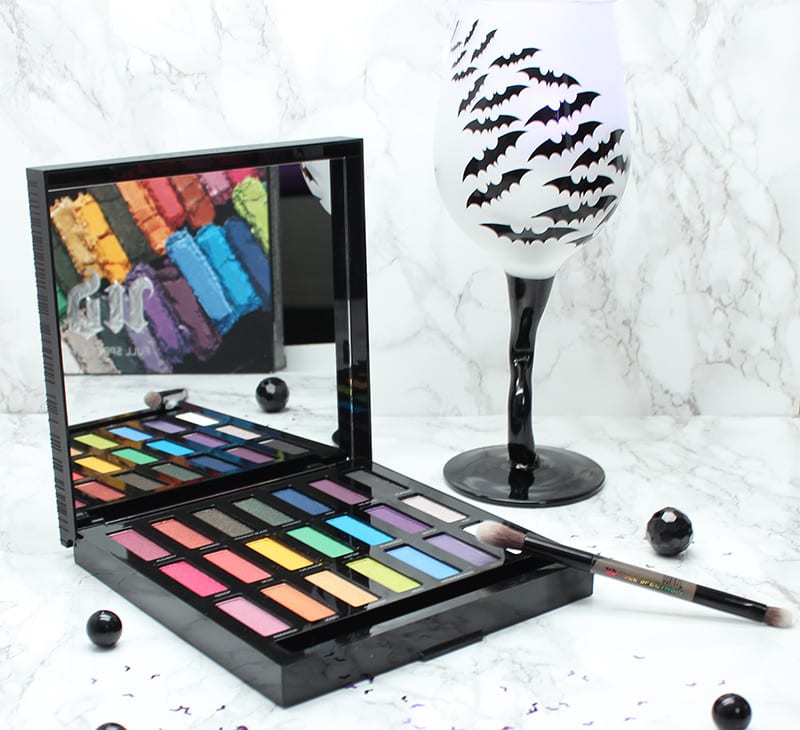 Urban Decay Full Spectrum Palette – $55
This rainbow palette is packed with 21 shades from pink to orange to coral to yellow to green to blue to purple. It also has black and white. It's one of the few palettes without a brown, perfect for a rainbow color lover. See my video.
Urban Decay Electric Palette – $24
I don't know how long this deal will be around, but it's pretty amazing. The Electric Palette is on sale for $24. If you like bright colors, this is the best palette you can buy. I hope to see UD put out an Electric 2 palette. See my review.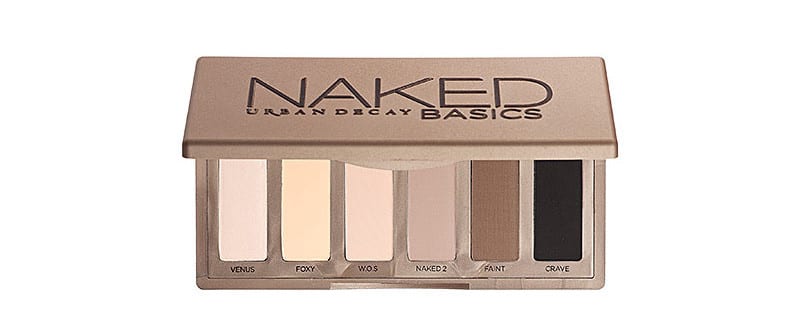 Urban Decay Naked Basics Palette – $29
This is the a subtly sexy palette. You get 6 full size eyeshadows for only $29, making it a great deal. It contains my favorite base shade, Walk of Shame (why can't this be available as a single to purchase?!).  It's the perfect compliment to any palette. It fits into the palm of my hand and my smallest makeup bag. See swatches.
Urban Decay UD XX: 20 Years of Beauty With an Edge – $375
This is a super vault with 20 eyeshadows and 20 eyeliners. 24/7 Glide-On Eye Pencil in Zero, Oil Slick, Gunmetal, Mushroom, Whiskey, Roach, Smog, Lucky, Midnight Cowboy, Underground, Stash, Mildew, Covet, Deep End, Deviant, UV-B, Asphyxia, Ransom, Last Call, Crash. Eyeshadows in Oil Slick, Roadstripe, ABC Gum, Shattered, Grifter, Gumetal, Polyester Bride, Baked, Mildew, Asphyxia, Mushroom, Midnight Cowboy, Smog, Lounge, Flash, Vapor, YDK, Roach, UVB, & Last Call.
Nudestix Nude(art)ist Magnetic Eye Box Set – $59
The Nude(art)ist Magnetic Eye Box Set comes with 6 FULL SIZE pencils (they normally retail for $24 each) for $59. This set is an amazing value for the price! Not gonna lie, I bought it for myself during the Sephora VIB Rouge sale. You get shimmering shades of Angel (rose gold), Lilith (champagne), & Twilight (gray beige) plus matte shades of  Army (olive brown), Putty (neutral beige), & Taupe (neutral brown). (vegan)
Tarte Wing Workers Tarteist Eyeliner Set – $35
I bought this set for myself and I absolutely love it. It comes with black, burgundy, navy and bronze. See my review.
Anastasia Beverly Hills Modern Renaissance Palette – $42
If warm neutrals with a few reds and berries are more your thing, you'll love the Modern Renaissance palette. The shade Buon Fresco has become my go-to transitional color because it works so well with reds, pinks and purples. I love that color to bits. See my review and looks.
Silk Naturals Fall Collection – $4.50 & Up
If you like the indie route I would put together a loose eyeshadow stack with Harmonious (dusty pink matte), Gracious (golden wheat matte), Mysterious (muted red matte), Luxurious (golden taupe demi-matte), Nunya (pinky brown pearl on a black base), Cache (pale pinky white matte), and Darkside (shimmery black). See my review.
Makeup Revolution Unicorns Unite – $10
If you're looking for an uber budget friendly eyeshadow palette, I think the Unicorns Unite palette is a good choice.
Lips
Urban Decay Junkie Vice Lipstick Palette – $35
With over 100 different new Vice lipsticks launched, the UD Junkie Vice Lipstick Palette is a great way to try 12 shades. It's also perfect for travel. It's easy and sturdy, so you can toss it into your makeup bag without a worry. See the Junkie & Blackmail palettes.
Urban Decay Blackmail Vice Lipstick Palette – $35
If you're more into vampy shades, the Blackmail palette is for you.
bareMinerals Your Kiss Is On My List Gen Nude Radiant Lipstick Set – $35
This is a great set to try out the new Gen Nude Radiant Lipstick line. It's a nice, moisturizing formula that's very comfortable to wear. It does need to be reapplied after 3 or 4 hours, because it's not a long wear formula, but I think that's ok since the colors tend to run to MLBB type shdes. I have Bubbles and Queen and LOVE them. Seriously, Queen is a stunner. See me wearing Queen in my Smoky Lip Trend Tutorial. (vegan)
Nudestix #BerryNudeLips Mini Set – $24
This is an awesome set with 2 of my 3 favorite colors. It has Raven (rich plum), Pulse (glossy nude), and Sin (rose).
NARS Glass Metropolis Audacious Lipstick Coffret – $125
This luxe set features Sarah, Anita, Marlene, Rita, Olivia, Sandra, Charlotte, and Bette. These are about .08 oz each, and a full size Audacious lipstick is about .14 oz. So you're getting a great value for the price. The reds are so gorgeous.
NARS Mind Game Mini Velvet Lip Glide Coffret – $45
I love the new NARS Velvet Lip Glide formula, as you probably know, so I think this is a great value set to pick up. See me wearing Velvet Lip Glides in Nordstrom Fall Beauty Trends.
Bite Beauty Best Bite Redux – $25
This is a lovely lip kit with 4 shaades – Truffle, Red Velvet, Orchid and Fraise.
Nyx Turnt Up! Lipstick Sets – $11.99
With 3 different sets to choose from, these are one of the best budget lipstick set options.
Face

Tarte Amazonian Clay Blush Palette – $44
If you're in need of a full blush wardrobe, this palette of 10 blushes is your best bet. Blushes in Deco (poppy pink), Mod (peach coral), Idol (nude shimmer), Culture (coral shimmer), Surreal (hot pink), Concept (pink nude), Icon (dusty rose), Montage (pink mauve), Ironic (berry rose), & Crafty (pale pink shimmer).
BECCA Blushed with Light Palette – $34
If you need 3 new blushes, this is a beautiful palette. You get Wisteria (soft rose with neutral overtones), Songbird (peachy pink) and Snapdragon (Coral).
e.l.f. Powder Blush Palette – $6
For a budget friendly blush palette option, it's hard to beat the elf palette. It has 4 shades, plus it's vegan.
Nails
KBShimmer Winter 2016 Collection – $9.75 each
The new collection from KBShimmer is beautiful and perfect for the lacqueristas out there. My favorite shade in the entire collection is Royal to a Fault. It's a purple base that shifts to blue and fuchsia. They also have a holographic makeup bag available. Plus, you could build your own mani pedi gift basket with their nail files, mani shots and cuticle oil pens.
Tools
Urban Decay Pro Essential Brush Stash – $75
The Pro Essential Brush stash comes with 5 brushes – the finger for eyeshadow and around the face, the optical blurring for foundation, the iconic eyeshadow, the flat eyeshadow, and diffusing blush brush. The carryall is pretty awesome too. It's on my wish list! (vegan)

EcoTools Essentials Set – $10.99
Comes with the large eye, angled crease, petite eye, highlighting and smudge brushes. I've included this brush set in many giveaways on my blog, plus bought it for friends and family who expressed an interest in makeup. This is the best budget friendly beginner's set of brushes. (vegan)
Real Techniques Starter Kit – $17.99
This comes with the base eyeshadow brush, deluxe crease brush, accent brush, eyeliner brush, brow brush and a case. It's the perfect set for the eyeshadow beginner to start with. It was my first set from Real Techniques. (vegan)
Real Techniques Mega Set – $49.99
The Real Techniques Mega Set comes with the miracle complexion sponge (a beauty blender dupe), duo-fiber face brush, contour brush, base eyeshadow brush, angled eyeshadow brush, deluxe crease brush, eyeliner brush, fine liner brush, stippling brush, cheek brush, setting brush, and sculpting sponge. It's all the basic brushes you need to start your collection. (vegan)

Sigma Beauty Performance Eyes Kit – $58.80
The Performance Eyes Kit comes with the E11 eye liner, E16 tightline, E17 waterline, E21 smudge, E36 blending, E46 inner corner, E47 crease, and E56 lid. This one is for the advanced eyeshadow lover lookin' to up their game. (vegan)
Sigma Beauty Baking Kit – $84
The Baking & Strobing Brush set has the F06 Powder Sweet, F42 Strobing Fan, F79 Concealer Blend Kabuki, F89 Bake Kabuki, and P89 Bake Precision. This set is perfect for the Selfie Queen! (vegan)
Sigma Beauty Best of Sigma Beauty Kit – $92
The Best of Sigma Beauty Kit comes with the F80 Flat Kabuki, P88 Precision Flat Angled, F64 Soft Blend Concealer, E57 Firm Shader, E38 Diffused Crease, E34 Domed Utility and E21 Smudge brushes. This is another great set for beginners. (vegan)
Foreo Luna Mini – $99
I'm back on the Foreo Luna love train. I'm using this to gently cleanse my face and remove dry patches. I'm also using it to help my serums sink in and be more effective.

I've got even more gift guides for Holiday 2016 – the Best Cruelty Free Makeup Brushes for Gifting, 11 Best Eyeshadow Palettes for Gifting, and Sephora VIB Sale Recommendations. I've also get several more in the works. Let me know if there's a specific one you're looking for! Be sure to check out the rest of the Makeup Wars Beauty Bloggers gift suggestions too!

[inlinkz_linkup id=675593 mode=1]