Recently I had the opportunity to try out the Concrete Minerals Sugar Skull Collection. This collection was created in celebration of Dia de los Muertos. For those of you who don't know what Dia de los Muertos is, it's the Day of the Dead. It's celebrated along with All Saint's Day and All Soul's Day. Dia de los Muertos is a celebration on Nov. 1 and 2 to remember family members and friends who have passed on.

My favorite musician of all time, Voltaire, has an awesome Dia de los Muertos song, which is the video I've linked here. It's from a live show at Dragon Con 2007. I was there in the crowd. It's from his album Ooky Spookie and he also has another version of it on Spooky Songs for Creepy Kids. Voltaire is an amazingly talented man and if you haven't checked him out recently, you should! His Lair of Voltaire Vlogs are funny.
I have two additional colors that are not part of the Sugar Skulls collection swatched for you. They're Angel Dust and Hi-Fi. I think Angel Dust was a GWP and Hi-Fi is a pro color. These are swatched on bare skin.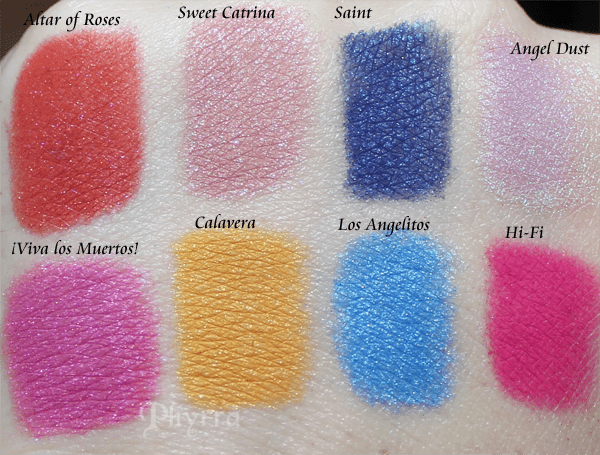 Sweet Catrina
pinky-neutral
My Take
Neutral pink with soft sparkles
Altar of Roses
crimson red
My Take
Warm red shimmer
¡Viva los Muertos!
electric pink w/ purple shift
My Take
bright blue-based pink with pink-violet sheen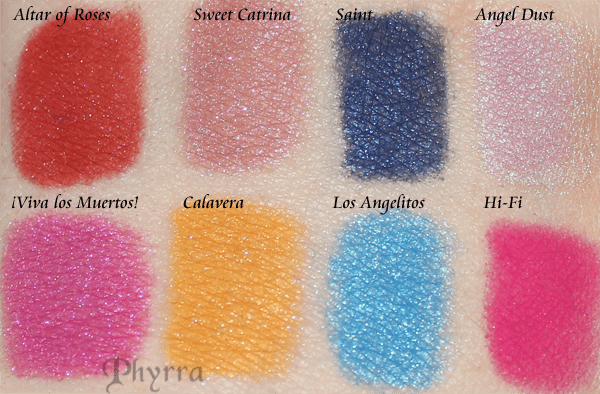 Los Angelitos
bright aquamarine
My Take
bright sky blue with with slight teal iridescence
Saint
navy blue-purple
My Take
gorgeous inky blurple
Calavera
marigold-yellow
My Take
deep yellow shimmer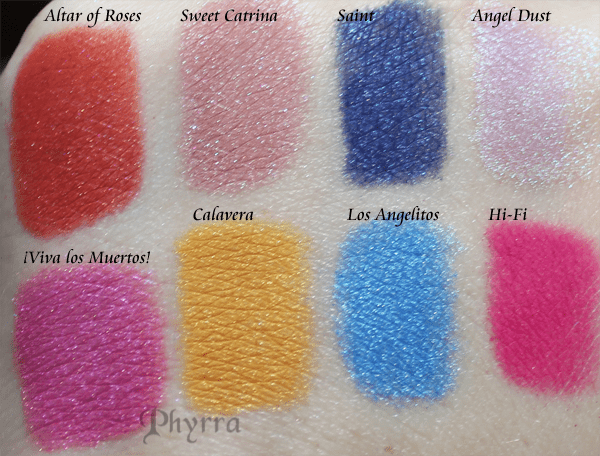 Angel Dust
no official description
My Take
Light lavender with aqua green shift
Hi-fi
matte magenta
My Take
Deepest hot pink matte with an almost violet sheen around the edge
Sugar Skull Collection Ingredients
Mica, Iron Oxide, Titanium Dioxide, Ultramarines, Tin Oxide, Calcium Aluminum Borosilicate, Silica, Boron Nitride. 100% Vegan and cruelty-free.
Pro Matte Color Ingredients
Manganese Violet, Iron Oxide, Tin Oxide, FD&C Red #40, FD&C Blue #1, Sericite Mica, Magnesium Myristate, Titanium Dioxide, Magnesium Stearate, Boron Nitride, Silica, Allantoin
Price
$36
I think this is a beautifully done collection.
The colors are easy to work with, pigmented and pretty. They're easy to blend. Plus, I love that they're cruelty-free.
The collectible tin that the collection comes in is beautiful, too. There's not a single dud shade in this set.
What do you think of these colors from Concrete Minerals? Would you wear them?
Products sent for consideration. All opinions are my own.