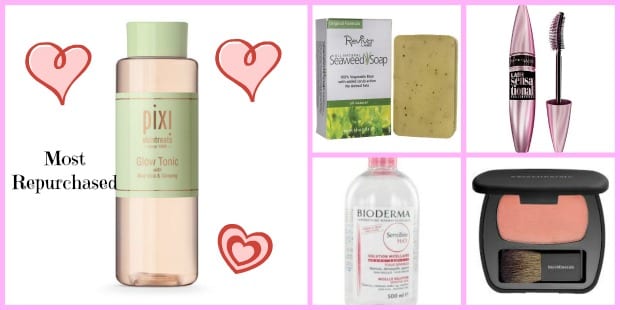 Cindy's 6 Most Repurchased Beauty Products
Cindy of Prime Beauty shares her Top 6 Most Repurchased Beauty Products with the Beauty Spotlight Team. I always love to see the products that people repurchase again and again for years. You know if someone's been using it for 5 years they must really love it!
Question of the Week from the Lipstick League: What is your current favorite nighttime moisturizer?
Prime Beauty – has the cure for your dry winter skin! Take the Nügg Beauty 4 Day Dry Skin Challenge and enter to win a Face Mask.
we heart this – The one where Stef tries the Charlotte Tilbury Quick 'N' Easy Smokey Eye Kit and falls head over heels…
Beautygeeks – Is a fabulous white gown in your near future? Our Manigeek has all the swatches and a full review of the first Essie Gel Couture bridal collection; it's the brand's first bridal-designer collaboration, too.
Beauty Junkies Unite – Amber shares the details on the latest from Herbal Essences! More new smell-good shampoos & Conditioners in the Herbal Essences bio:renew collection.
Blushing Noir – For the first time in ever a small skincare sample in a subscription box launched a full-fledged obsession! Check out a few of Brooke's faves from Drunk Elephant Skincare and get ready to add a few new things to your wishlist!
fanserviced-b – Want to dive deeper into Korean skincare, but don't want to pay Sephora prices? You can buy a great kbeauty face cream for $10.
Gouldylox – You've loved Mr. Jay forever, but have you tried his makeup? I've got three looks, plus a giveaway to inspire you for spring.
My Beauty Bunny – Who else is highlighter obsessed!? Find out whether the new Too Faced Love Light Prismatic Highlighters are a hit or a miss!!
Nouveau Cheap – In case you haven't heard, MAC Cosmetics is coming to Ulta. Yay for more opportunities to earn/use those Ulta points!
Phyrra – Do you have facial redness you need neutralized? I've got all the details on Green Concealers: what you need to know!
(Wondering what the Lipstick League is? Find out here.)
Question – What is your current favorite nighttime moisturizer?
Answer – My nighttime routine for moisture involves my Lucy Minerals Ambrosia for Dry Skin and the Paula's Choice Skin Recovery Replenishing Moisturizer.